Shelby & Rachael Kylan Barn
Wedding Photographers in Maryland
I am one hundred million percent obsessed with Rachael and Shelby's wedding day at Kylan Barn in Delmar, Maryland! It was such a beautiful day, not only weather wise, but also details wise!
A lot of Shelby and Rachael's wedding day involved the creative skills of their family, like Shelby's sister, Crystal and Rachael's sister, Kim. Crystal expertly crafted a lot of the incredible decor and all of the tasty desserts. While Kim mad sure that both brides makeup was on point (and waterproof :P). Watching a couple's family work together in order to create the dream day for them is a truly special thing. It makes a day mean that much more to both the couple, and the guests.
Shelby and Rachael, thank you both so much for choosing us to capture your wedding day. It has been a privilege getting to know you two and to experience such a loving, gorgeous day. We are so excited for you two and to see what the future has in store for you both! 
Some awesome details from the day!
They had visited other farm venues throughout Maryland, but when they pulled up at Kylan then both knew instantly it was their venue.
Shelby and Rachael are high school sweethearts.
Shelby's sister, Crystal, created a lot of the decor for the wedding: the floral arrangements, the desserts, the cake, the underwear that some of the bridal party wore 😂, and so much more!
The flower girls were doing legit gymnastics during the reception.
Shelby held it together for a good portion of the day, but when it came time for the first touch, she just could not hold back the excited tears!
Their dog, Bubba, escorted Shelby and her dad down the aisle (shout to to Wiggle Butts!)
Rachael had a piece of fabric from her grandmother's blue PJs pinned to her dress.
During Rachael and her dad's dance, they chatted about the Ravens game that was currently happening. The Ravens made sure to crush it that day 🙏.
Rachael's sister Kim did the makeup for both Rachael and Shelby on the wedding day.
Their signature drinks were named after their 3 adorable dogs, which is how all signature anything should be done.
Shelby's brother-in-law was their officiant, and their ceremony was one of the sweetest and quickest ceremonies we've had the honor of photographing. I don't think there was a dry eye in those woods!
They both wrote little notes to each other on their wedding shoes 🤗❤️.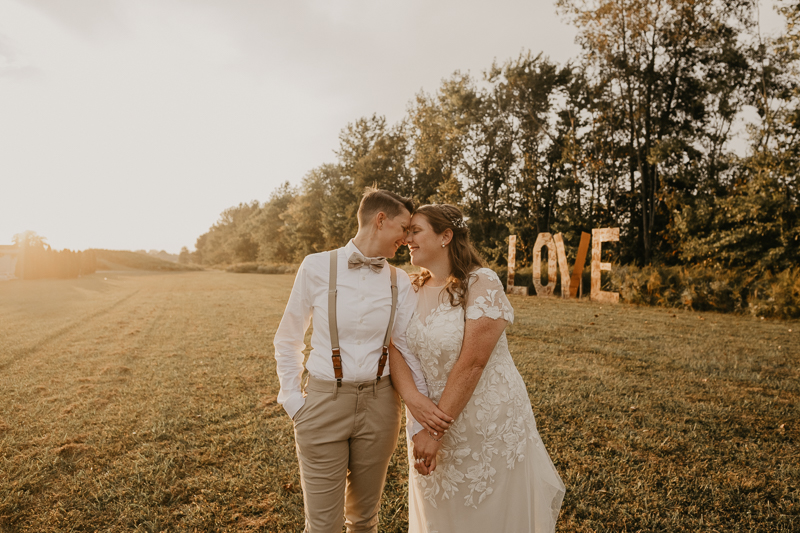 ---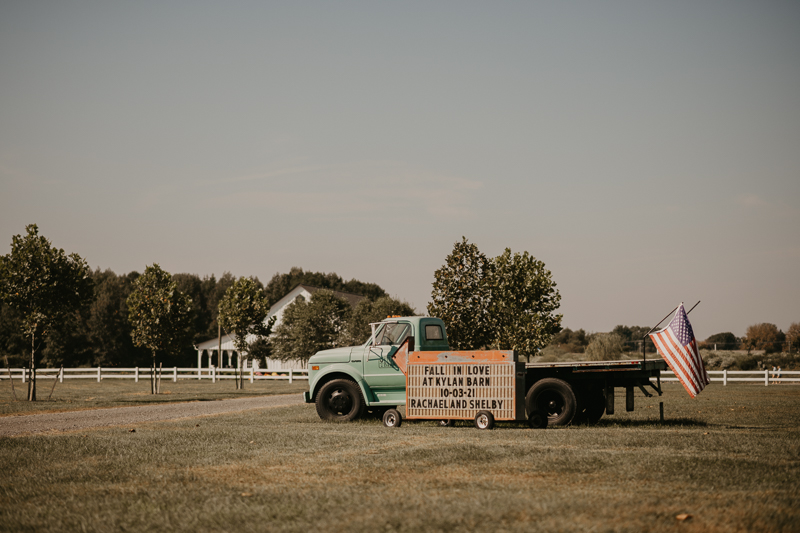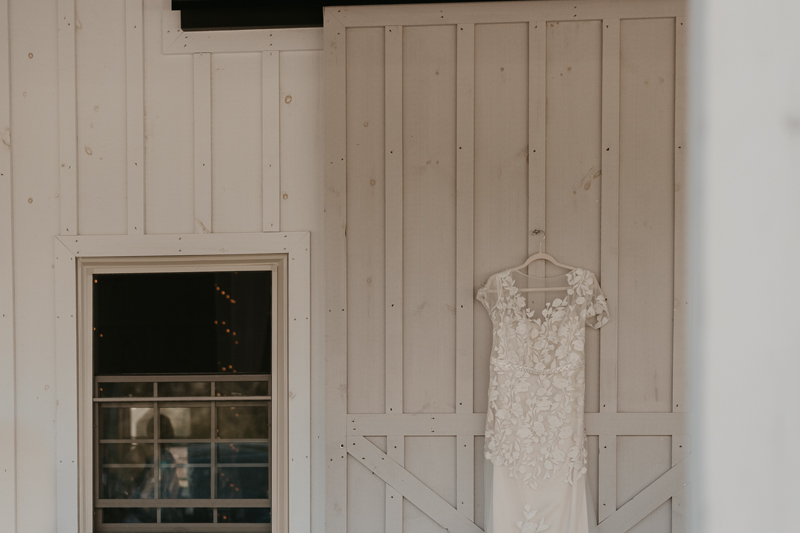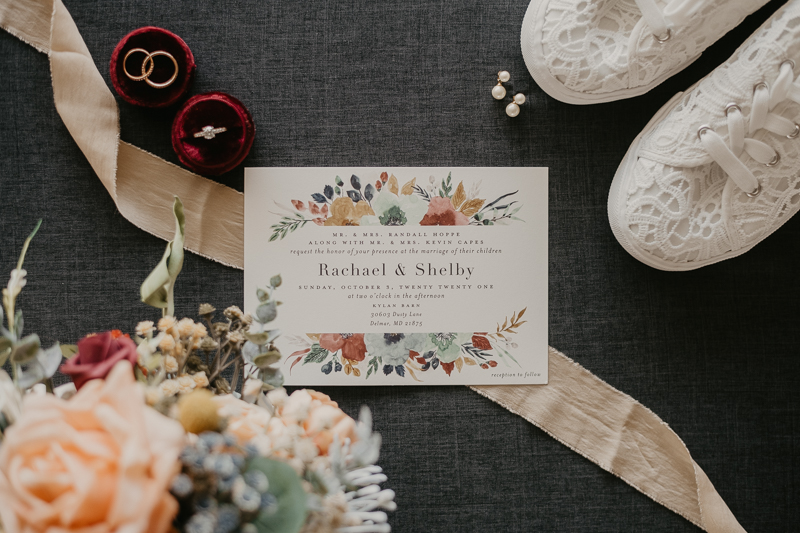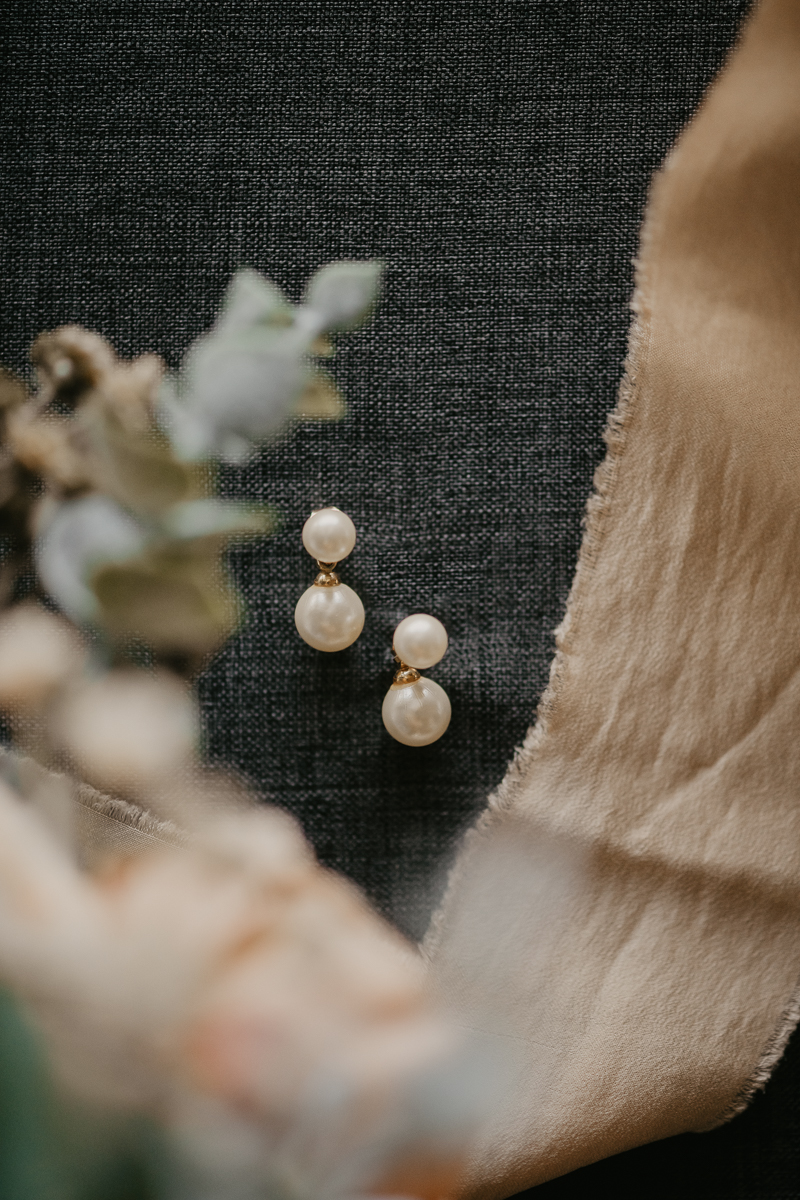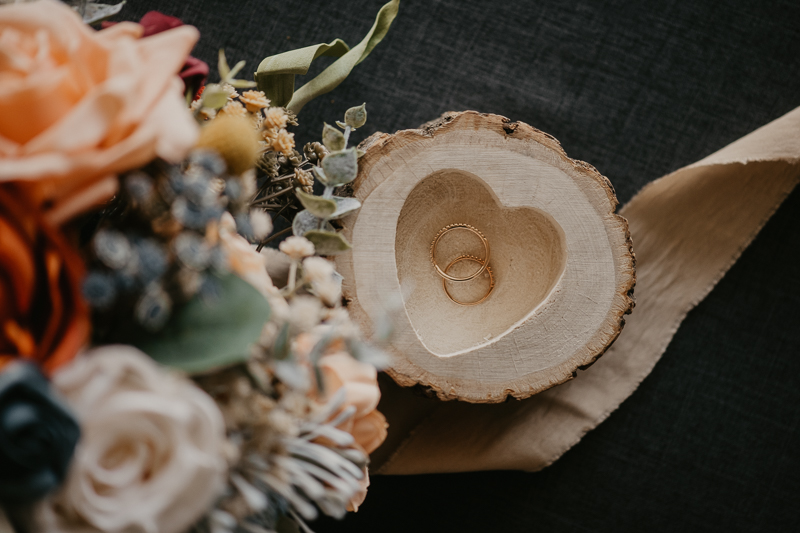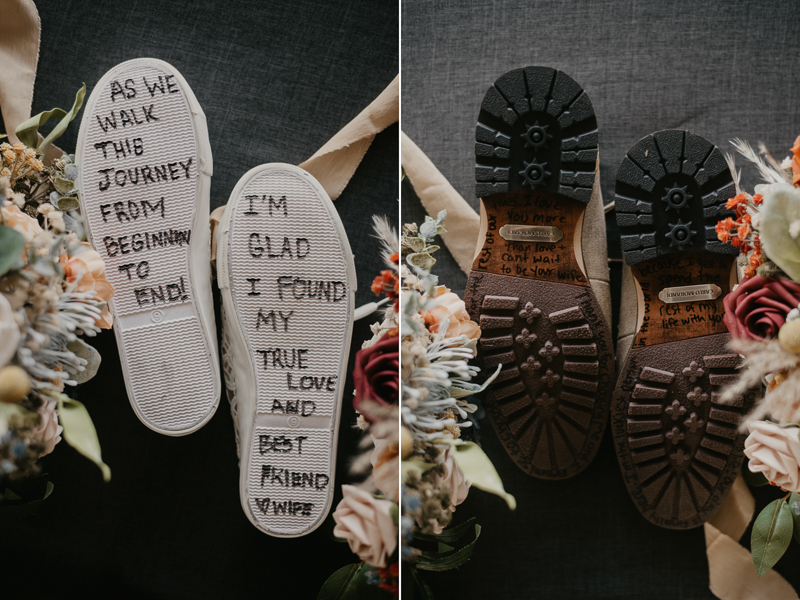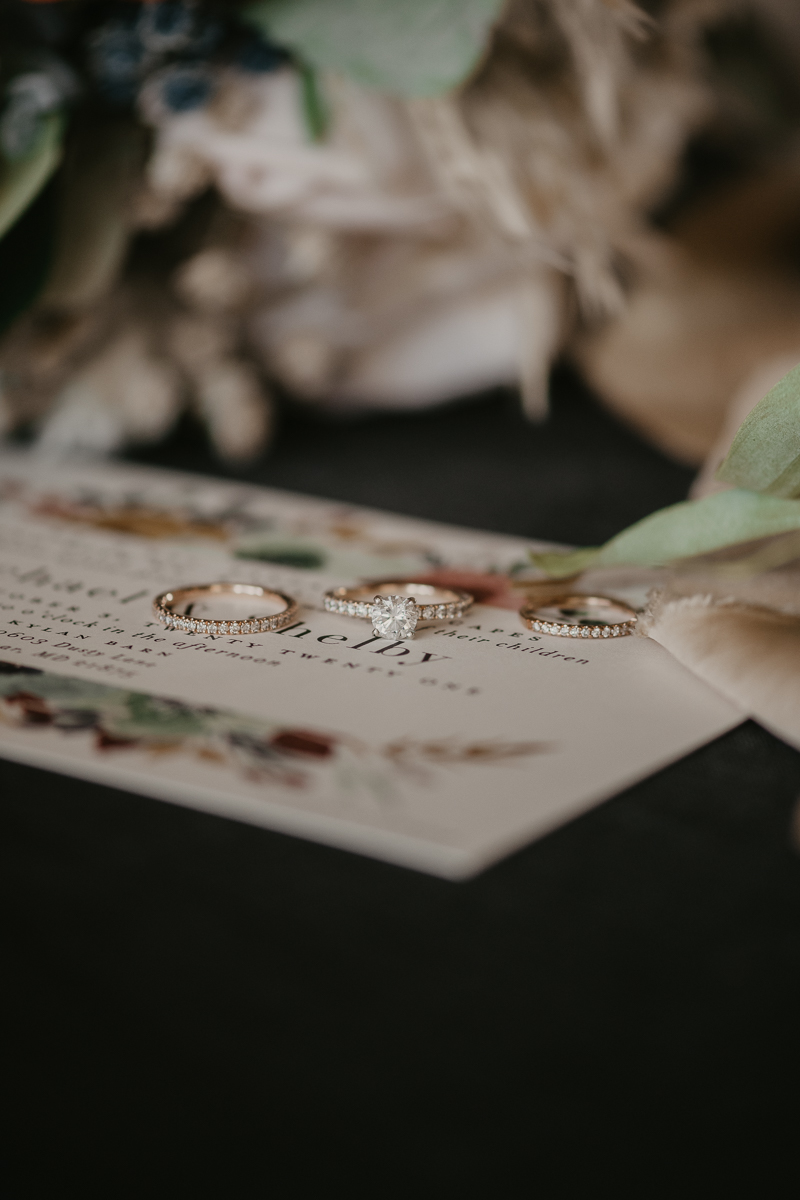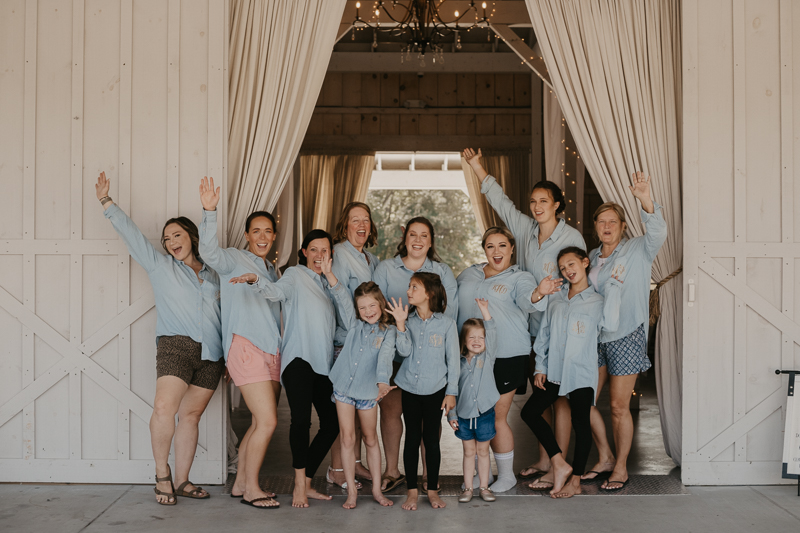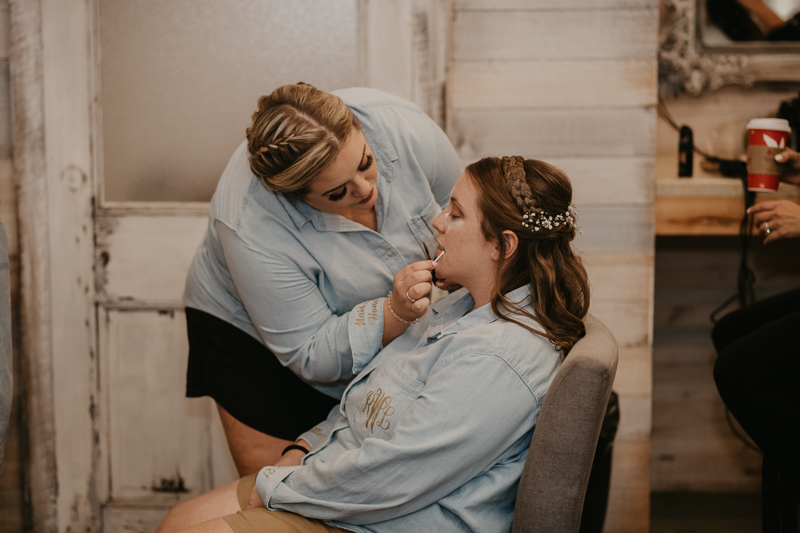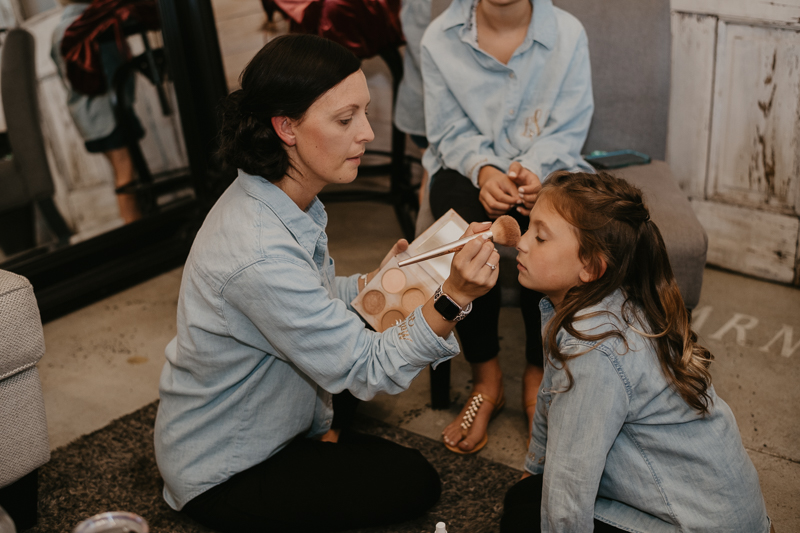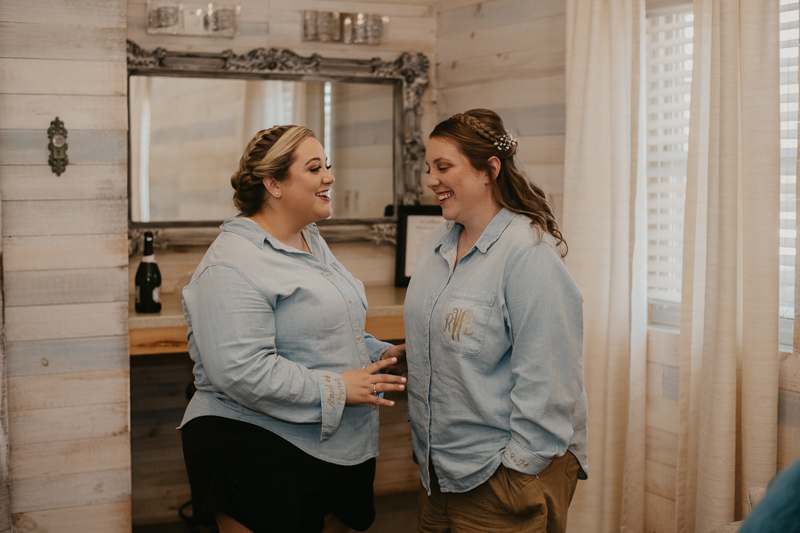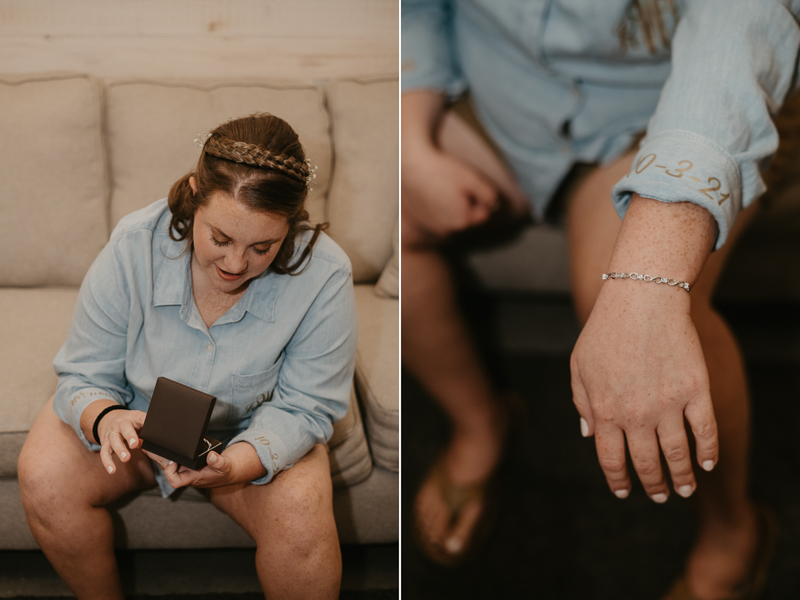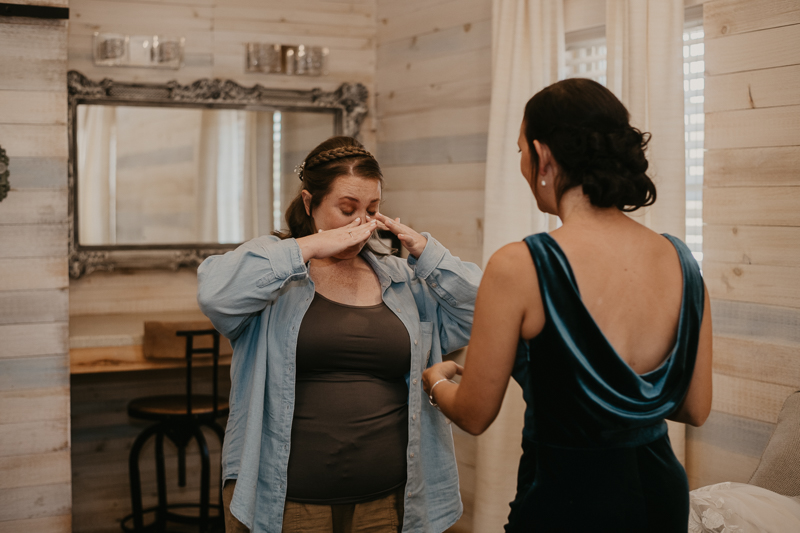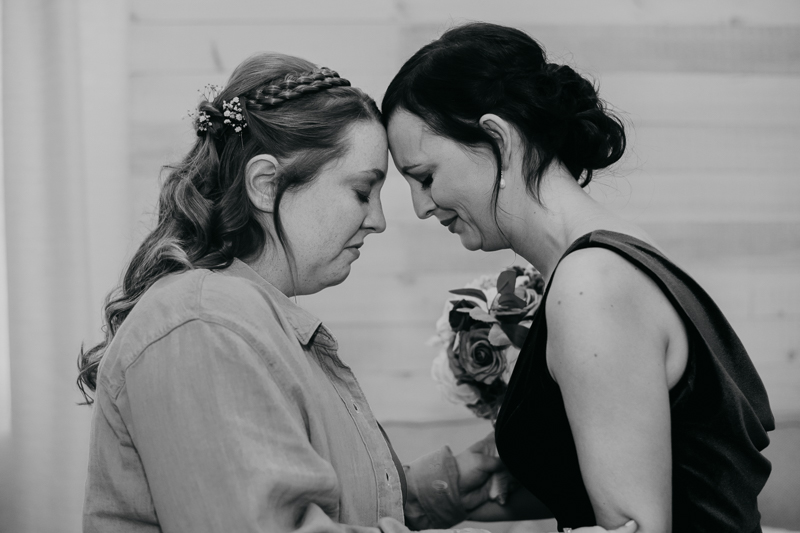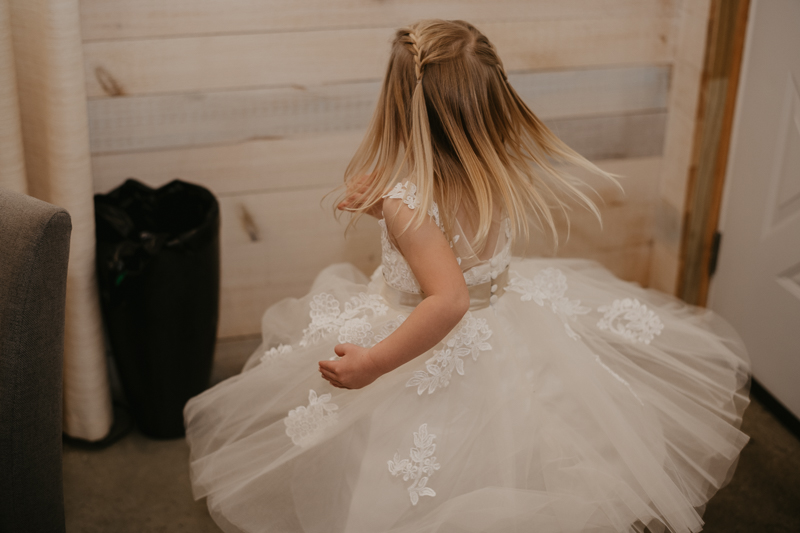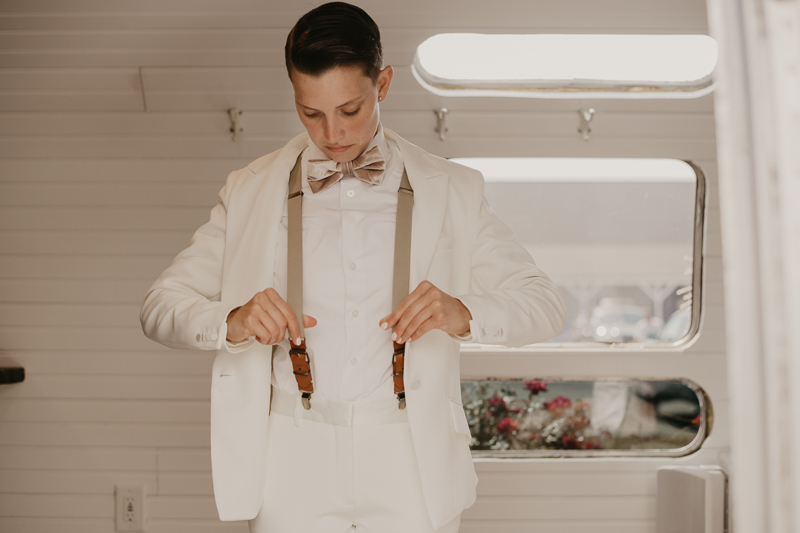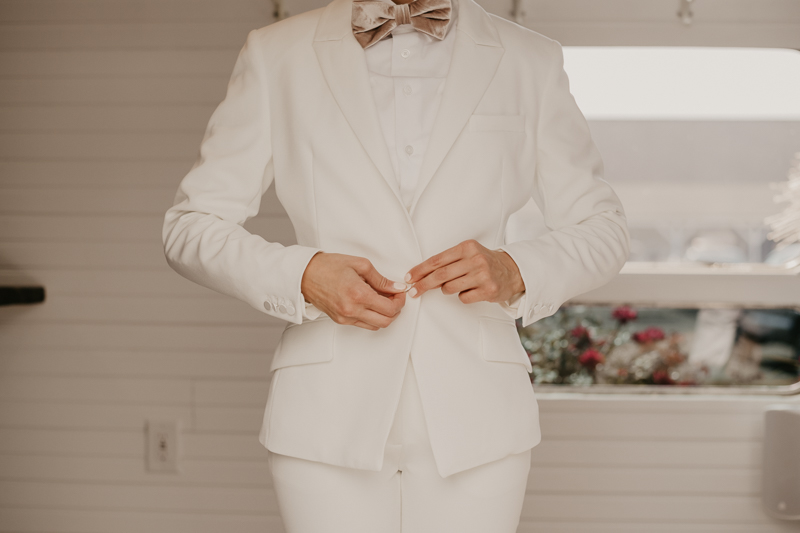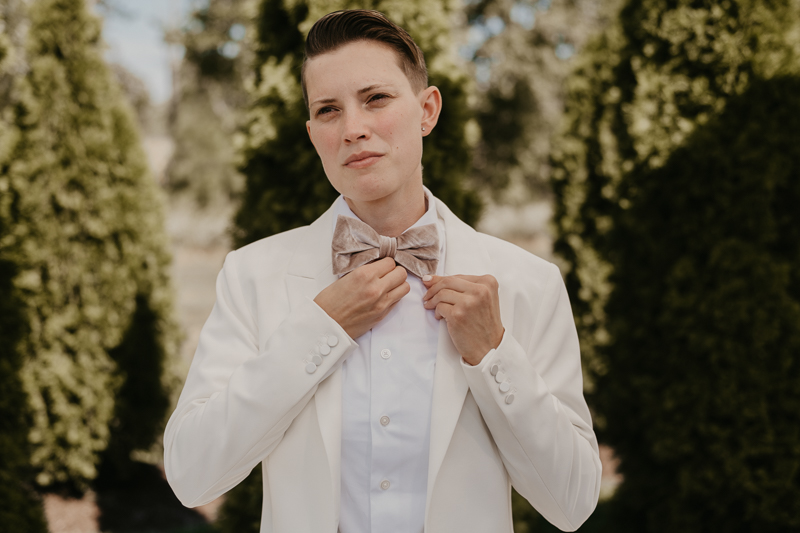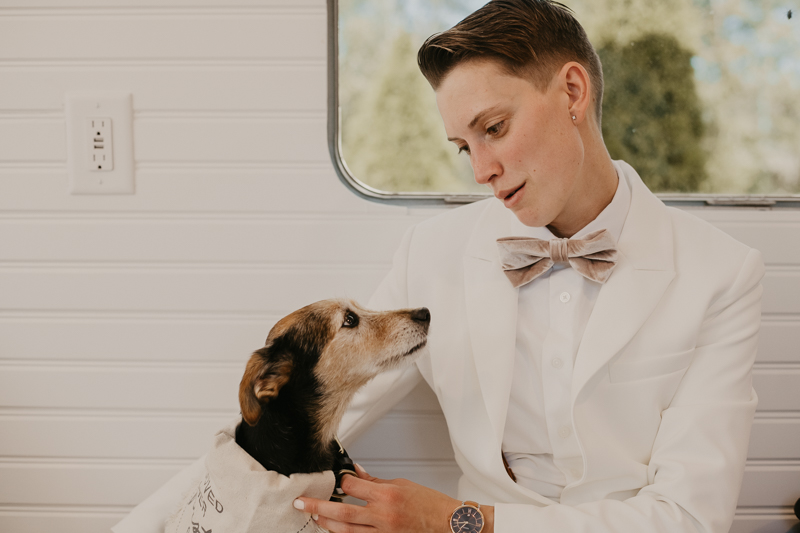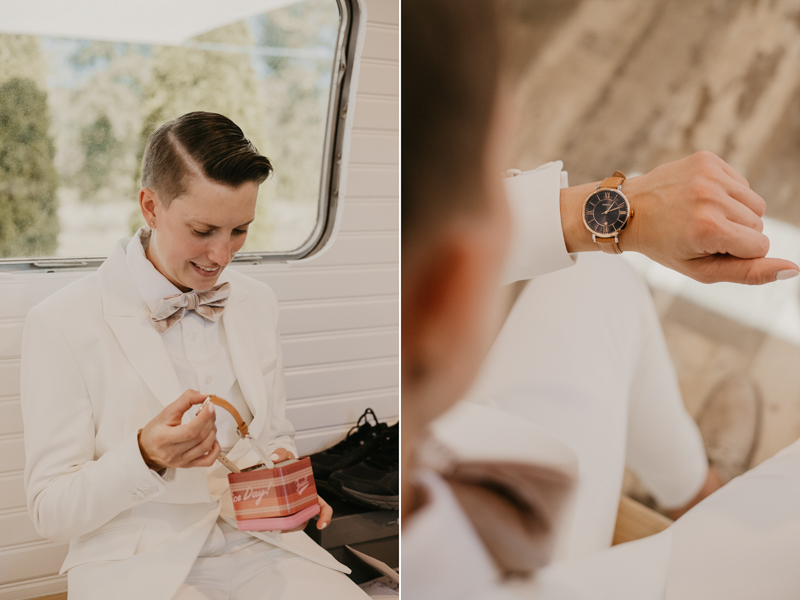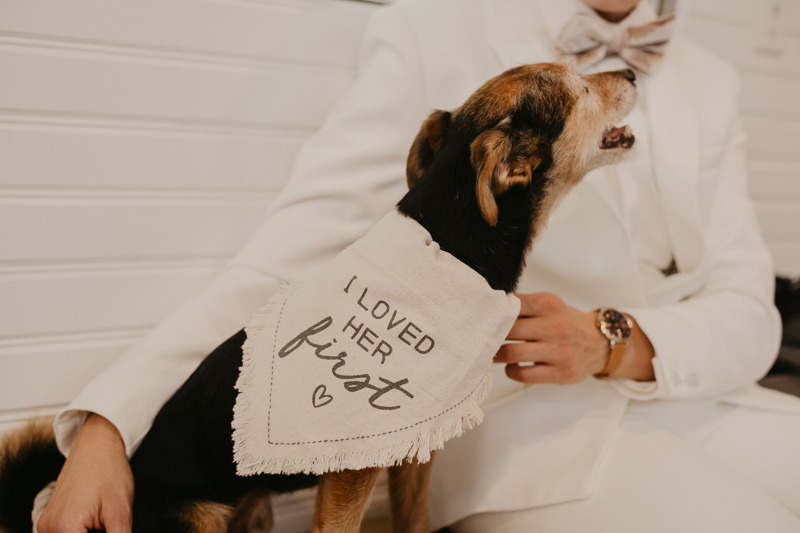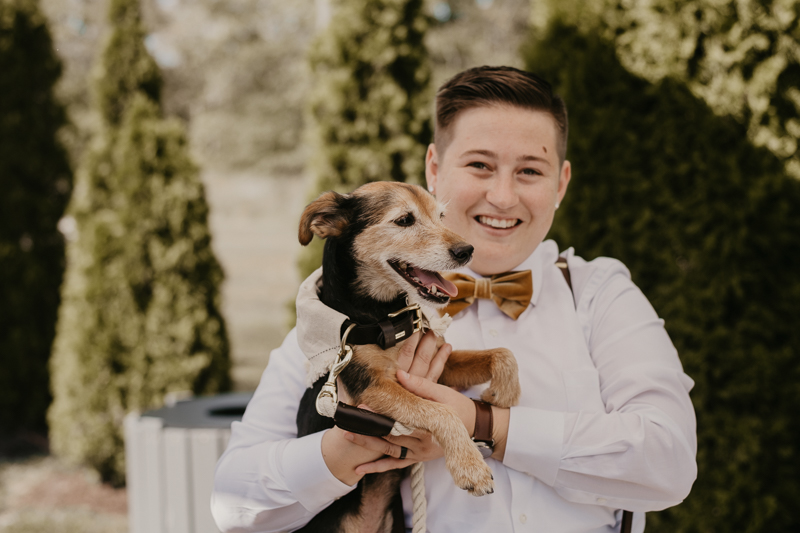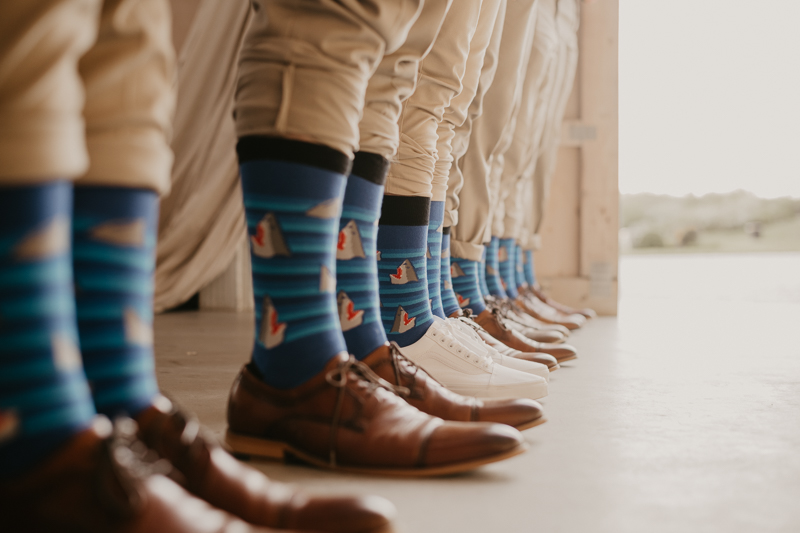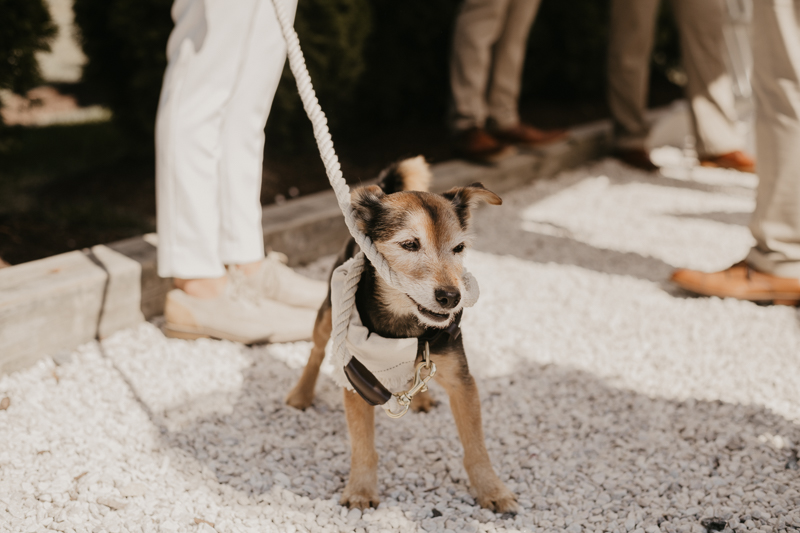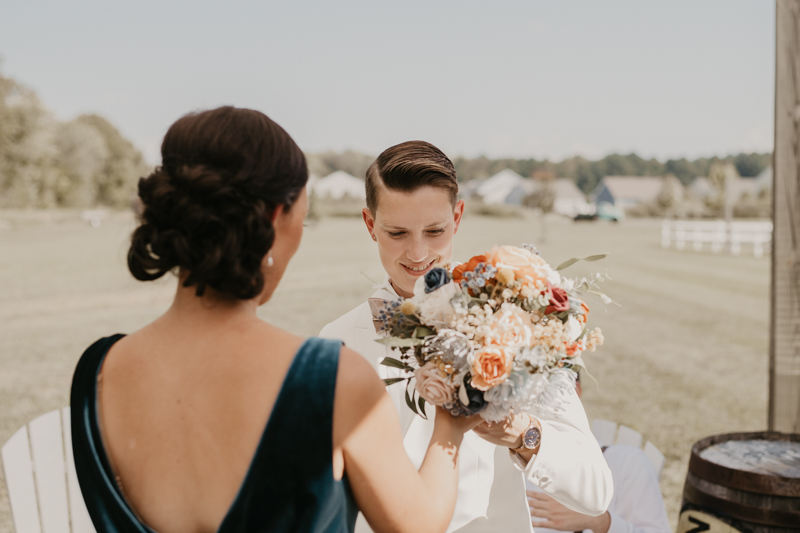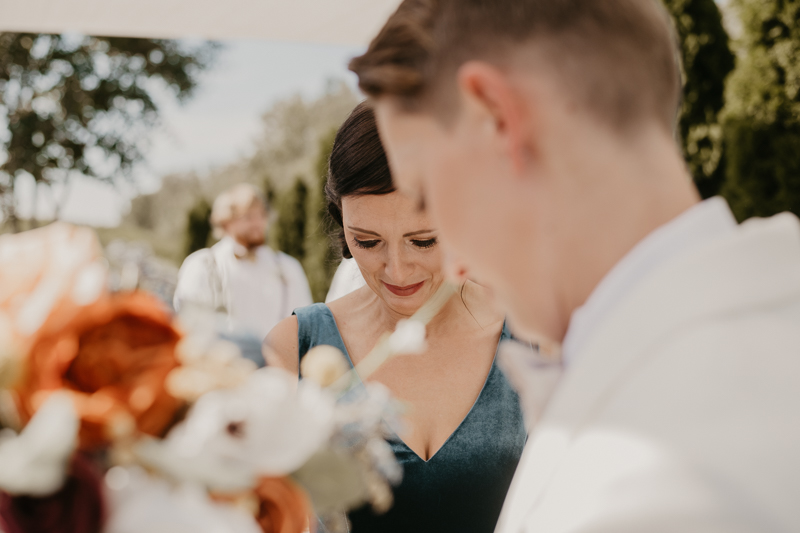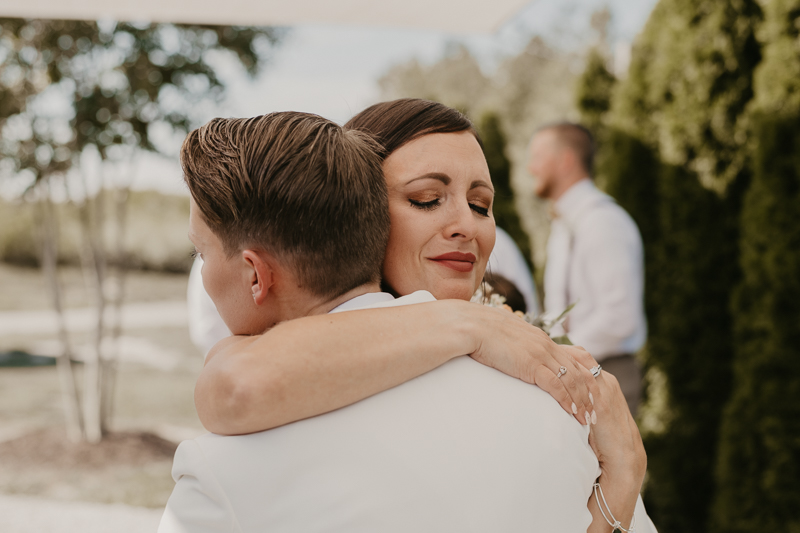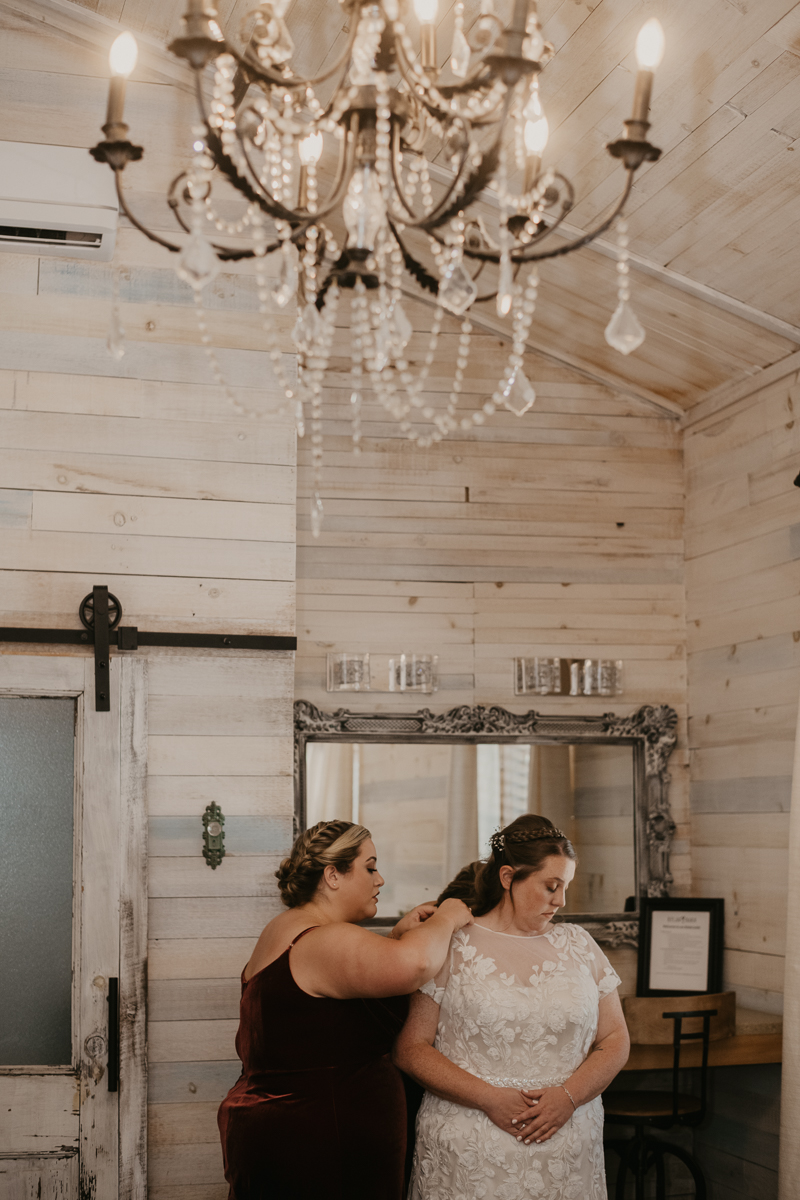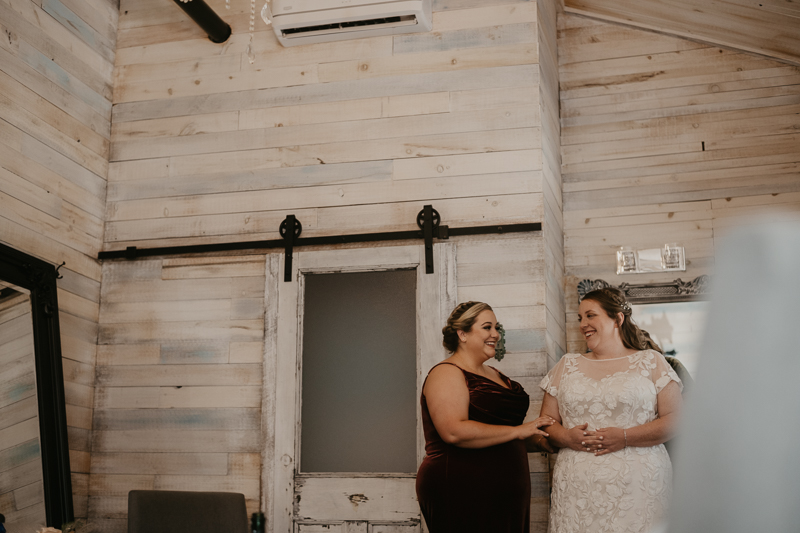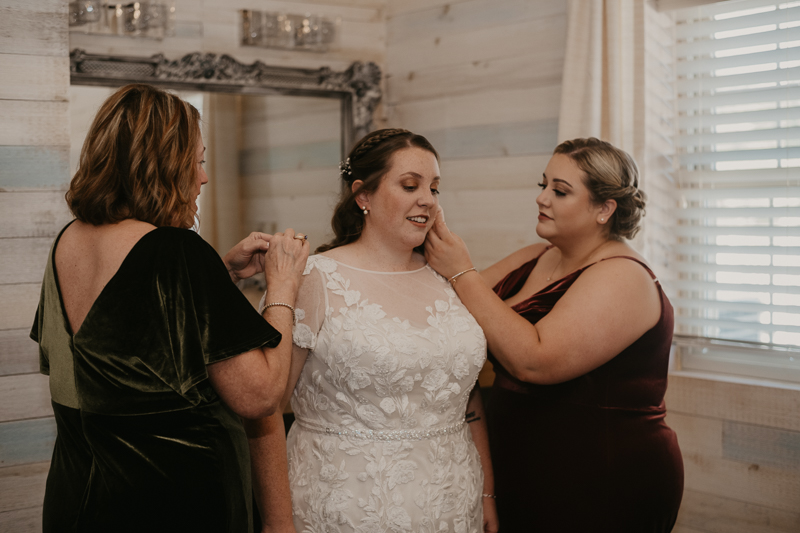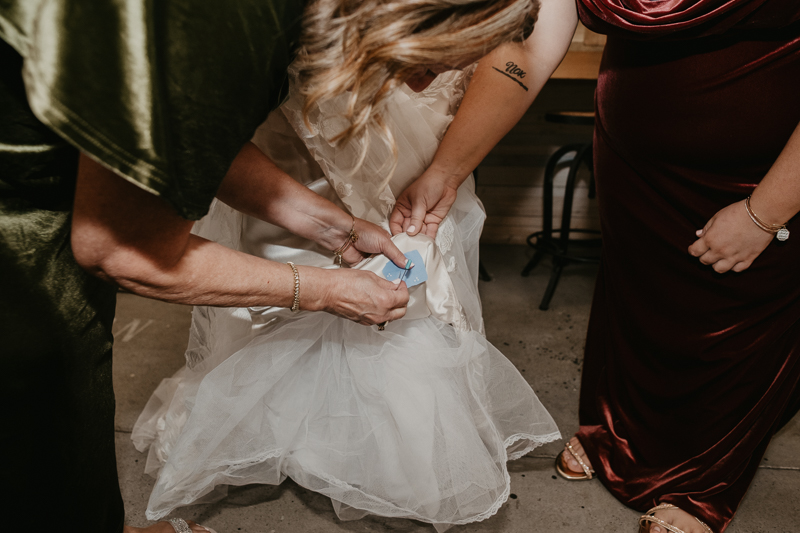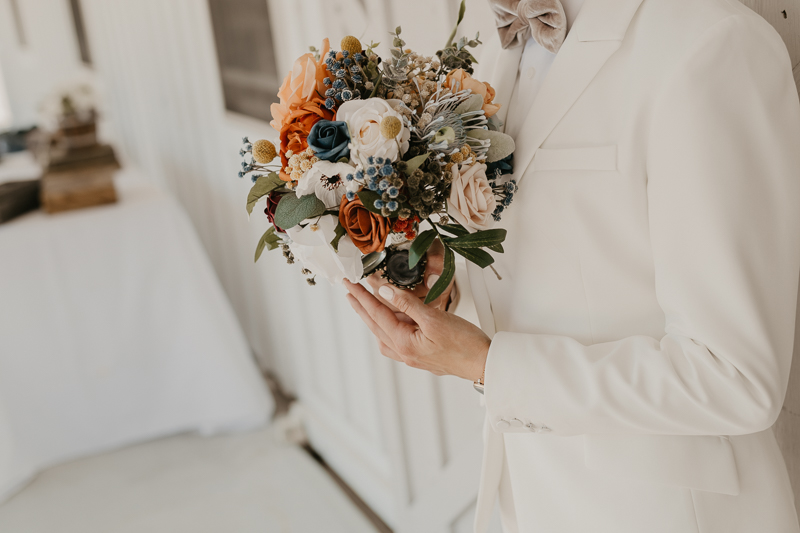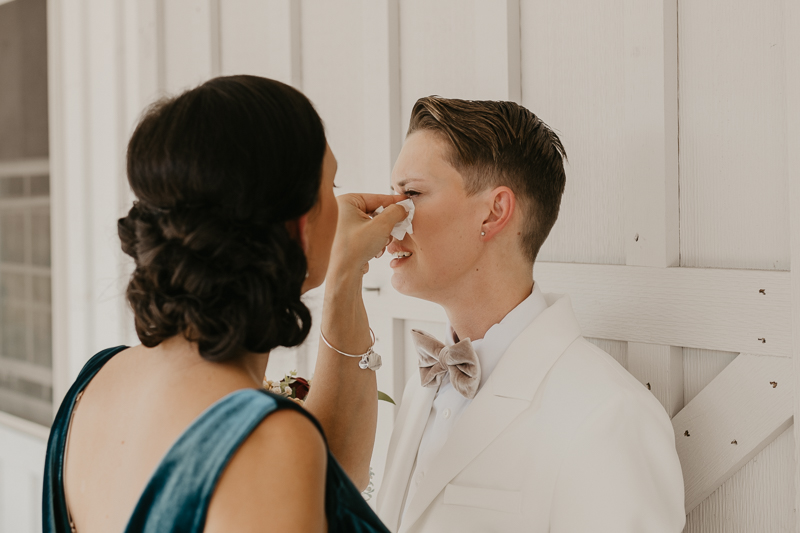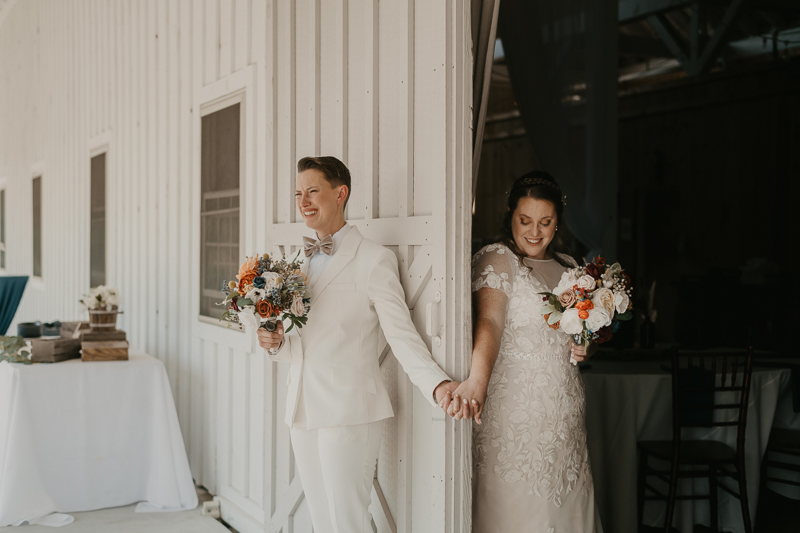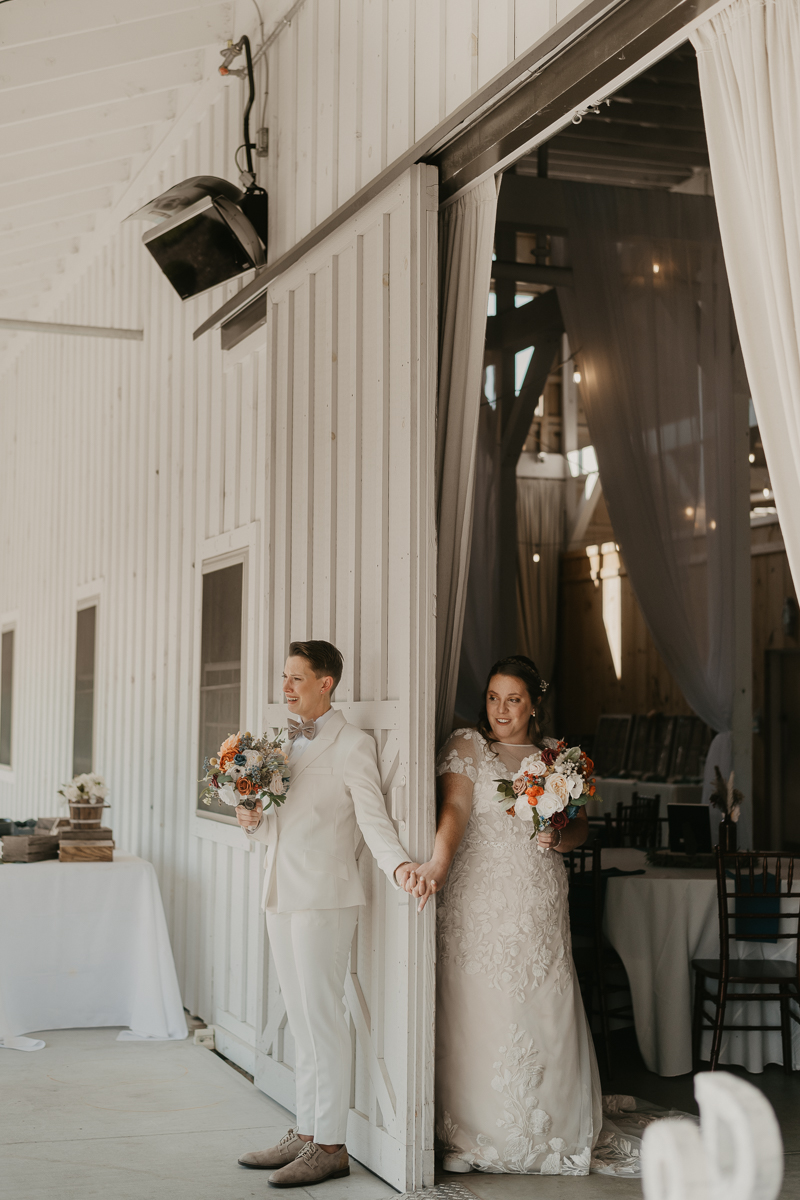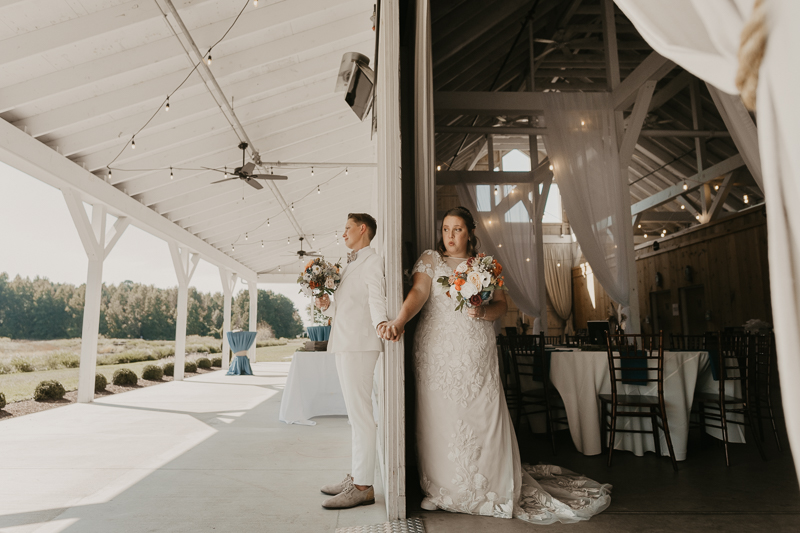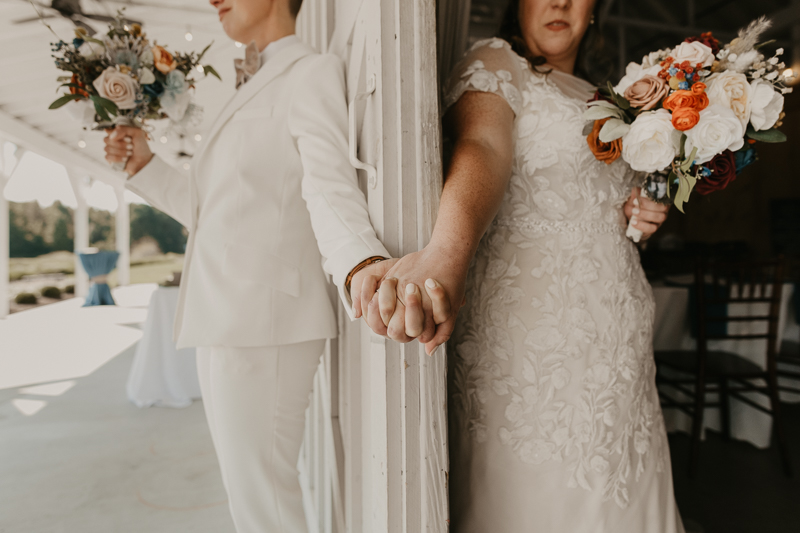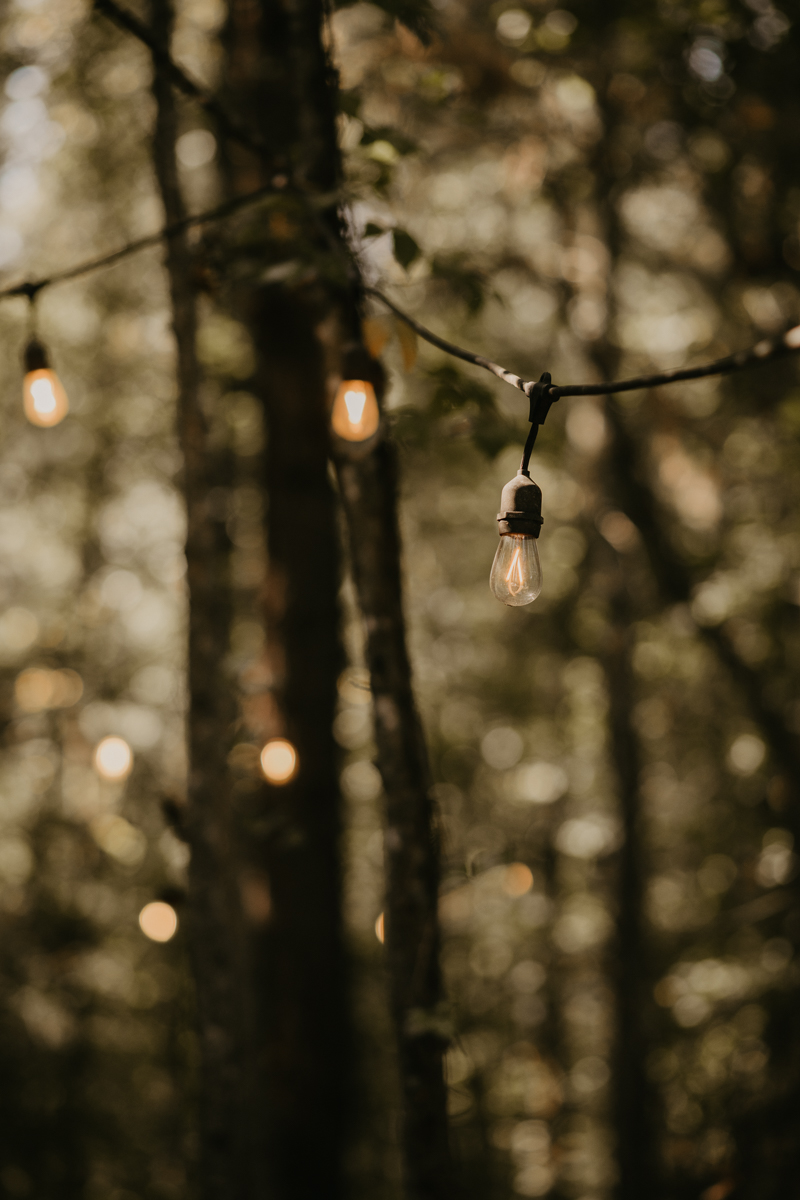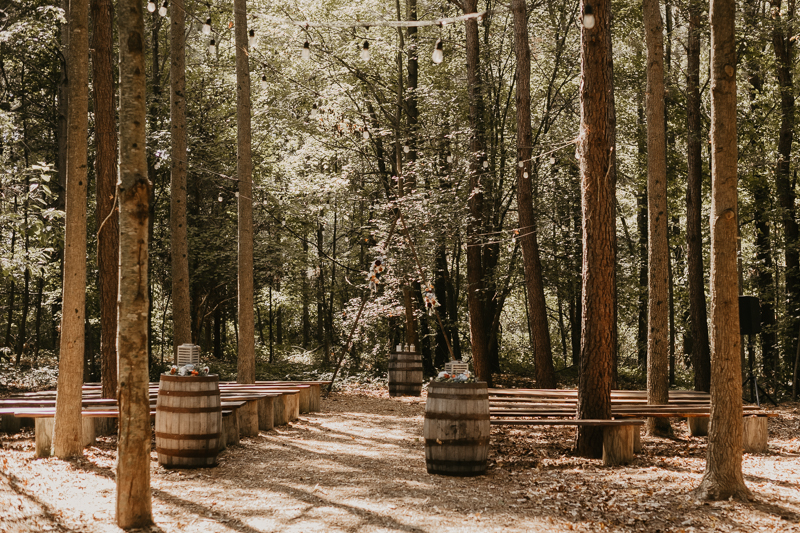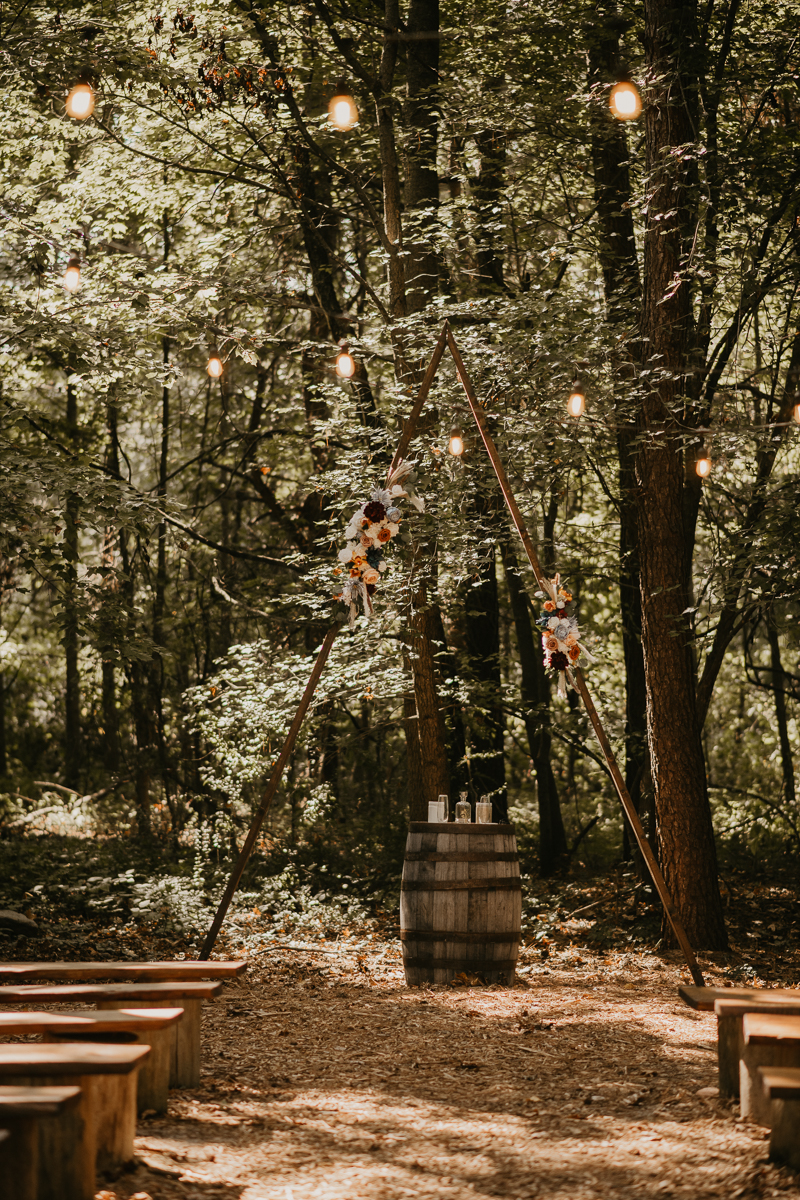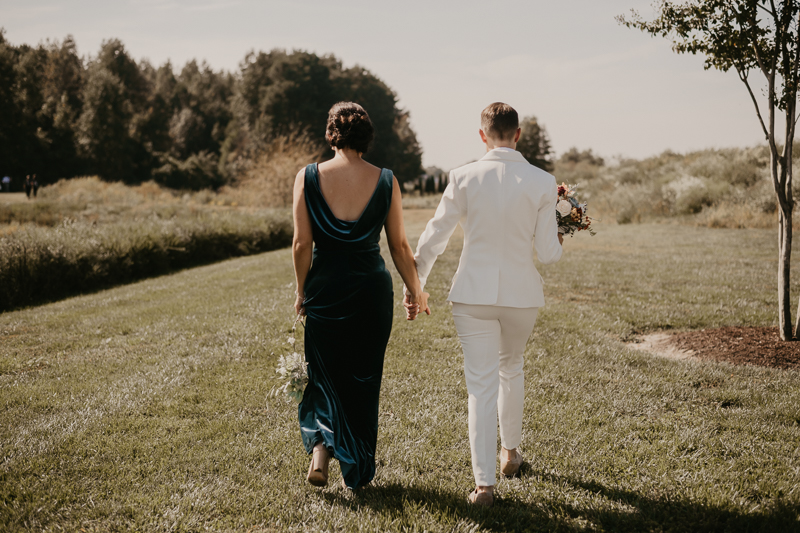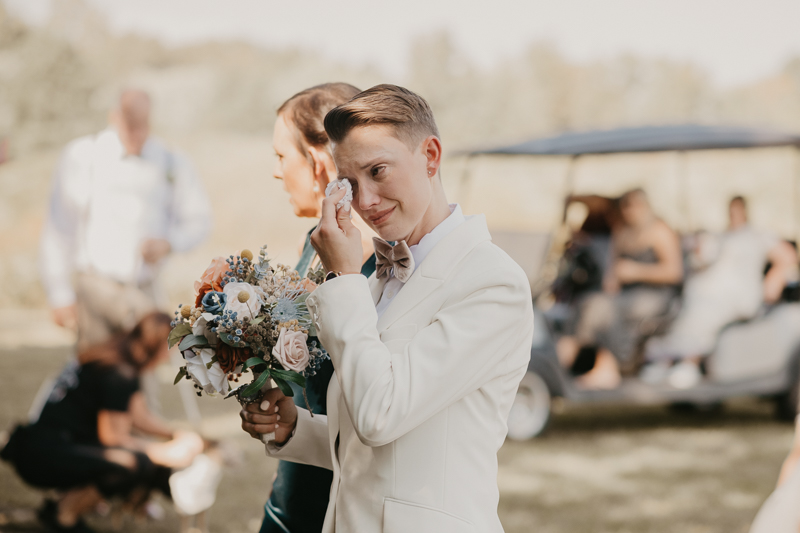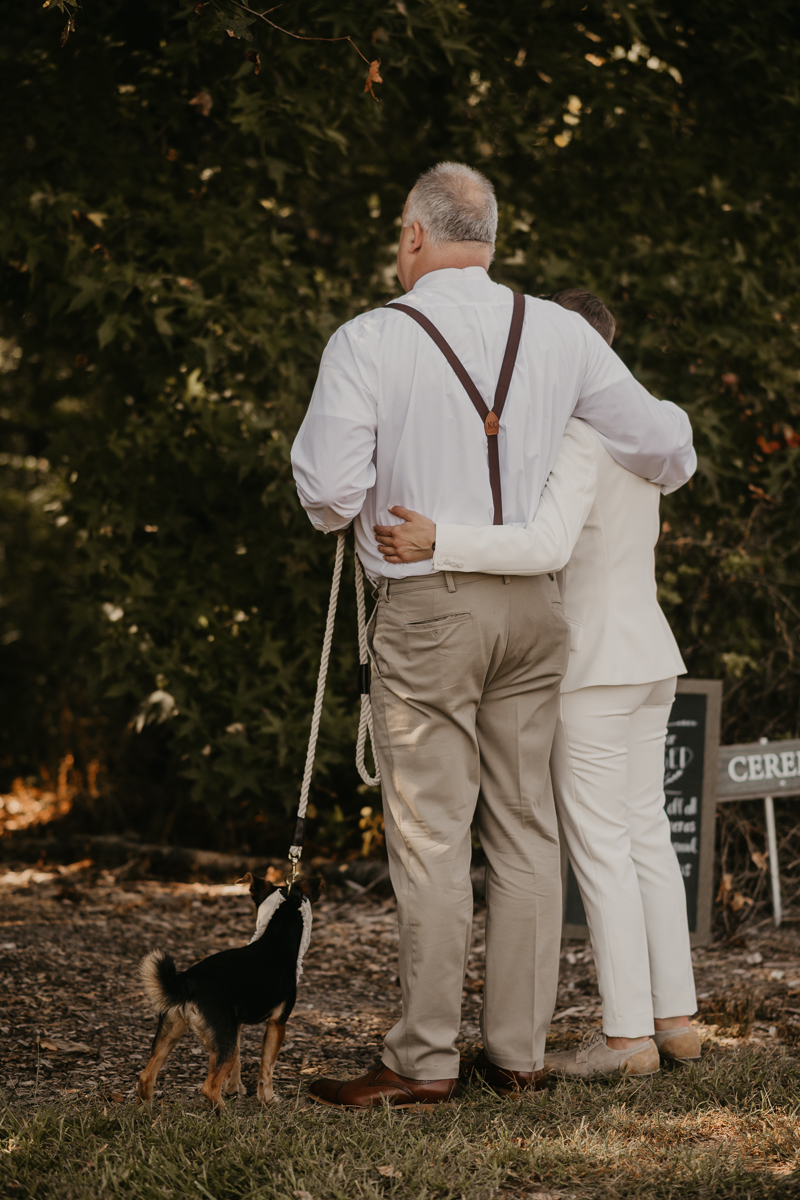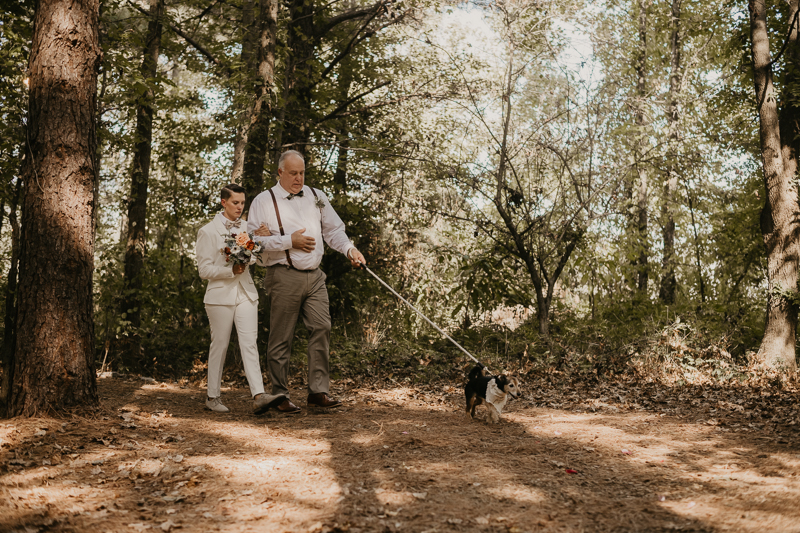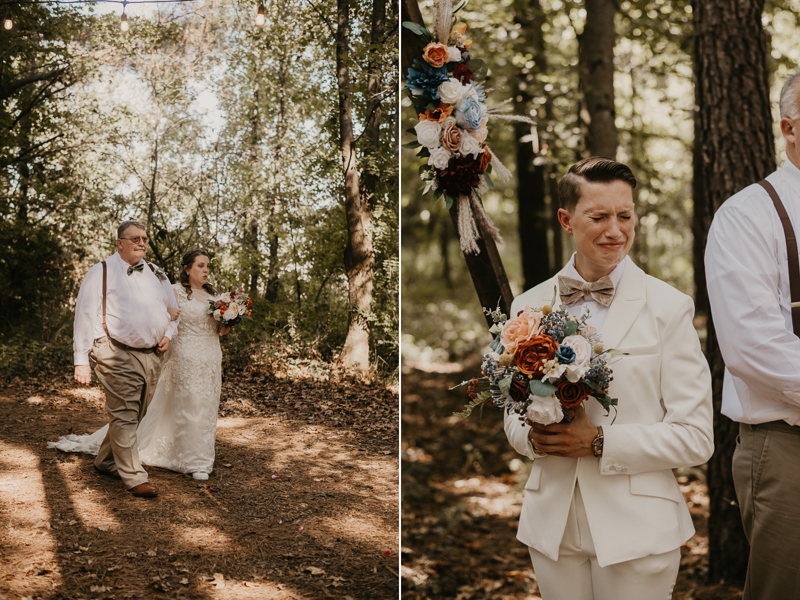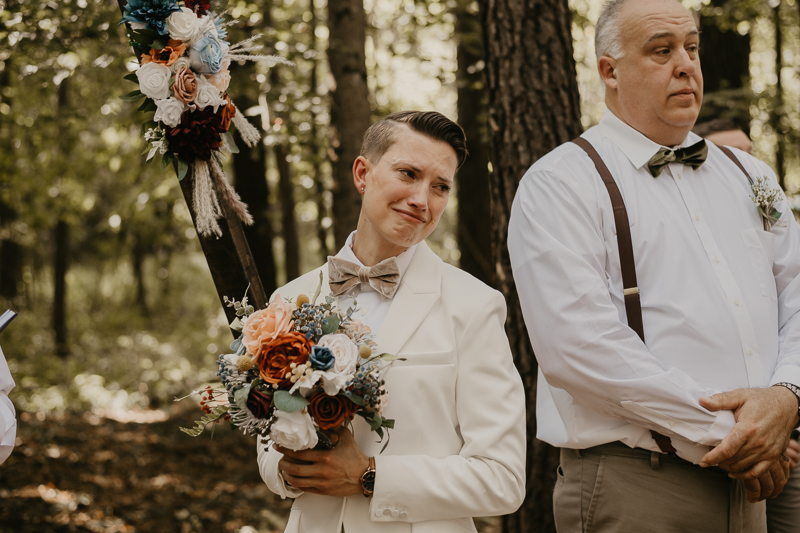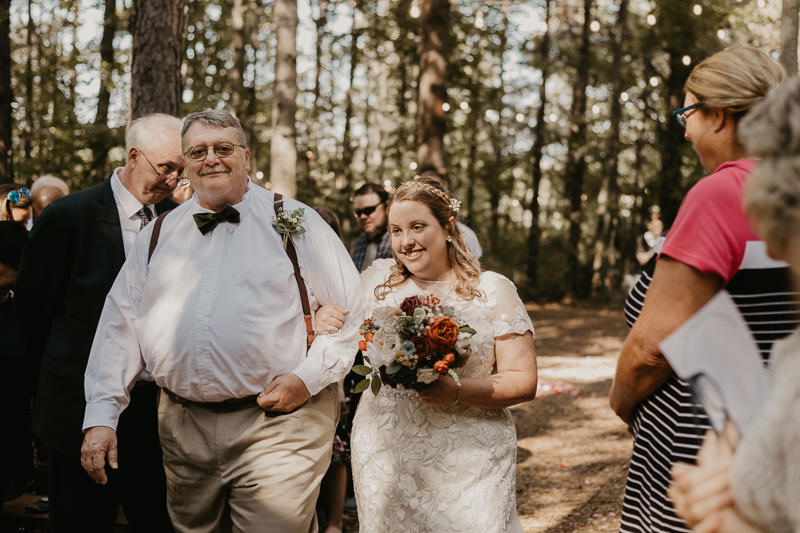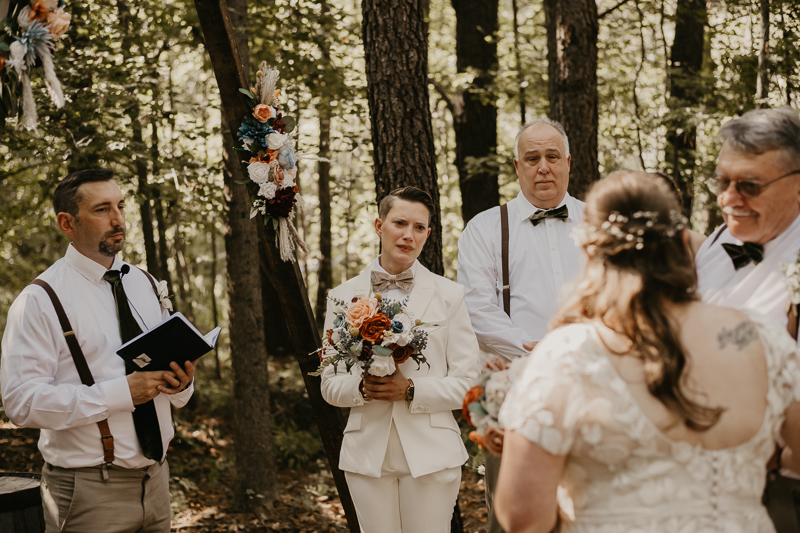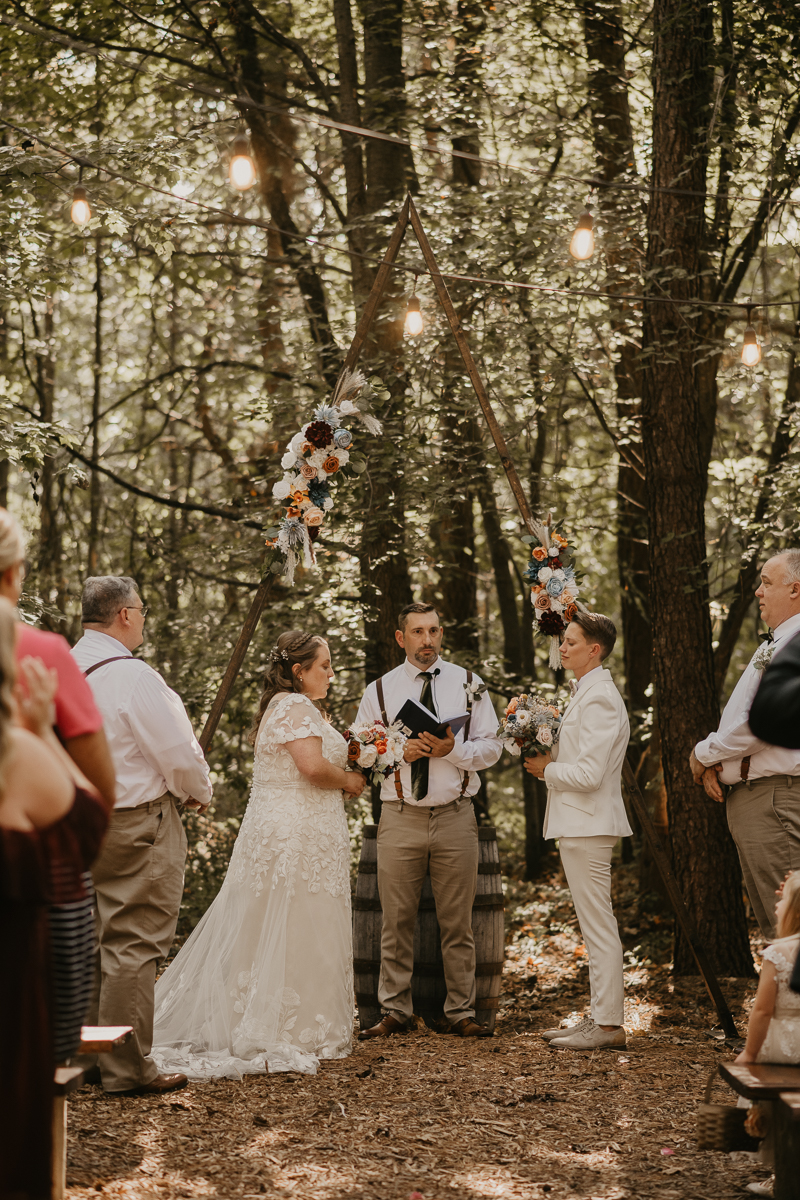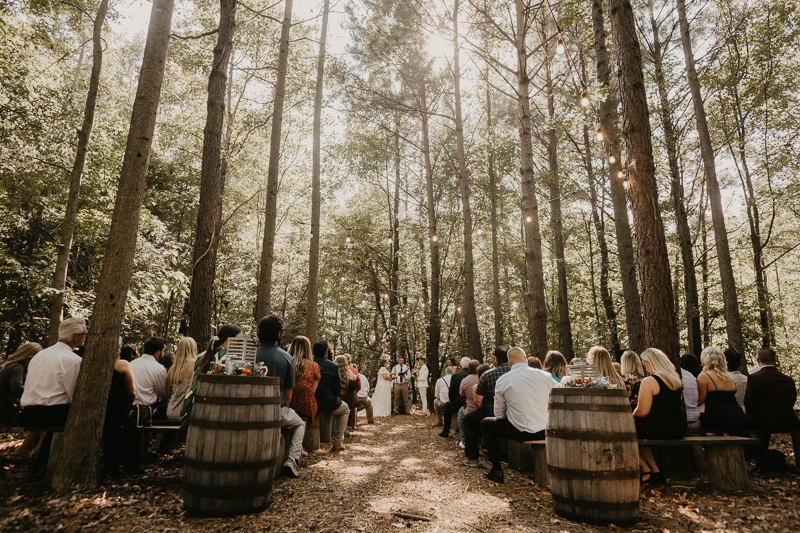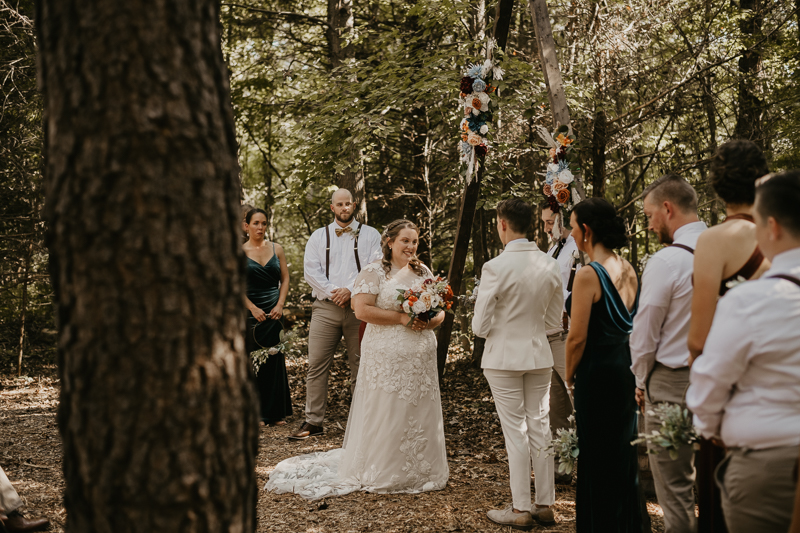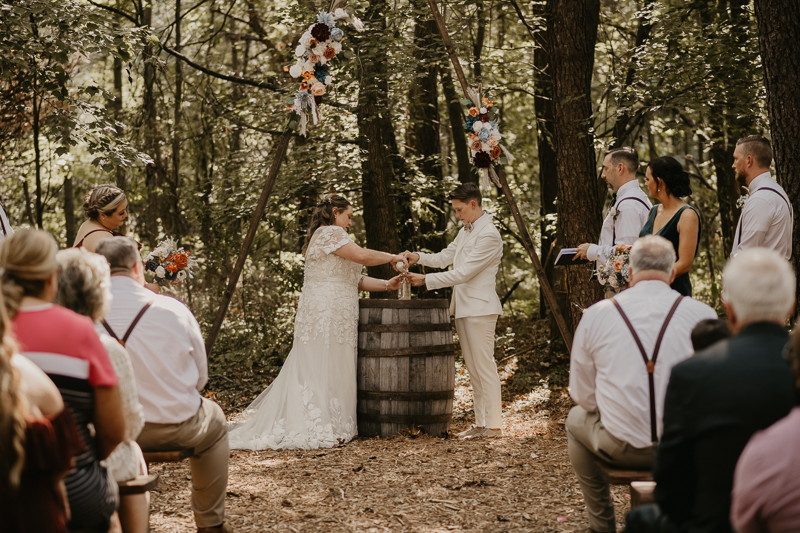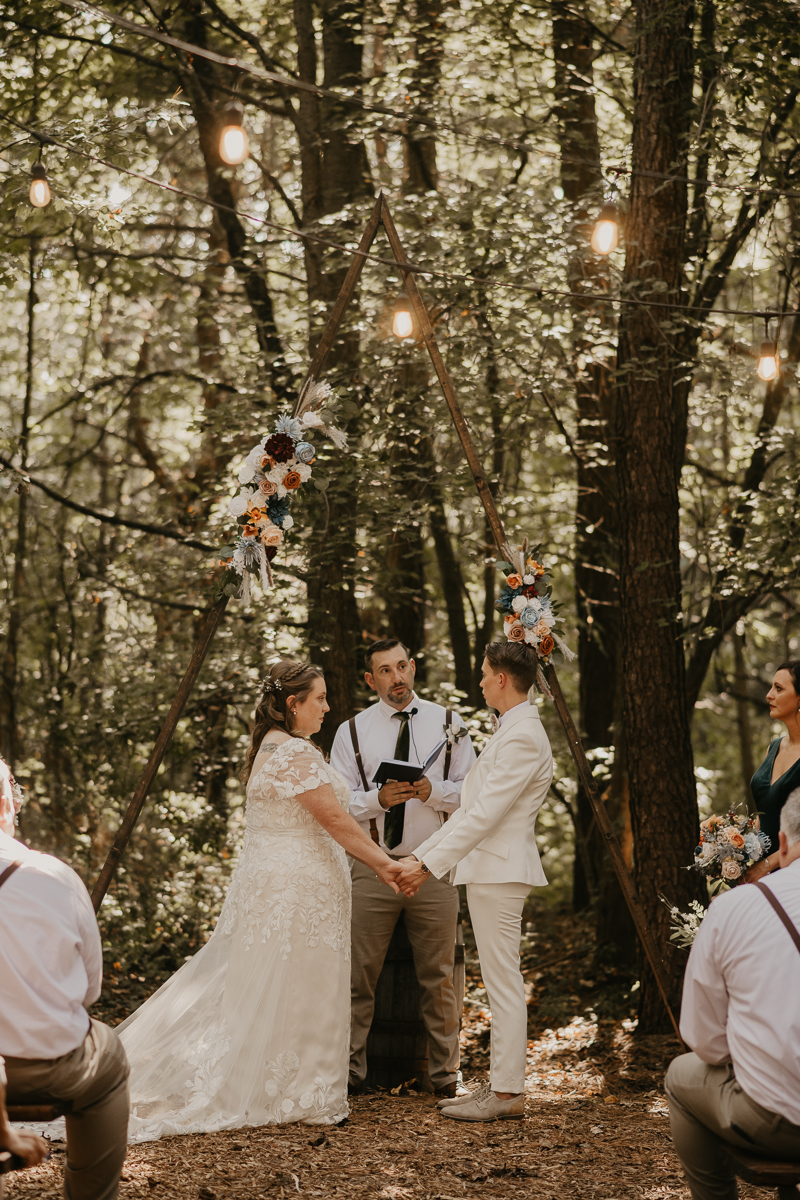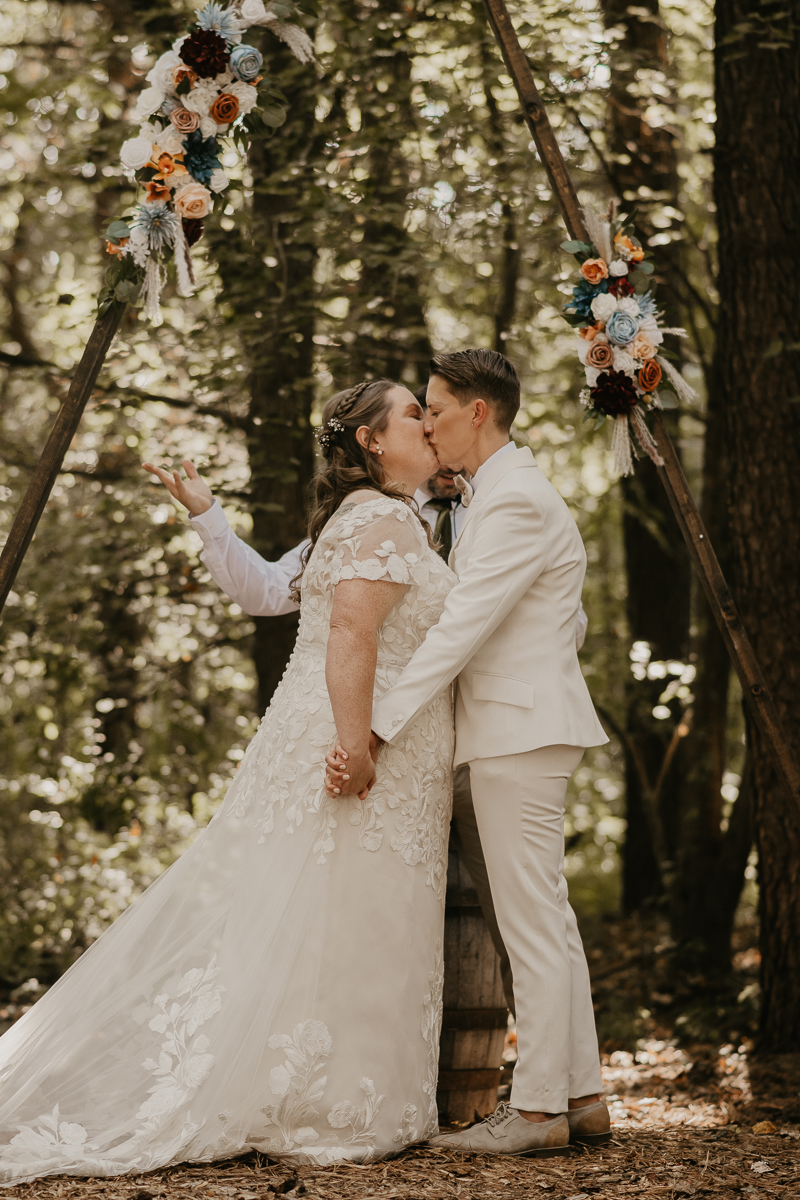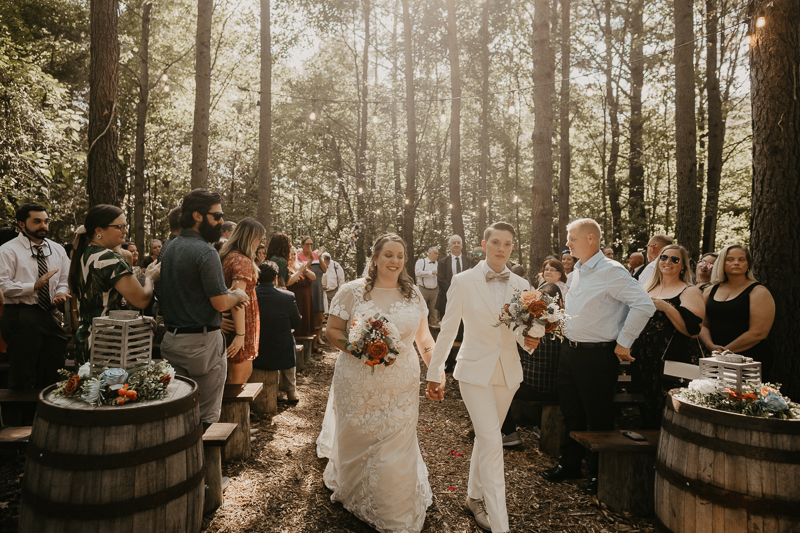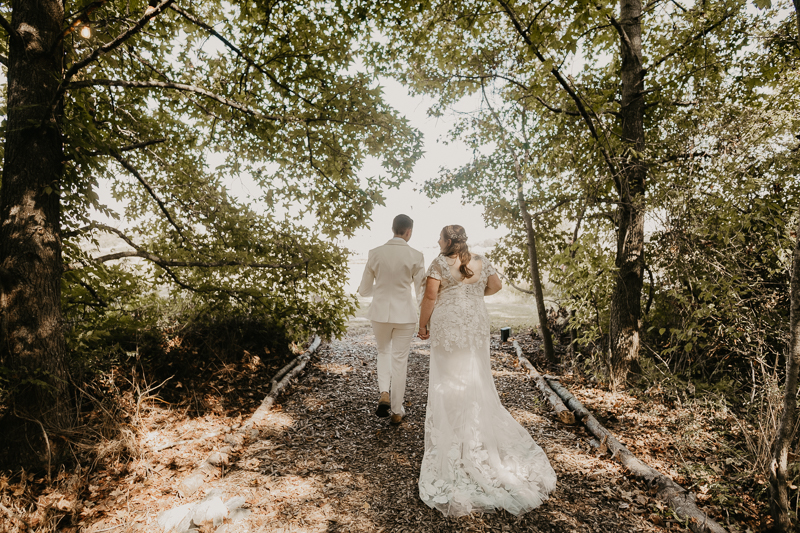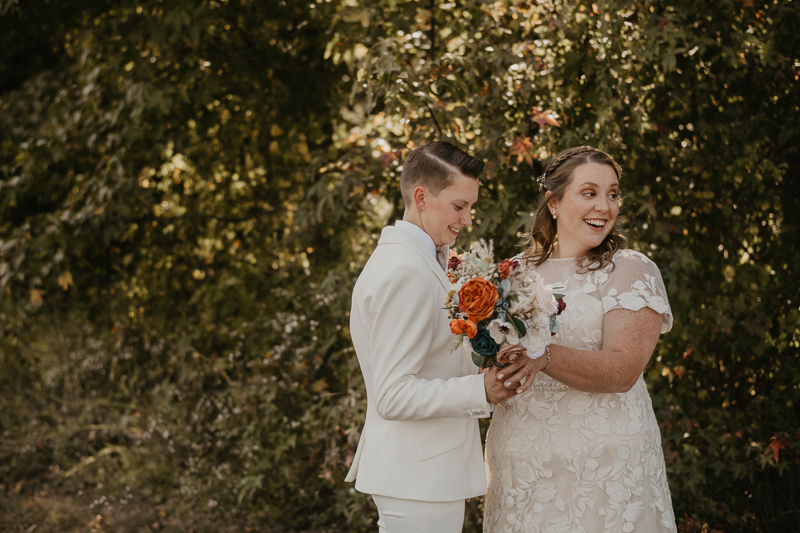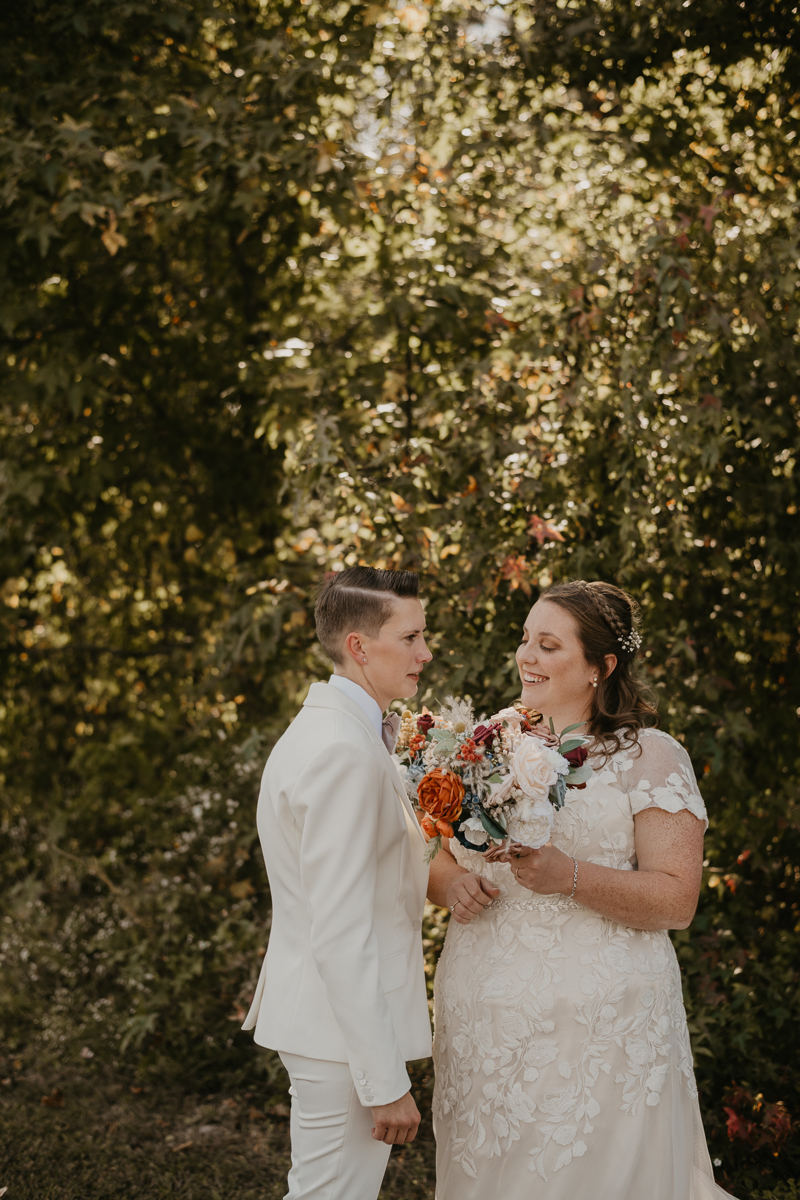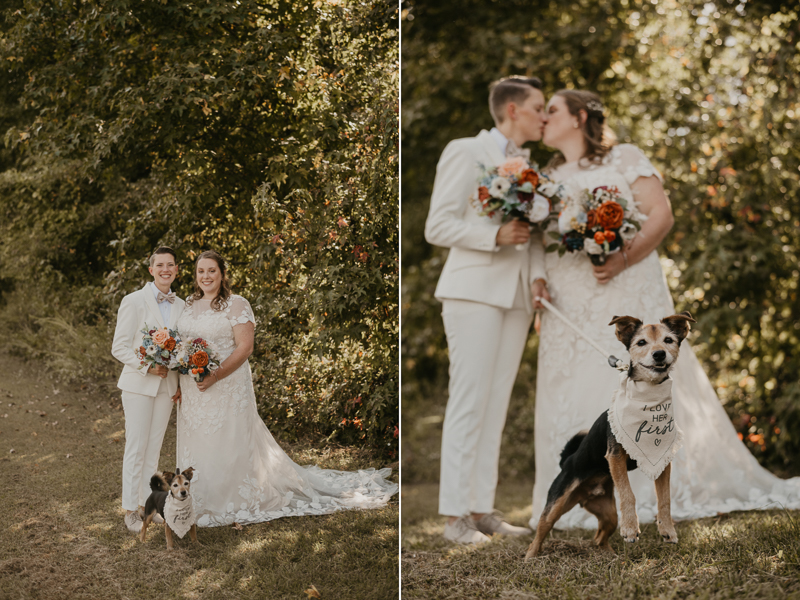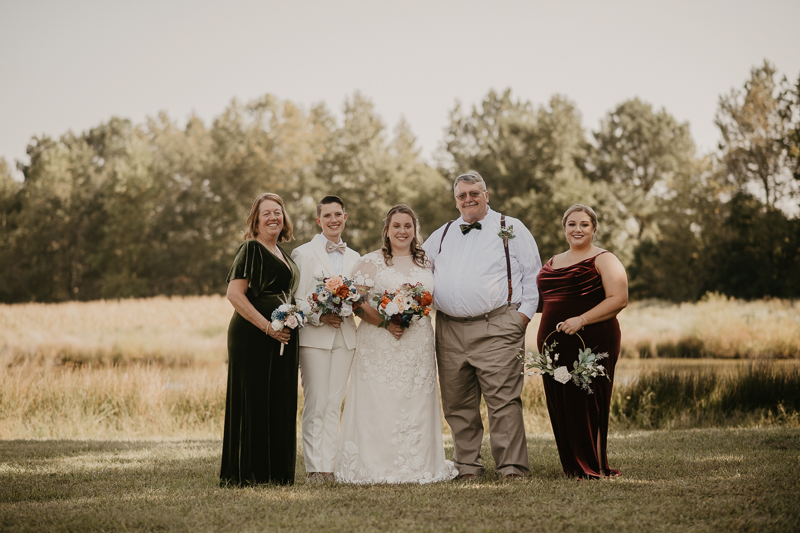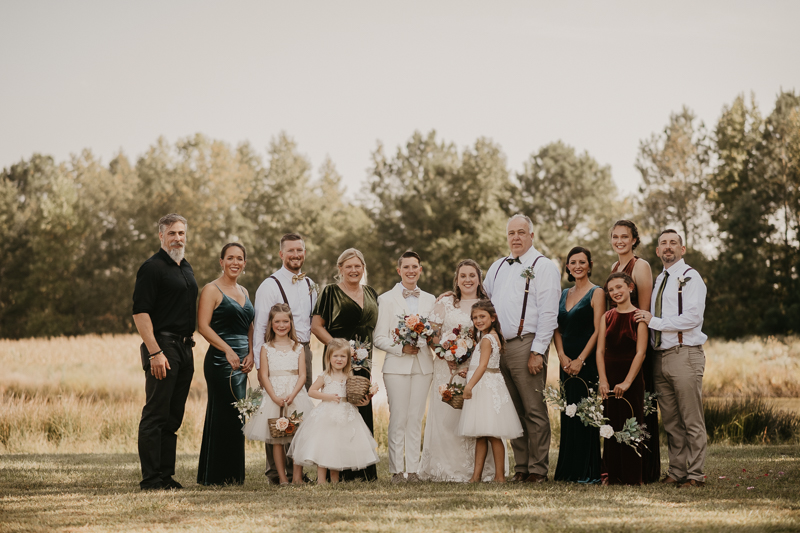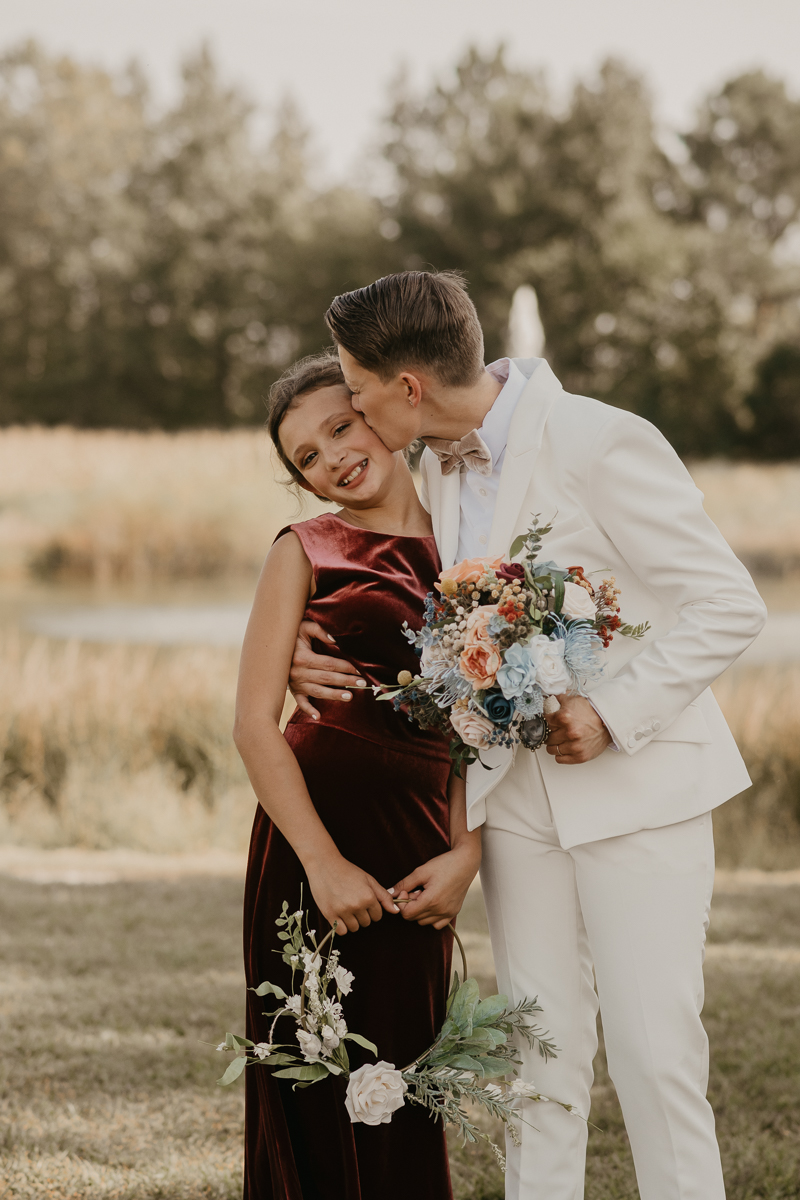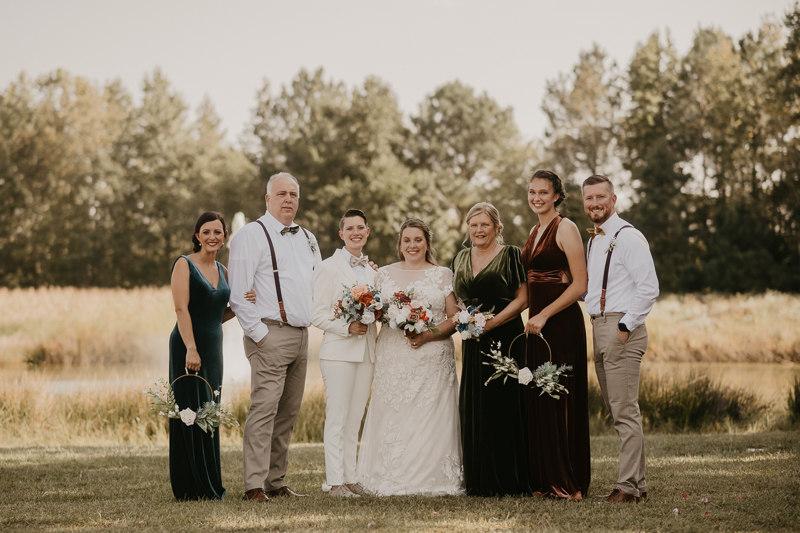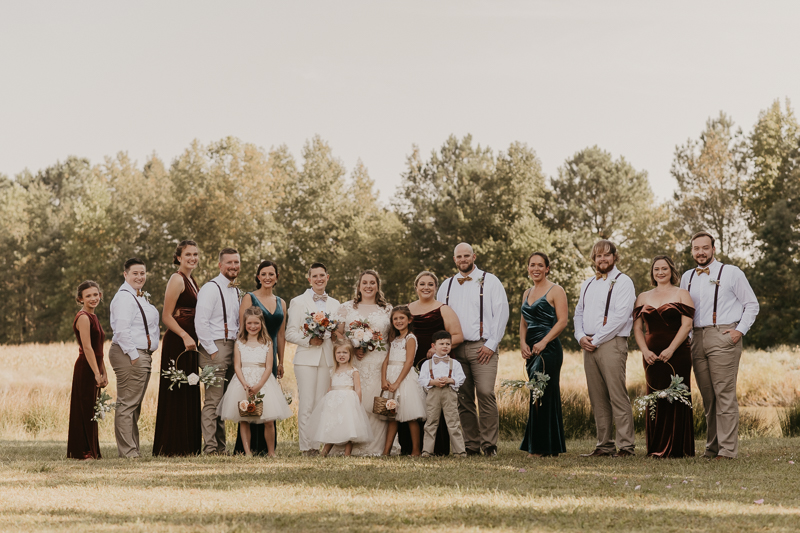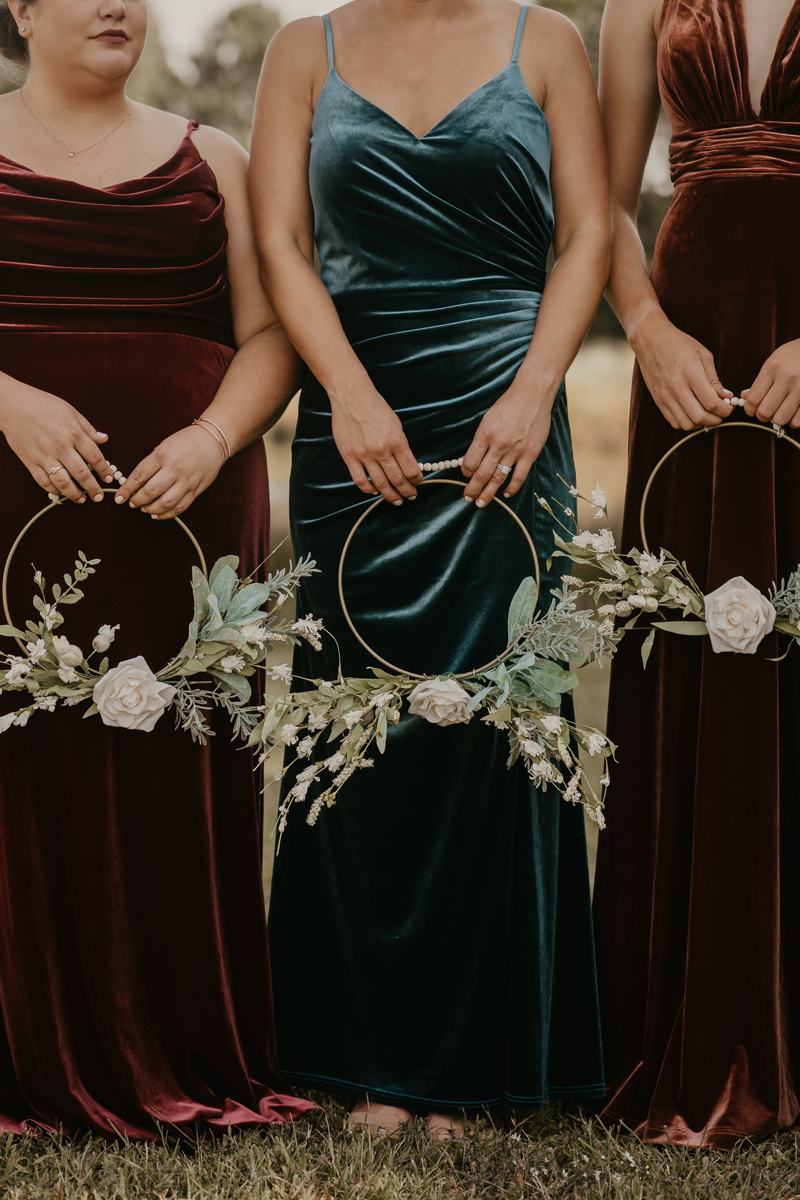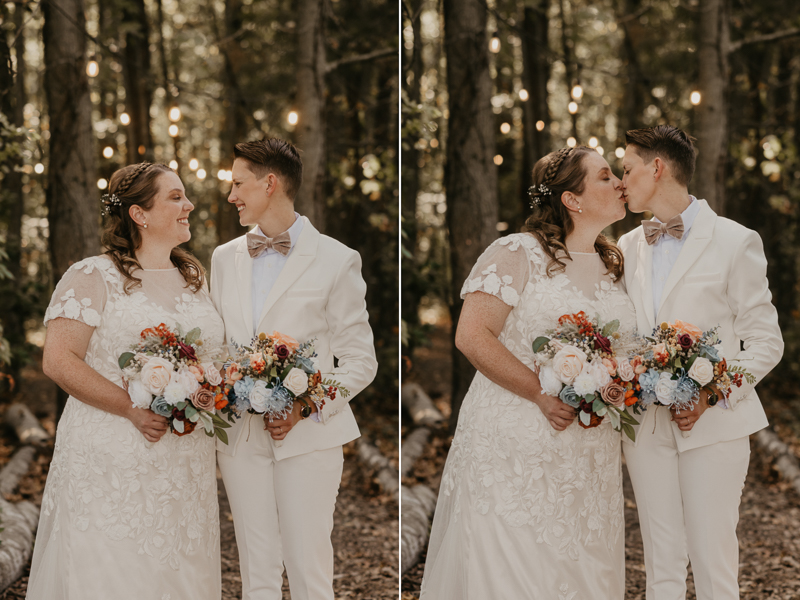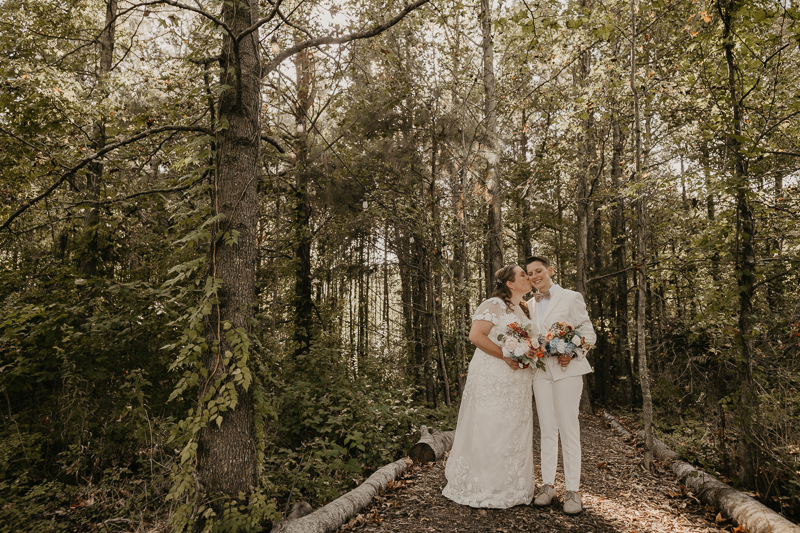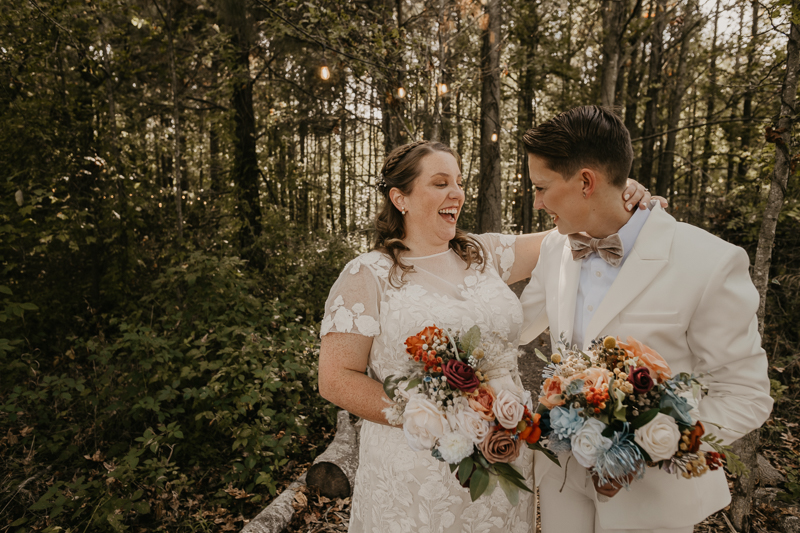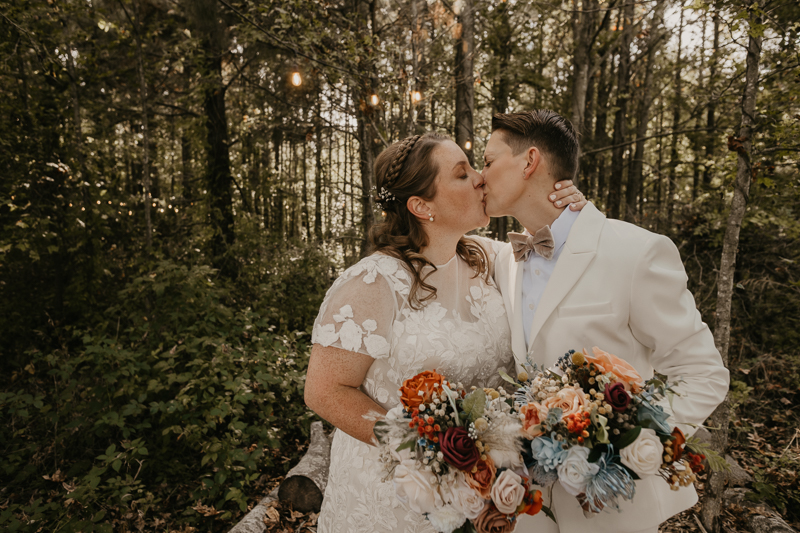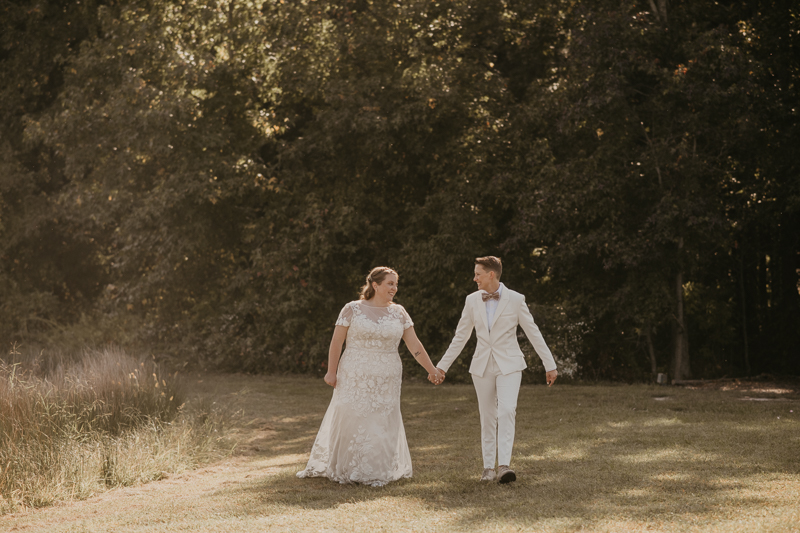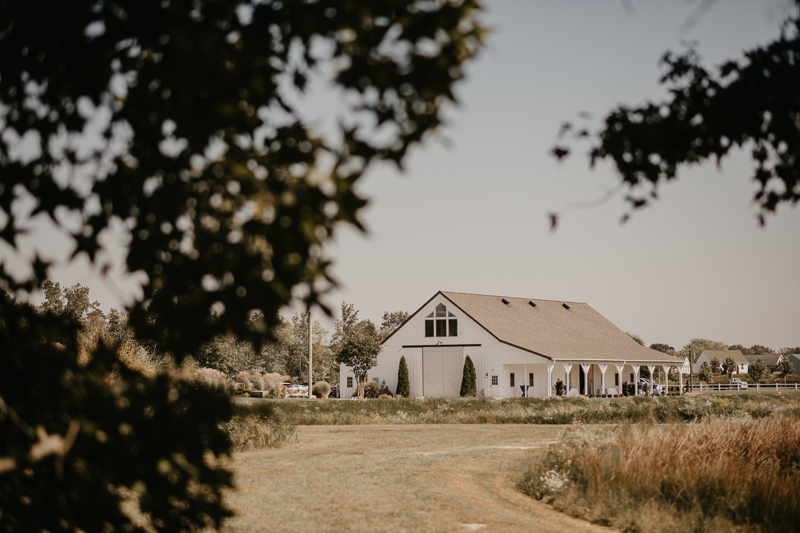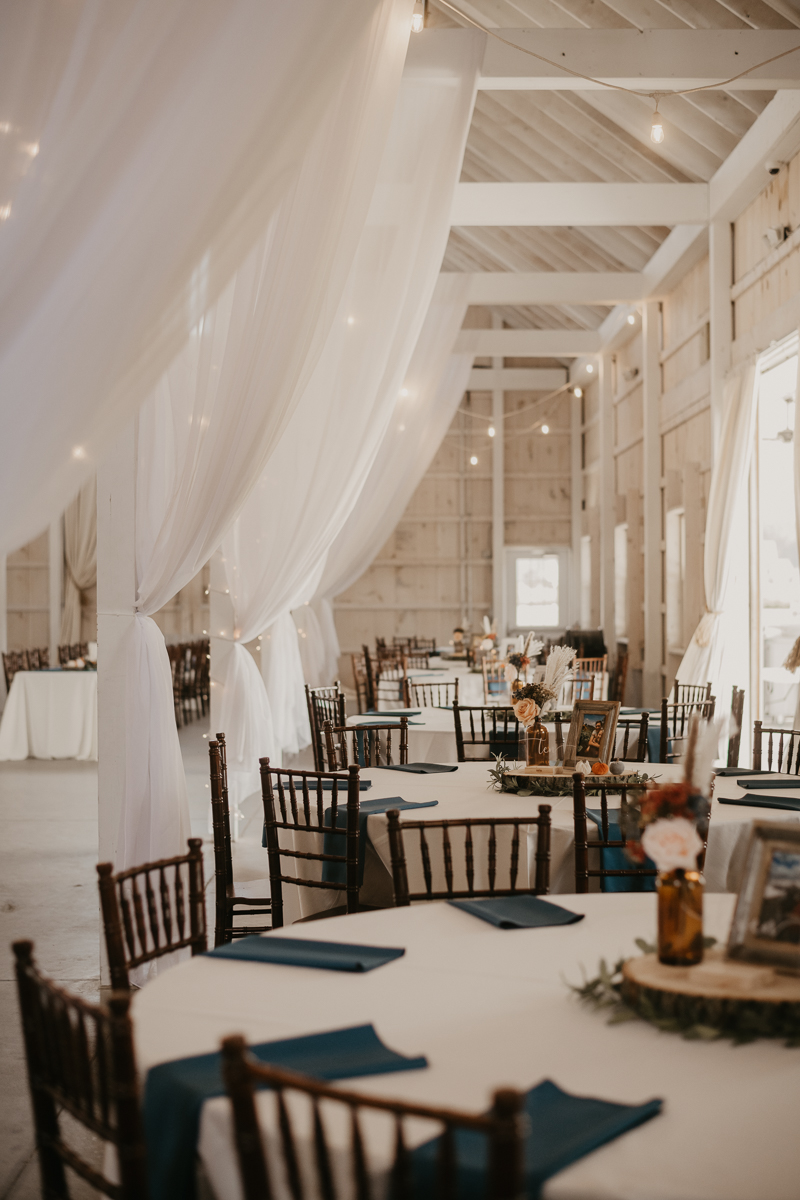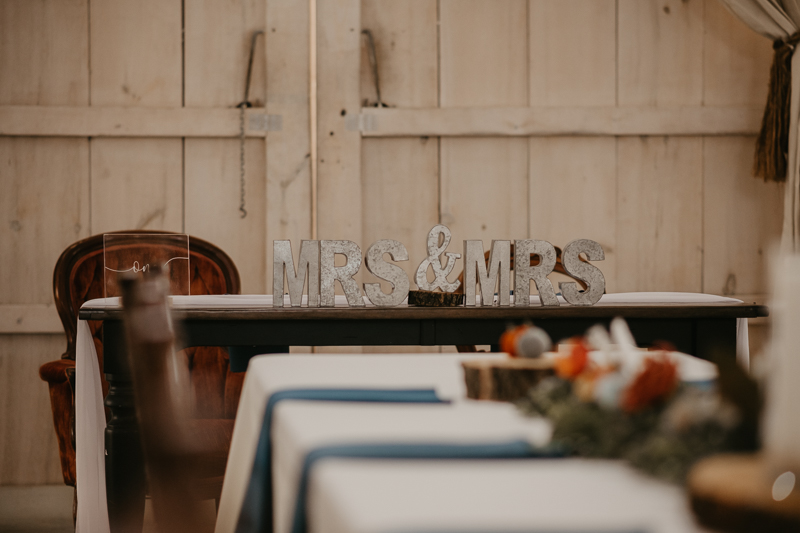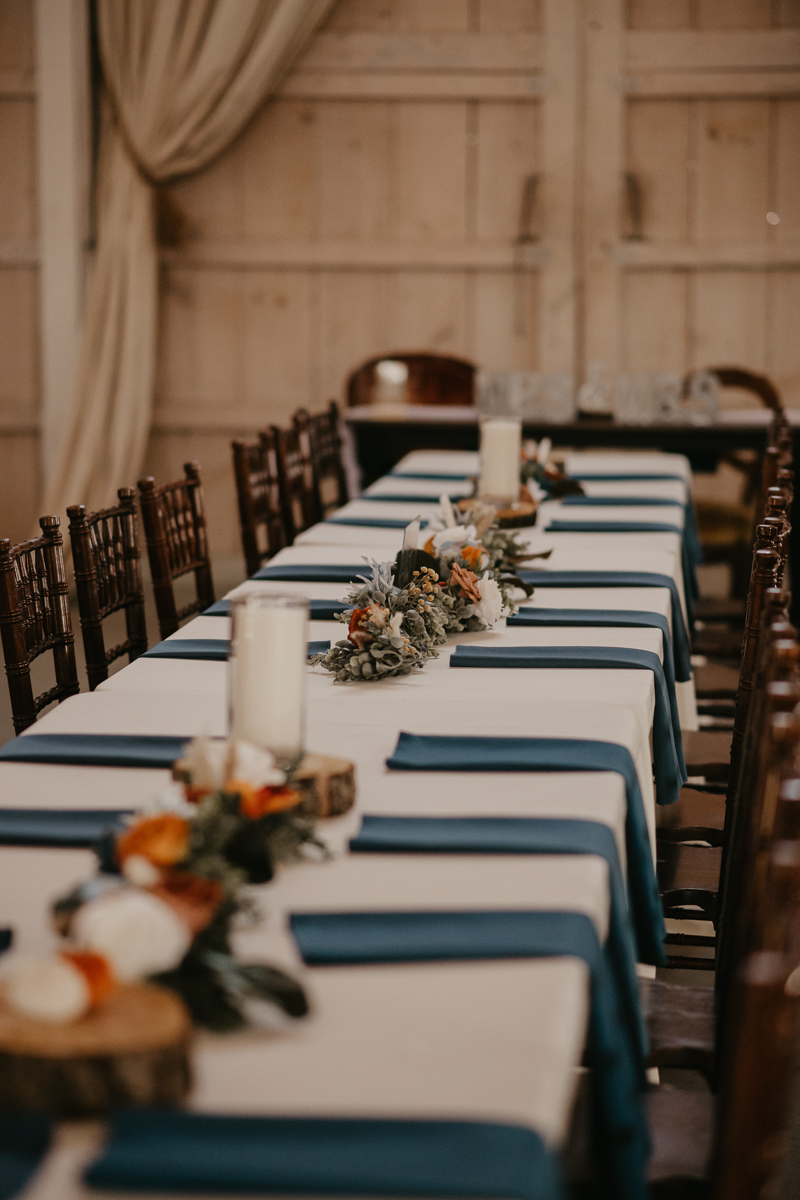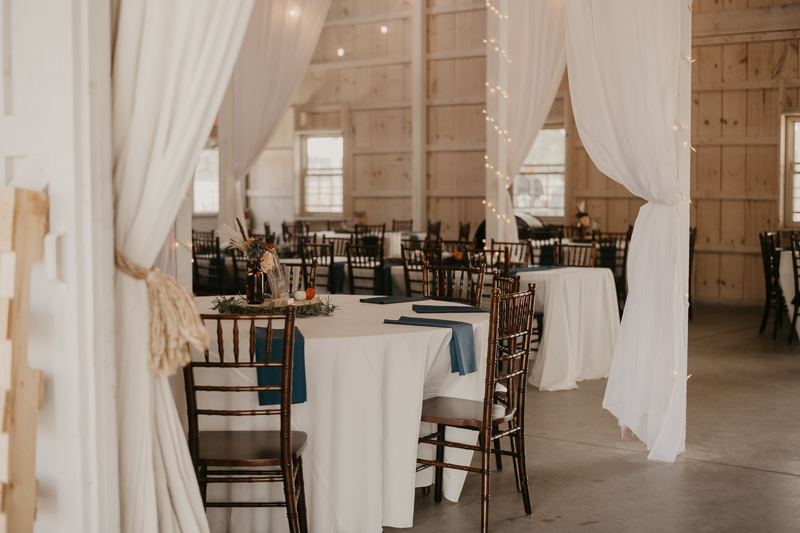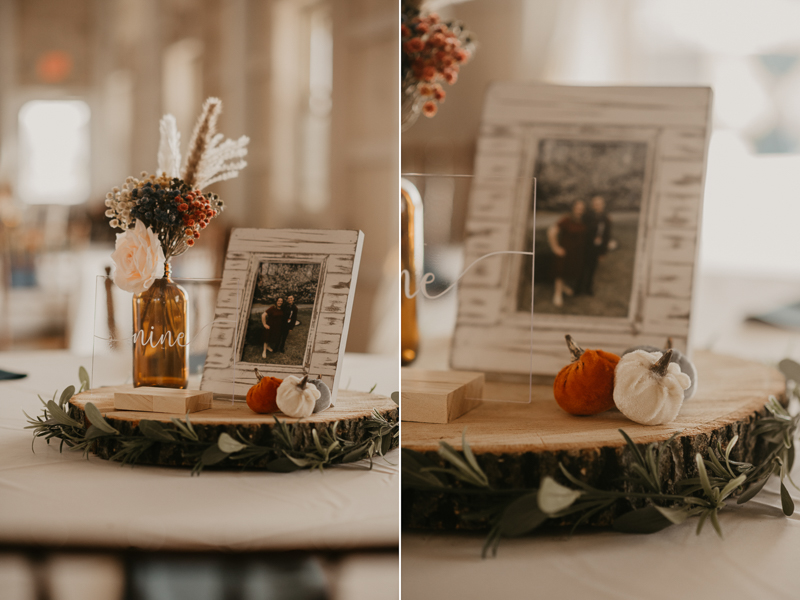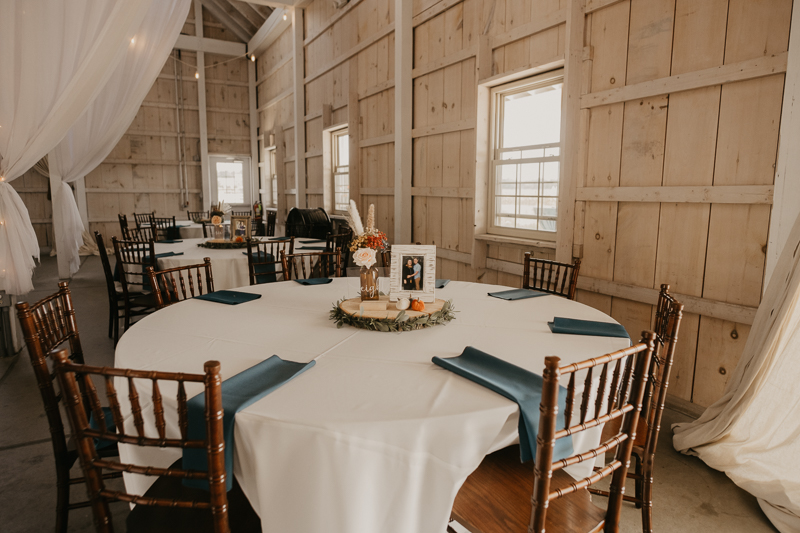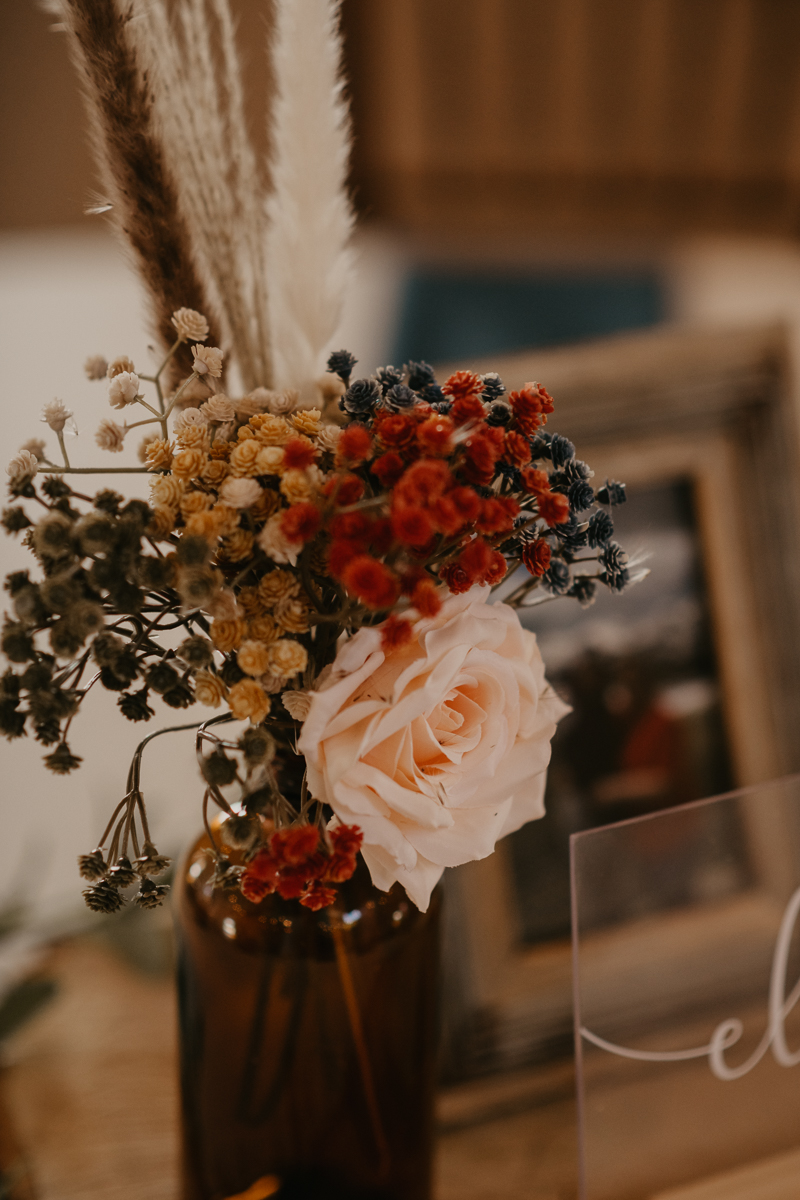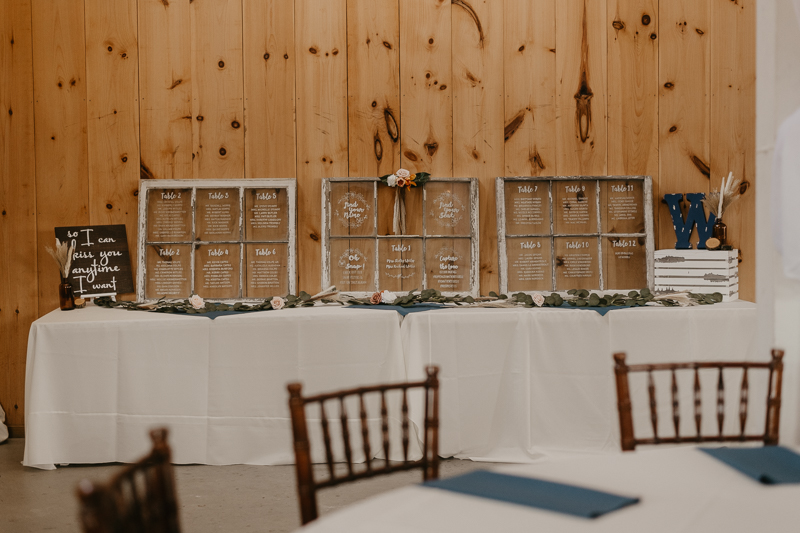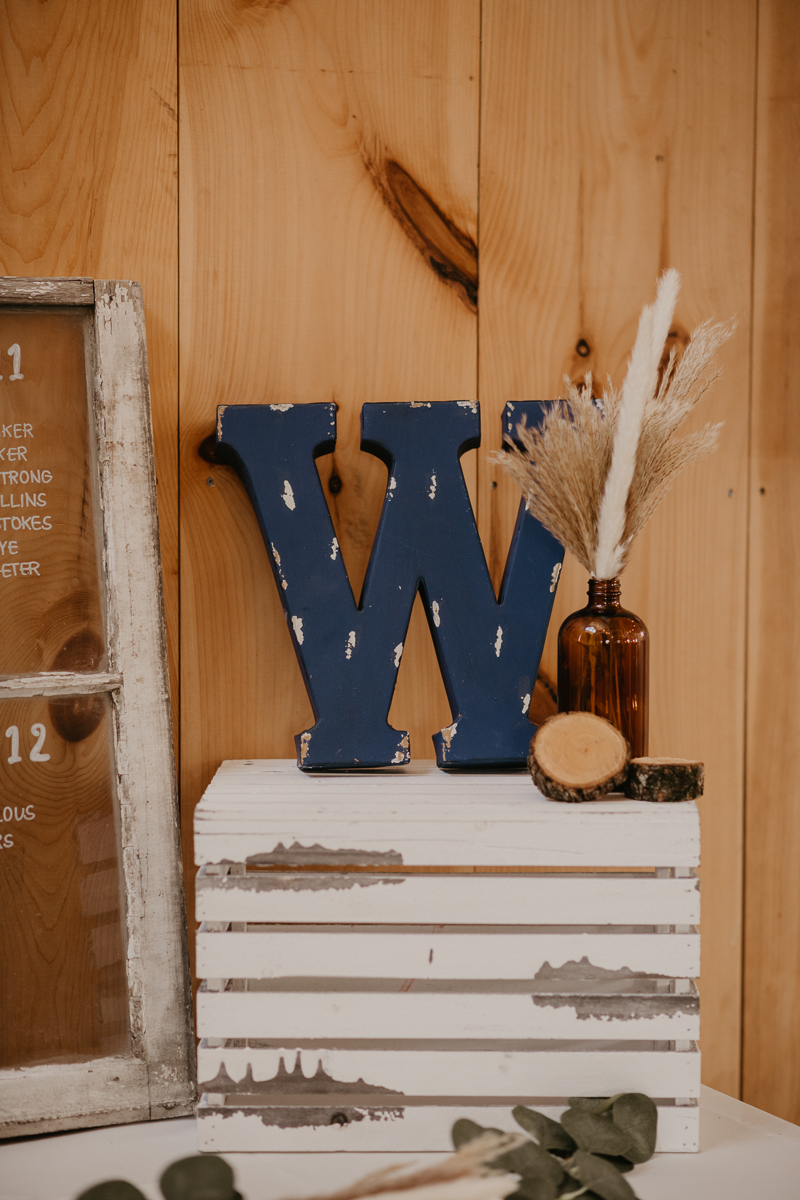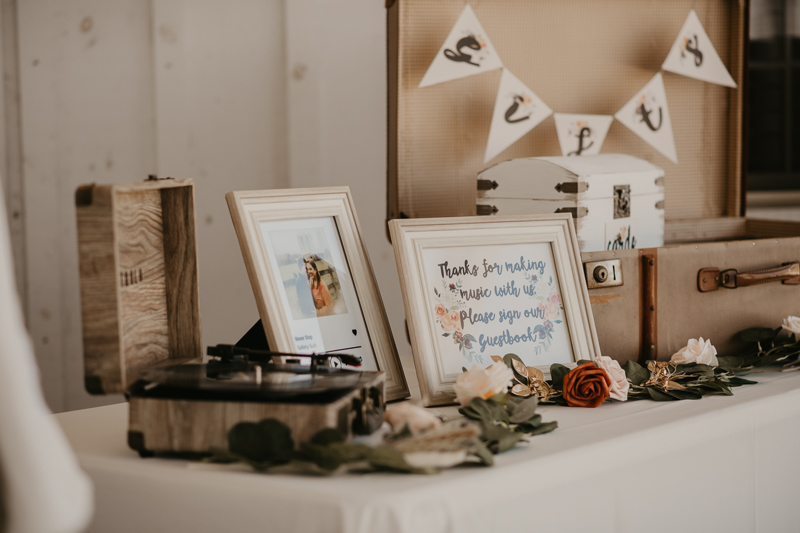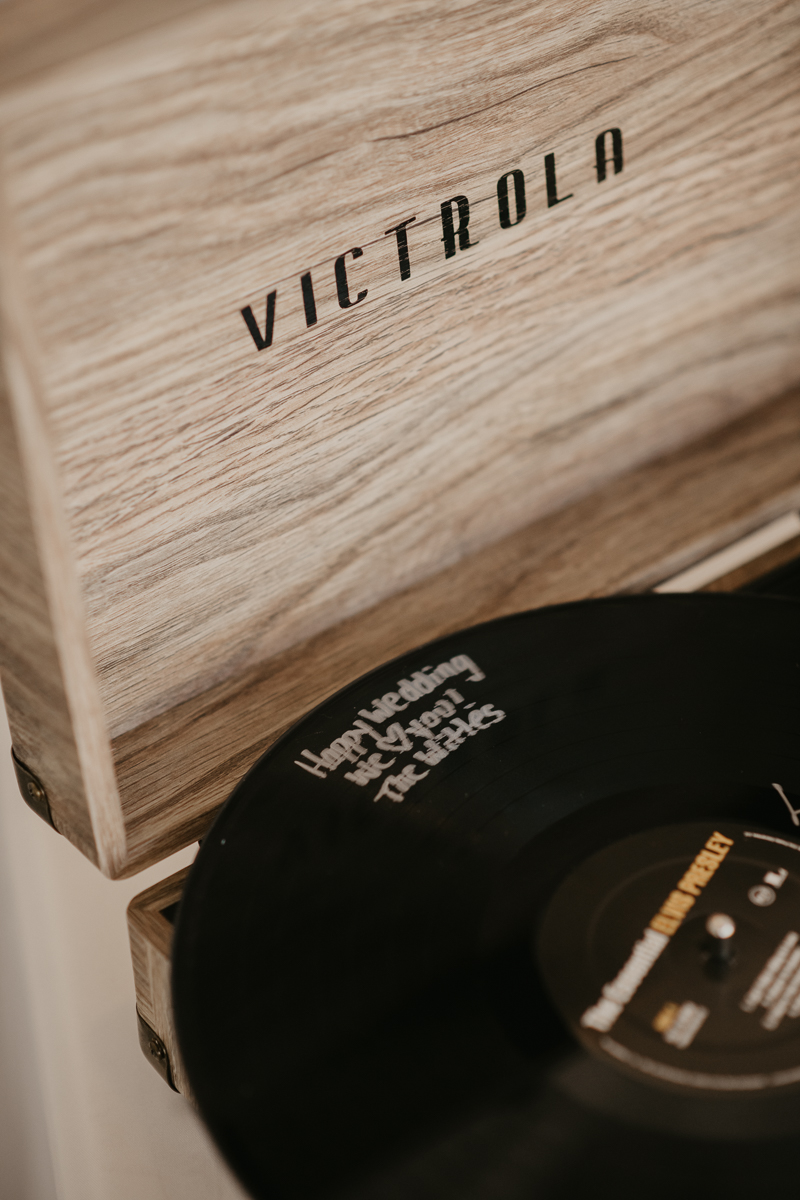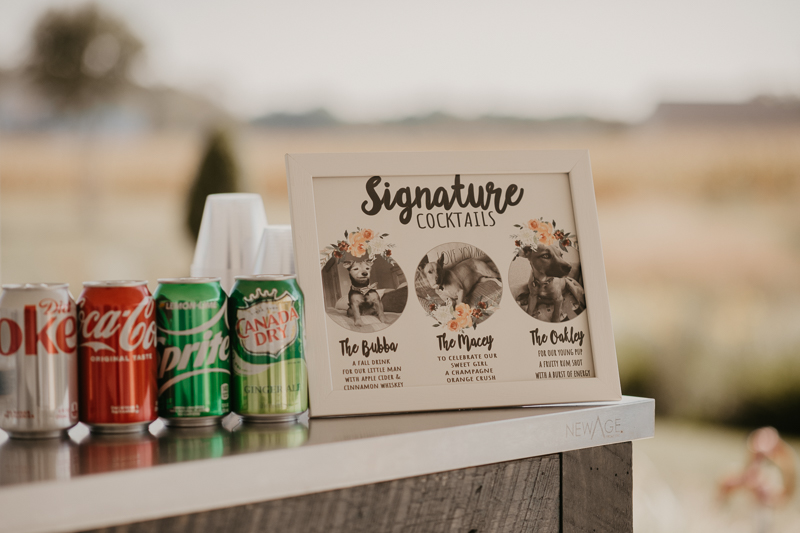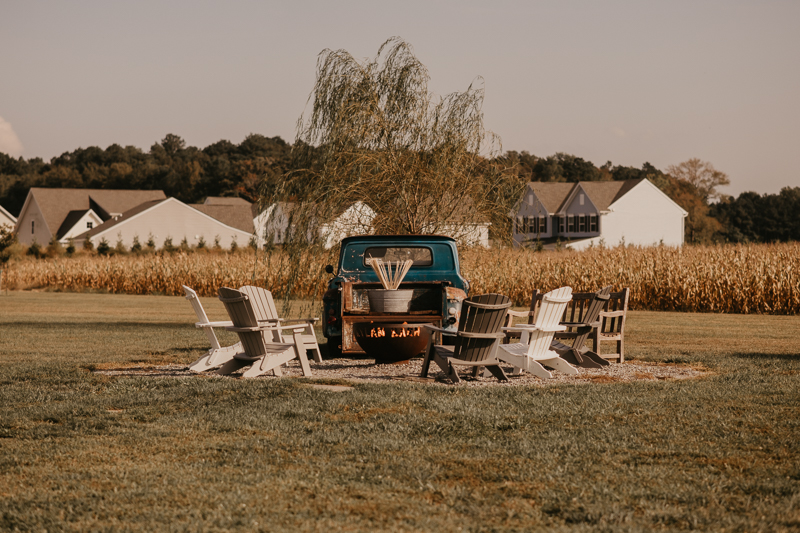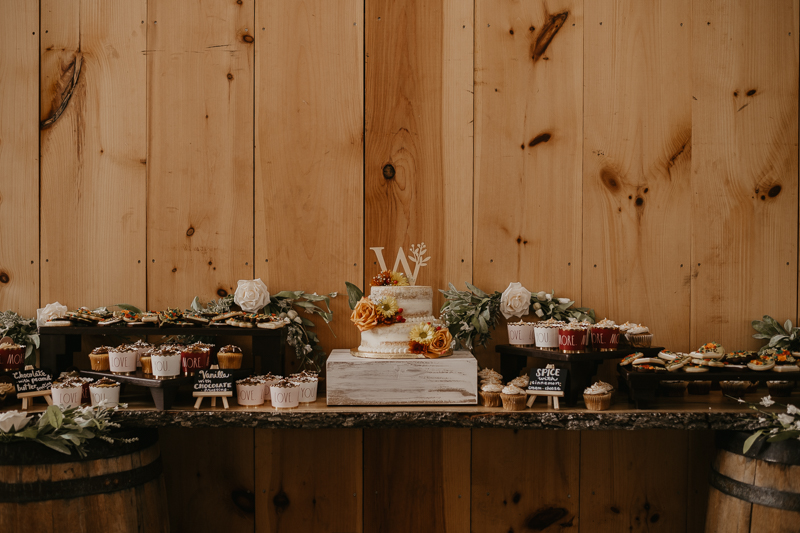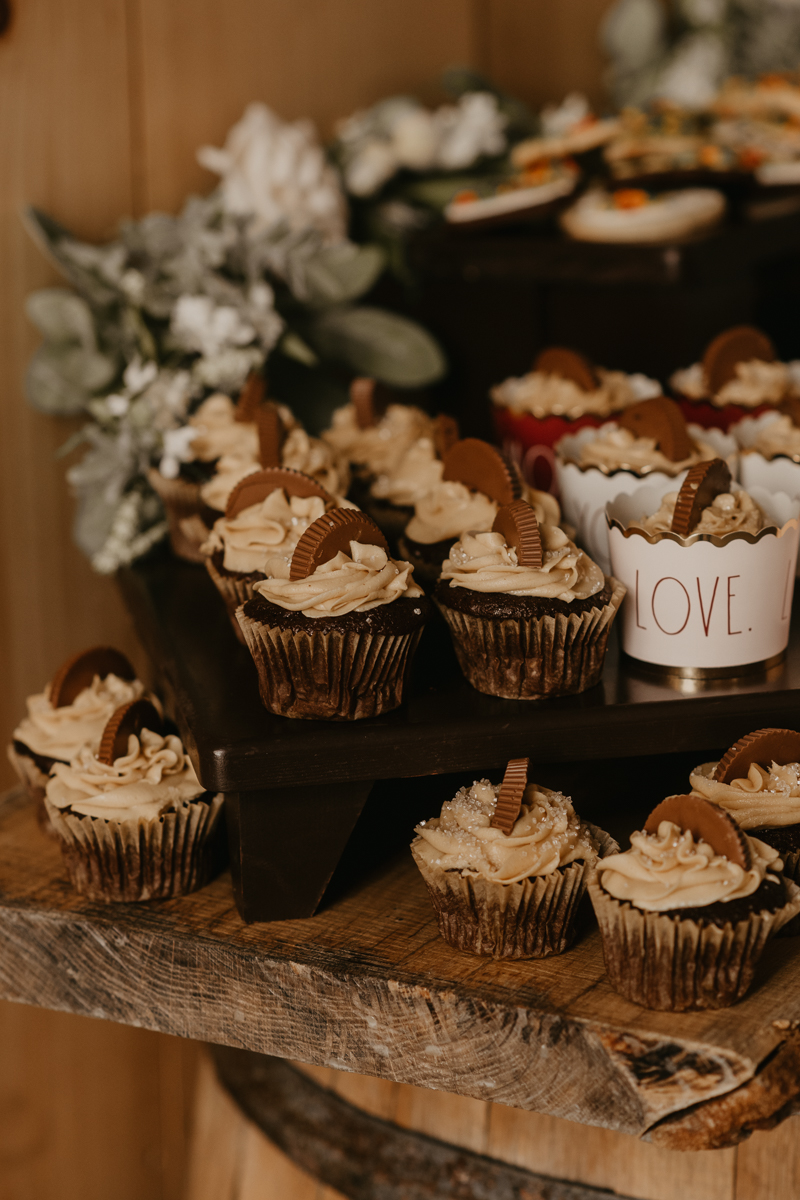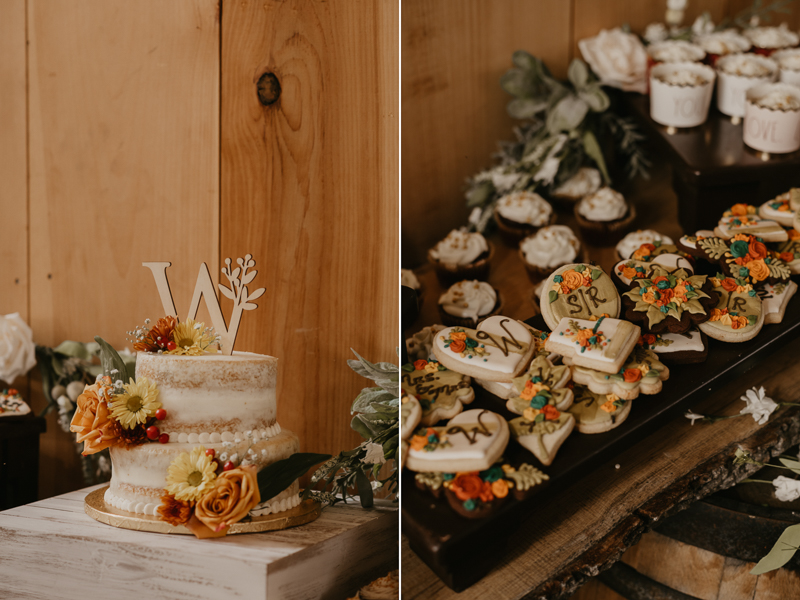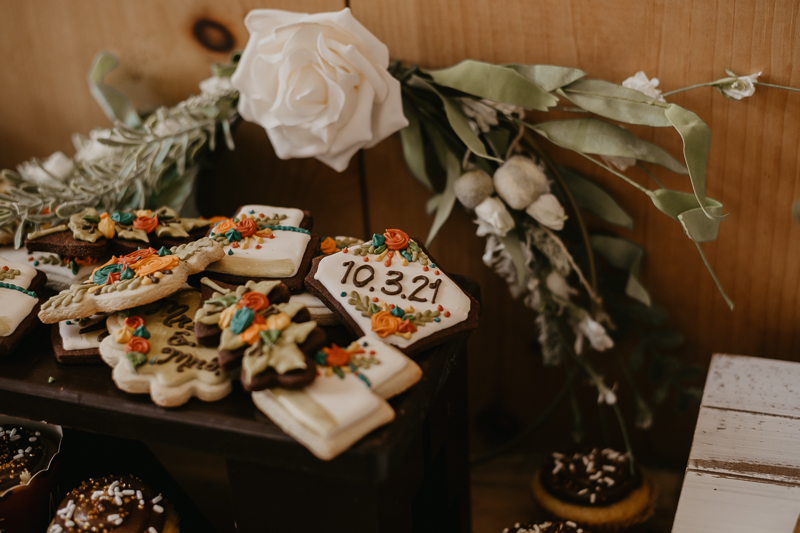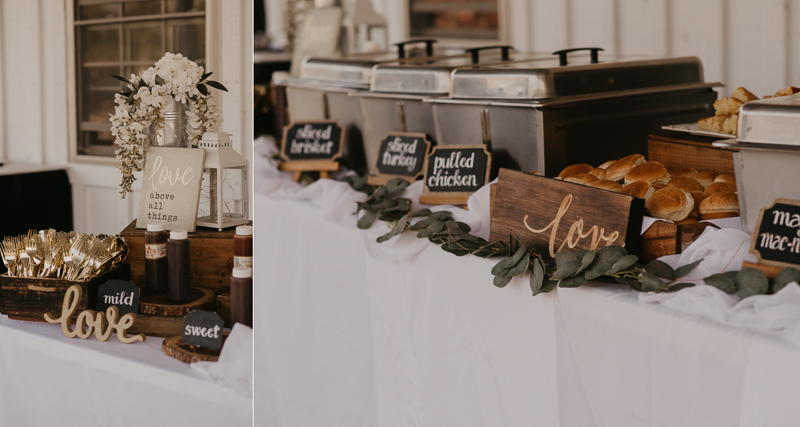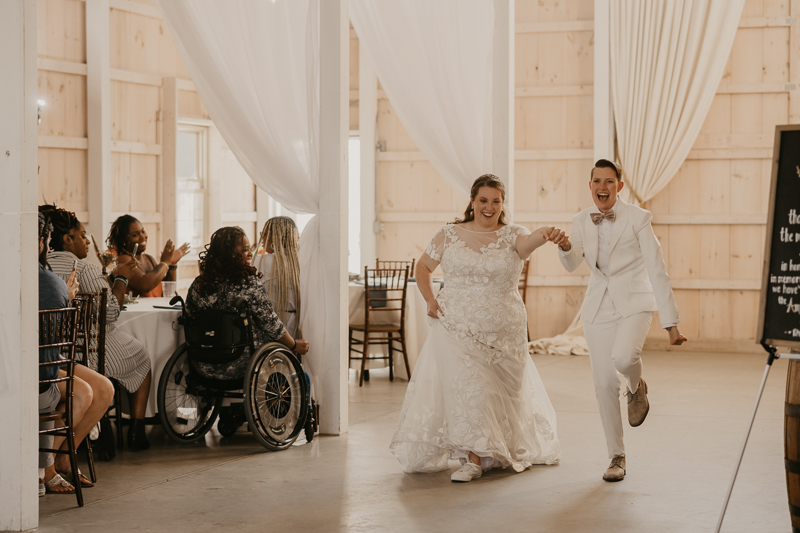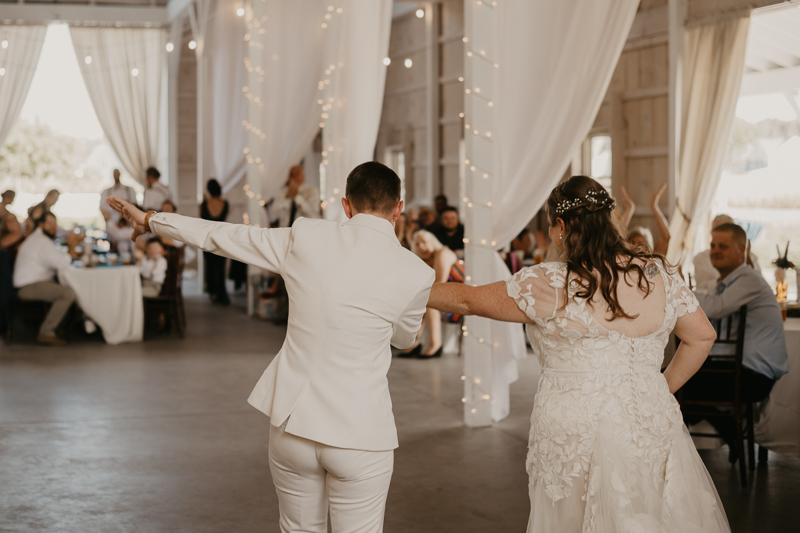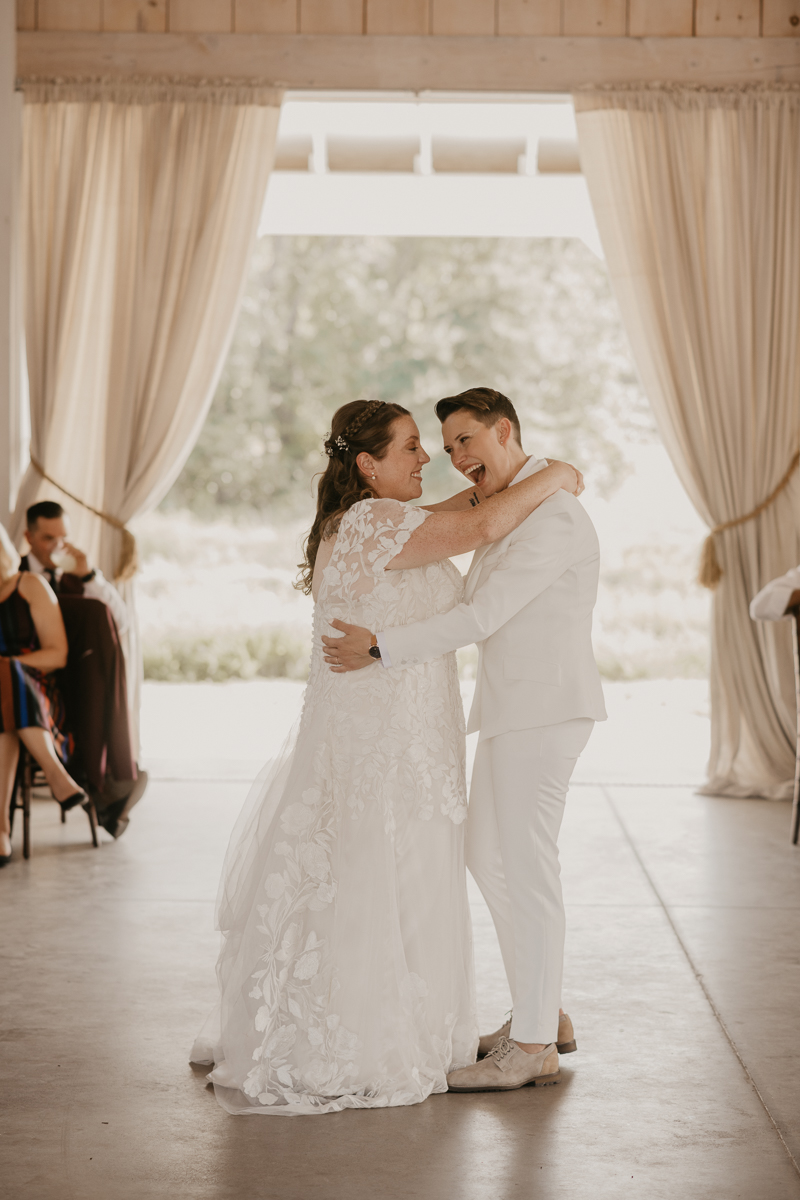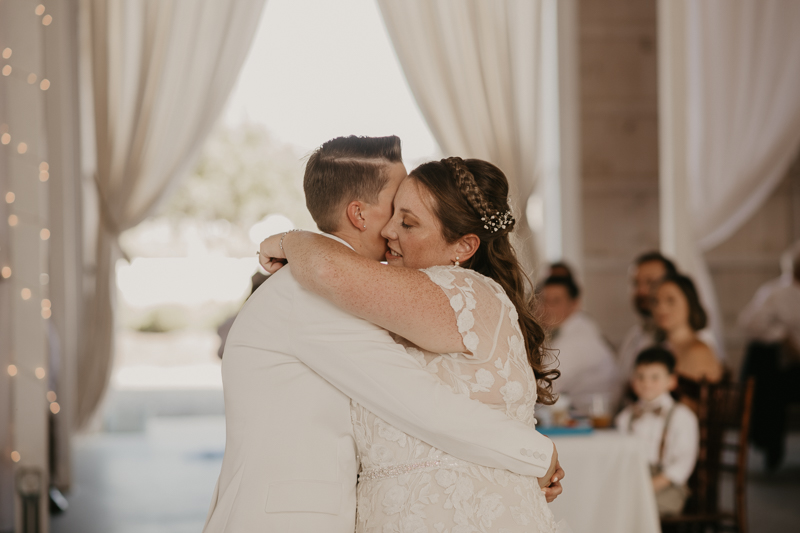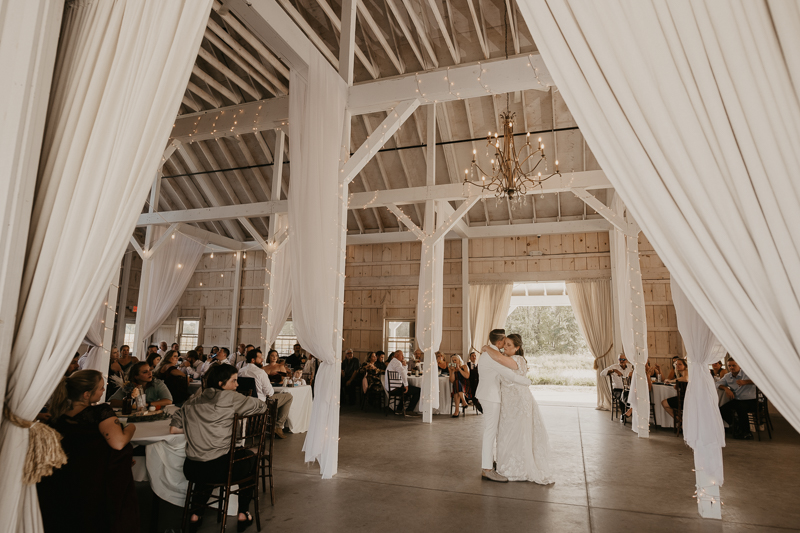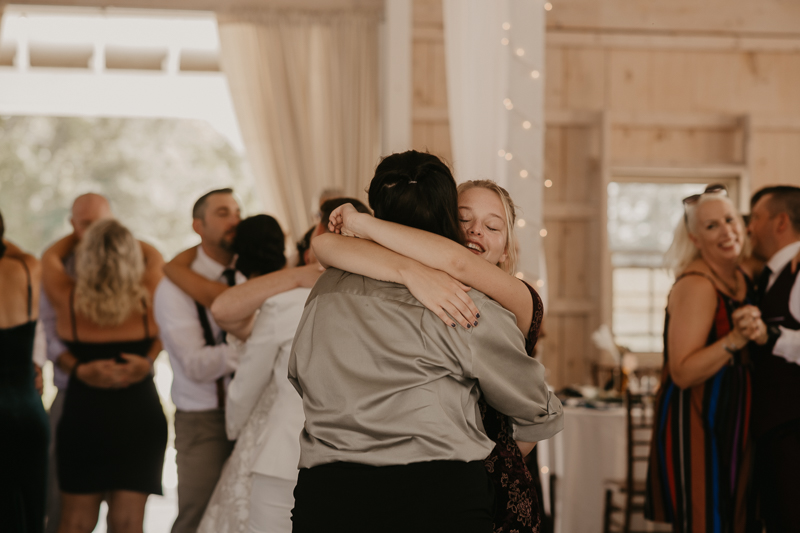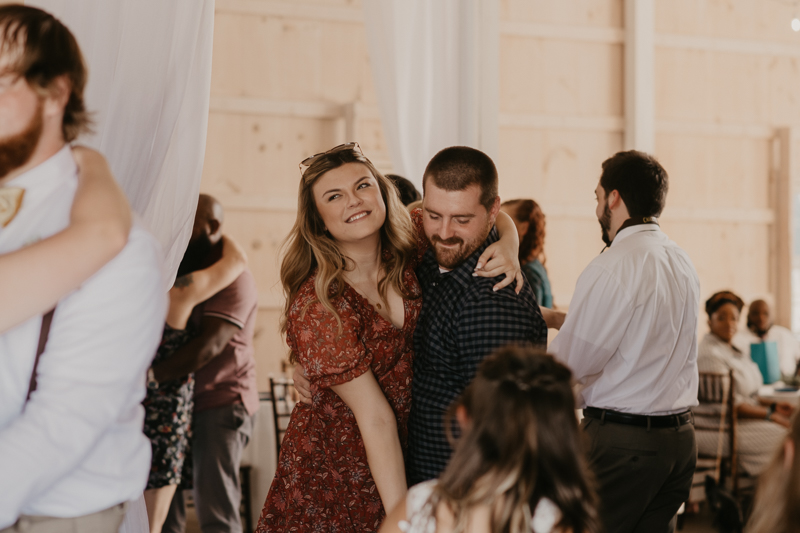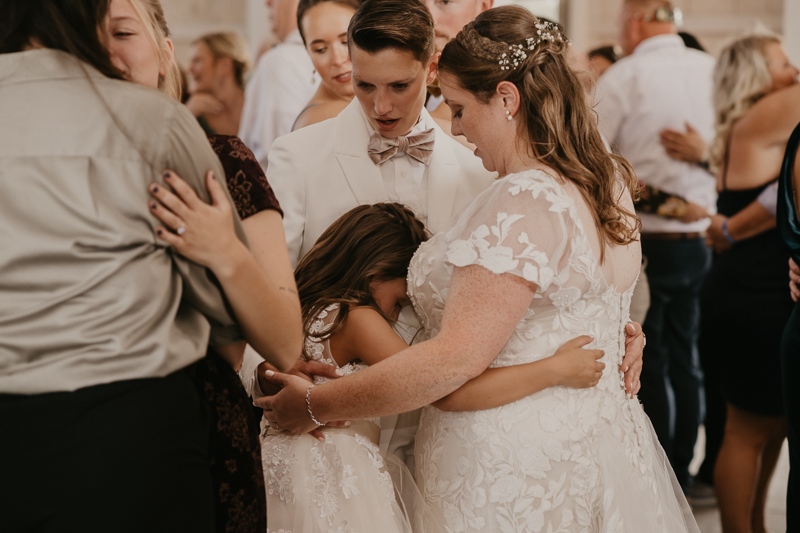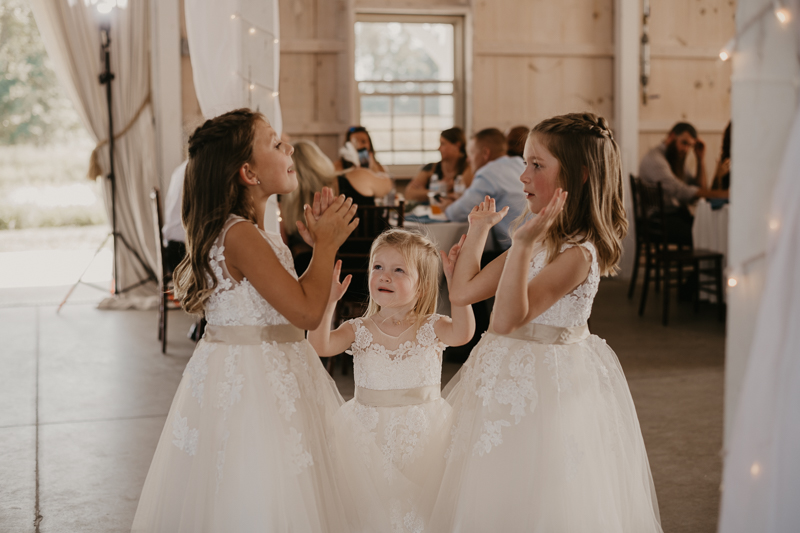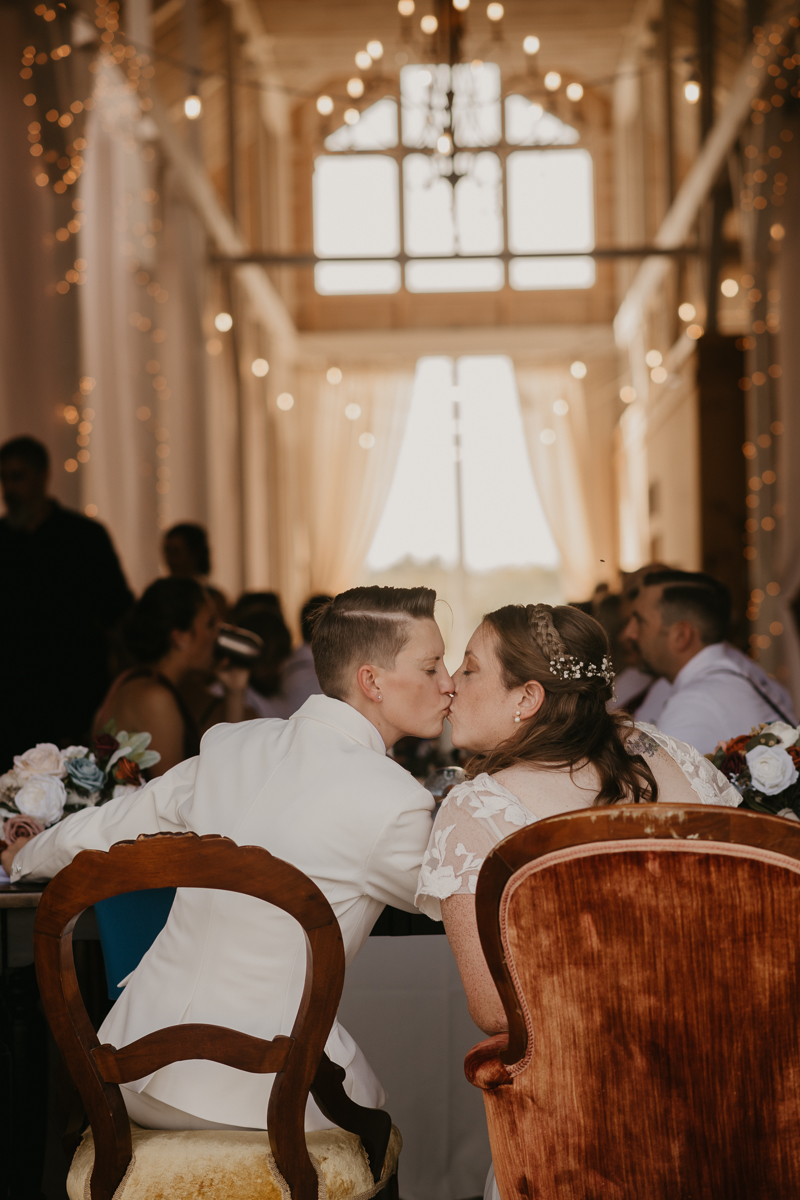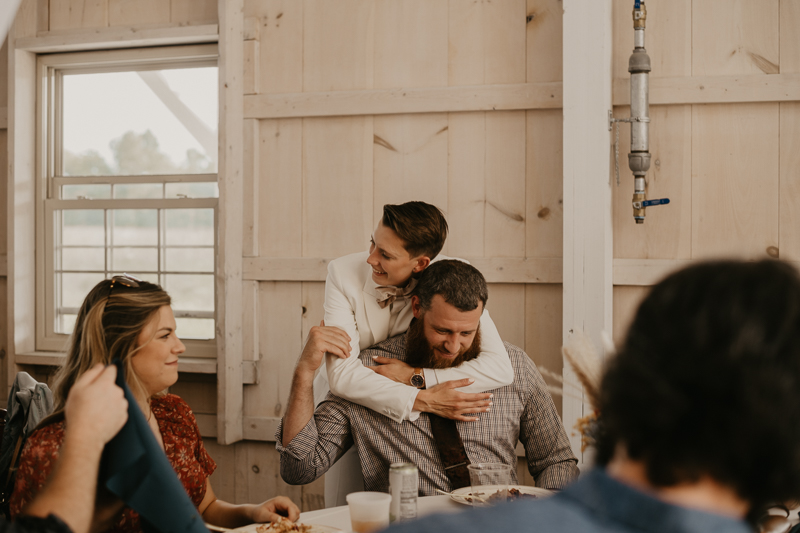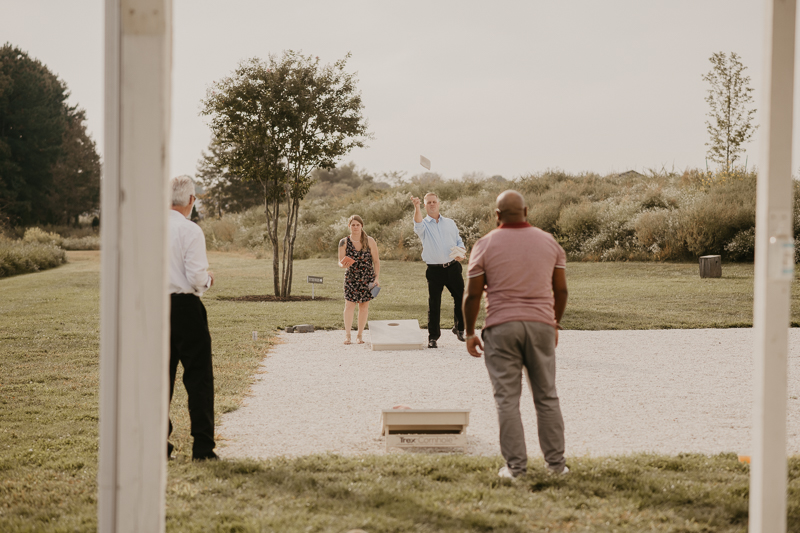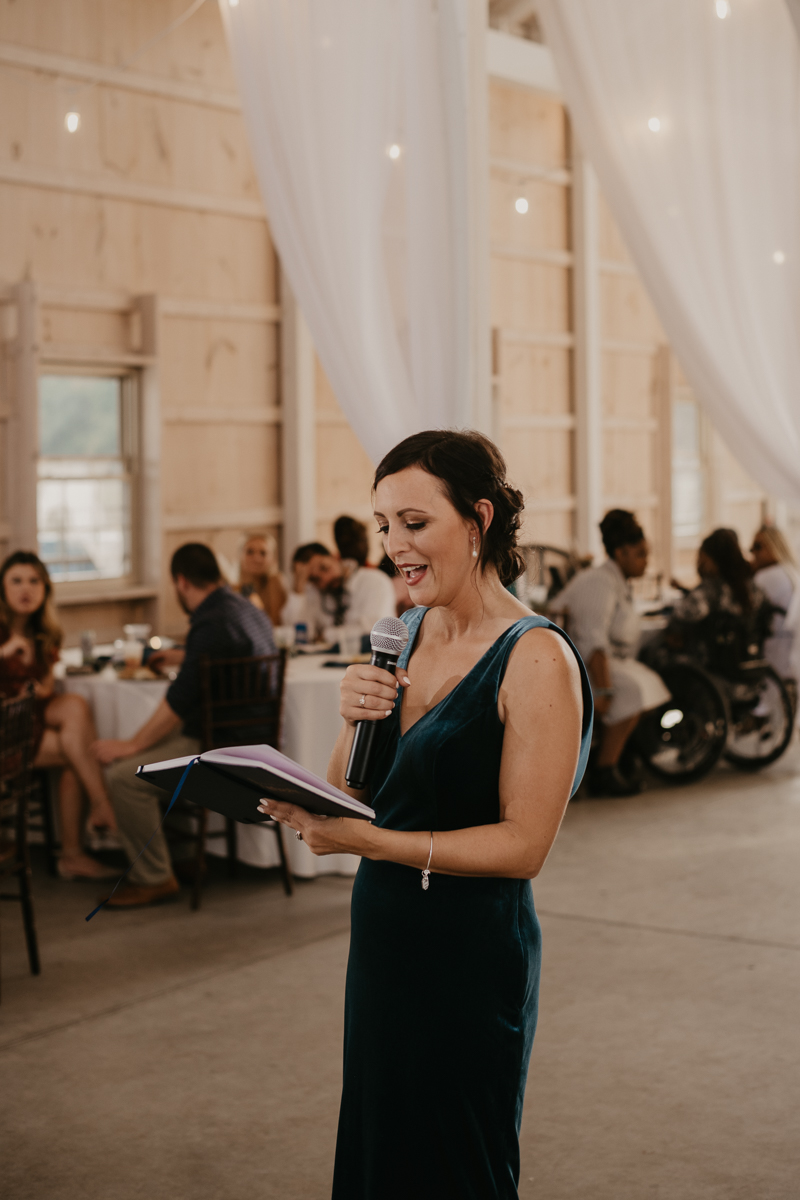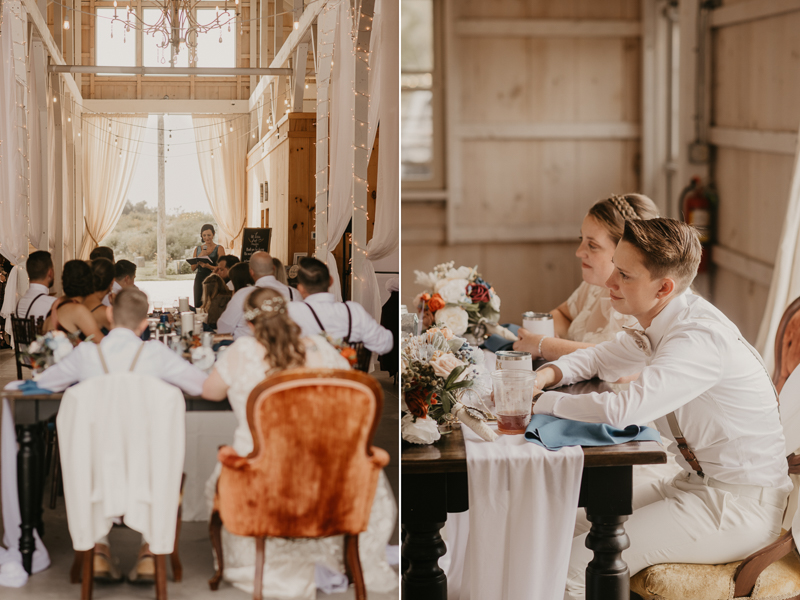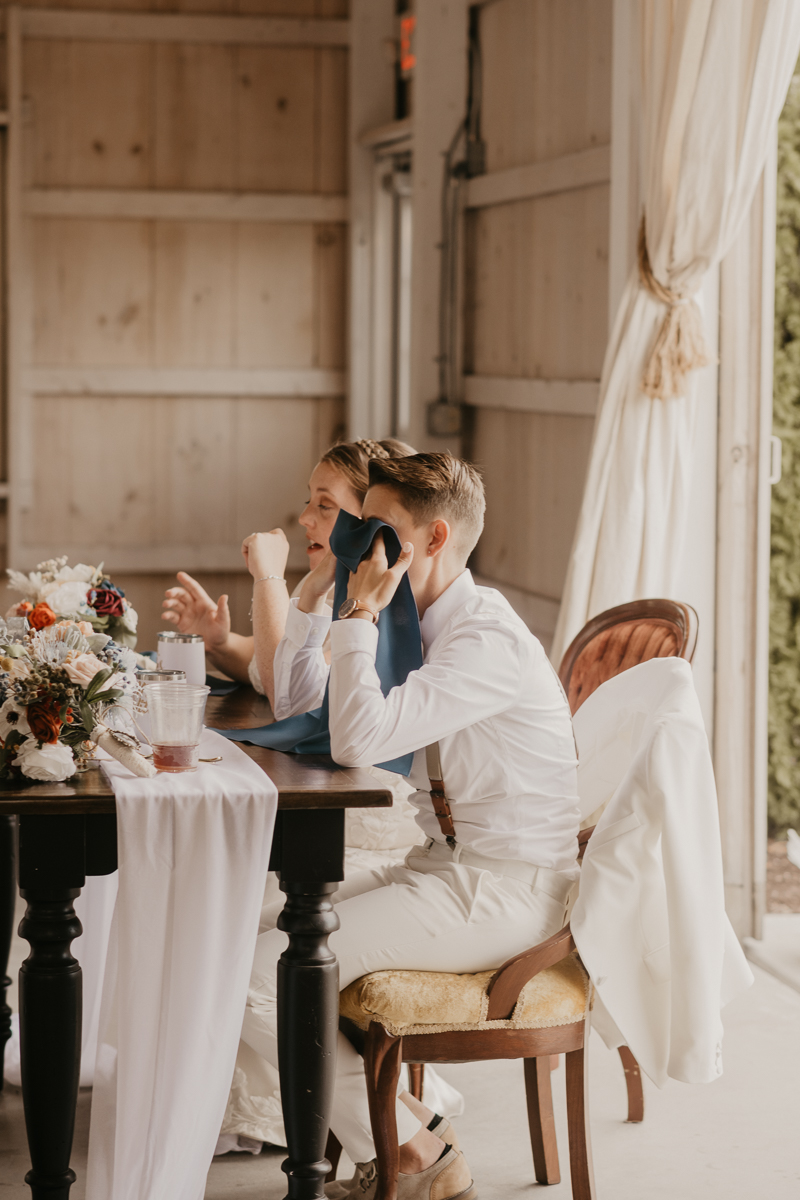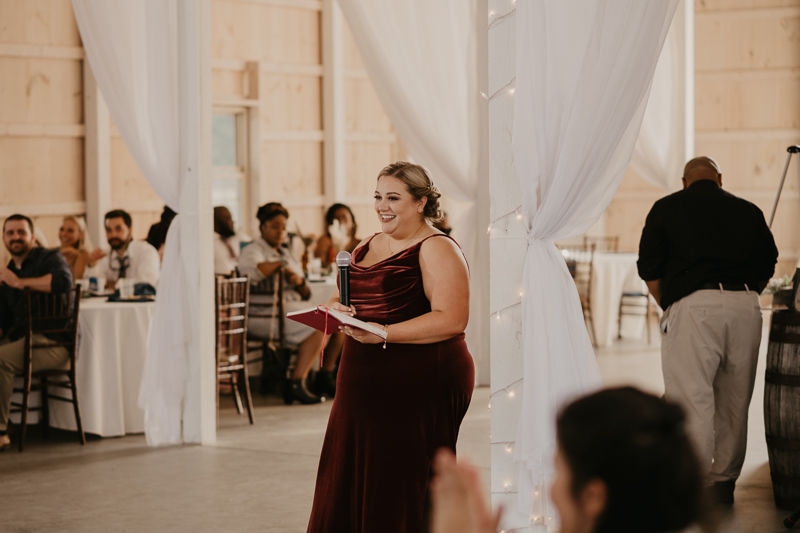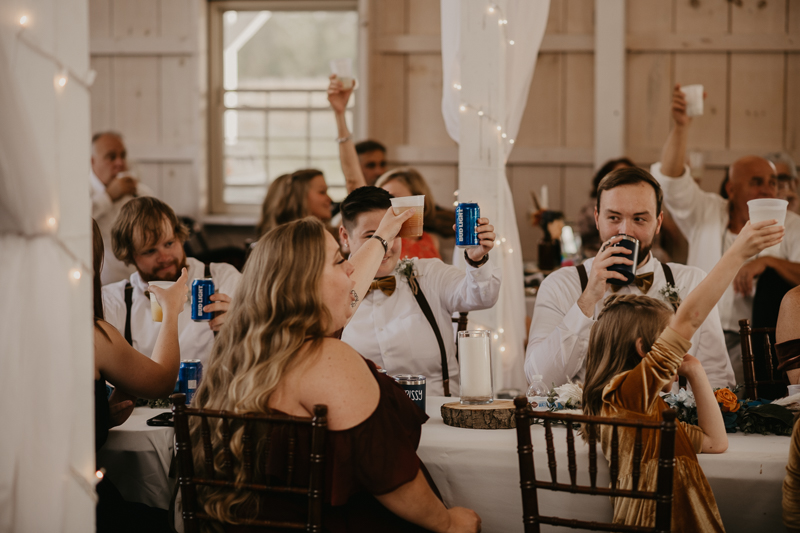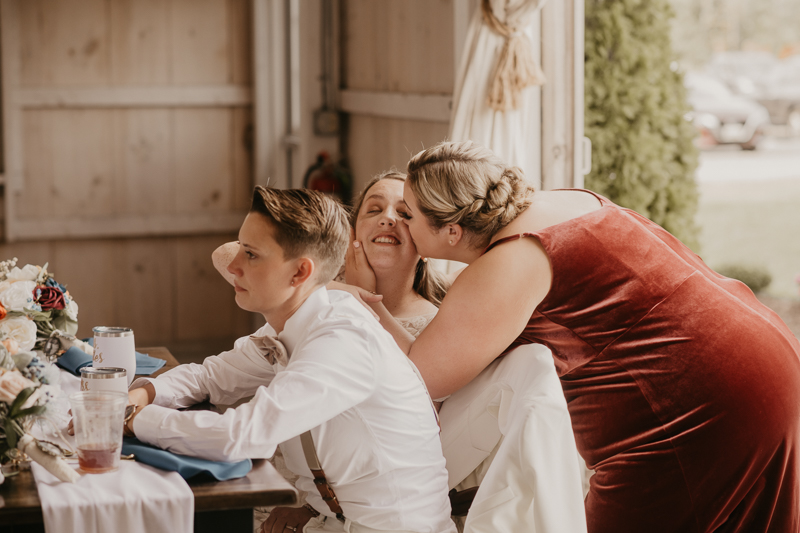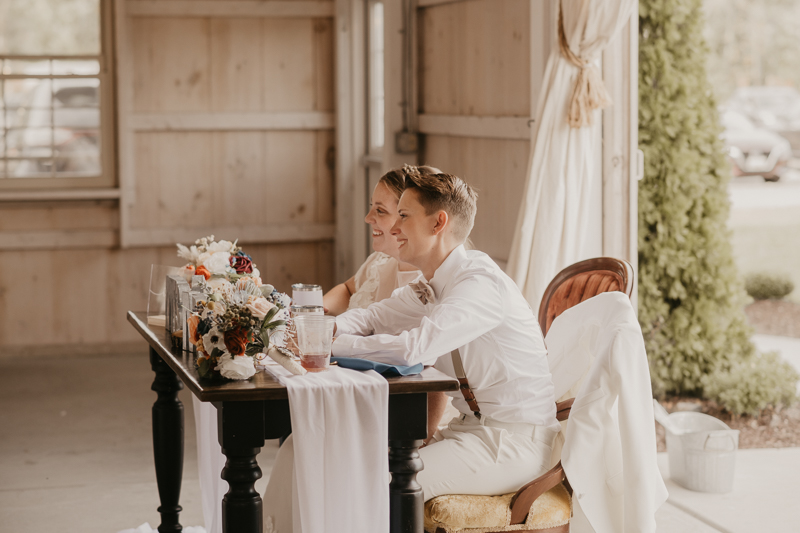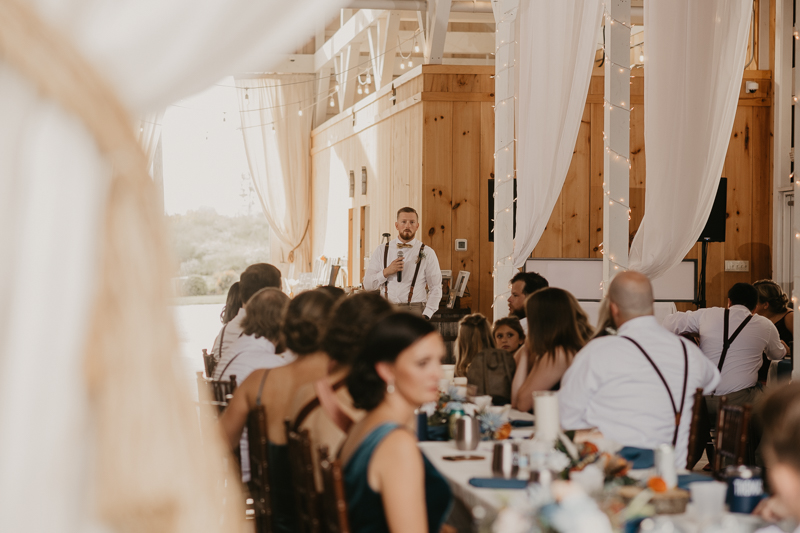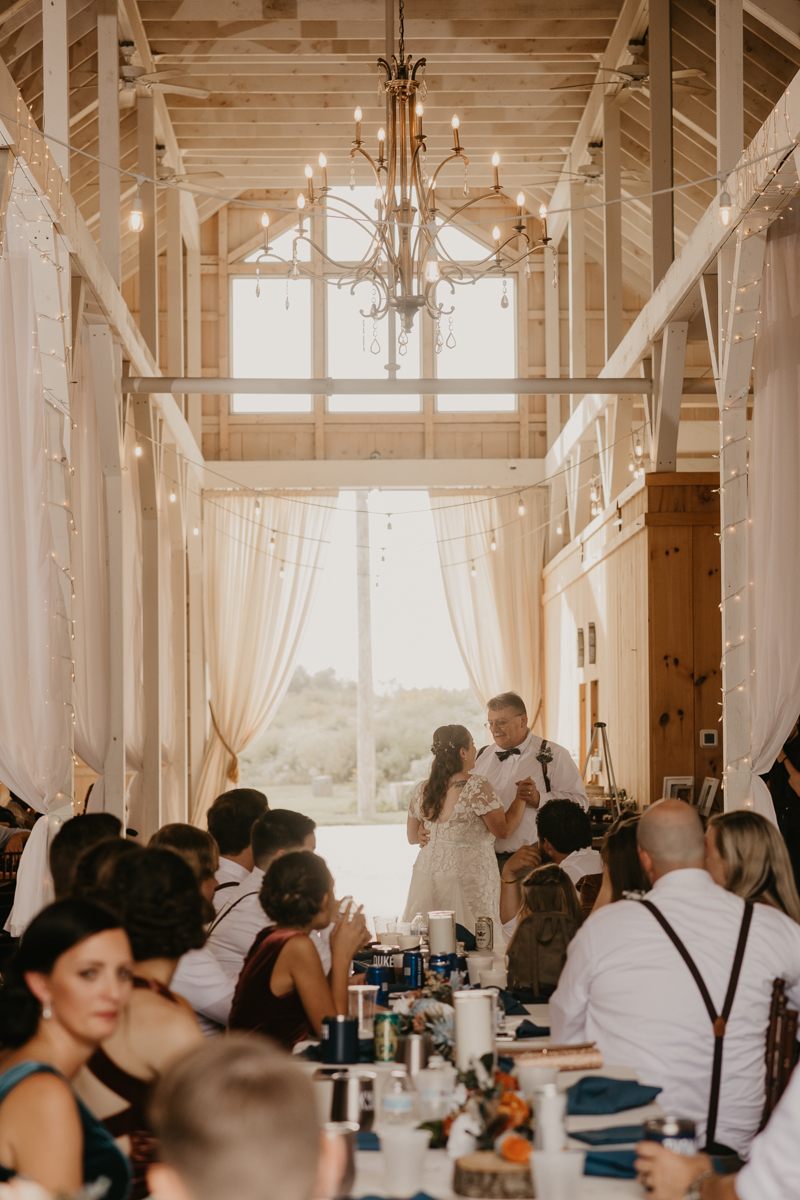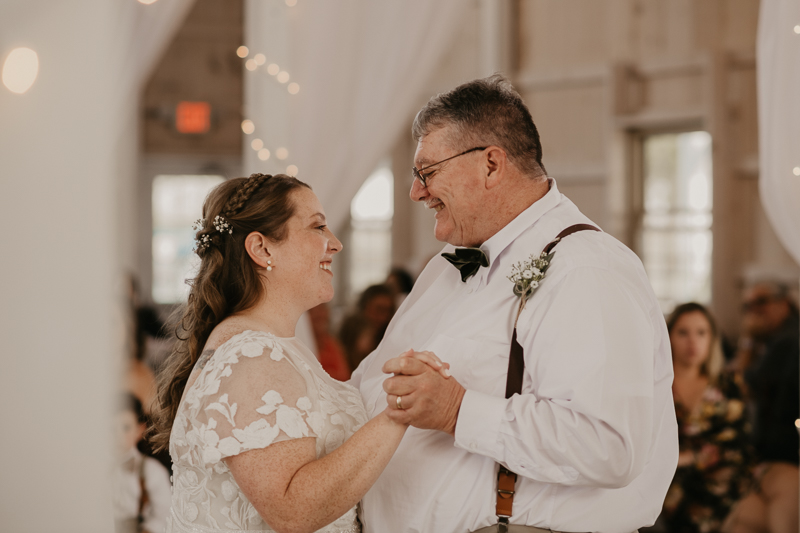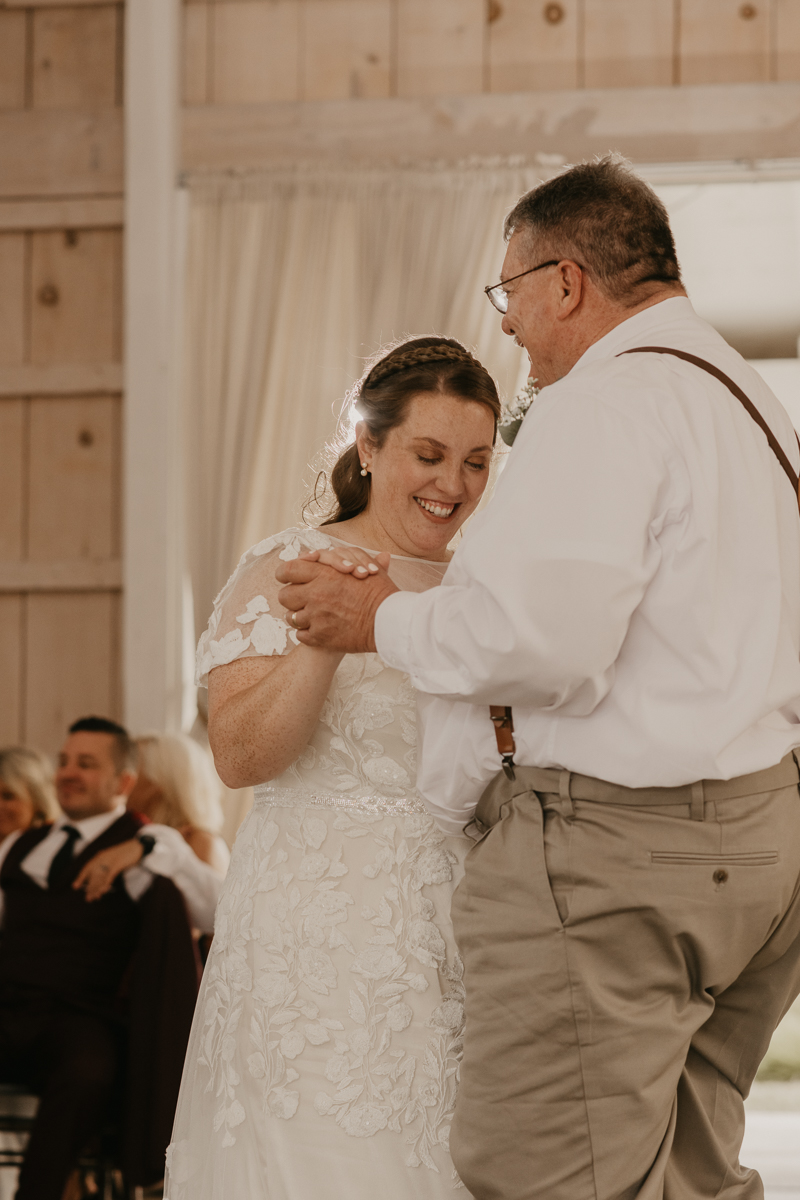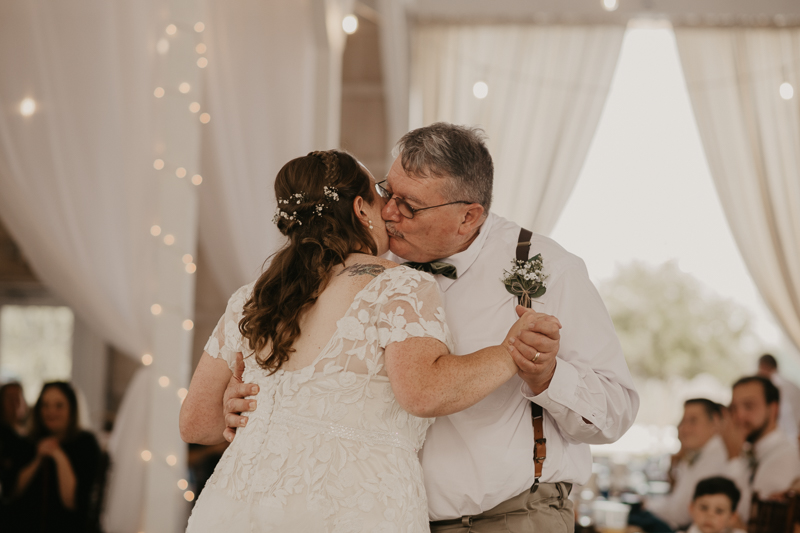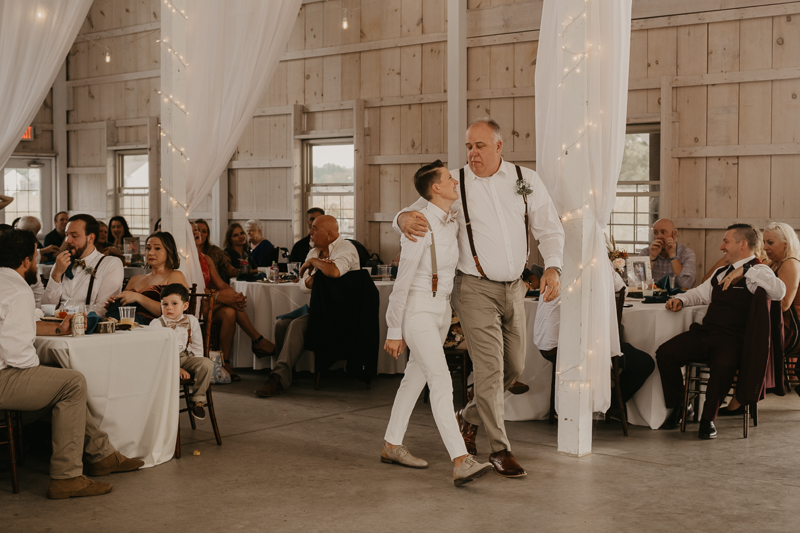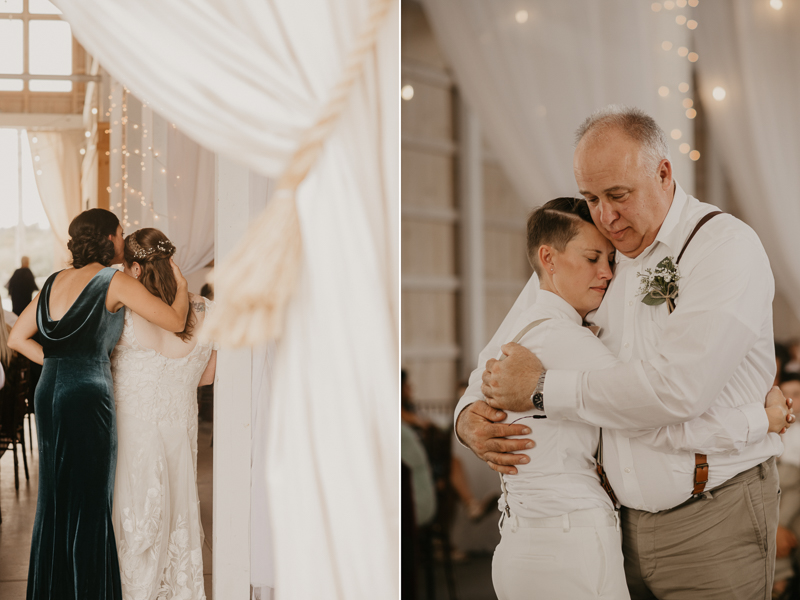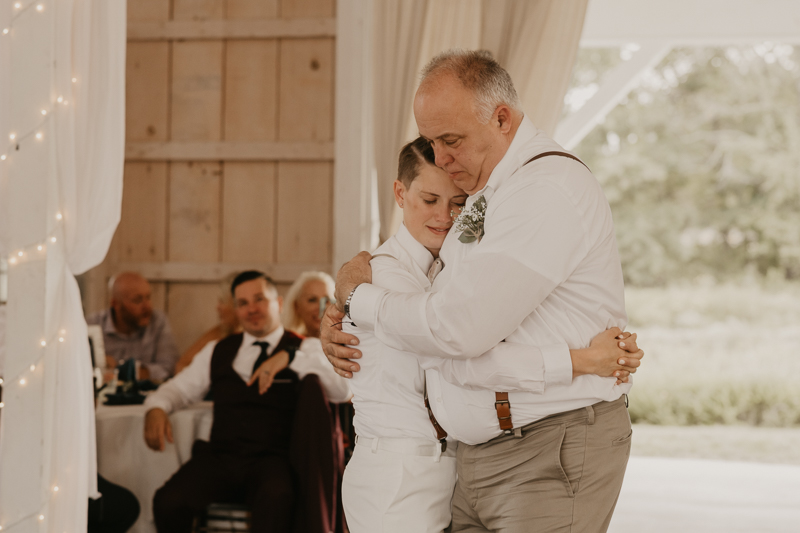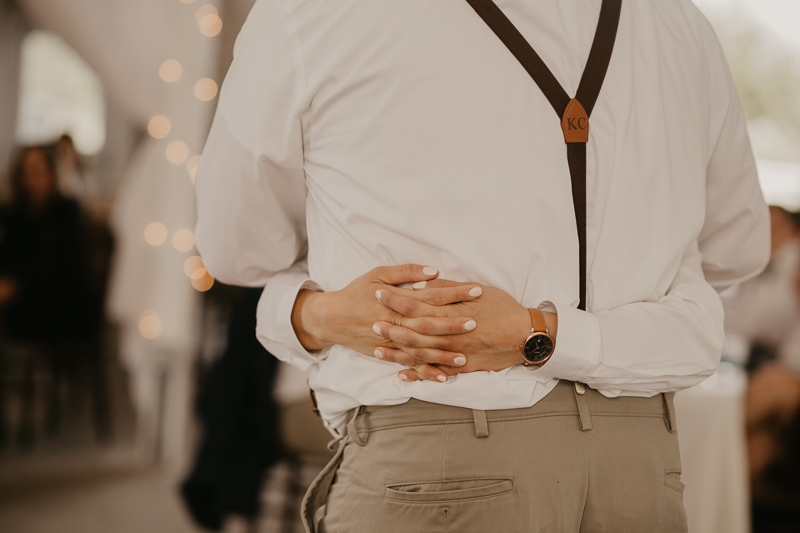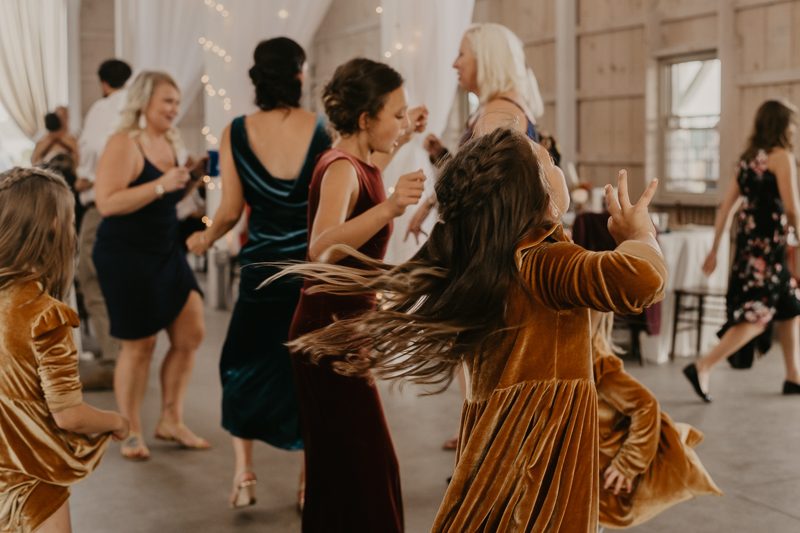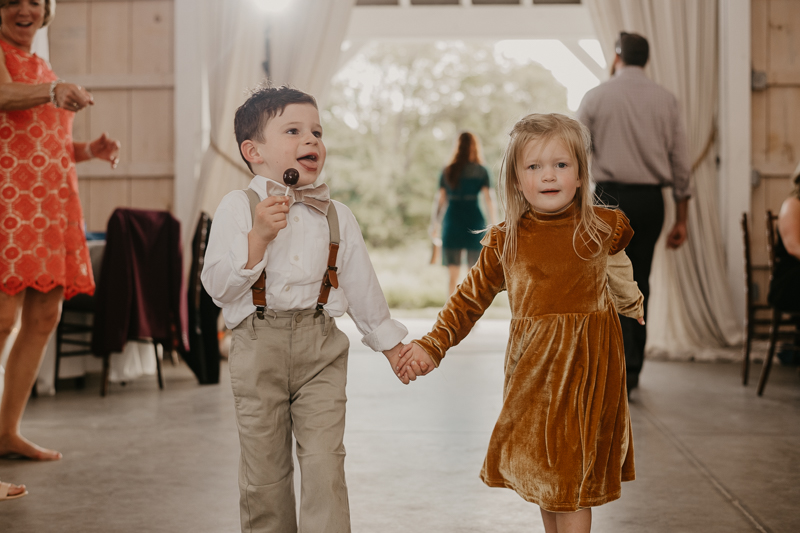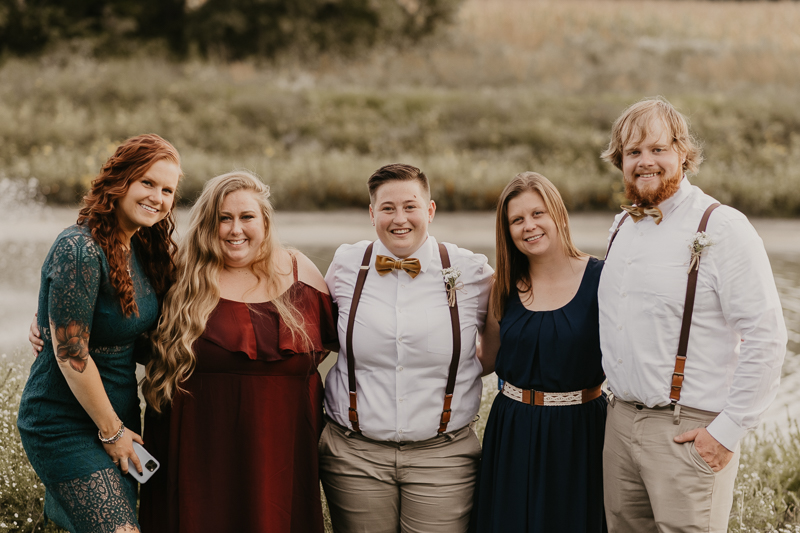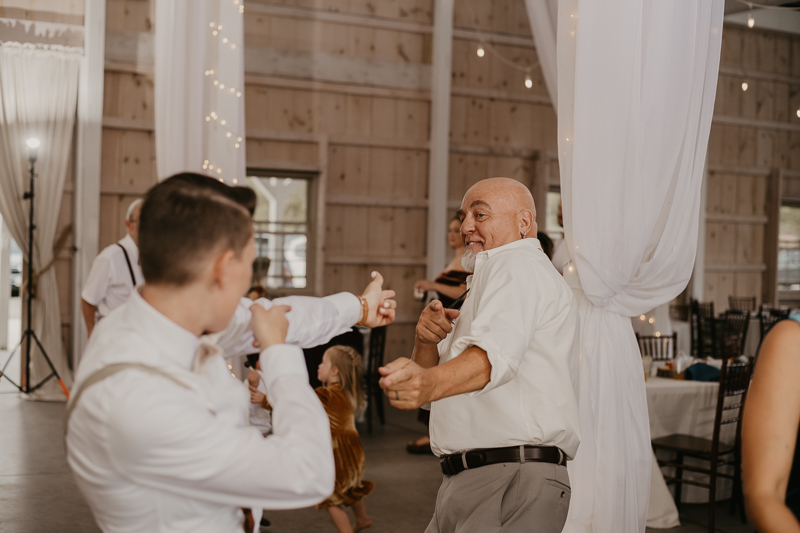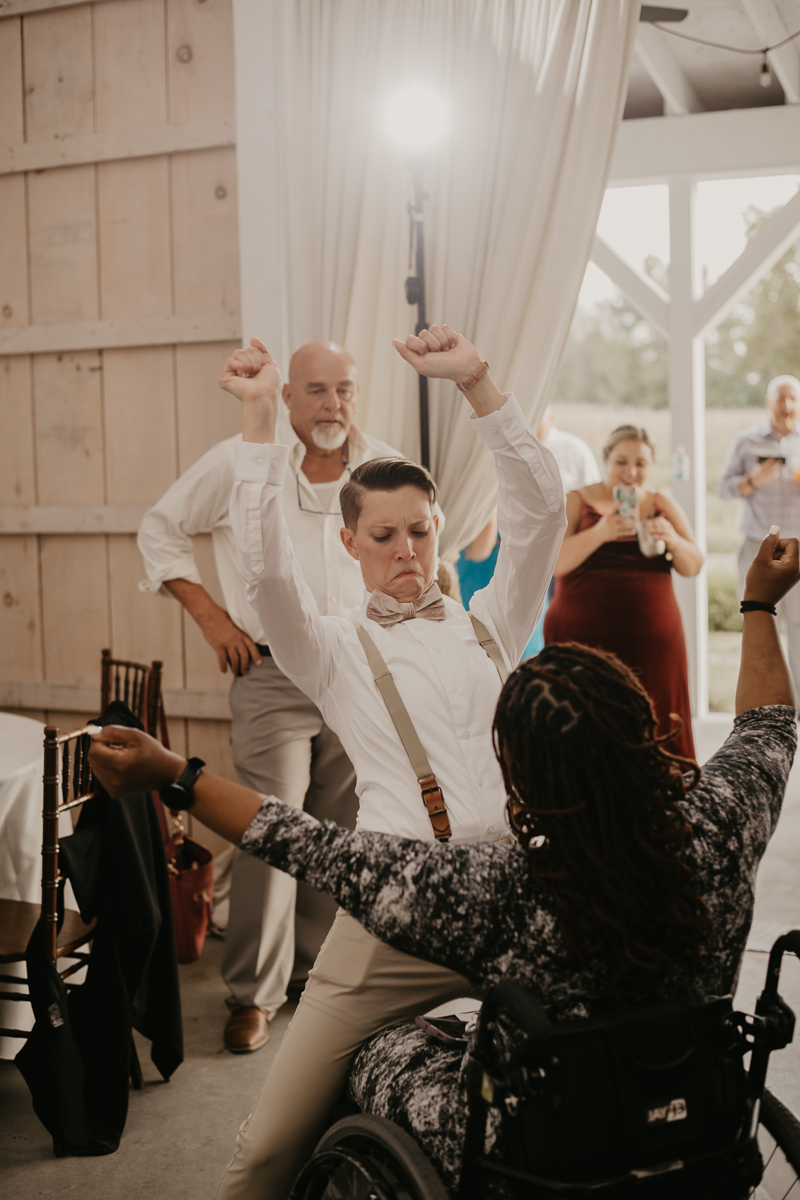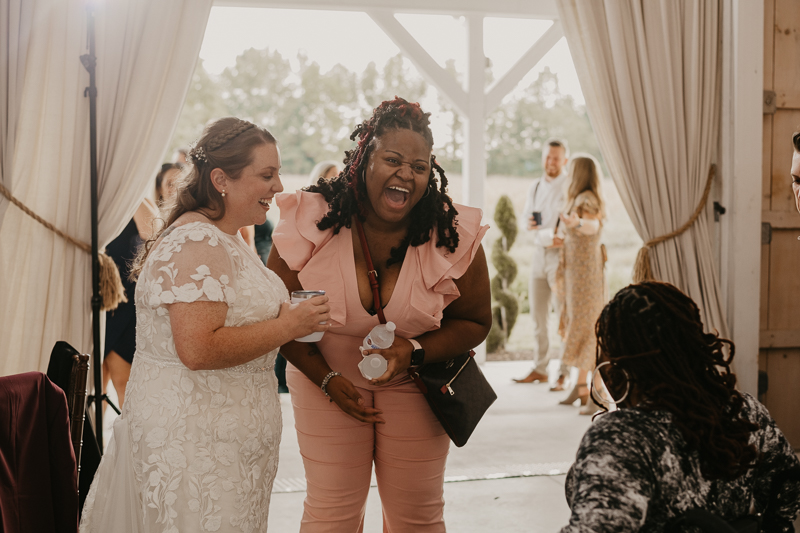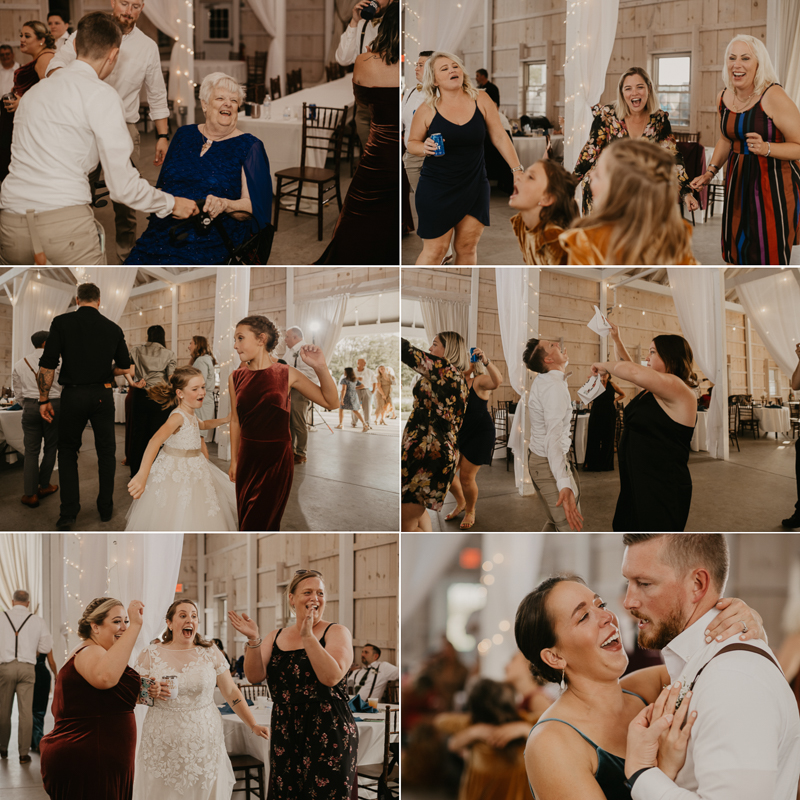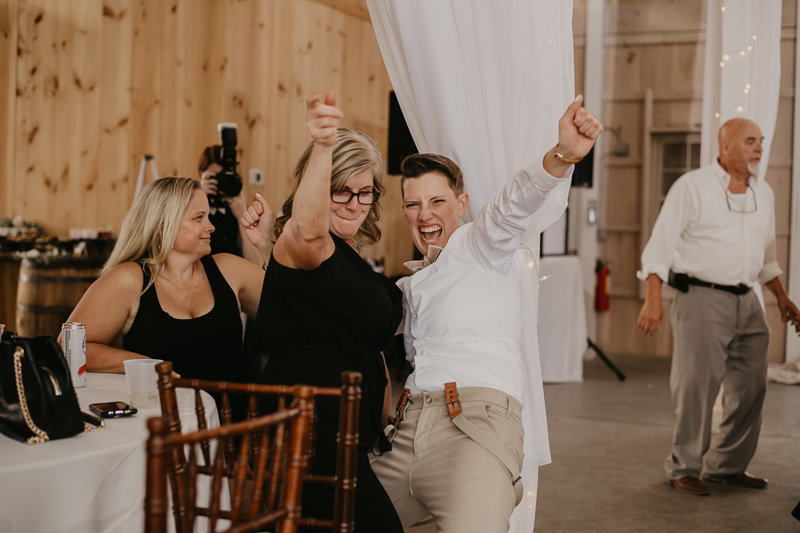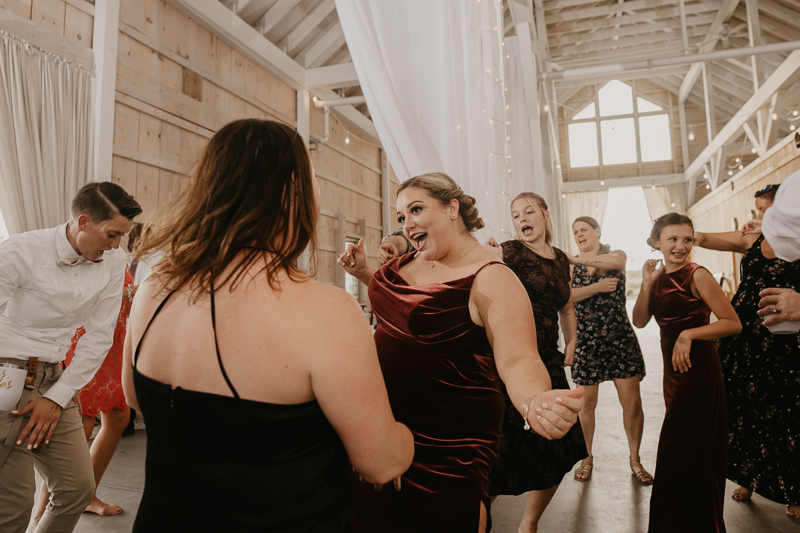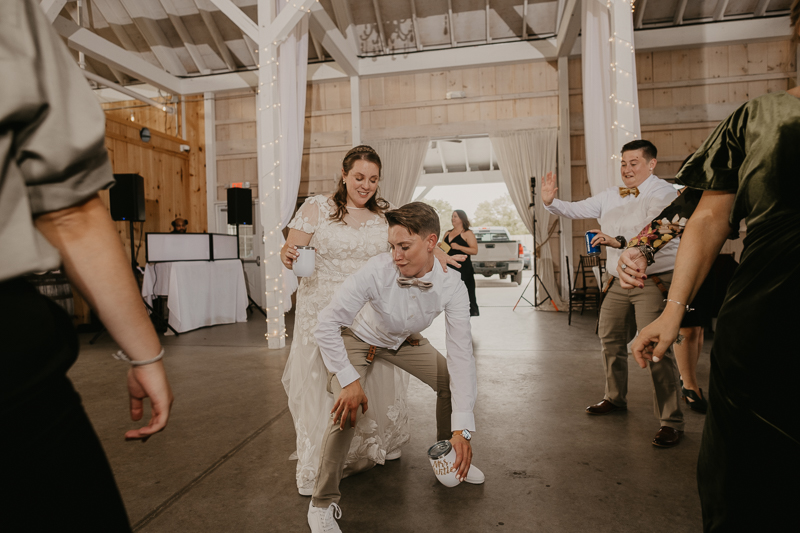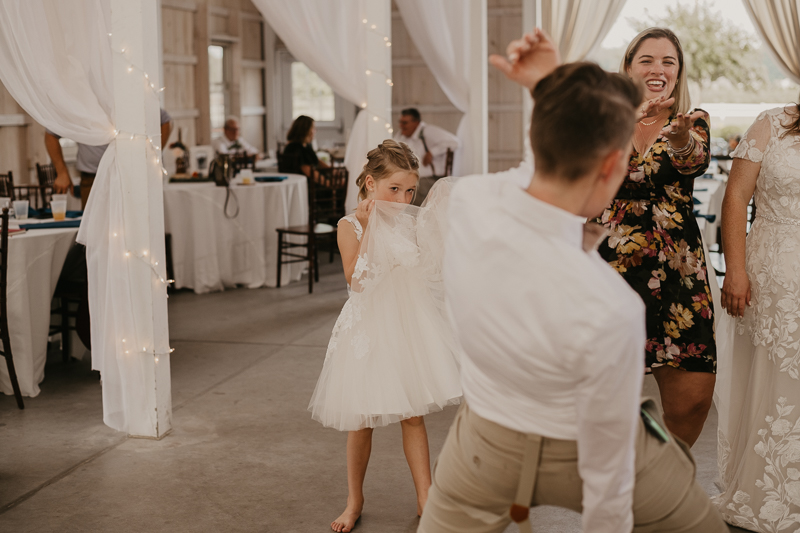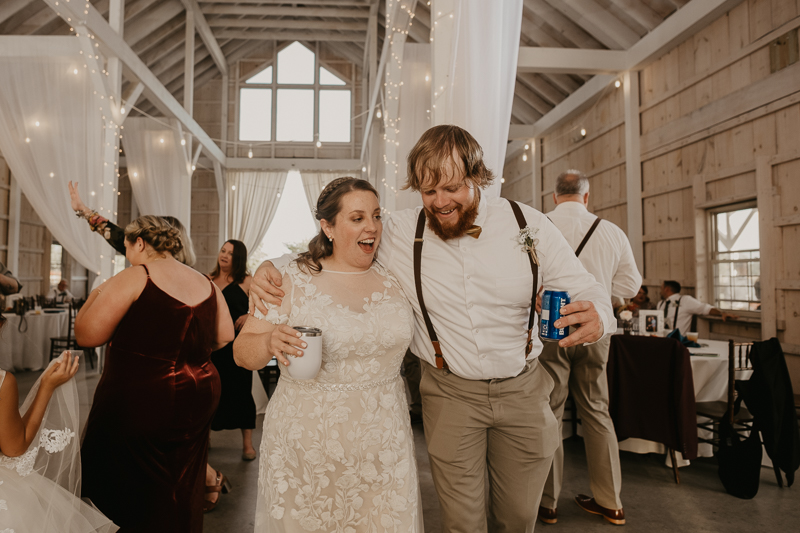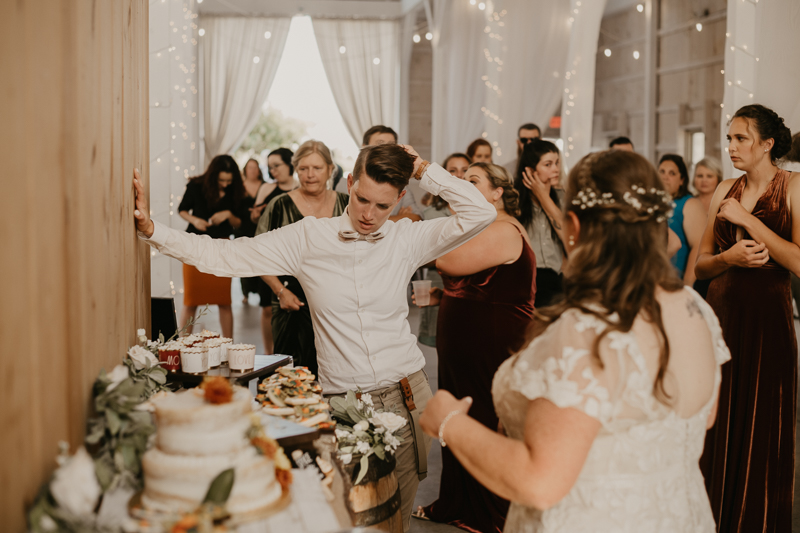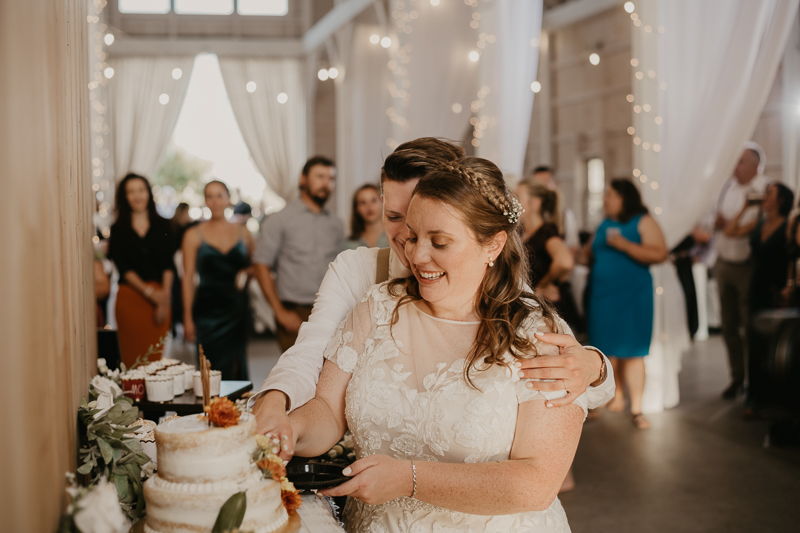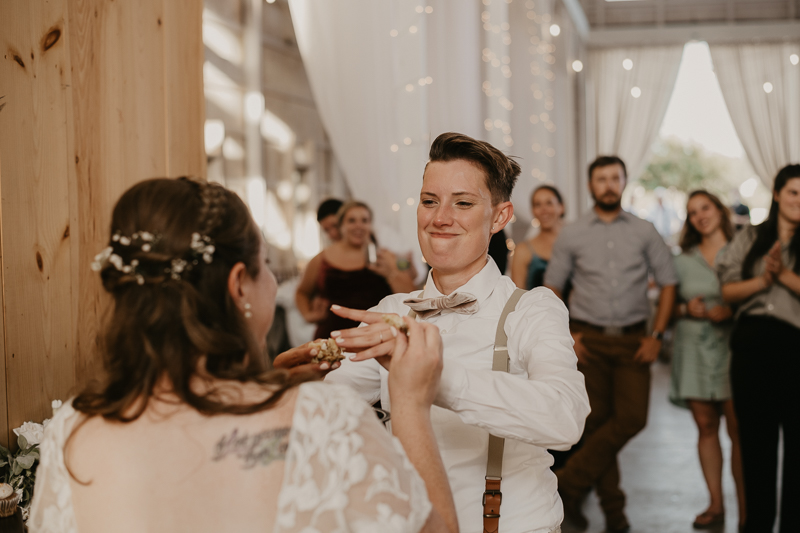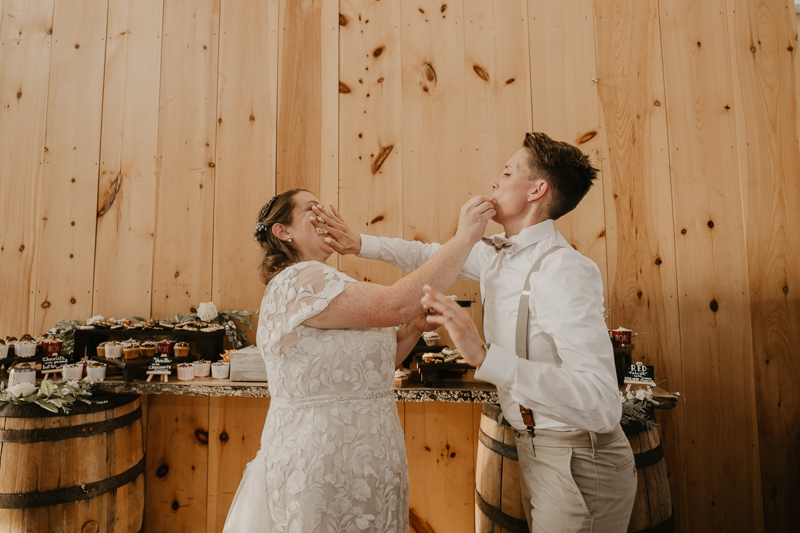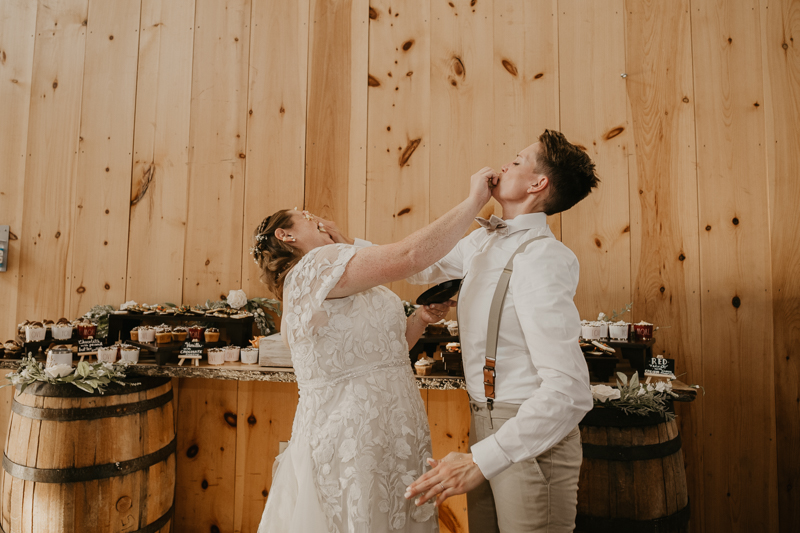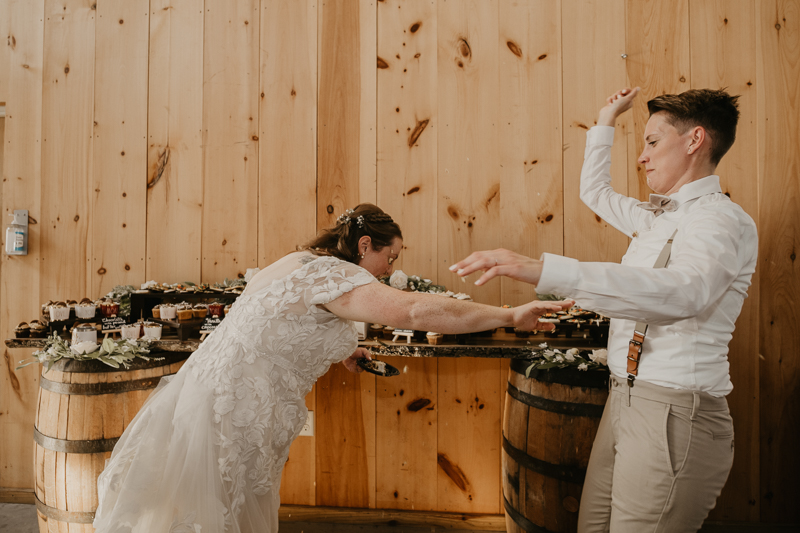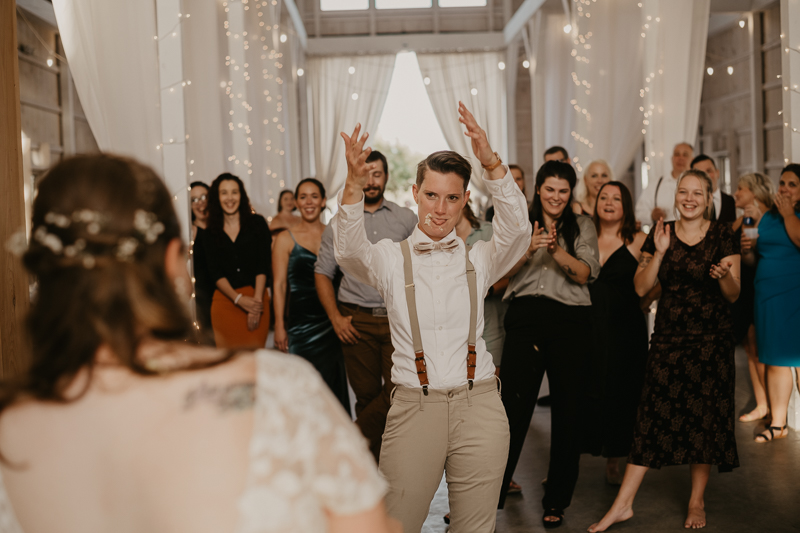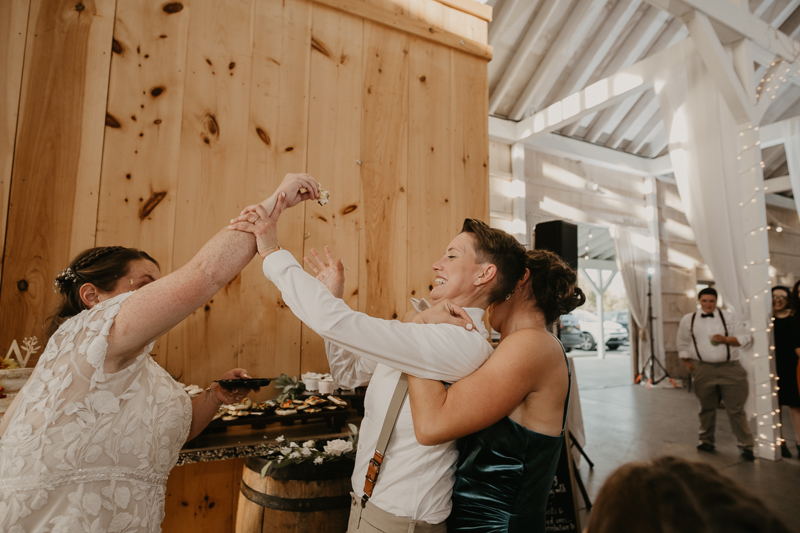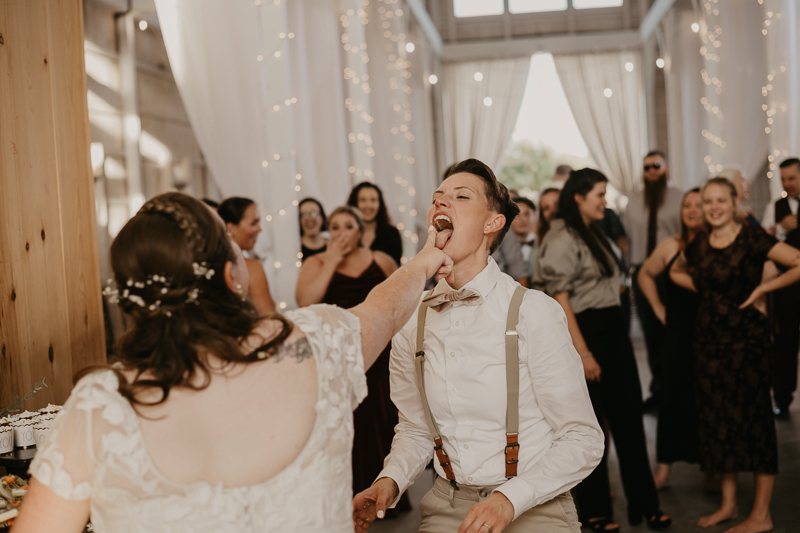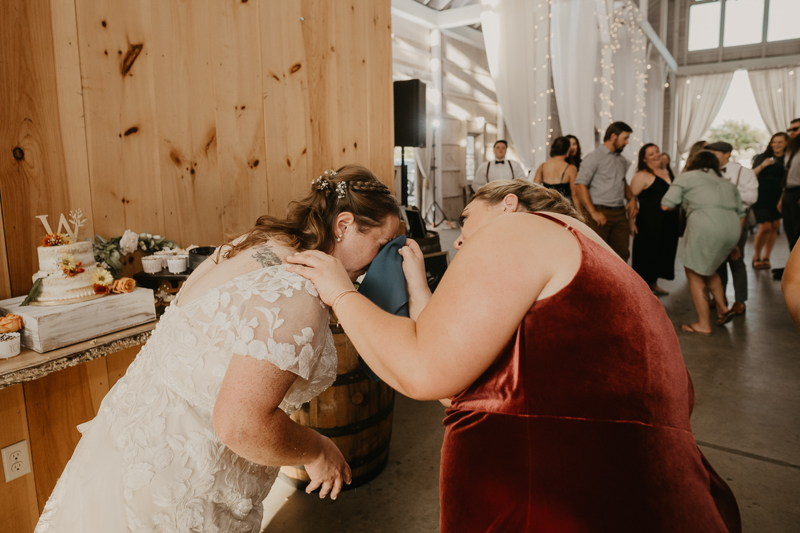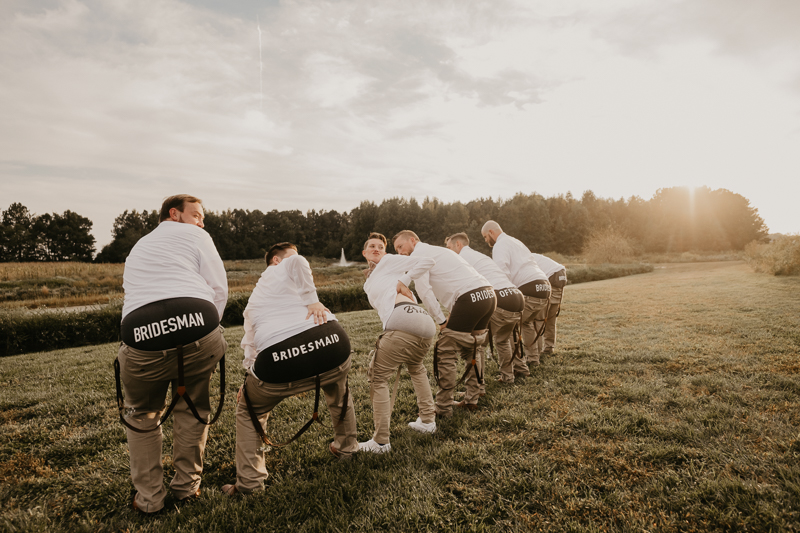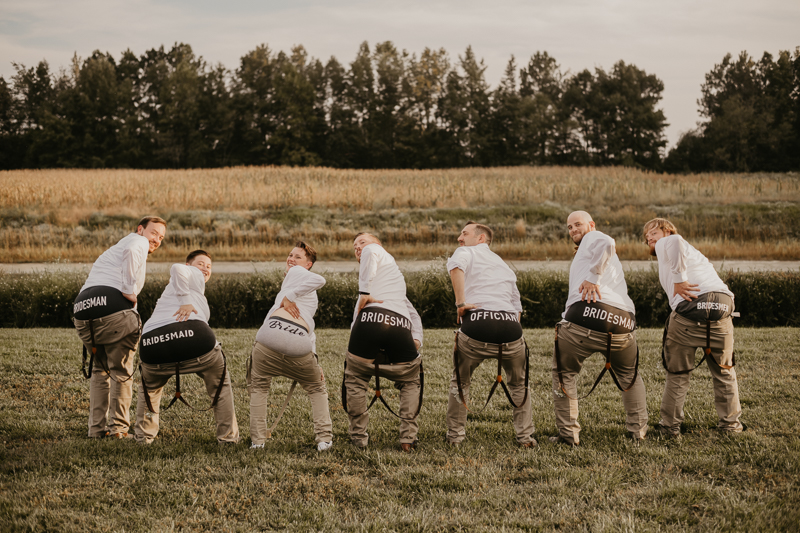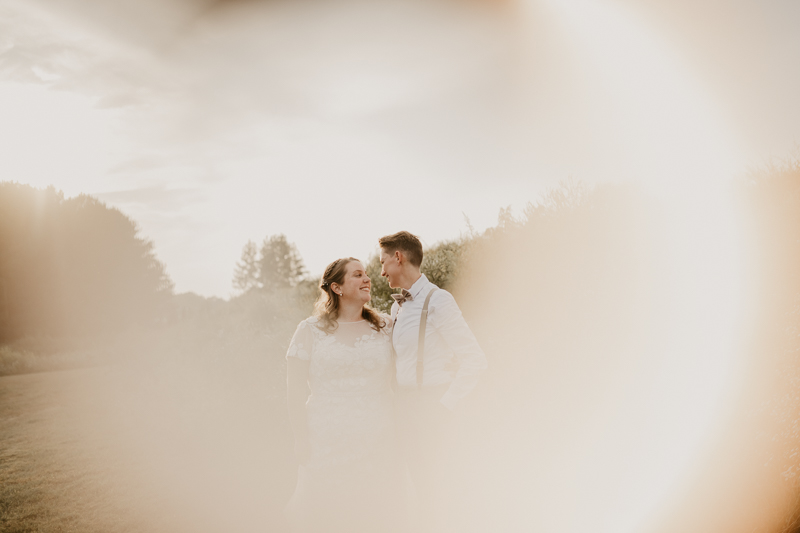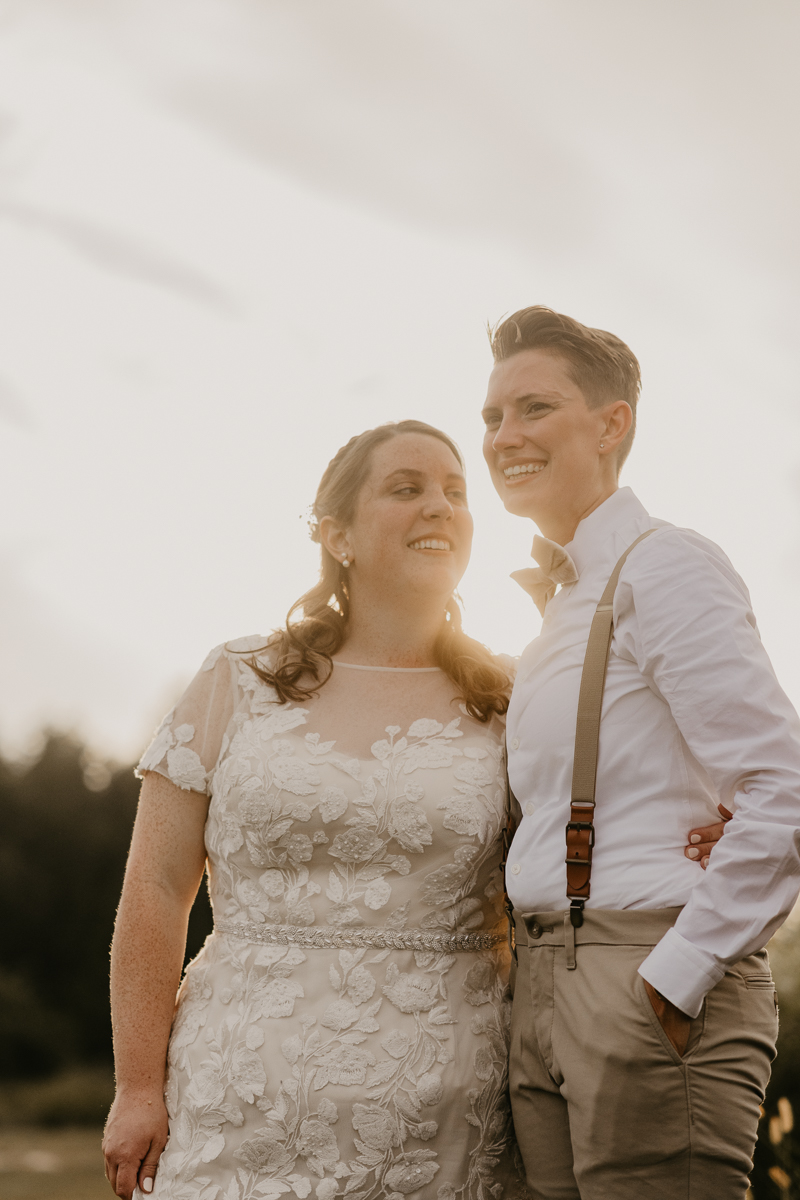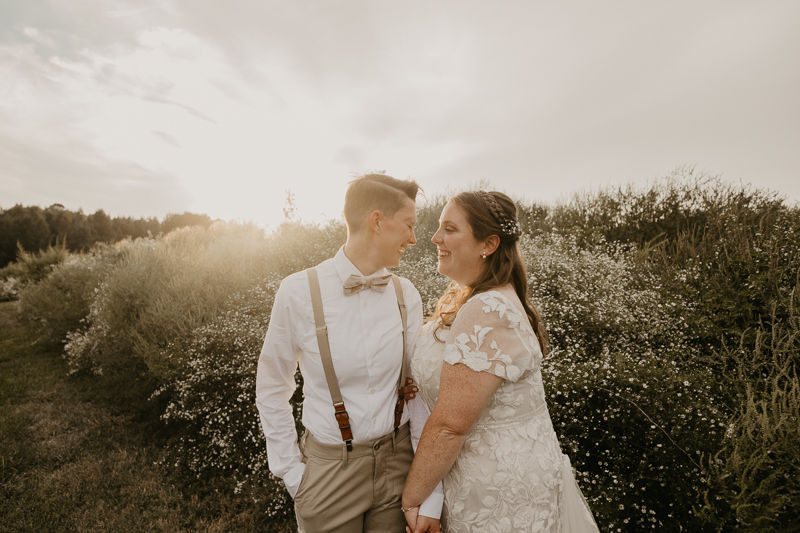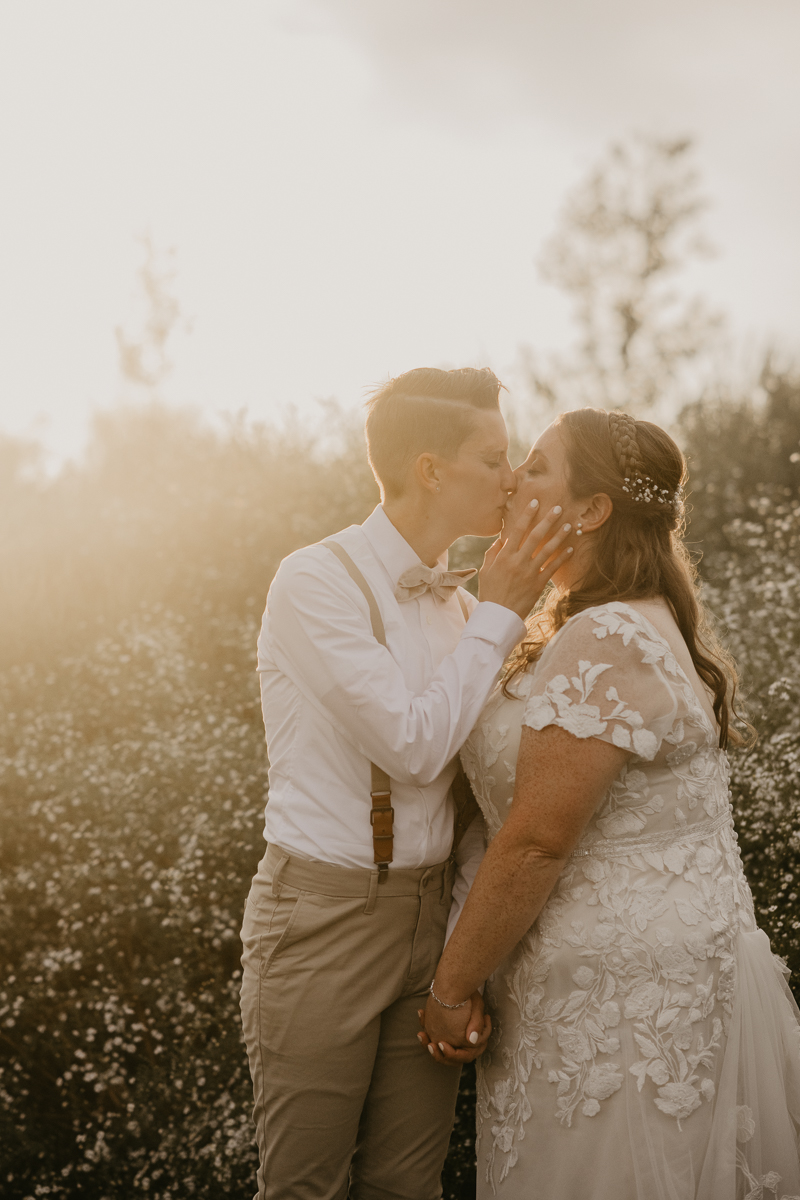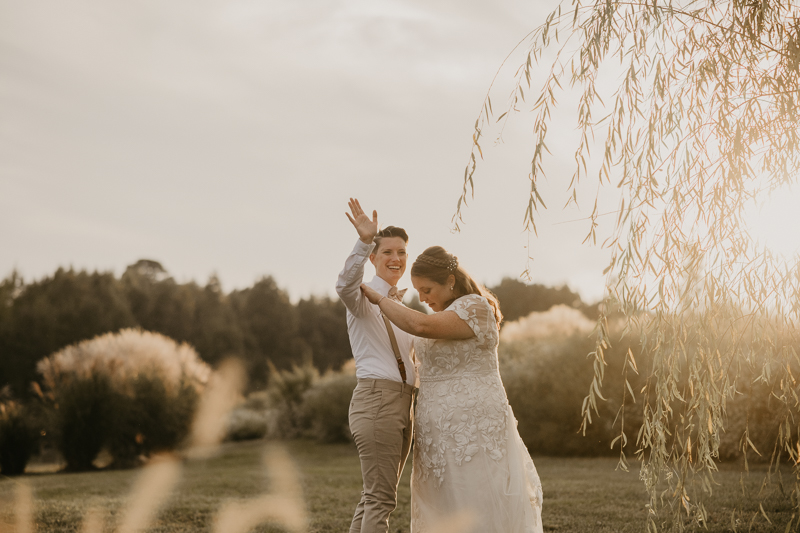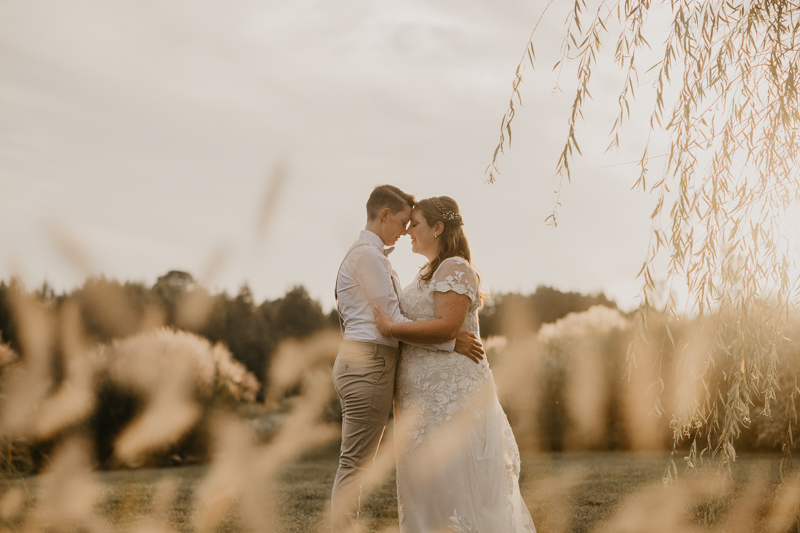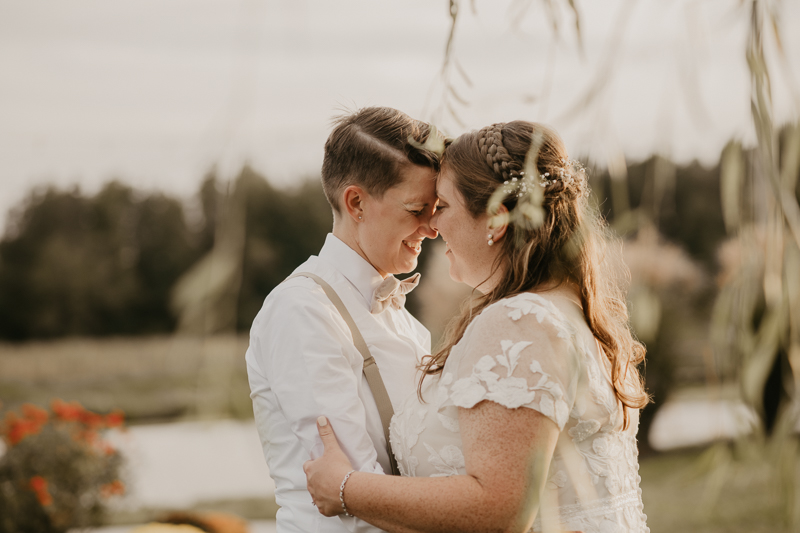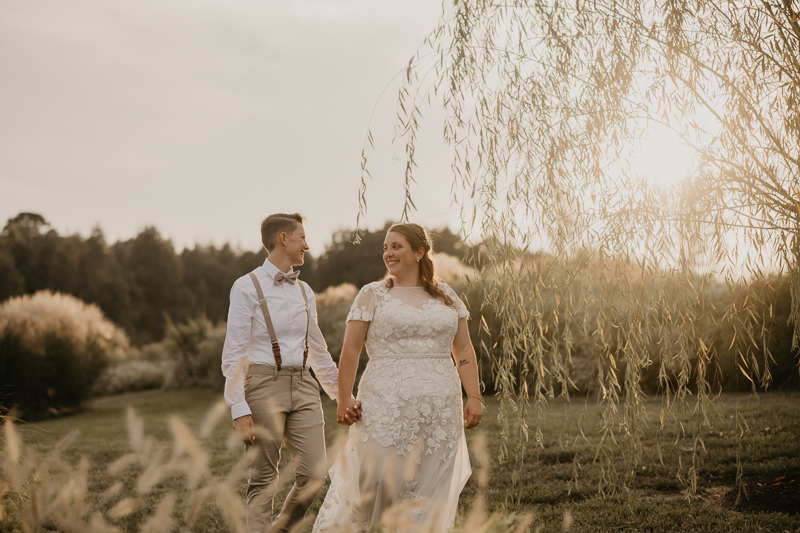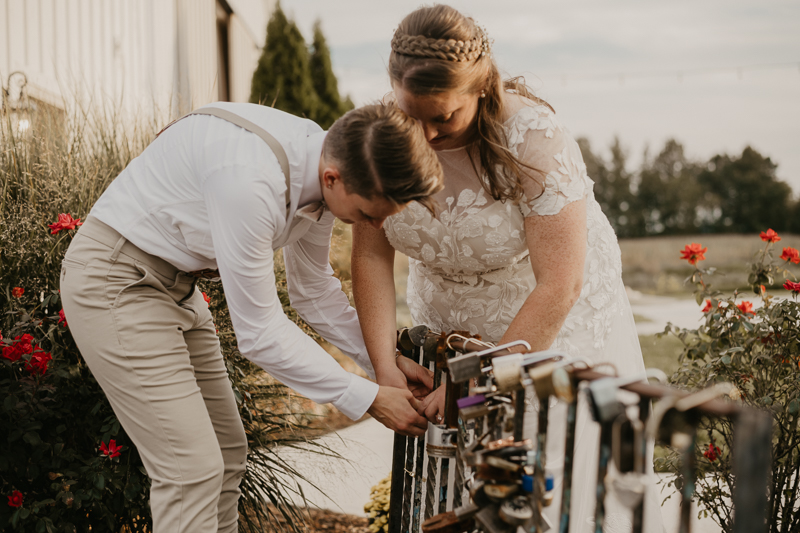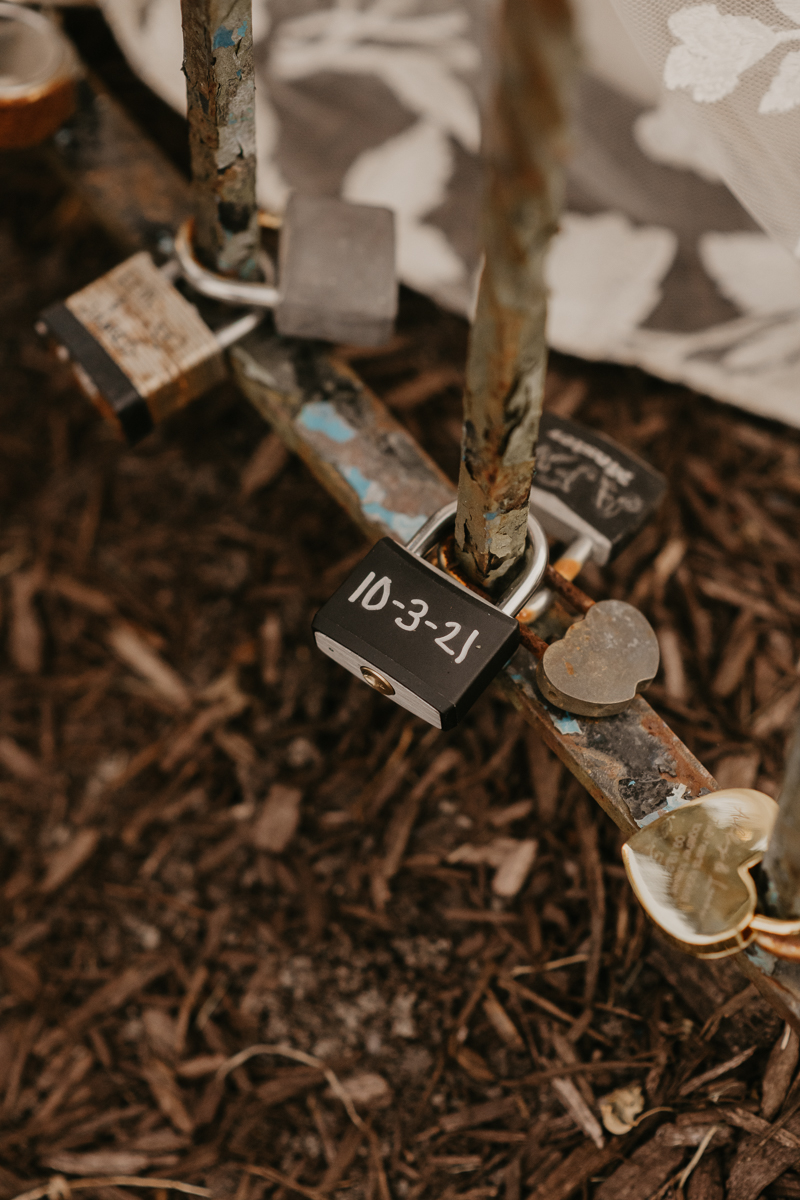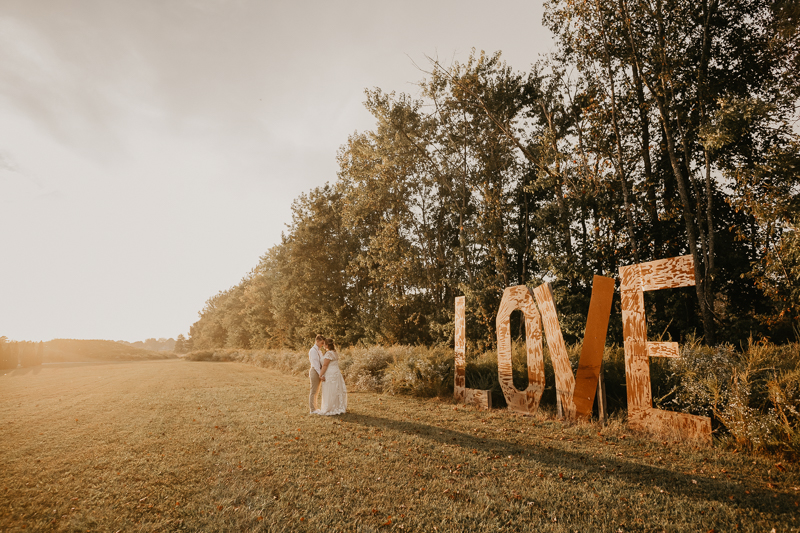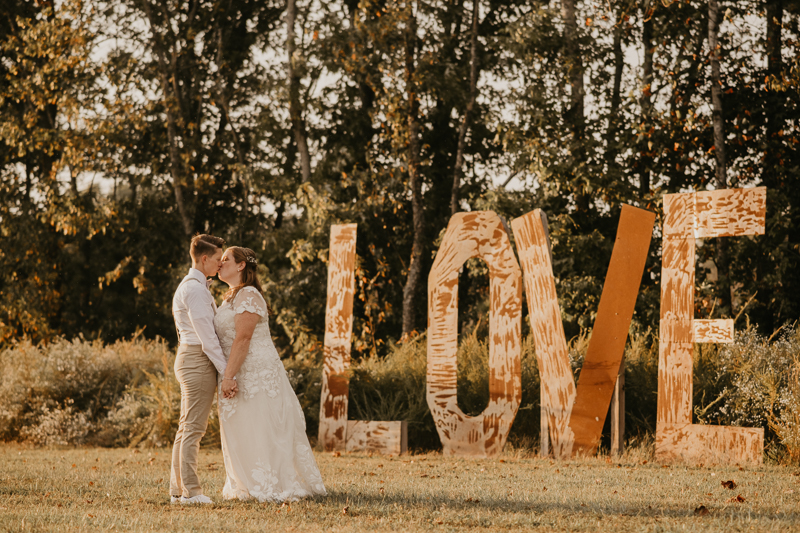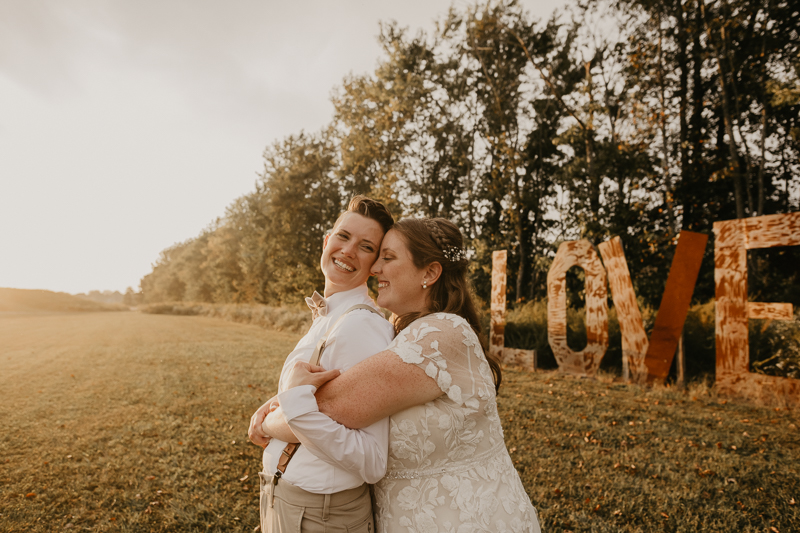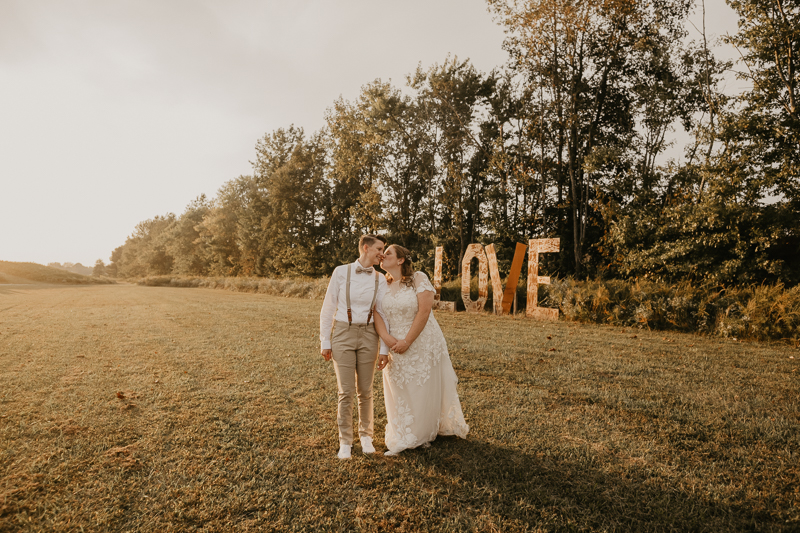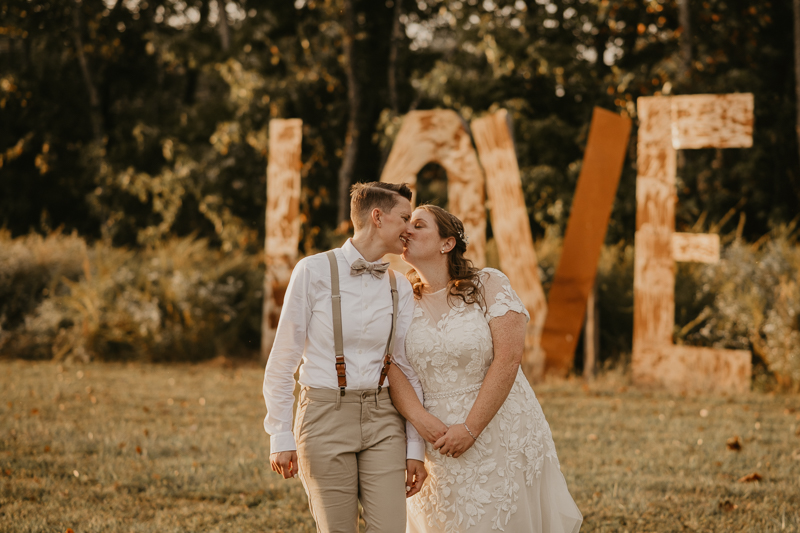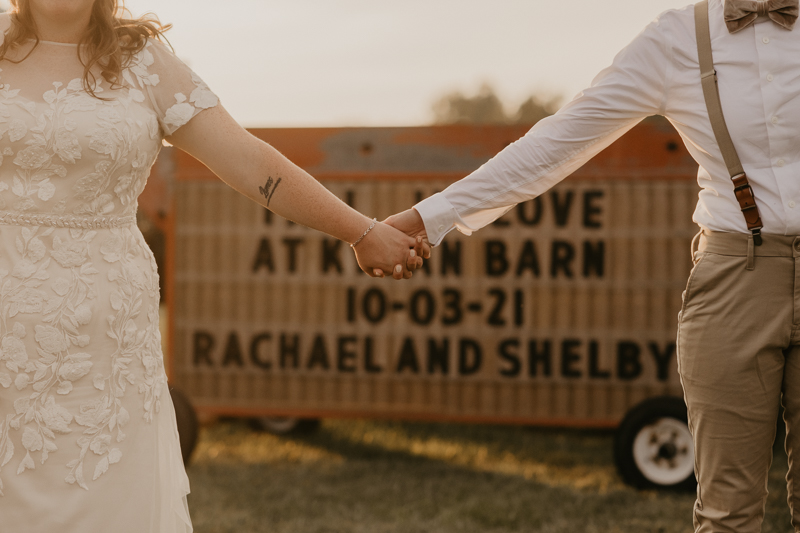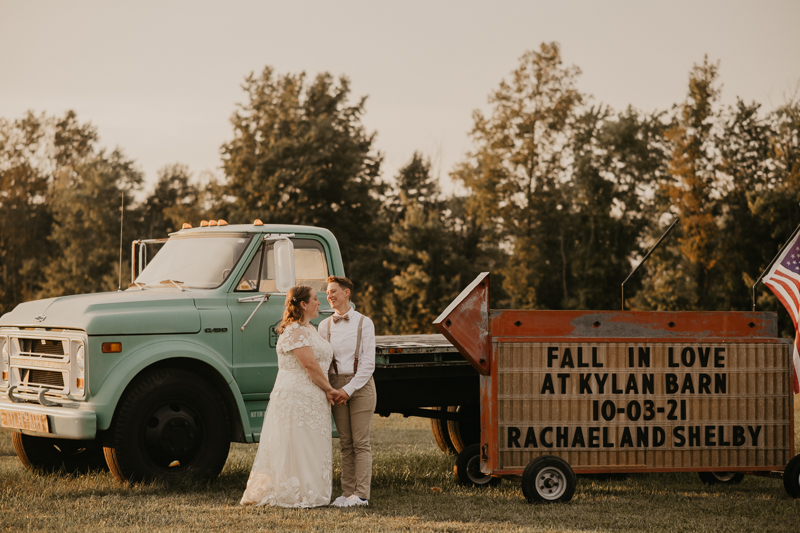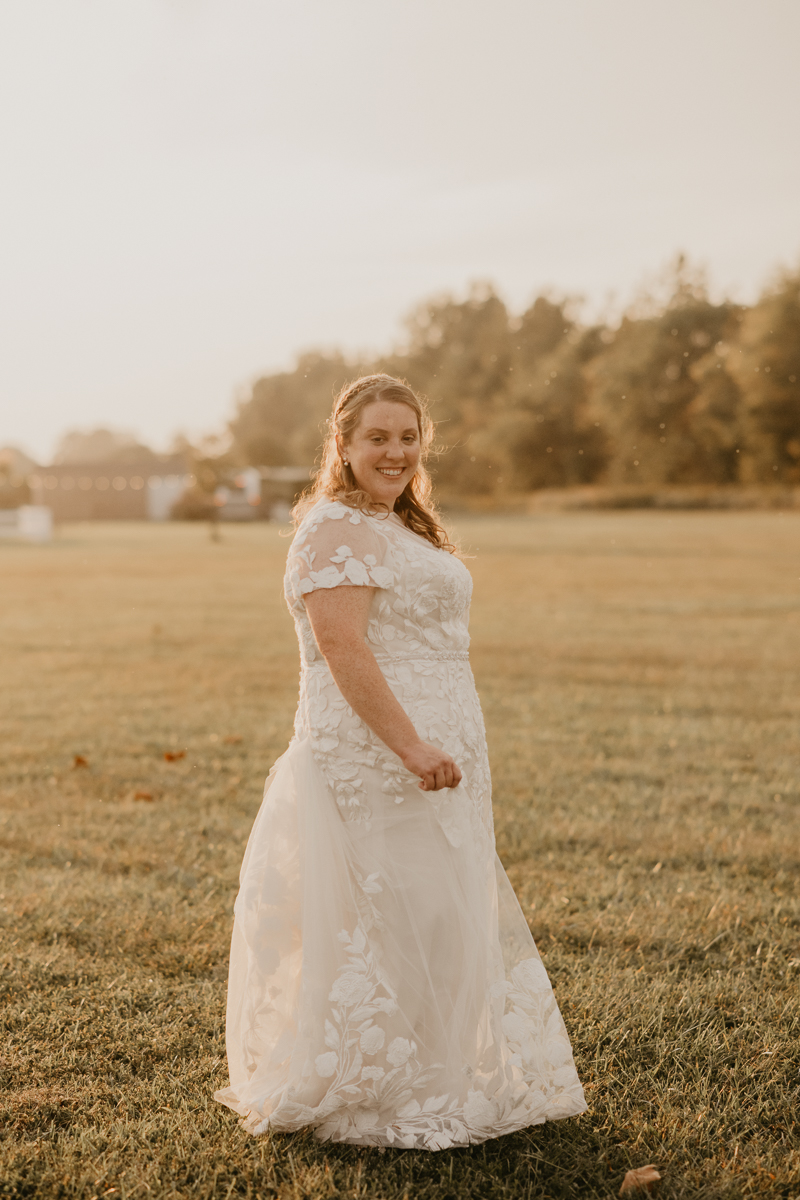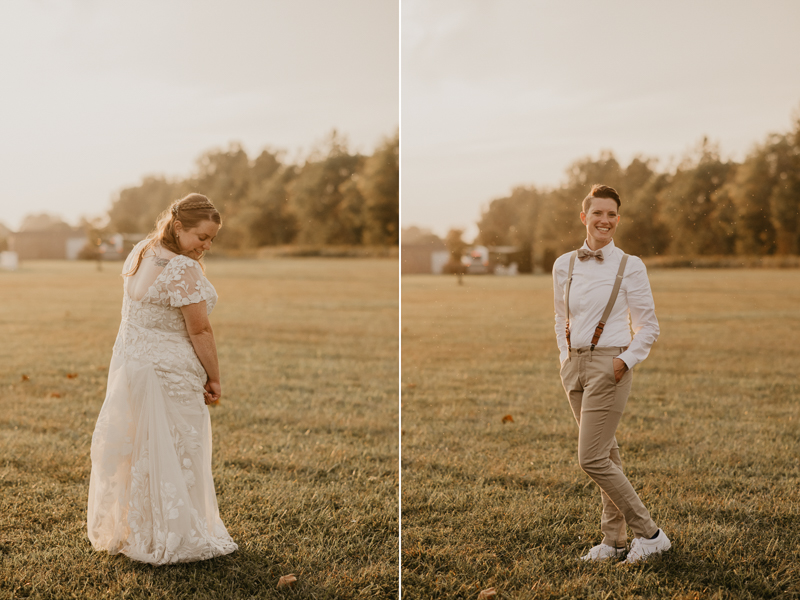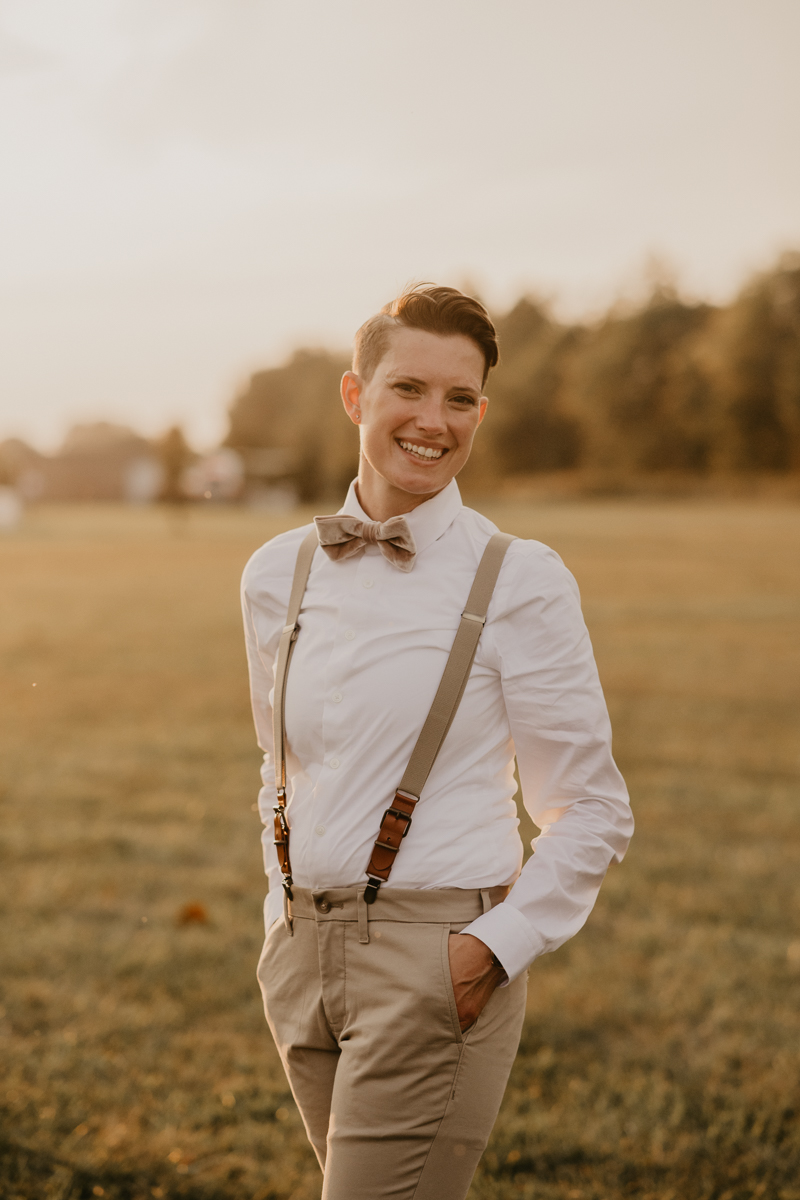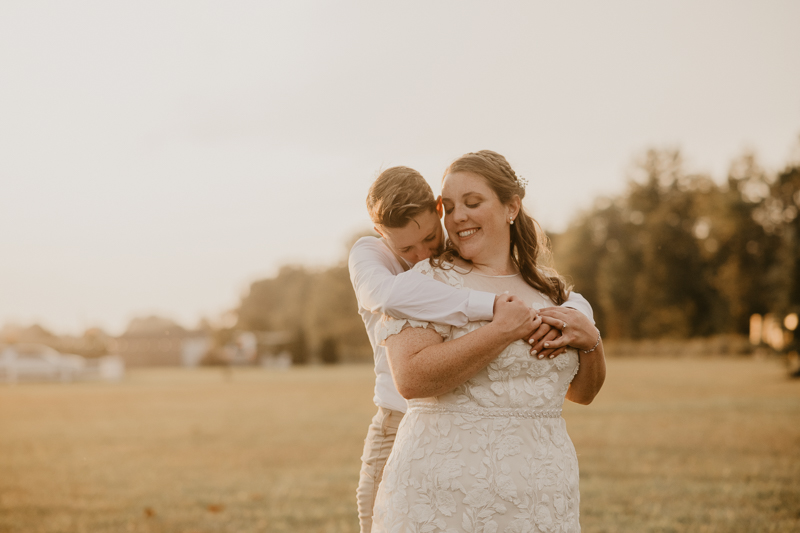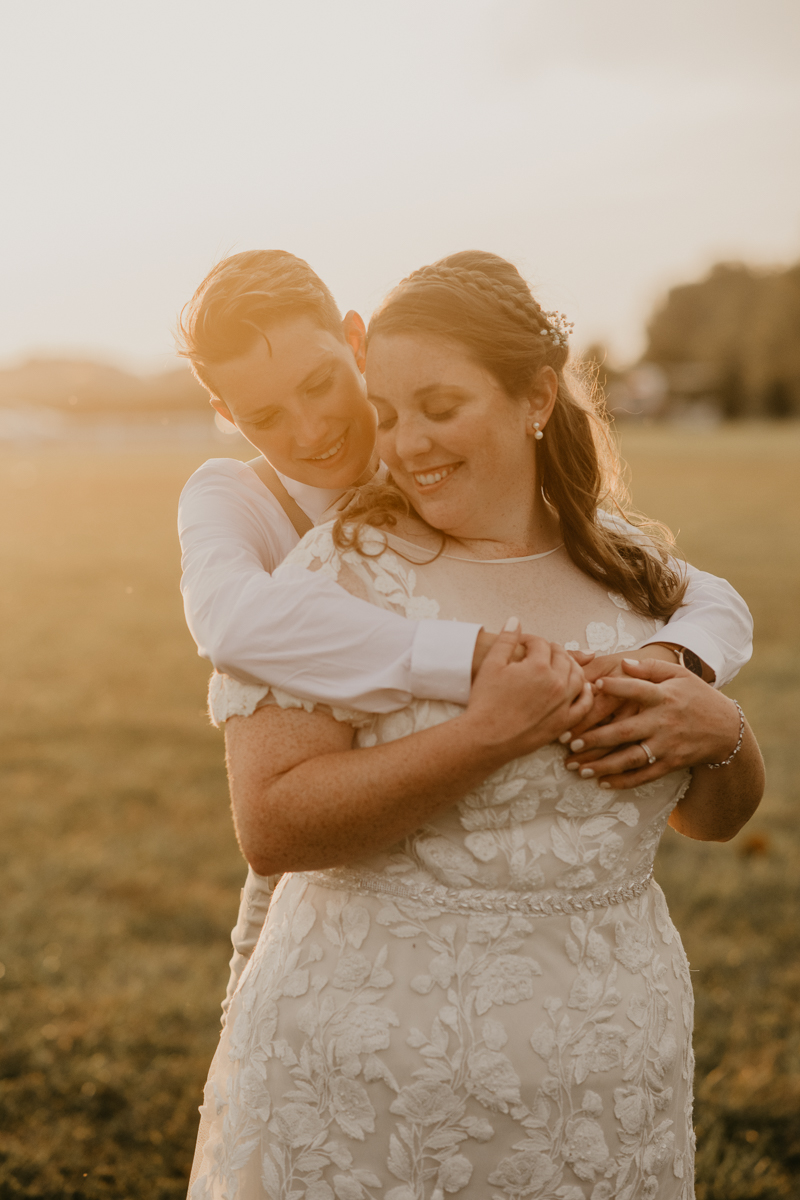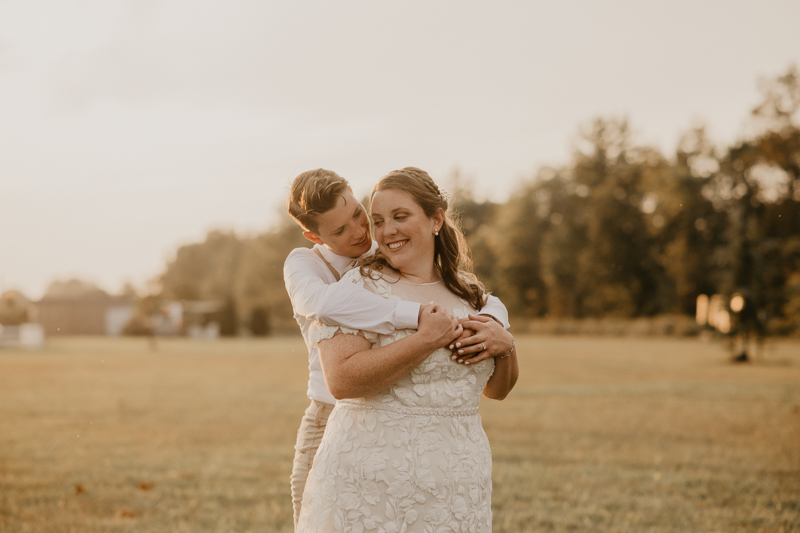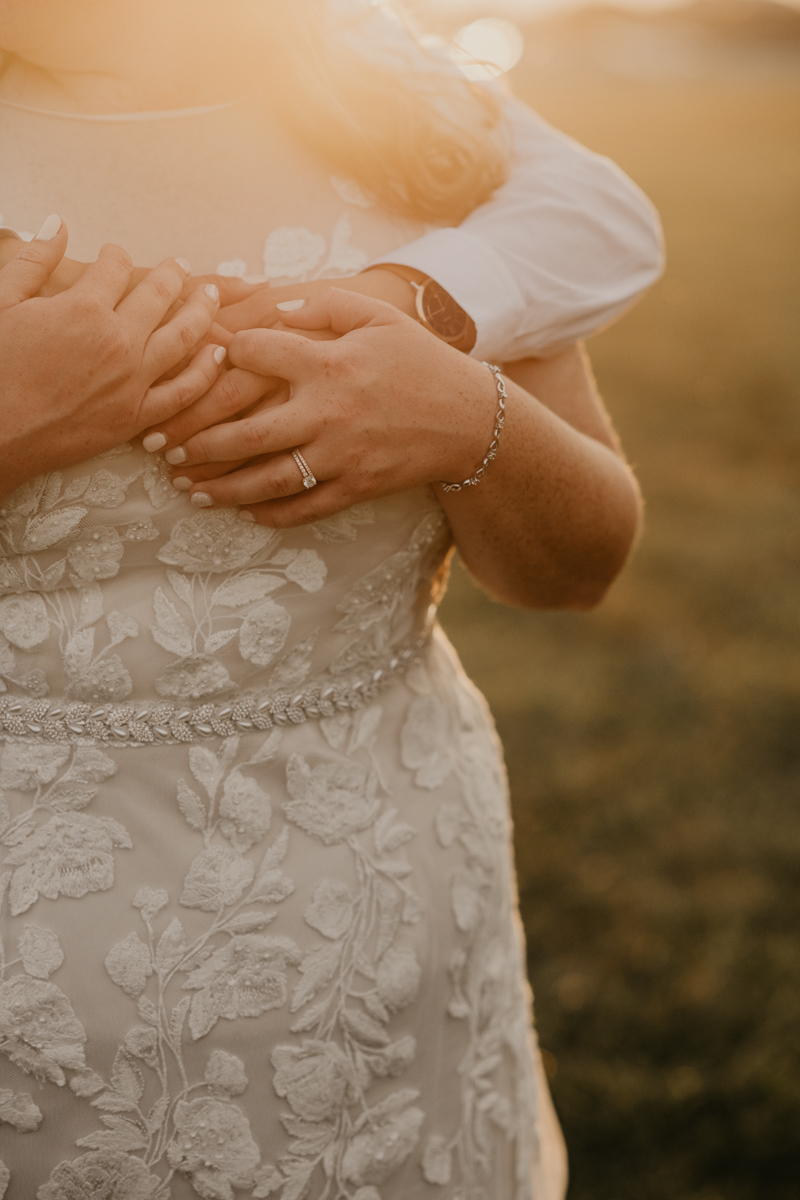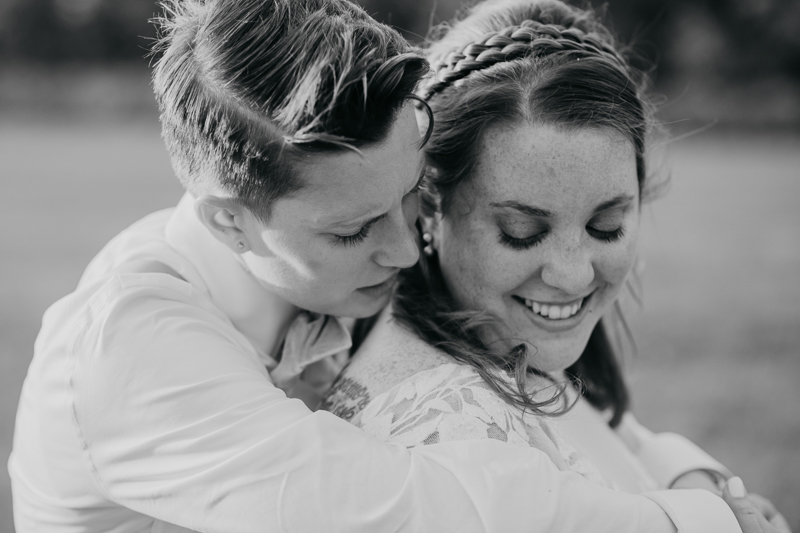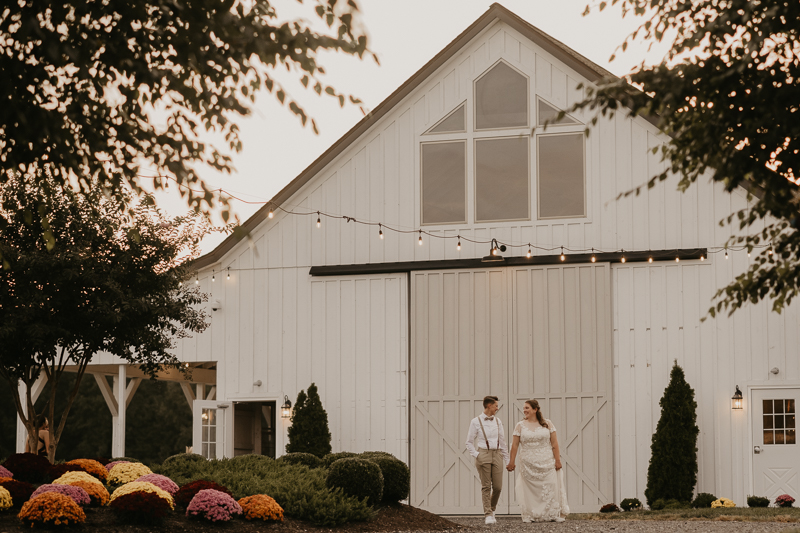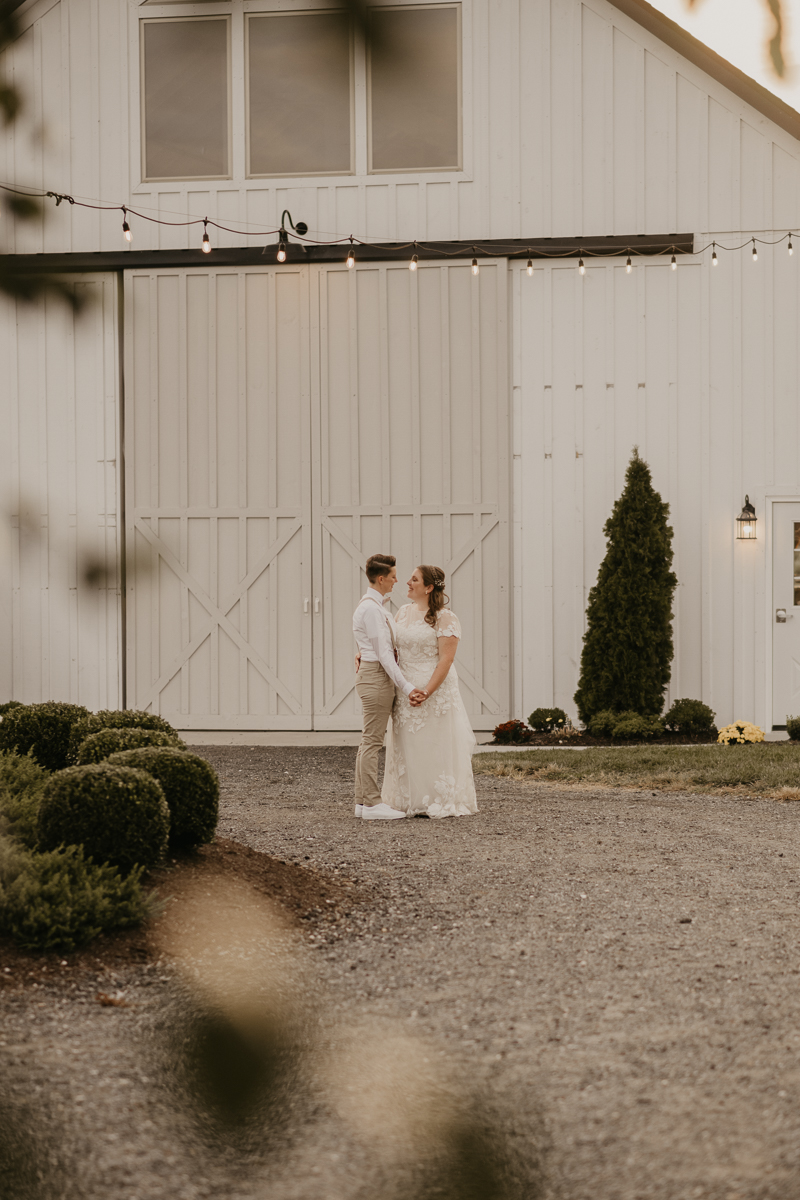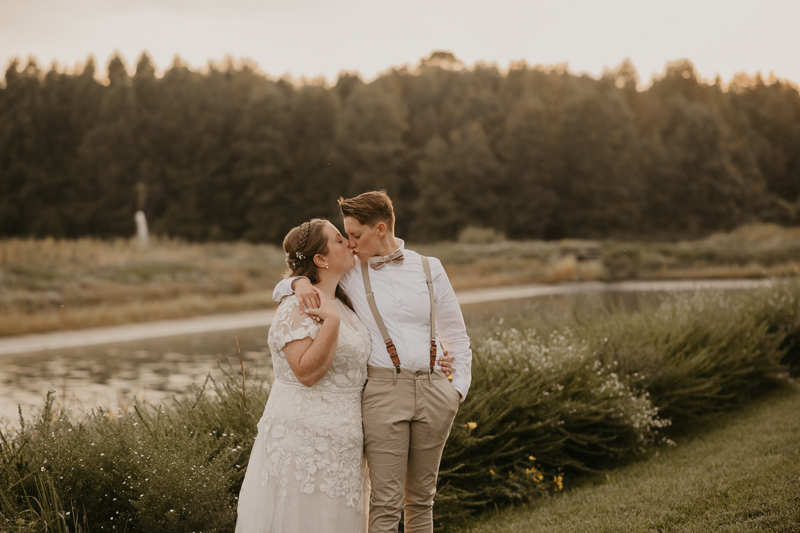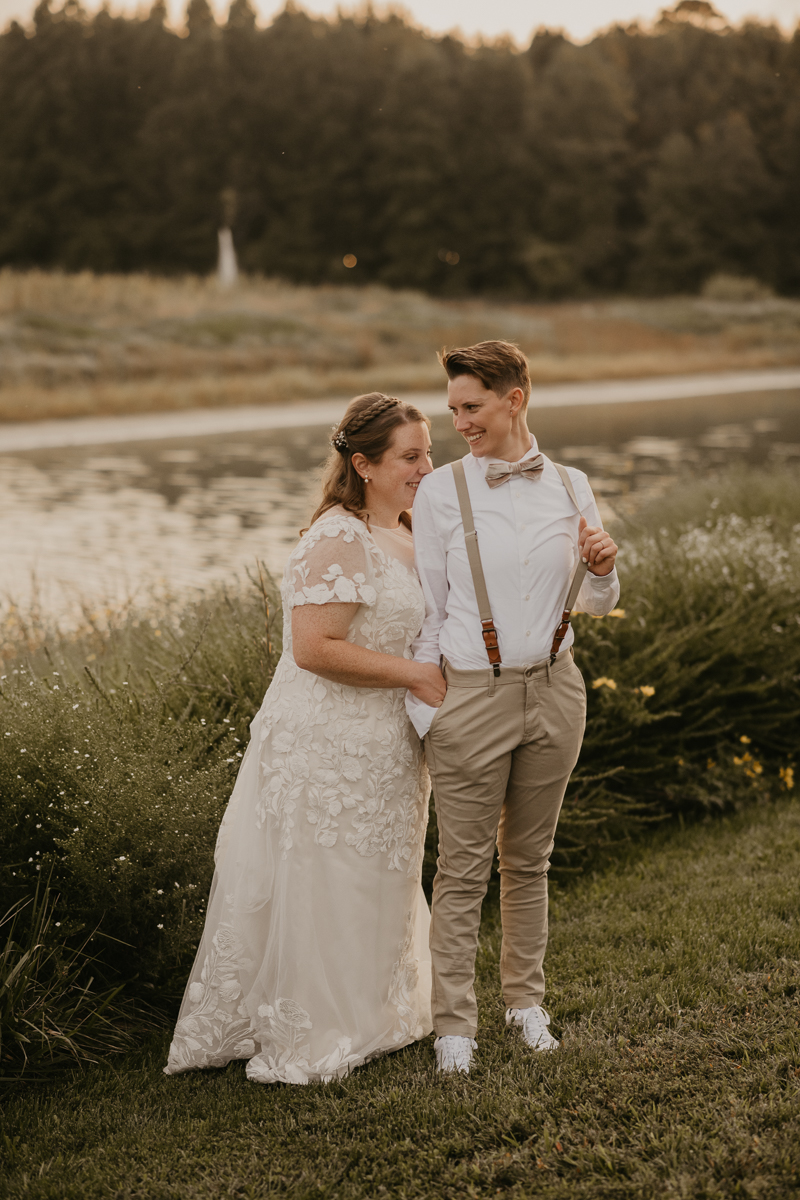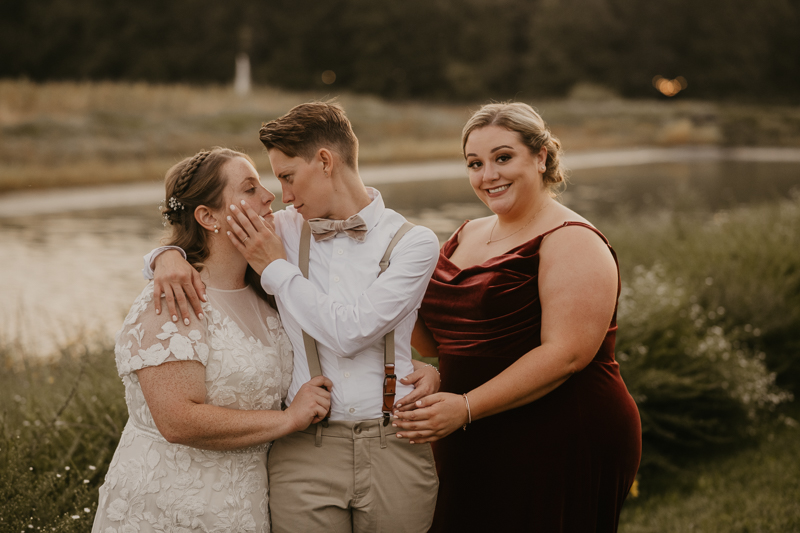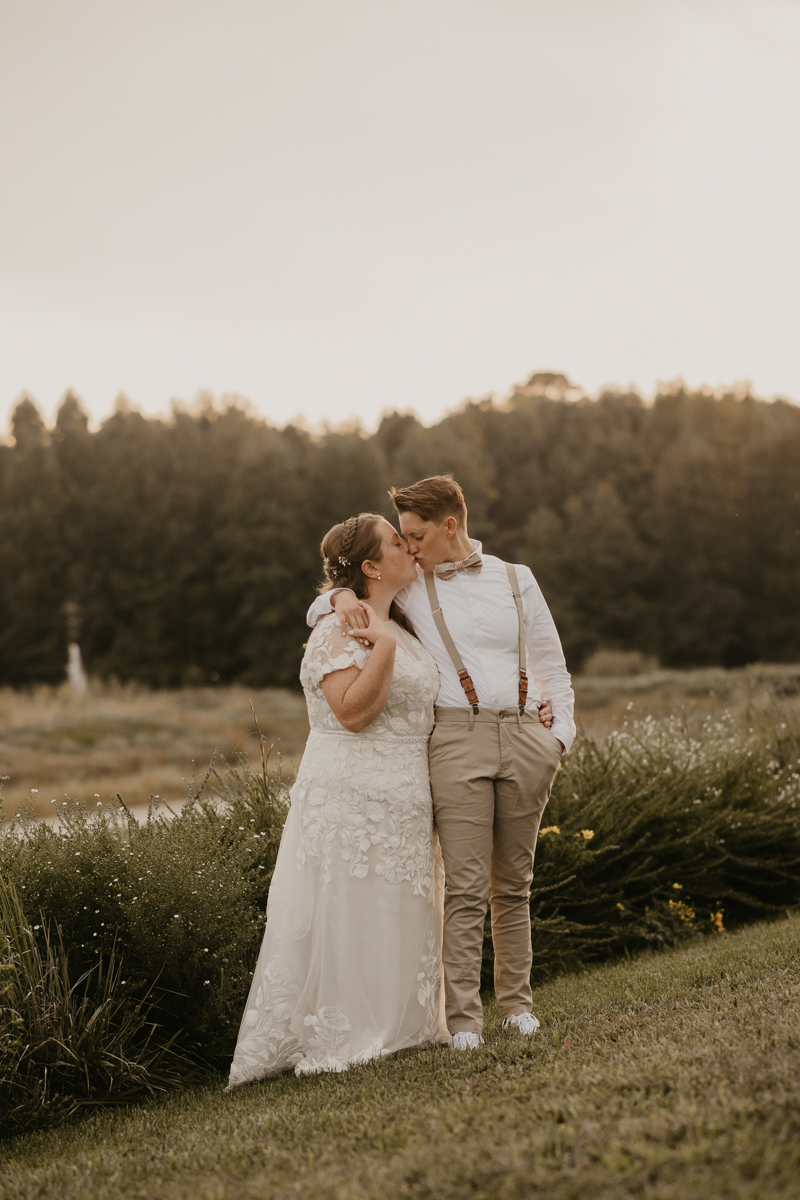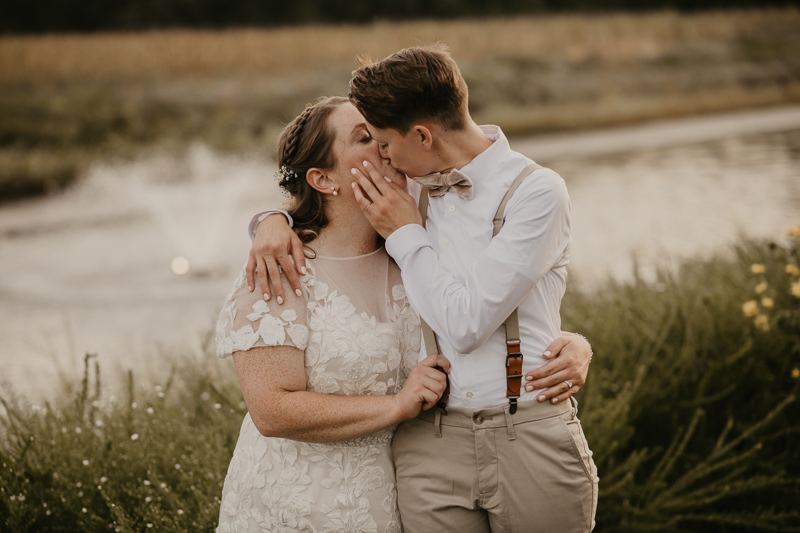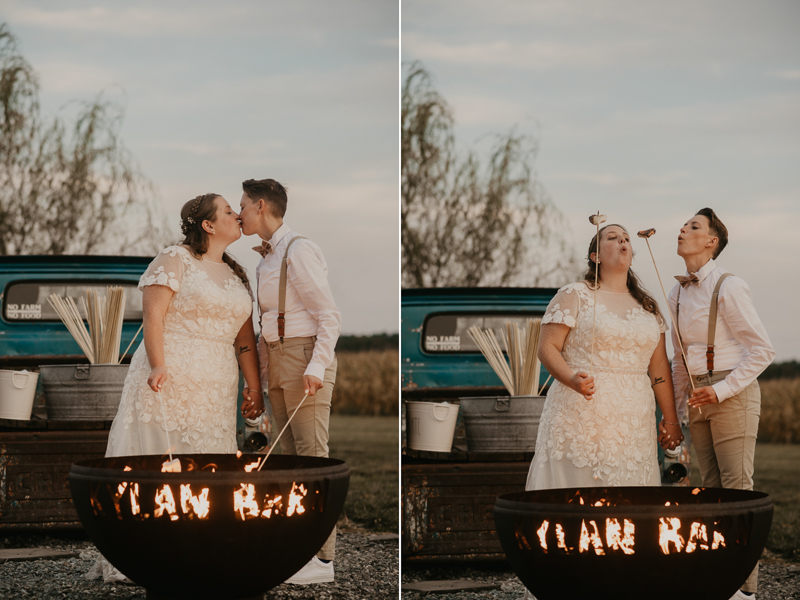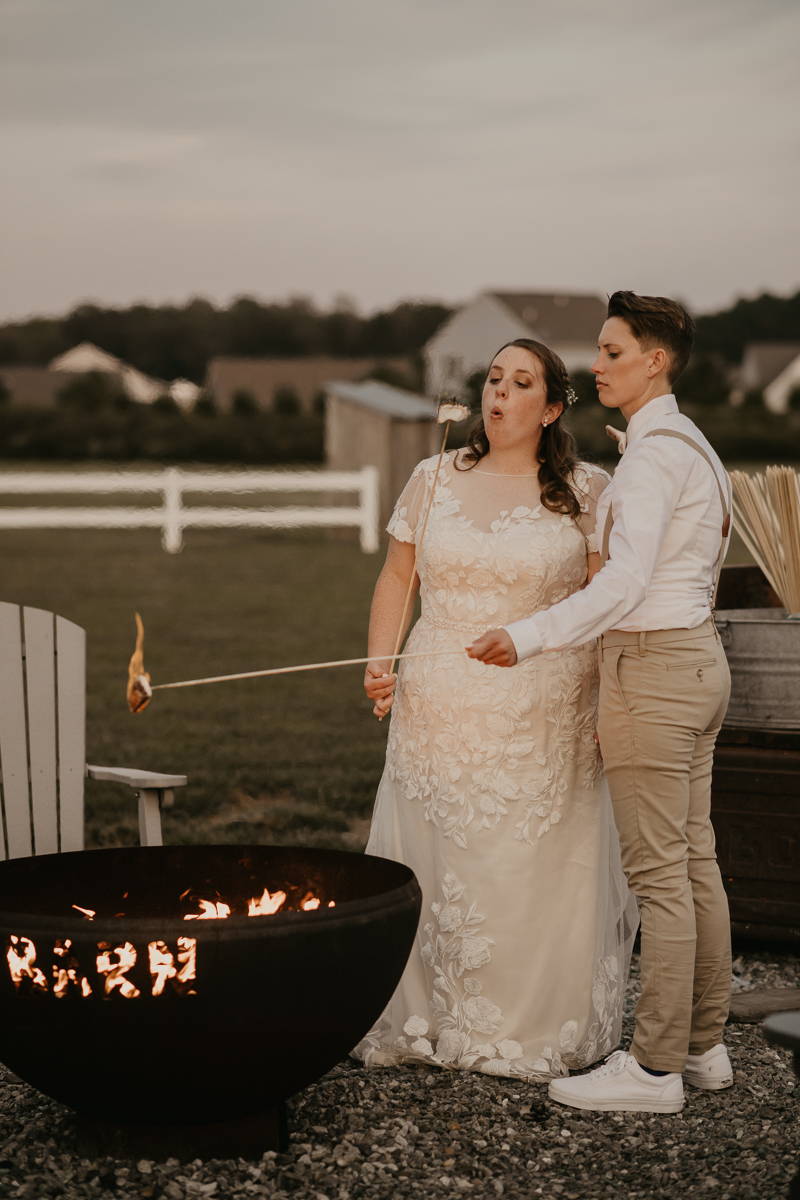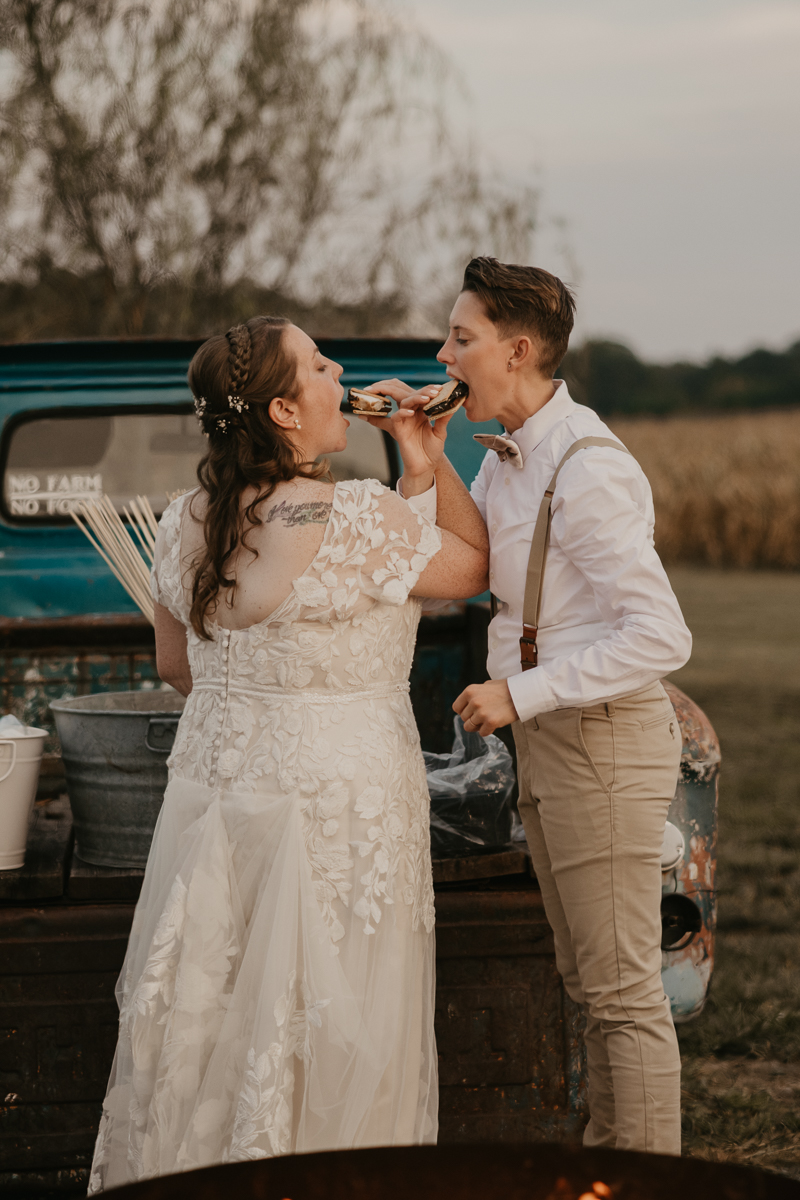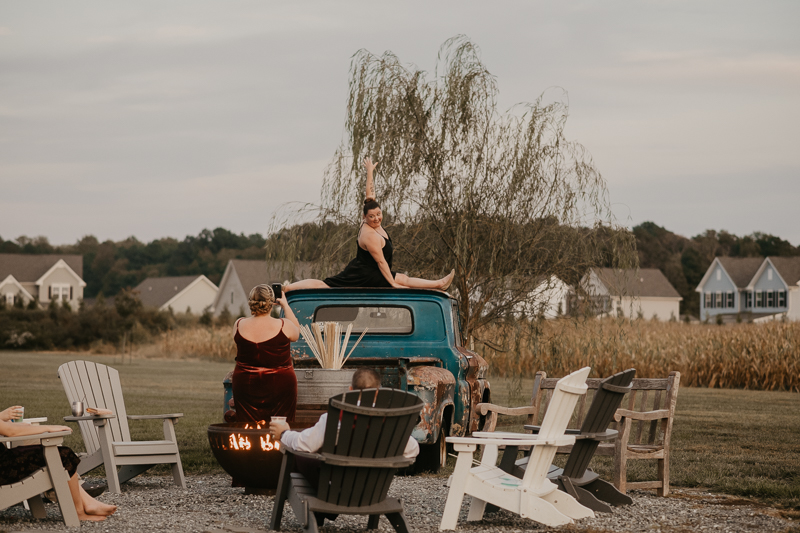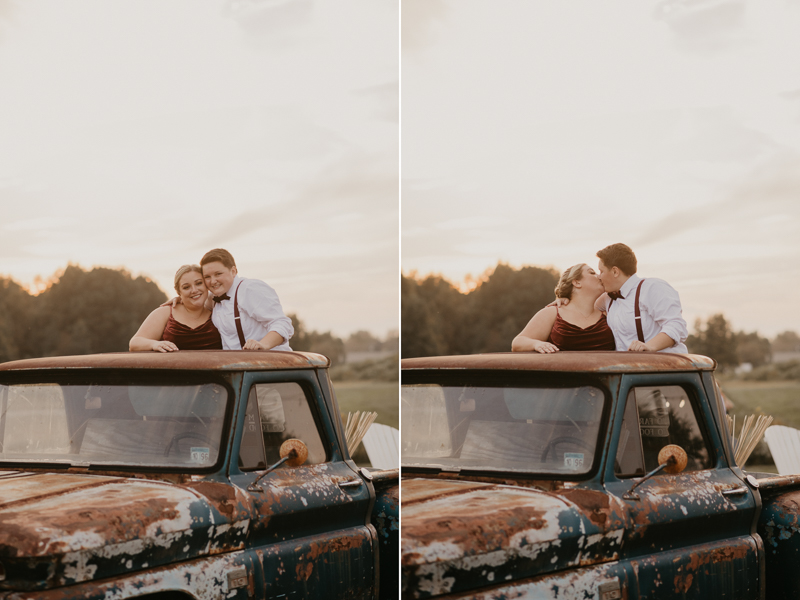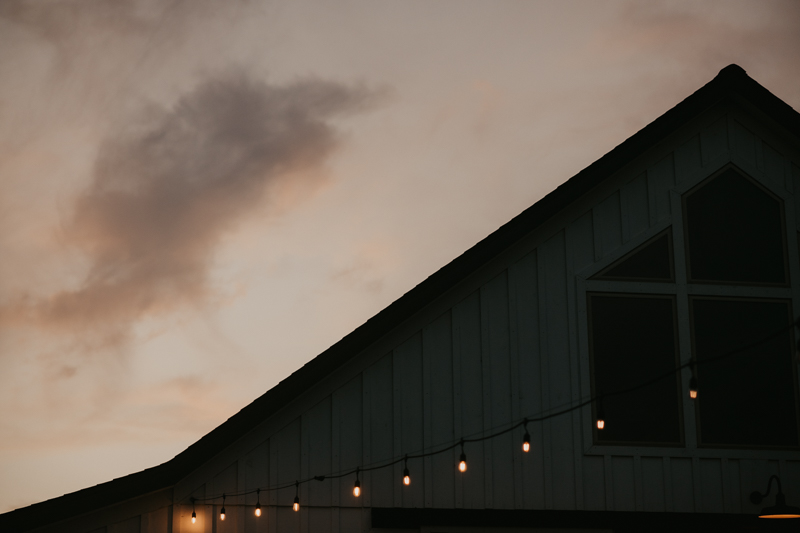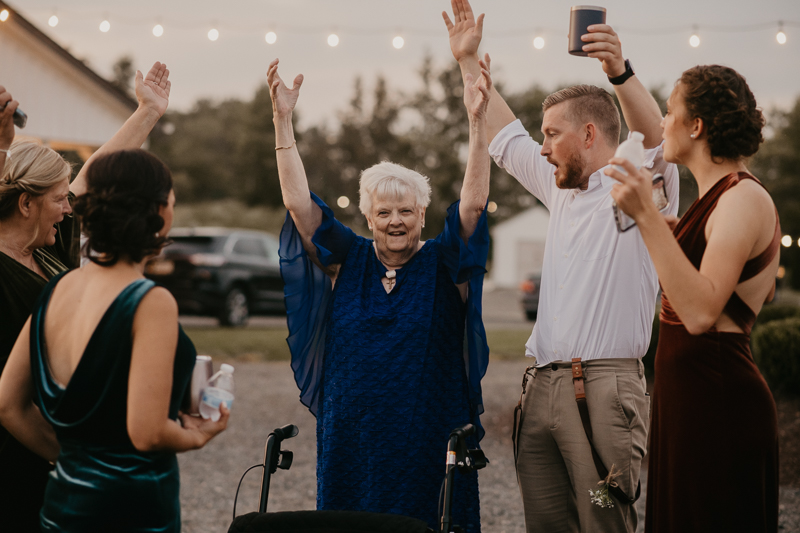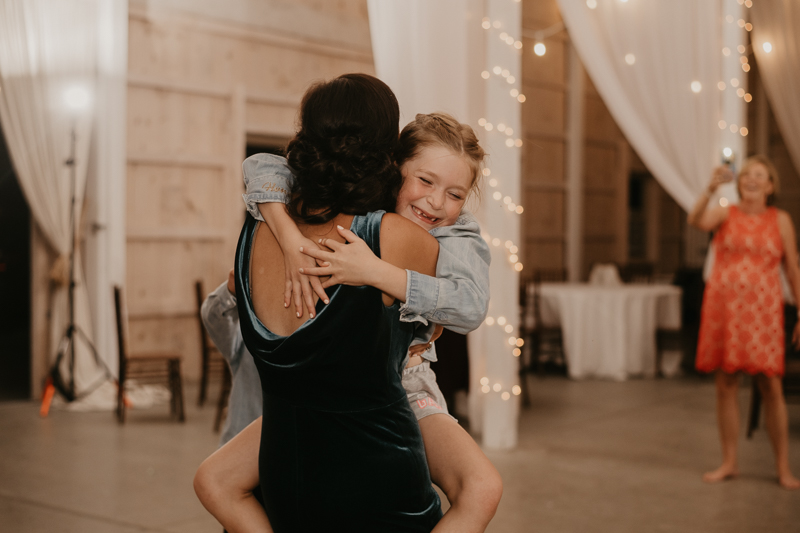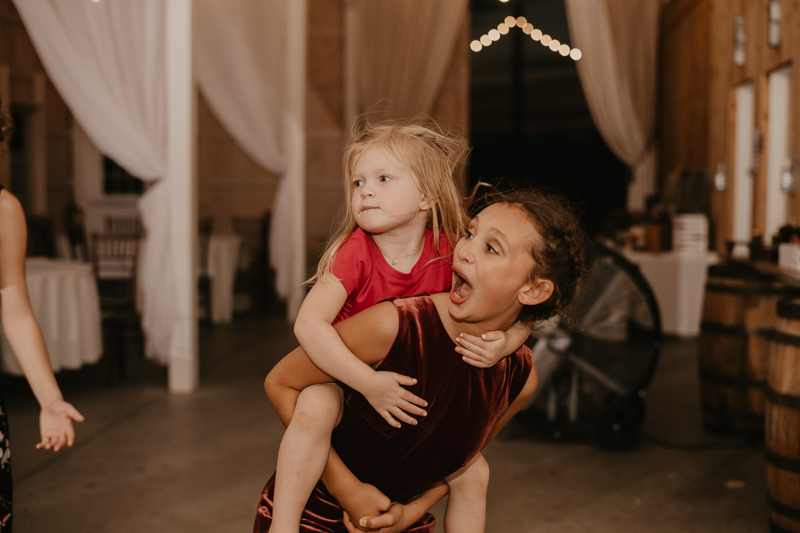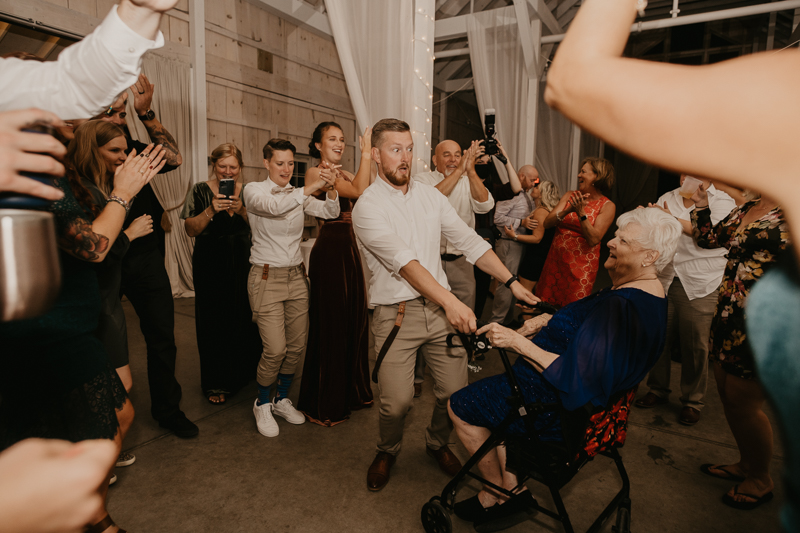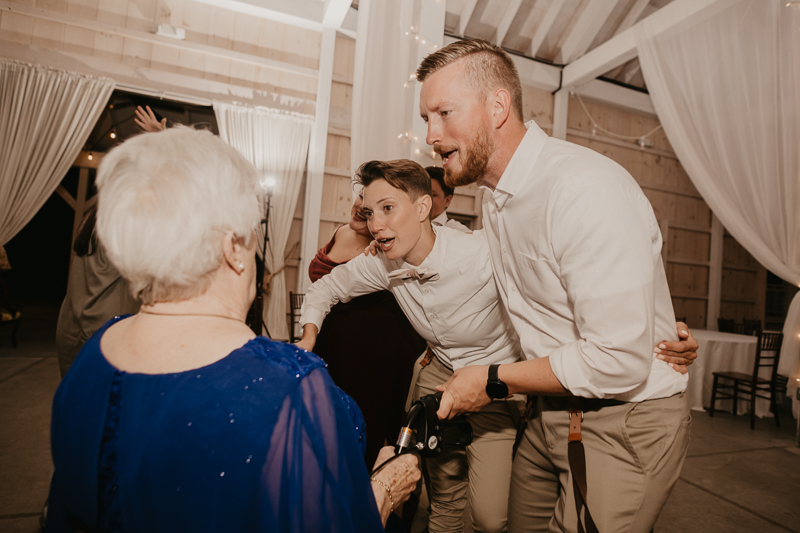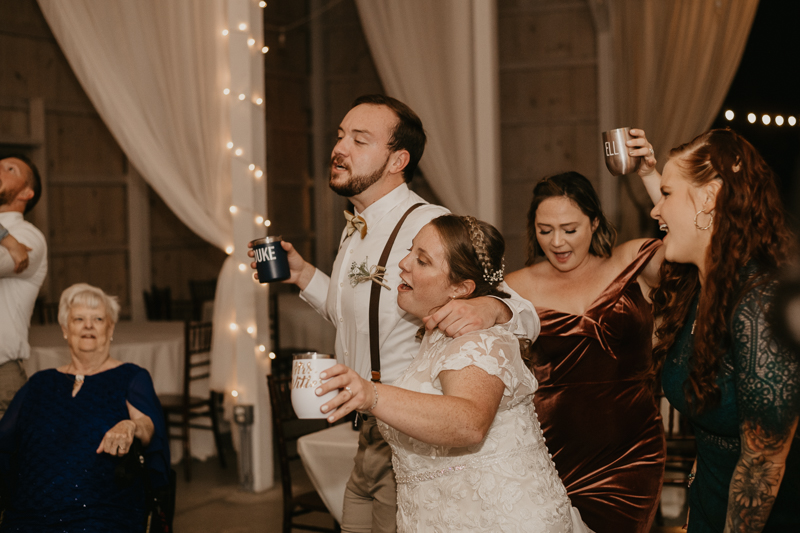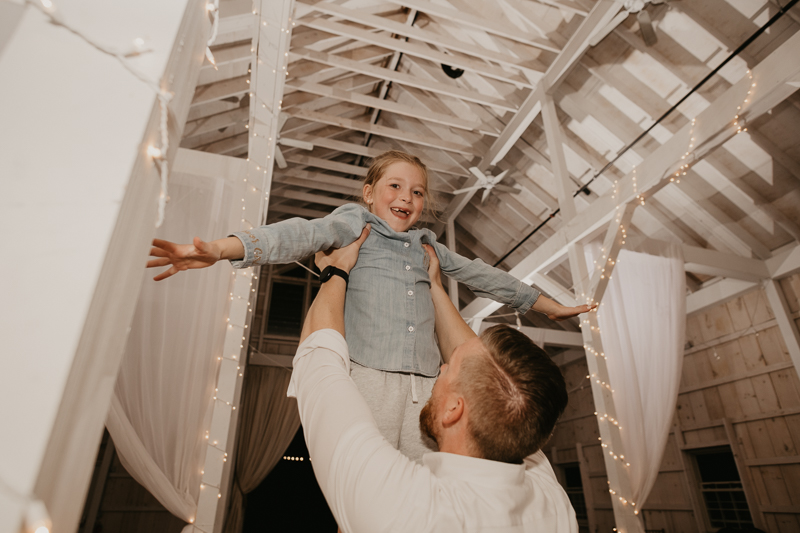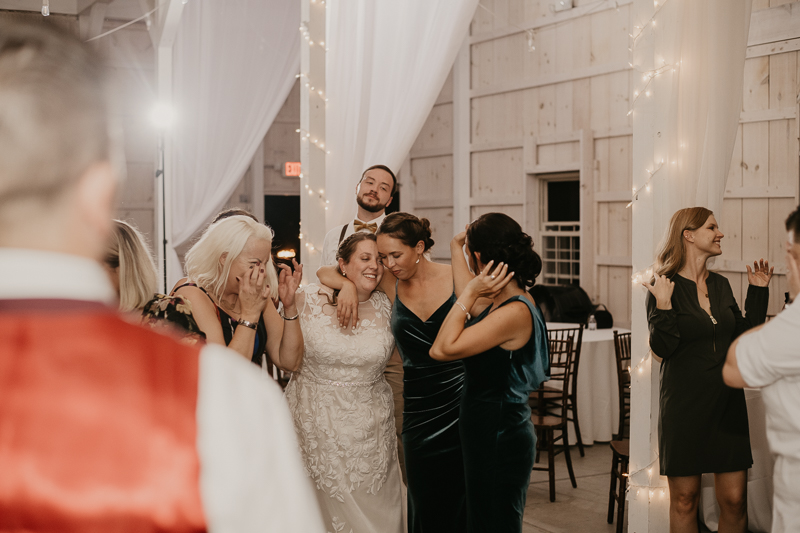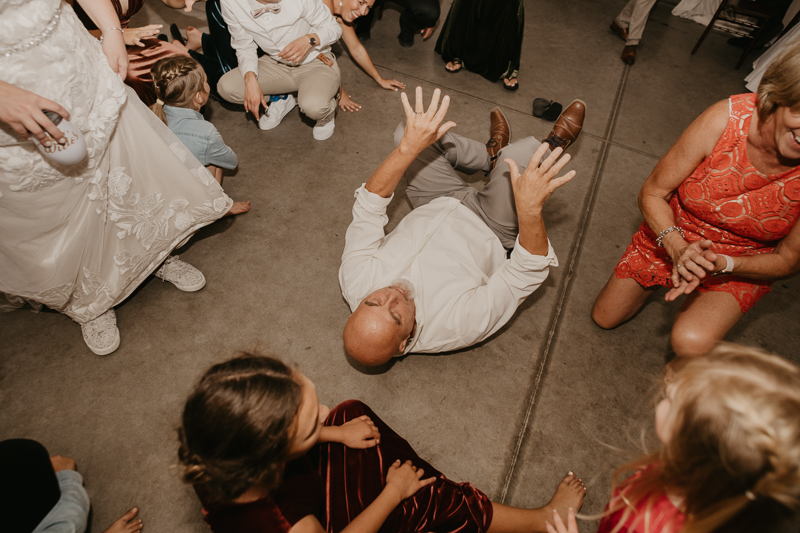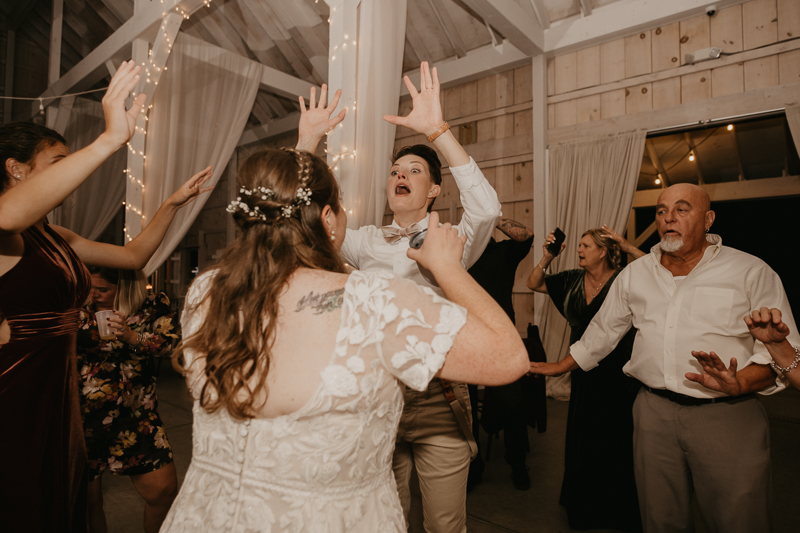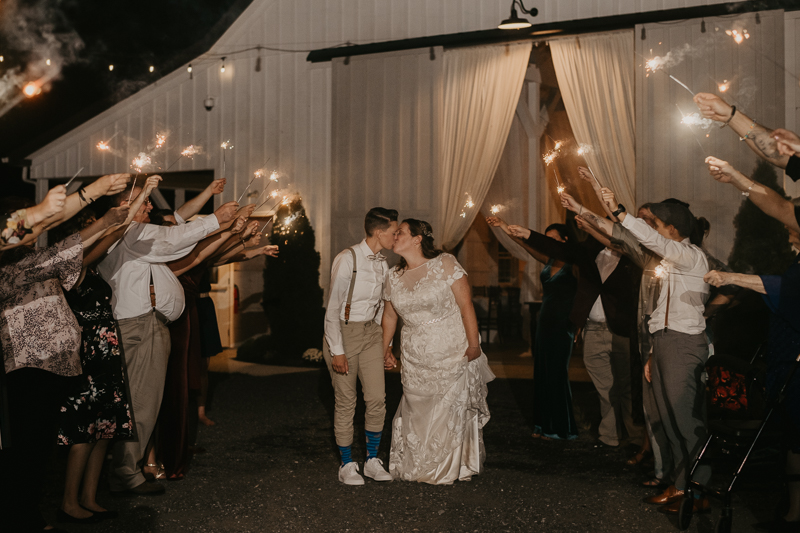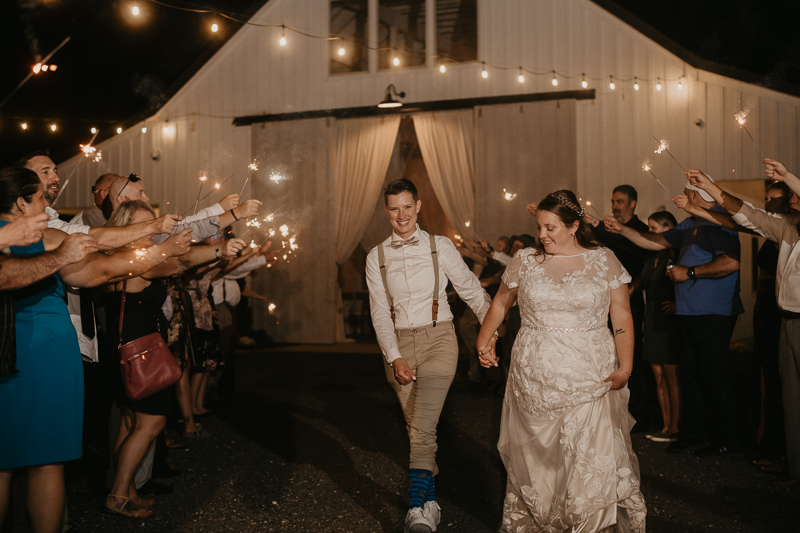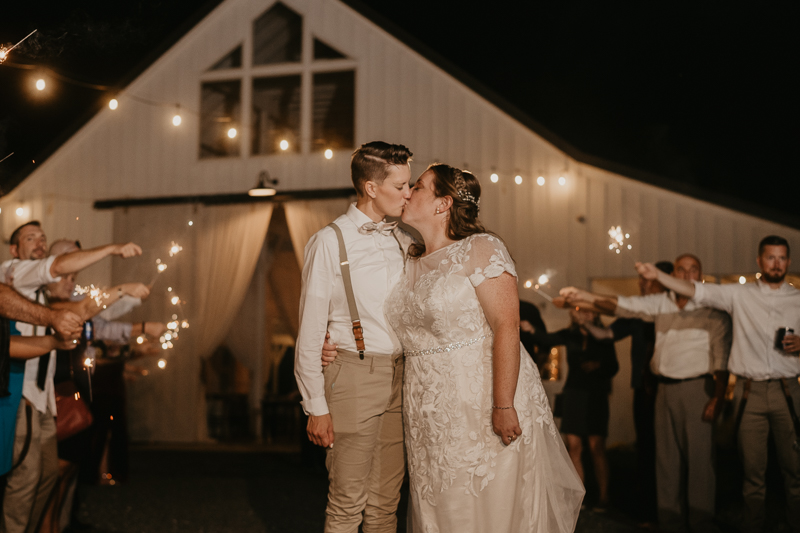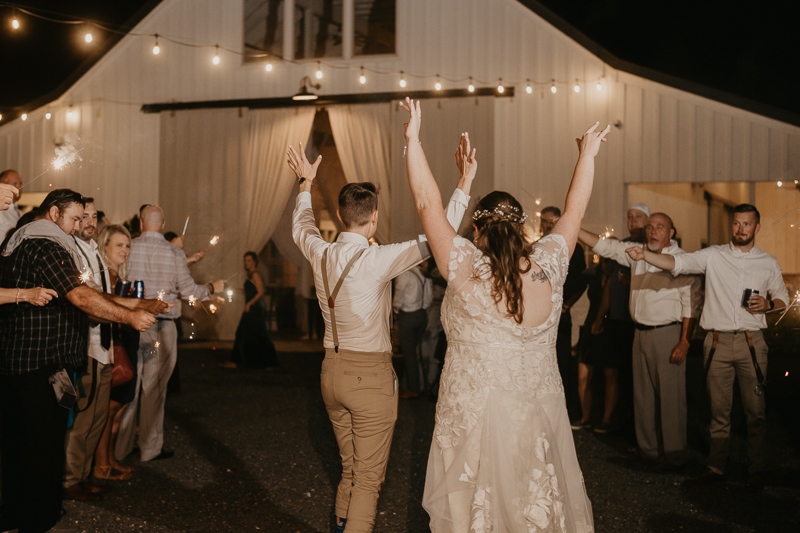 The amazing vendor team!
Ceremony & Reception // Kylan Barn
Florist // Shelby's sister, Crystal!
Doggy Care // Wiggle Butts
Hair // Nichole Manansala
Makeup // Rachael's sister, Kim
Officiant // Thomas Volpe
DJ // Ralph Howard
Caterer // Mission BBQ
---
---
---