Beat the Heat
Tips for Photographers and Couples with Hot Summer Weddings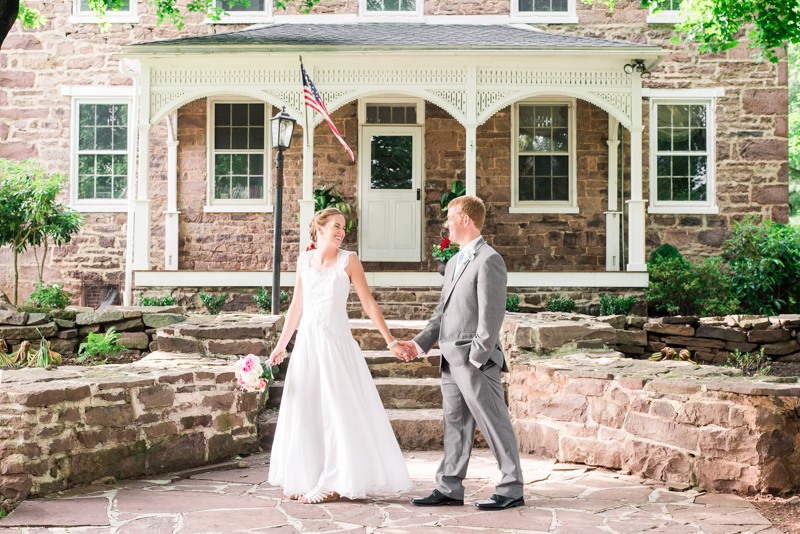 Now that it's August, it's time for summer days to get longer and hotter. I'm having a terrible time thinking how it could be even hotter than July. But it's definitely possible with how ridiculous the weather has been this year.
This season has been undeniably on the warmer side for us. Last weekend, we had Samantha and Tim's wedding happen during the peak of a heat wave. Their wedding was a light bulb moment for Shawn and me on how we handle weddings that are absolute scorchers. The tips that we've been able to pick up over the years have made our ability to manage 100° days in a healthy way. As photographers who prefer to work with natural light, we are constantly running around outside trying to find the best places to shoot. We get sweaty - scratch that - grossly sweaty. It's easy for Shawn and me to forget to drink water, to have a quick snack, and to take a break.
While the tips below are primarily for photographers, they can also be helpful to couples or bridal party members looking for smoother photo sessions. A little bit of planning and foresight can prevent a lot of problems down the burning asphalt road.
Drink plenty of water
Back when I was a kid, I always scoffed when my parents would tell me this. It wasn't until I started running track in high school that I realized: staying hydrated is no joke. Even the smallest amount of dehydration can cause dizziness and prevent giving your job it all. When in charge of capturing someone's wedding day, you have to be on top of your game. There is never a time you are allowed to miss a moment because you weren't taking care of yourself.
Shawn and I always have at least three water bottles with us on the wedding day. We prefer to get the giant Deer Park water because two of those can easily last us 8 hours. As something extra, I also like the water to be room temperature. It's not only good for the digestion benefits, but also to avoid brain freeze from quickly gulping super cold water :P.
For those who have difficulty with this task, we highly recommend Water Drink Reminder. It's an Android app (there are water apps for iOS, as well) that keeps track of your H2O intake and alerts you when it's time to refuel. It has helped us immensely. We have ours set up to remind us to drink every 60 minutes. It might sound crazy to need an app to help with this. But it's not only great for hot work days, but also for personal life as well.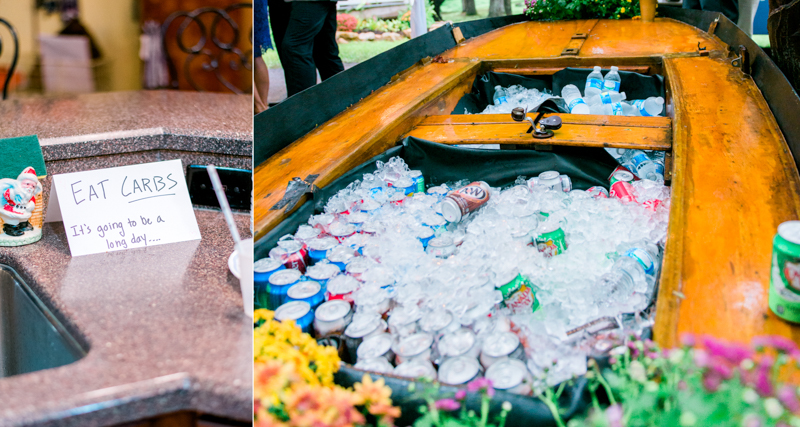 Have a backup plan
Much like if there is rain on the wedding day, photographers have to be ready for the heat. Occasionally, there will be times where the heat index is way too high for the family groups to be outdoors. In those cases, you need to find a spot inside the venue that is still beautiful. If you are in a church, of course the alter is the best option. It's an important place for the bride and groom, and it offers different levels for those big family groups to be nicely spaced out on. Otherwise, staying close to where the vows occurred can have a similar sentimental feeling. Decide on a location that still allows plenty of natural light in, but with minimal distractions from guests. Scope it out before the ceremony, so you can be ready to pull family members to the new location when you need them.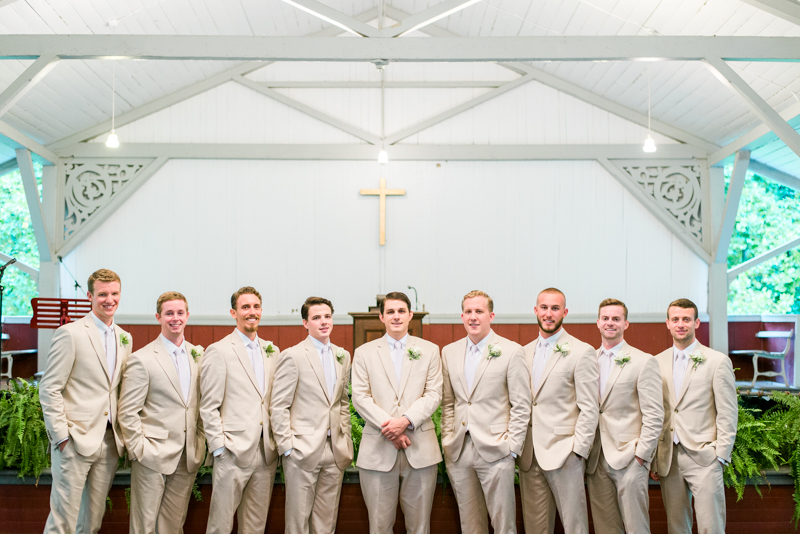 Make efficient use of outside time
If you have to photograph the family and bridal party groups outside, either because there isn't room inside or the the outdoor landscape is too important to miss, keep your time outdoors short. Find a great shaded spot that is close to the venue so that everyone can pop in and out quickly. Keeping this spot close to the air conditioning can ensure that no one feels faint due to the heat, and that they still get a gorgeous back-drop.
For bride and groom portraits, you may feel the need to change up the location. But an image can completely change it's look with just a shift in angle. Keeping your couple in the same shaded spot can keep their rising temperature and frustration from reaching it's boiling point. Find creative alternatives for the space that makes the most functional sense, and your pictures will still be amazing.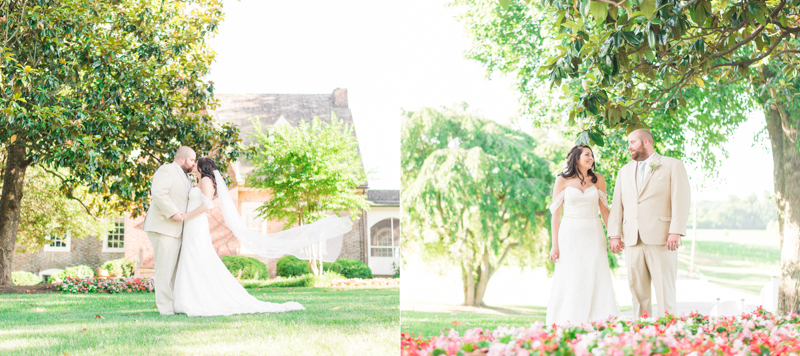 Same location, I just moved 180º
Think about your attire
When it's over 90º outside, the last thing that you need to be in is an all black pants suit. You need to find something that is light and allows air to flow through for the summer months. Shawn will usually wear a think button up shirt, a tie, and lightweight khaki's. He doesn't bother with a jacket because it gets in the way for photographing and bumps up his body temperature. For me, I'm in dresses for spring, summer, and fall. The maneuverability that a dress allows is unlike any other, and as a bonus, I'm able to have shorts on as well so I can still roll on the ground.
Make a bridal party member an honorary assistant
On days when there isn't even a breeze in the air, you need the bride and groom to remain comfortable, happy, and gorgeous. If there are sweat droplets falling into their eyes or their hair is completely matted to their head, the images will suffer. An easy solution is to enlist a bridal party member to help out with towel dabbing and dress air circulation. No one wants the bride to become frustrated with her own gown. So have the helper keep the dress off the ground in between shots to cool everything off. Personally keeping a towel on hand to help keep foreheads dry will also be an immense benefit to you and your couple.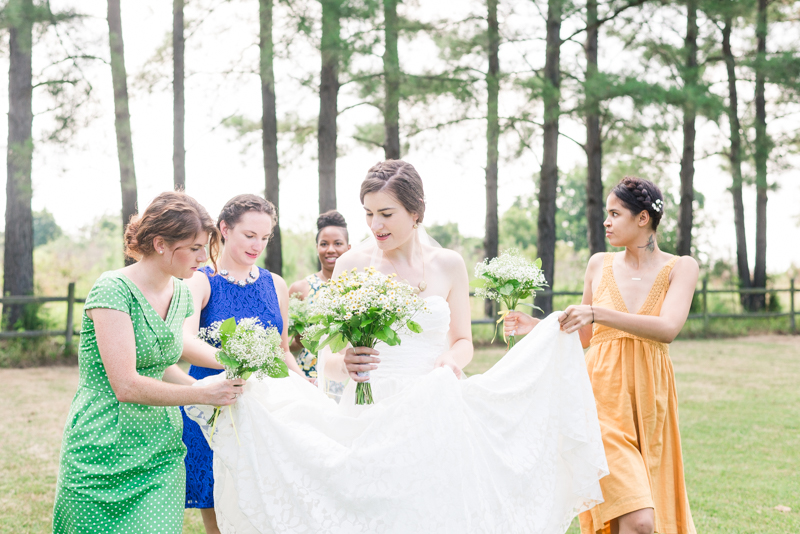 Following these tips during these hot months is immensely important. They will not only keep you safe and healthy, but also keep your couples happy for the entire shoot. It's very easy for high temperatures to obstruct an otherwise perfect wedding. So stay cool, and don't let the heat get in your way!
---
---
---