2017 Goals to Elevate Our Business
Happy New Year!
Is it seriously time to start writing a new number on everything? I feel like 2016 flew by, and I'm not really sure I'm ready for the new year. I mean, I guess it doesn't really matter if I'm ready, because it's here. The time cannot go backwards, so it's time for me to think about my 2017 goals.
I'm not really a fan of making resolutions. They terrify me and I feel they are counterproductive. You set a resolution once for the entire year. When the countdown hits zero, you either succeed or you don't. Even if you came close, you still feel the crushing defeat which is very demoralizing. Any deviations are just "excuses" for not accomplishing your predefined resolution. Basically, a resolution motivates by guilt and the negative feelings associated with anything short of success. That's not a healthy mindset when trying to grow and improve, since it's harder to take big risks when you have the fear of failure.
Instead, I prefer to set goals for myself, which are similar but different than resolutions. Goals aren't all or nothing. You can come close to completing your goals, and still feel accomplished. They can adapt to any changes in lifestyle or priorities without having to feel like you failed and started over. Also, I feel like it's much easier to exceed your goals but keep going without putting your work down and feeling like you're done. Goals are just a nicer concept that - given the right amount of dedication - can be just as rewarding as resolutions without feeling nagged to be perfect.
Last year I wrote about my goals for 2016, and I feel like most of them were met. Some didn't happen the way I planned, but the best part of goals is that they never have to end. I've added some to my list for 2017, and I want to share them with everyone. Both my professional and personal list have me really excited! Feel free to share your 2017 goals in the comments below. I look forward to accomplishing dreams with you all!
Professional 2017 Goals
Photograph 15 gorgeous couples on their wedding day
Connect more with fellow creatives
Place somewhere in Shoot & Share's photo contest
Add some wonderful improvements to the BCP website
Reveal the fabulous BCP client lounge we've been hinting
Earn WeddingWire's Couple's Choice Award (again!)
Create a photographer/bride newsletter
Be published 5 times online or in print
Personal 2017 Goals
See Shawn graduate with his Ph.D.
Expand AudioShelf's reach and gain more listeners!!
Travel to Ireland
Play Christmas songs on the ukulele at Friendsmas 2017
Go to the gym consistently (at least 3 days a week)
Start the house hunting process
Catch up on Game of Thrones (we have watched 0 episodes)
 Listen to 30 audiobooks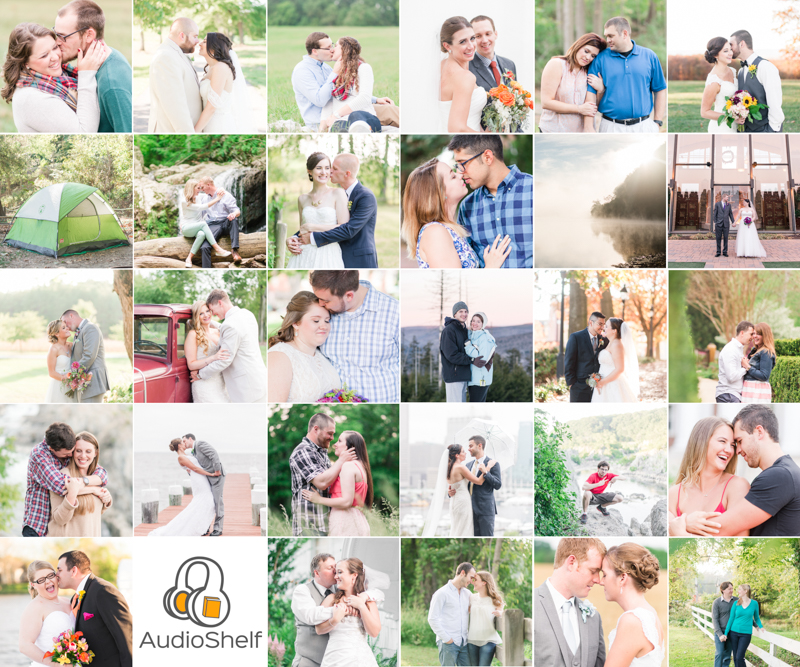 ---
---
---