Married Under the Stars at Historic Savage Mill Manor
Brittany & Dan
I'm blown away by the celestial greatness that is Brittany and Dan's wedding. Seriously, they had the most unique vision for their day, and they rocked it. This was our first time at the Historic Savage Mill Manor, and it could not have been a better introduction. Everything about this venue is perfect. There's a handsome groom suite, a gorgeous ceremony backdrop, and classic great room for the reception. It offers everything a couple needs all within the walls of the manor. 
Now, I'm not gonna lie, I was nervous leading up to Britt and Dan's day. Their ceremony was going to be at night, and that was a first for us! We've done portraits at night, but never a whole ceremony. It was hard for me to visualize how it'd all work, and I must have practiced different light setups 100 times. Walking into the Manor, though, the most incredible feeling came over me. I was ready to push myself creatively and embrace the uniqueness. Oh, and Shawn was cool as a cucumber, per usual :P.
This wedding worked so friggin' well. Their entire evening was incredibly celestial, from the ceremony under the stars to the constellation seating chart. Brittany even gifted her bridesmaids with necklaces that represented their zodiac symbols. Everything just clicked for this wedding. Brittany and Dan's didn't overwhelm with their details, and they didn't underwhelm them either. It was truly an (inter)stellar night!
By far, my favorite part of the evening was the ceremony. Yup, the part I was the most nervous for ended up being the thing I love the most. It was so cool! There were lighted lanterns lining the aisle, and the most amazing string light display over the pergola. Side note, Brittany's dad hung the string lights, which was THE best display ever. This is, without a doubt, my favorite ceremony that we've shot. It has been an amazing time getting to know Brittany and Dan and it was my favorite thing ever watching them become husband and wife. 
Enjoy their wedding at Historic Savage Mill Manor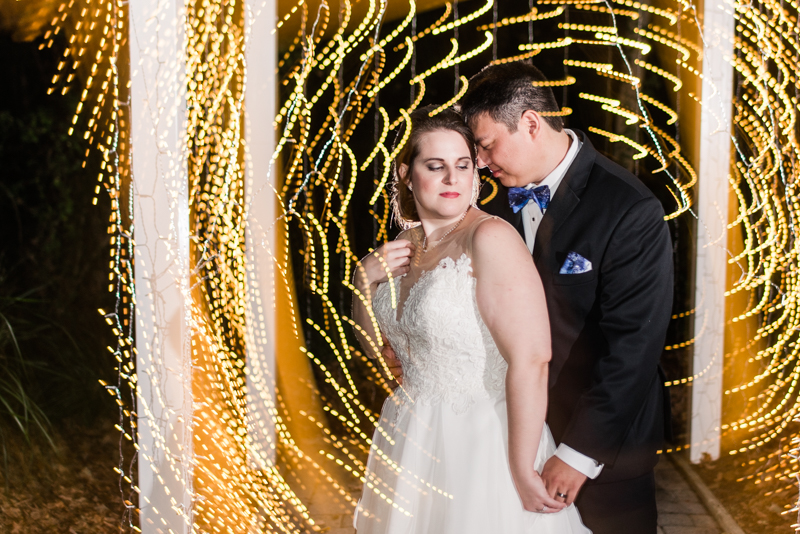 ---















































































































































The fantastic vendors from this Historic Savage Mill Manor wedding!
Ceremony & Reception Venue // Historic Savage Mill Manor 
Hair // Art of Hair 
Make-up // Faces by Brandi LLC
Invitations // Zazzle
Caterer & Cake // Putting on the Ritz
Wedding Dress // Love and Lace Bridal Consignment
Tux // Jos A. Bank
Wedding Jewelry // Grandmother of the Bride
---
---
---