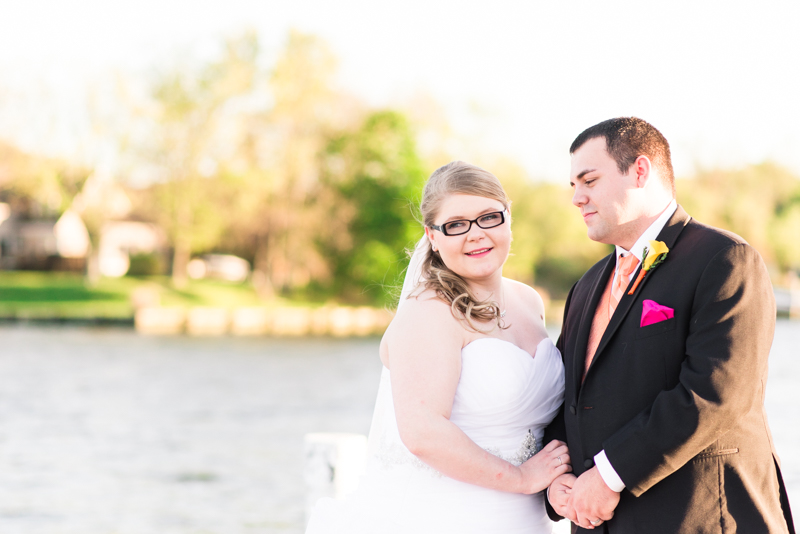 A Gorgeous Waterfront Wedding at The Anchor Inn
I am just in love with Jess and Frank's wedding day at The Anchor Inn in Pasadena, Maryland on Saturday. This adorable couple had a sweet and emotional ceremony where their pup, Mufasa, acted as ring bearer. I don't know about anyone else, but it makes me immediately giddy when I see a tie on a dog. Jess and Frank went the bold and vibrant route when choosing their wedding decor with colors like pink, yellow and orange. It completely fit the bright and airy reception space in an amazing way. The mason jar centerpieces (which I'm not sure if they were DIY) were so cool looking, and really made each table feel warm and inviting. Throughout the evening, Shawn and I must have told each other how fantastic Jess and Frank's wedding colors were about 10 times. When it came time for the reception, Shawn and I were assured by Frank's mom that the dance floor would be full and wild. She was not exaggerating. The floor felt packed the entire evening, and it seemed like all of their guests put in 100% dancing effort for every song. During the evening, we pulled Frank and Jess outside for some night portraits. When the Cha-Cha slide came on, the entire venue was shaking because of everyone stomping. We seriously thought the floor might crack in half in the most awesome way, haha! Congrats to Jess and Frank, and thank you both for the beautiful and incredibly fun wedding! &nbsp...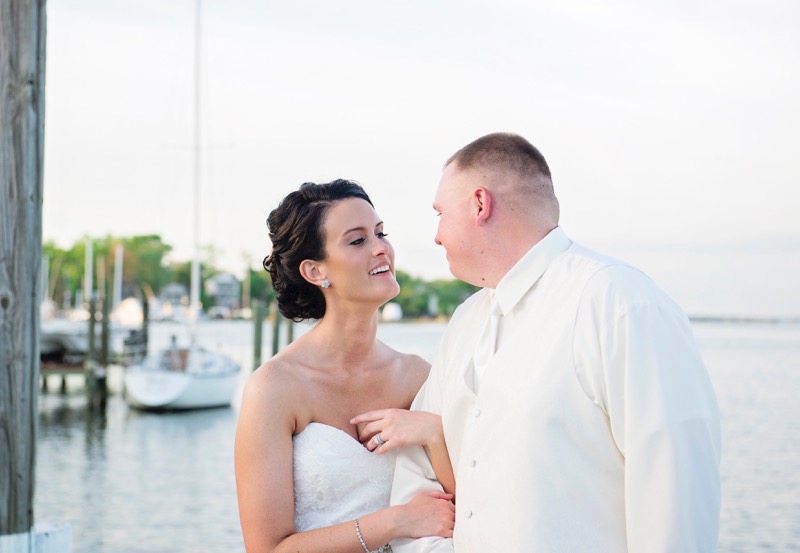 A Fantastic Wedding at the Anchor Inn
Heather and Tommy's wedding day was absolutely perfect! I had been anticipating their wedding ever since their engagement session last Fall. These two are so sweet together, and when they are wrapped in each other's arms it's as if the rest of the world just fades away. During their ceremony there was a moment when Heather started to tear up and Tommy ever so gently reached over to her and just grabbed her hand. It's in those small actions that you see real genuine love and caring. It was really a beautiful and special moment. I am ecstatic to share Heather and Tommy's photos. Everything was just so wonderfully placed and the reception venue: wow! The Anchor Inn in Pasadena was completely breathtaking; the inside was so light and airy and Heather and Tommy's beach inspired decorations fit amazingly with the space! The decor was also fitting considering Tommy proposed to Heather in Ocean City while walking down the beach (AH! So adorable!). I'm so happy that I was able to be apart of this gorgeous day and I'm really looking forward to showing these two all of their beautiful images! :D Heather and Tommy, thank you so much allowing Shawn and me to capture this very special day! We know your life together will be just as amazing! :) ______________________________________________________________________________ Even though everyone knows already, thank you Shawn for being my photo sidekick (even though you're THE superhero in my eyes) All of the awesome vendors...