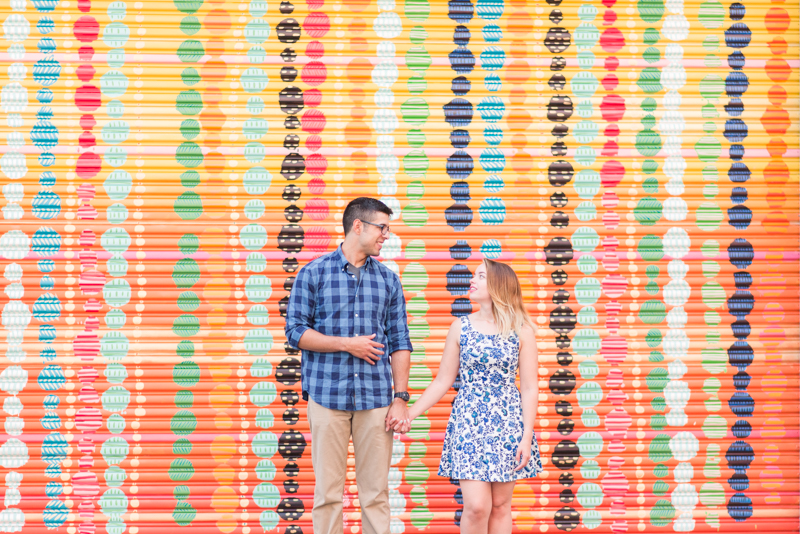 Kristin & Andrew's Spotlight
I've been anticipating Kristin and Andrew's engagement spotlight since we shot their session back in July, haha! Their gorgeous e-session took place in Old Town Alexandria, and I am still not over how much fun it was. We met up in the early morning hours, and it honestly felt like they were life long friends. We had a great adventure through the city, and we also caught loads of Pokemon. Seriously, never in my life did I think we would play Pokemon with a couple, but Kristin and Andrew are that fantastic :P. Engagement spotlights are some of my absolute favorite posts. Not only do we get to relive an awesome shoot, but we also get an extra day of celebrating the couple. Kristin, Andrew, and their families are working hard to bring everything together for this Saturday. They are tired, stressed, but - most of all - excited. My goal with this little injection of pretty is to ease some of the nerves and add to the anticipation. Kristin and Andrew, I'm sure, are well aware of how fabulous they are. They are truly one of a kind and I'm hoping that post wedding we keep in contact and remain friends. Honestly, I have never had a bride put on their timeline that Shawn needs to be ready to play Super Mario with the boys. But that's different for this wedding, and I'm totally obsessed. We've always said that our ultimate goal is to make our couples feel like...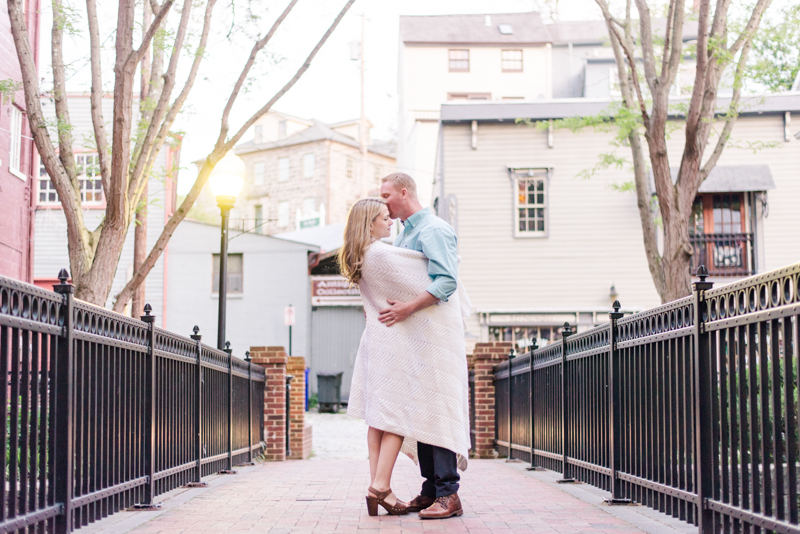 Tips & Tricks
We enjoy giving our couples freedom in their posing. We try to do minimal directing, because we don't want the shoot to slip into being stiff. Don't get me wrong, though, we still give a fair amount of direction. But we give each pose the chance to evolve. When we start off the session, we go with easy poses. Those usually include the chest-to-chest position. Generally, our direction is "face one another and get close". That sets the couple up for the basic look of the image Shawn and I want. From that point, we start easing in to tiny tweaks like having the lady give a small leg pop or for them to start telling each other jokes. All of these are very small things that affect the mood and look of the shoot. When a couple is having fun together, they are more comfortable and confident. When we set up our posing in a very basic way, it allows our couples to feel like they can breath. There is no way that Shawn and I can feel happy by precisely placing every piece of the shot. We know our couples won't be happy with that either. We need the couple to move and to naturally interact with one another. Once those first few shots are accomplished, the nerves melt away. In those instances, we're all able to learn about one another and have a really awesome session. Nice and close bringing chest to chest Think about whenever...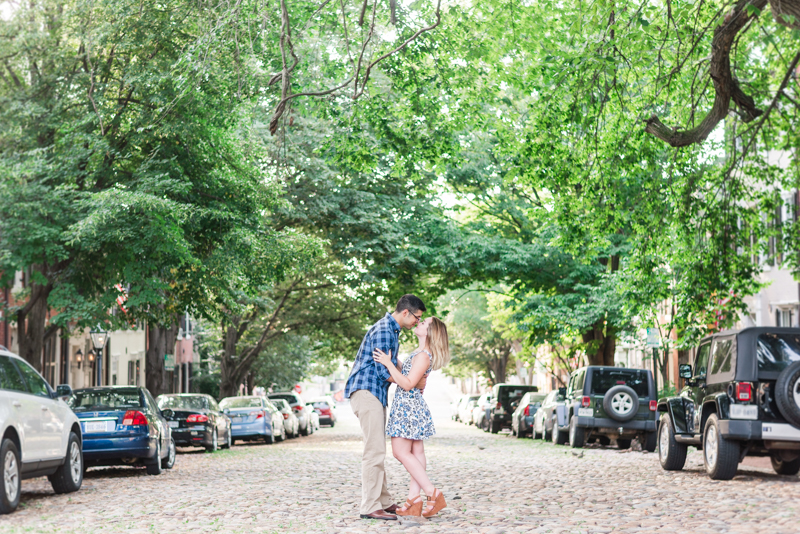 Old Town Alexandria Engagement
Bright and early on Saturday morning, Shawn and I headed down to Old Town, Alexandria to meet up with Kristin, Andrew, and their fluffy pup, Murdock. We also had our friend Karen with us to keep an eye on Murdock, and Andrew's cousin, Frank, was there to catch all of the Pokémon that were encountered, haha! Kristin and Andrew's session was the first time that we were meeting in person. For their initial consultation, we had a Google Hangout's call that lasted over an hour, so I had an idea that when we officially met, we would be very fast friends. I'm not sure if it was the donuts that they brought to the session or just how sweet of a couple they are (probably a mix of both), but it immediately felt like we've known them for years. It made the entire session easy and comfortable. Wandering around the empty streets of Old Town was a total goldmine. Every single corner, alley, and building offered something new and exciting. Whether it was a pop of color or an interesting roadway, we could have spent 10 hours just exploring all of the nooks and crannies of the small city. I loved that we got to this location at sunrise, because that allowed us the opportunity to avoid crowds that would have definitely distracted Murdock. Instead, he was a true model that complemented Kristin and Andrew's power couple status. For the second half of the session, we took a 5...