How COVID-19 will change your wedding
Maryland Photographer
Now that the state of Maryland is starting to reopen from COVID-19, I wanted to open a conversation about our business moving forward. Obviously, there is new information coming out weekly of how businesses can get back to "normal", but our normal, may not be normal for the next business. This pandemic has changed the way we think about health and safety. By laying this out, we hope it encourages our couples, current and future, to start a dialog with us. We know this is stressful, but we also know everyone wants to be smart and informed.
Should weddings be considered "large gatherings"?
I know that weddings are, by definition, considered a large gathering. It's important to point out that they are different from other sorts of events in that group. At a lot of large gatherings that would include over 100 people, there's not the focus on just two people. At community gatherings, festivals, or conferences, there's a natural sense of distancing that can take place as people stick to their own group. There's not a pull to be close to two particular individuals, or the strong feeling of uniting and reuniting of families.  During a wedding, no one wants to be distanced from the wedding couple. They want to express their congratulations, hug, kiss, dance with them. The wedding couple is a celebrity that EVERYONE in attendance of their day wants to get close to. It may sound dramatic, but at this moment that's a dangerous way to be right now. So, while it's easy to think that safety precautions for large gatherings are good enough for weddings, it's important to look beyond it's category of size and really dig into what is involved in the day. 
What are the current options for couples?
Couples everywhere are currently facing a hard choice of whether they should or should not have their wedding. Postponing during those very early days of the pandemic was almost a necessity, but now that things are opening up, there's other options becoming available. I want to run through those and break them down a little.
Postponement - Delaying the wedding for a full year, or even 6 months is still an option.
Virtual ceremony - Immediate family is present with a livestream of the ceremony being available to everyone else.
Ceremony only - There's some cuter terms floating around for this option: "minimony", "vow now", "cereonly" (jk on that last one, I just made that one up). Guest counts are small, and ceremonies are short.
Elope now, party later - The second the courts opened, a lot of people got their marriage license and were exchanging vows with just their photographer and officiant present. The partying happens on the 1 year anniversary of elopement.
What we are doing for our couples?
Short answer: whatever they need. The longer version of that is that we are equally as scared of this virus. Yeah, fear shouldn't rule us, but the simple fact is that we have family and friends that we don't want to get sick. We do not want to be sick. We don't want anyone in your family to get sick. So we are being very accommodating when our couples reach out with their concerns.
Backup dates - When a couple is thinking about postponing, we are encouraging them to give us their possible dates right away. Even if we don't end up having to use them, we want them on our calendar.
No fees for postponement - Pretty self explanatory, haha! No matter if you're moving to a later 2020 date, or 2021, we aren't hitting you with extra fees. Other wedding vendors may disagree with that, but we're people first and business second here.
Splitting hours - Something we feel is going to be very popular is doing the ceremony now, and reception later. For couples that have and will book with us that may have to readjust their wedding, we are encouraging splitting hours across 2 days. Maybe the ceremony in October, with the reception some time in 2021. Not a problem! We'll split your 6 or 8 hour collection with 2 hours designated for ceremony and the remainder set aside for the reception at your later date. Again, no fees at all. We don't want you to feel like you have to keep your original full day celebration and risk the health/comfort of your extended family in order to save a couple hundred dollars.
How long will these options be available?
Welp, considering we don't really know how long COVID-19 will be affecting things: indefinitely. It is SO incredibly important that you know that we want to keep you, your family, and ourselves safe.
What precautions are we taking at weddings?
The few weddings that we have photographed since the phasing has started have all been very different. The things that are a constant, though, are using masks, sanitizer, and social distancing. We keep sanitizer in our bags, we will be wearing masks when indoors (and outdoors for the most part), and we will be sticking to the edges of dance floors and not immersing ourselves into the crowd. Our hope is that venues will be diligent in keeping the dance floor distanced, which doesn't sound like a ton of fun, but it's necessary.
Start the conversation with us!
If your wedding is coming up, reach out to us. Even if you've already moved your date and are worried about postponing again, please open up the dialog with us. We're here to give guidance and to help with stress in any way we can. Especially as the resurgence is starting to feel more and more real, we really don't want to shy away from the tough topic of COVID-19. We're all in this together!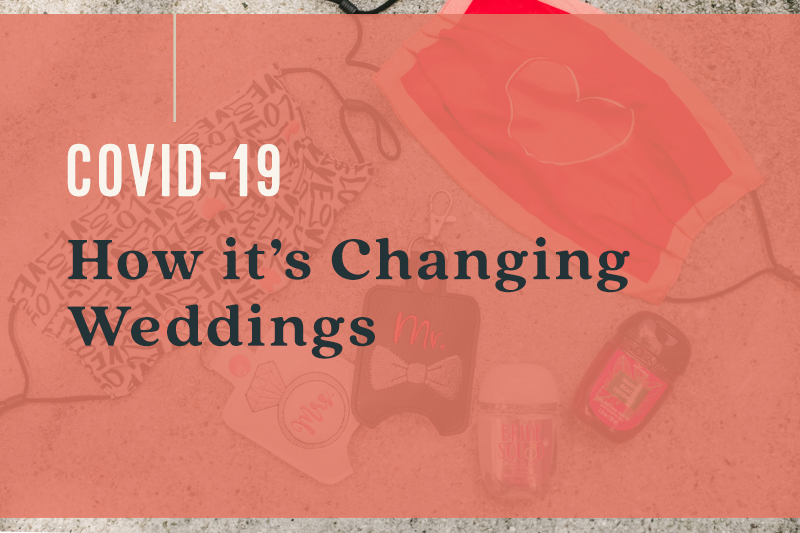 ---
---
---