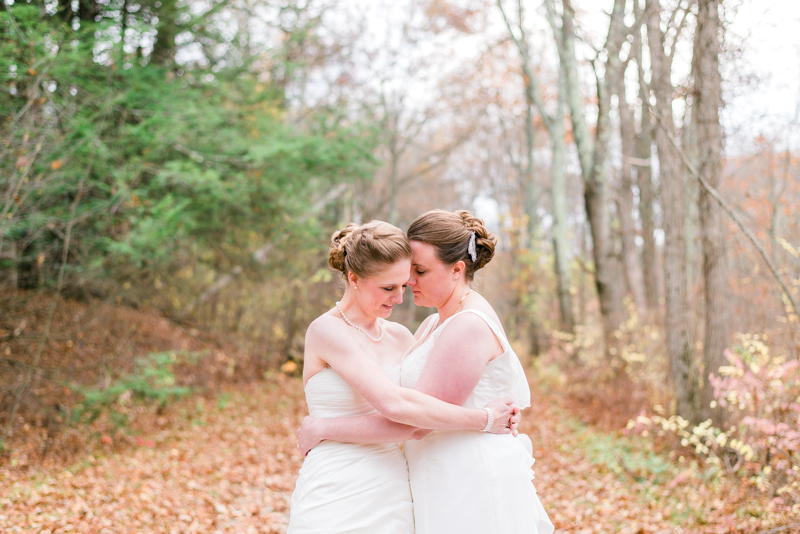 A Romantic Willowdale Estate Wedding
Hold on to your seats people, this post is going to be a long one. Lindsay and Stephanie were married on a gorgeous November day in Topsfield, Massachusetts at the breathtaking Willowdale Estate. Fall was still in effect in the Northeast with colorful leaves still filling the trees. The pops of royal blue and granny smith apple green showed up in their gorgeous flowers and fun Converse Chuck Taylor's. I could talk all day about the wonderful moments the wedding day contained, but the most impactful was when the officiant, Priscilla Gearney, pronounced Lindsay and Stephanie as wife and wife. The room exploded with cheers and applause - it was spectacular. I know I had a difficult time working through the happy tears that were clouding my vision, haha! "My fiancee & I are looking for a photographer to do our engagement photos as well as our wedding photos. Too bad we live in Massachusetts :(. Thank you again for your beautiful captured moments in time <3" This was from Lindsay in 2011, which was a year when this Britney Clause Photography thing was just a pipe dream. I had no style, no direction, my watermark was a layered paint brush in Photoshop. It wasn't pretty and if you go time warp in the blog there may be some of that left over. Yikes! However, through all of that "figuring stuff out" phase, these two women believed in me when I didn't even believe...
A Wonderful Wedding at Oak Crest Village
Over the summer, I met up with Laura and Mike to shoot their engagement photos at Clipper Mill in Baltimore. I knew from my first meeting with these two that I was going to love them, and I was not wrong. Laura is so caring and kind, always asking how you are doing - even when it's her day! I really got to know Laura through our near-constant communication via email. She was so pleasant to work with and always so calm. As I plan my own wedding, being that relaxed is something I DREAM of having :P. I always try to look at my clients as friends since it makes it so easy to slip into shooting, and also it gives me an excuse for being so happy for them, hahah! Laura makes it easy to look at her as a friend. I'll even admit, a few times during Mike and Laura's wedding, I found myself tearing up because I was just so excited for them (as did watching their wedding video from Eric Stishan). They really are a perfect match; Laura is considerate and selfless, Mike is easy-going and generous. The number of friends and family there for the big day was a huge indicator that they are very deserving of everlasting love and joy. During the toasts, the best man gave an heartfelt speech about the two of them that I think left everyone with red, teary eyes. Luckily, I was hidden behind my camera so no...