White Water Adventure
Weekend Getaway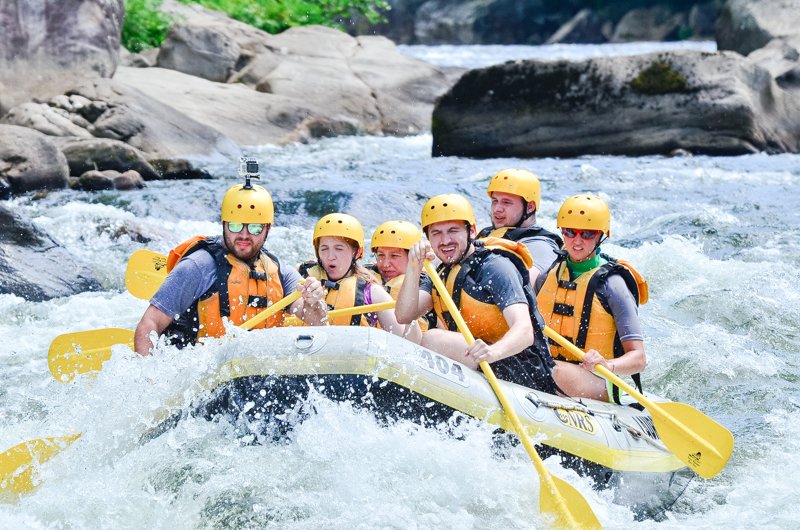 The trips that Shawn and I have been able to have this month have been amazing. This past weekend, we took a weekend adventure with friends up to Confluence, Pennsylvania. We were able to camp and white water raft in the cool Yough River. It was a great time to get away to relax. With weddings about to pick up again, having a chance to get outdoors and hangout with friends is exactly what we needed.
The Trip
We left on Friday afternoon, spent most of Saturday white water rafting with Laurel Highlands on the Lower Yough River, and came home Sunday. Of course, the weather did a good job at scaring us. With the forecast calling for thunderstorms on Saturday, we weren't sure if our white water adventure was going to happen. Lucky for us, the storms stayed far away, and we were able to show the river who's boss. In fact, the sun gave us a very hot and sunny trip on the water. Our sweat drenched us before even touching the water. Thankfully, the water was a refreshing chill we got to enjoy during the calmer parts of the river. The immense humidity, though, gave our two Eagle Scouts a surprisingly difficult time trying to light our campfires.
With some perseverance, we managed to get the damp wood lit and a nice fire going. All of our meals were done over the camp fire. We had ground beef foil packs with vegetables for dinner the first night, hamburgers and hot dogs for our second dinner, and eggs and sausage for our breakfasts (lunch was provided by Laurel Highlands). Despite the heat, it was great being able to relax in front of the fire. The soothing sound of crackling wood was the perfect escape from a week of business.
The landscapes in the area were absolutely gorgeous. I wish I could have taken my camera with me on the river, because nothing beats the fresh water flanked by tons of trees and mountains. Shawn and I had to stop by some of the vistas in the area before heading home on Sunday. We even got a chance to duck out Friday night for some amazing nighttime shots, which I have been itching to do more of.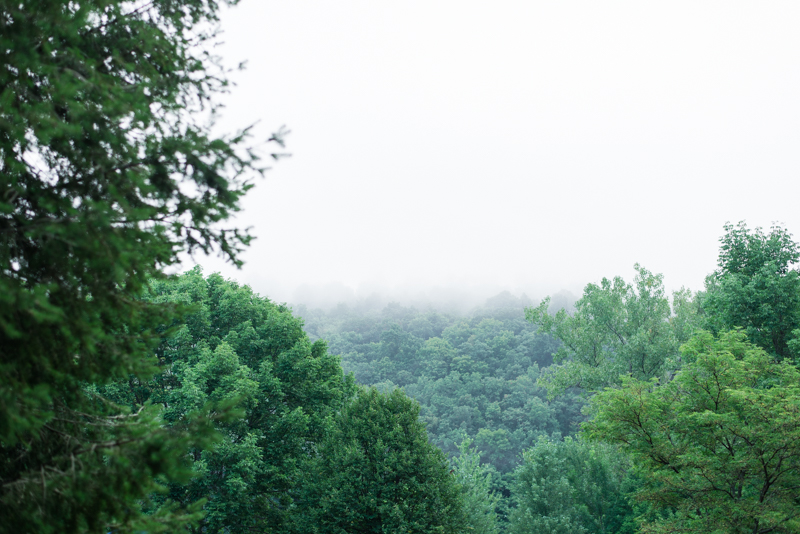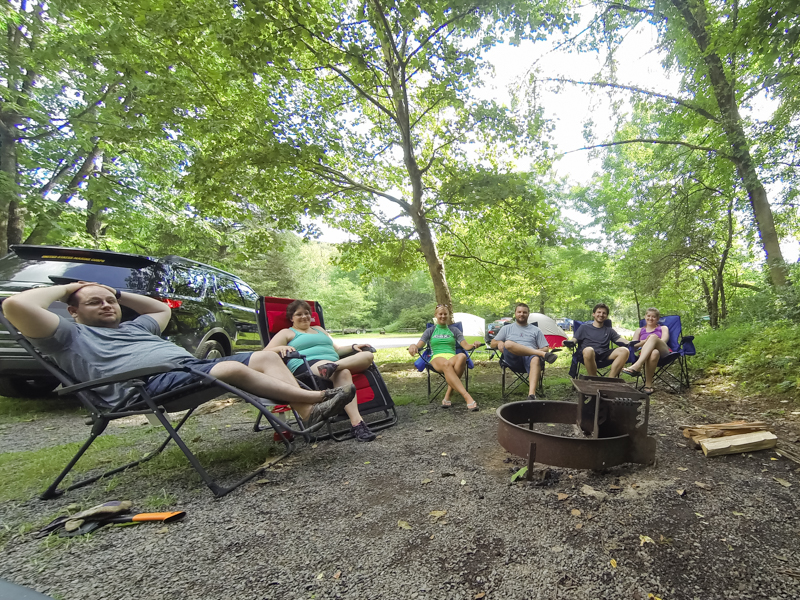 All GoPro photos courtesy of Mark.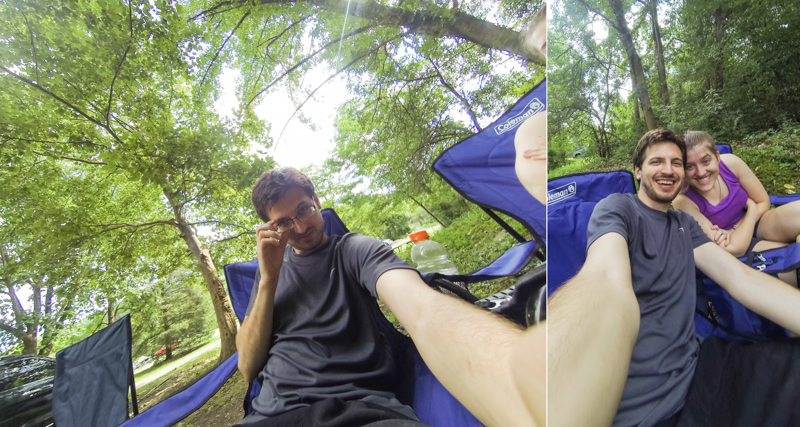 Of course Shawn had to take Mark's GoPro and fill it with his face.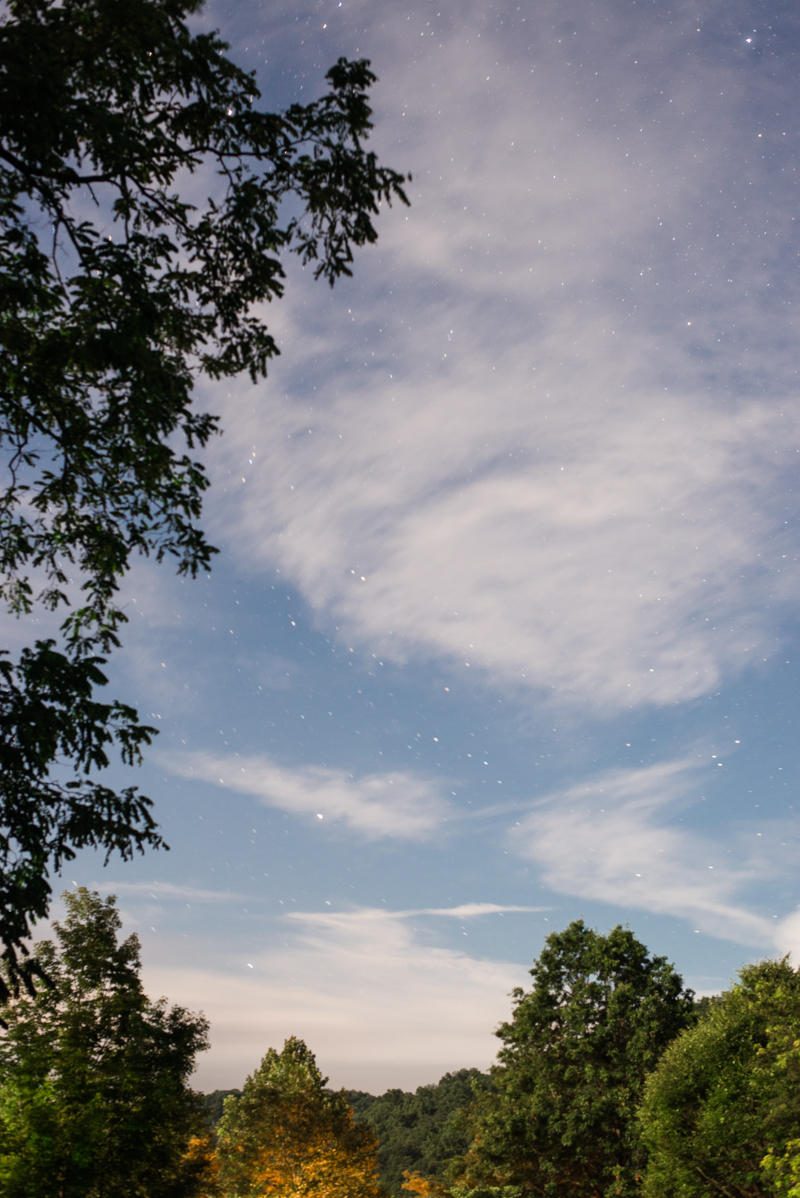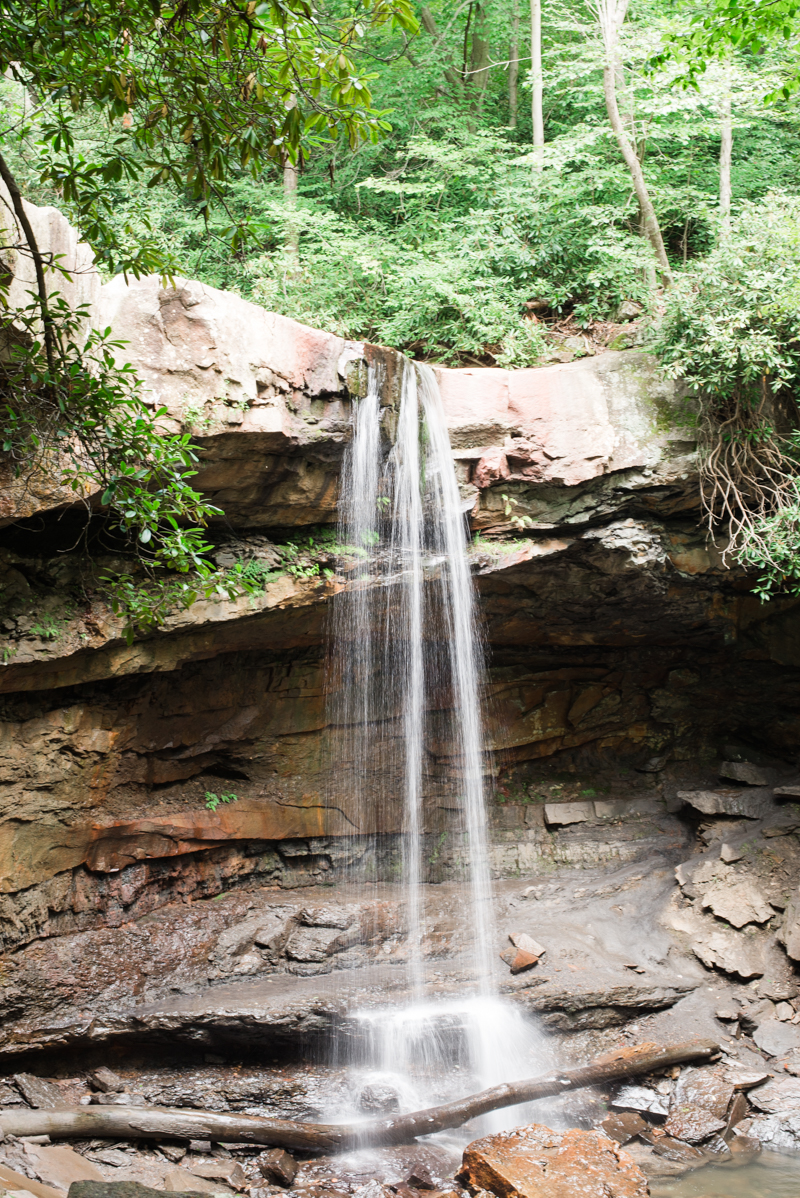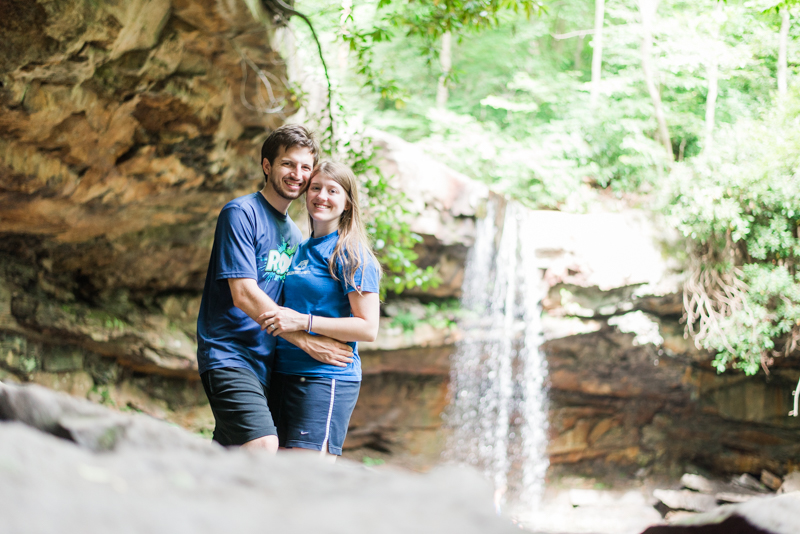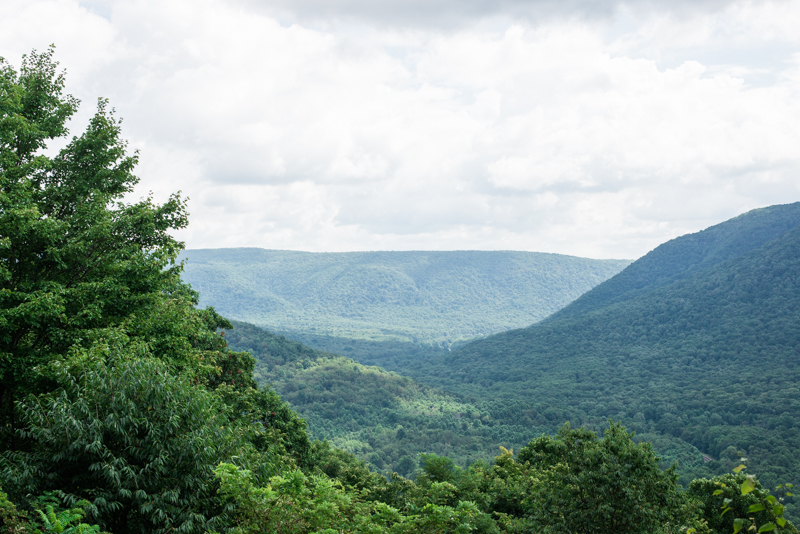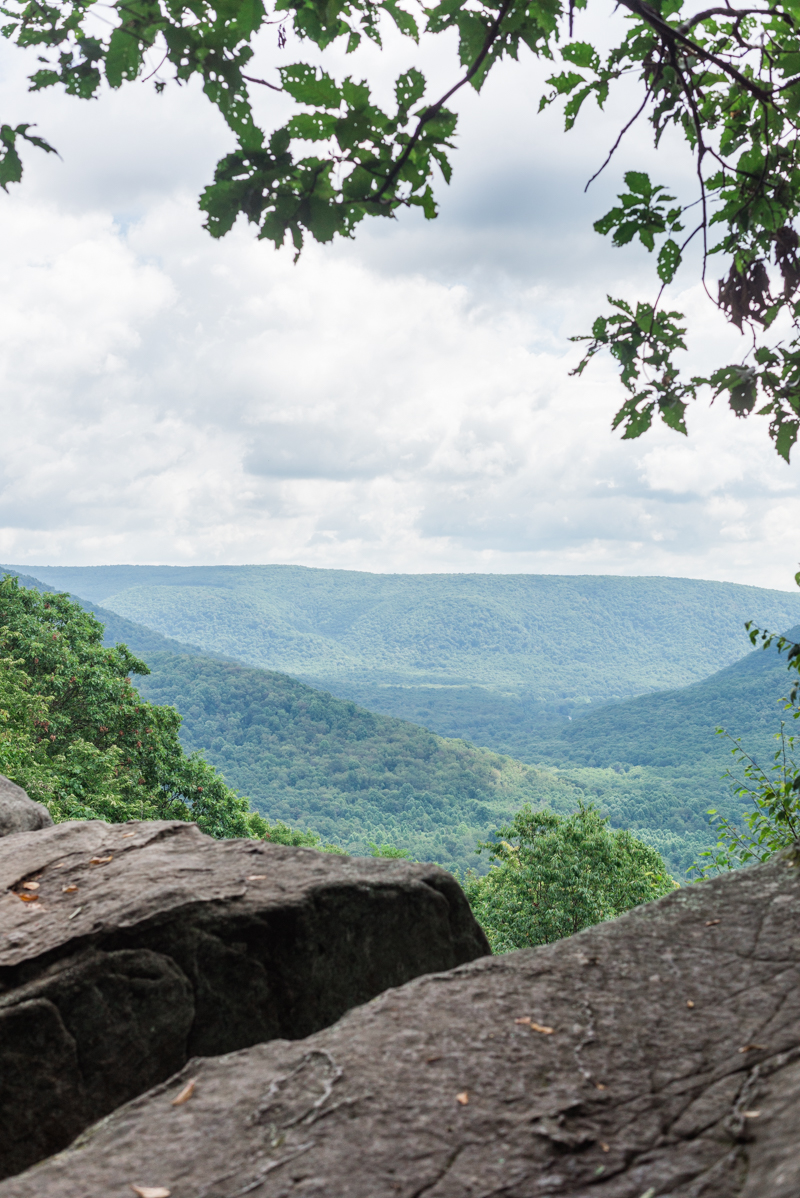 White Water Adventure
Our voyage started out pretty rocky. The first few rapids caught one of our friends off guard, dunking them early on. Immediately following that, particularly inconvenient positioning made us stuck on a submerged rock. After a few minutes of impressive work by a guide, we were finally off. We joked about how we expected to be the "problem raft" following that incident, and spent the rest of the trip working much harder on getting through the rapids.
Thanks to lots of effort and communication, we had very little issues for the rest of the river. No other set of rapids stalled us for more than a few seconds. The guides positioned at the harder rapids to wave hand signals gave us approval and encouragement as we succeeded without much trouble. We even flawlessly avoided the dreaded Dimple Rock without even scraping it, although a raft mate dropped out of the raft on a rapid shortly thereafter (losing a GoPro in the process, unfortunately). We got a comment later about how well we did, ignoring the initial fumble.
Overall, it was a fantastic trip. We had a great time with our friends, and the white water experience was a great way to get together and work to accomplish something enjoyable. It was wonderful getting out into the woods and breathe some fresh air. It's even encouraged Shawn and me to plan a camping trip for our anniversary this October. I would say the best part of the trip was definitely the time spent with our friends. Thanks to Brittany, Steve, Mark and Lyndsay for the amazing adventure!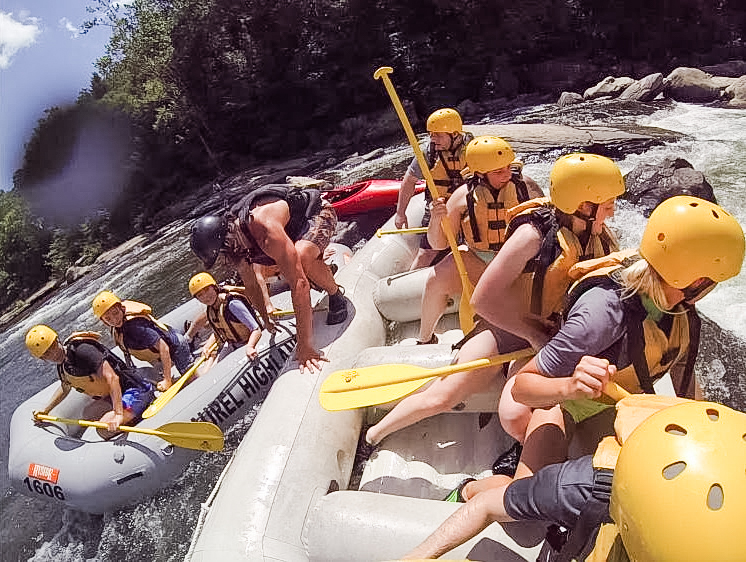 Mark caught us stuck on a rock...5 minutes into the trip :P.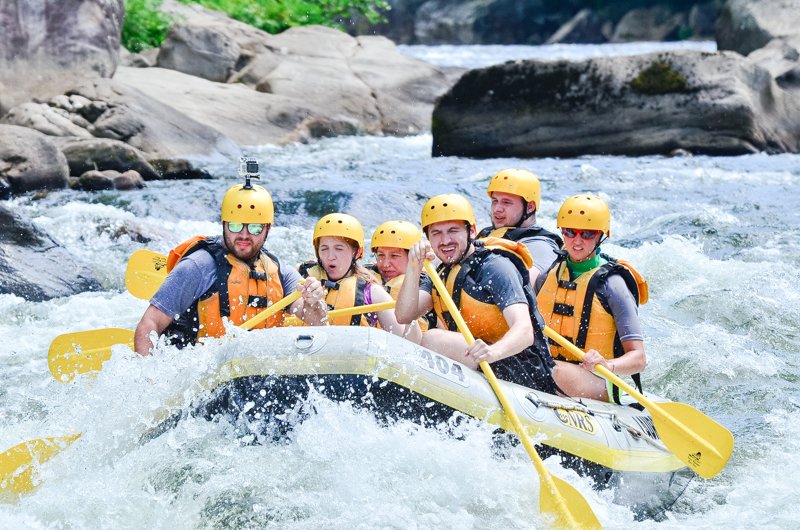 There was a photographer ready to capture our epic rafting faces.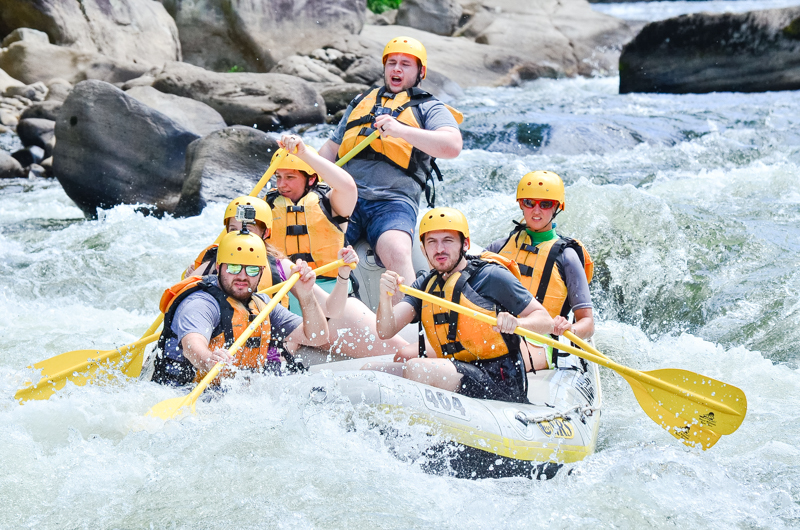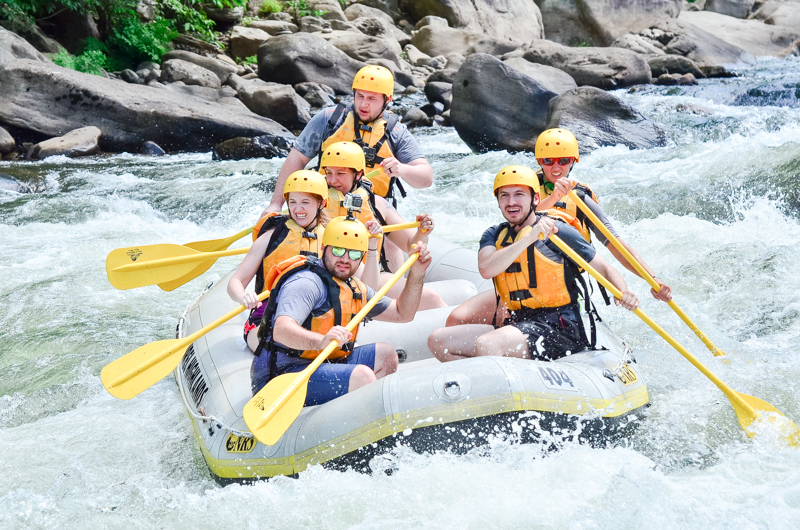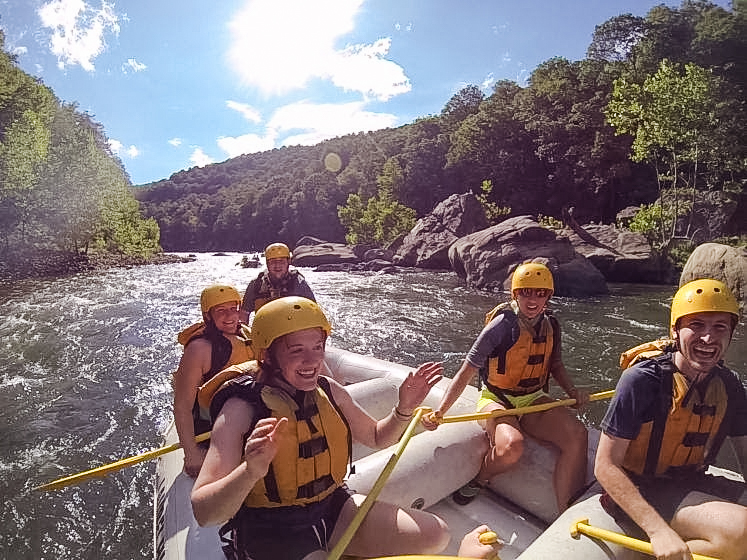 We did it! Woot!
---
---
---