Maximize Your Time with Your Photographers
from Shawn
Shawn here! Today's blog post is an advice post for people preparing for their wedding, but it also applies to any Maids of Honor, Best Men, or parents who want to help out their friends and family. We have seen a lot of different weddings as photographers, and each one has it's own unique blend of personalities and attitudes. Some of our couples have are very diligent with a schedule and planning, others like to play the day by ear. Families can be extremely helpful and attentive to the bride and groom or they can be more excited about seeing family that live across the country. But when it comes to capturing your day, we want to make sure you get the best quality possible. There are some simple steps you can make before you get swept up in the day that will help us immensely into packing as much as we can into our limited time.
Before the Wedding
It seems that couples are usually so excited about getting married, they unfortunately overlook the hours before they even prepare to say "I do." It's important to remember that it's your "Big Day" and not just your "Big Few Hours." The time prior is just as critical to the success and enjoyment of your wedding, and it's very easy to underestimate how much time and energy is put into the first few hours of your time with us.
Leave Time for the Details
One of the biggest time savers before the wedding is preparing your details, which I am pleased to say that essentially all of our couples understand and follow perfectly. We always get a little excited when we can arrive, immediately grab your bag of sentimental objects, and start capturing them while you continue getting ready. With your details, we typically try to capture images that really showcase all of the important facets of your details, which generally involves many different layouts and poses of the items. Sometimes posing the inanimate objects is even harder than actual people (they don't respond well to commands), especially when we start pulling out our own tool, ribbon, or flowers to place in the scene. And we still need time to capture you getting prepared for the big day with all the excited makeup applications and nervous tie adjustments.
This is why it's important to not overlook that time before you need to be ready for the ceremony. More time means more care and consideration into all of your photos, and lets us take the opportunity to really stylize all your images, instead of rushing so we don't miss any moments. Typically, we recommend a full two hours for capturing those moments before you are ready to start the ceremony. That means that if the bride is going to be walking down the aisle at 5pm, it's best if we are ready for taking detail photos at around 3pm. Of course, if you need to drive from your getting ready location to your venue, you will need to factor that in (so a 30 minute drive means you should expect us to arrive 30 minutes earlier).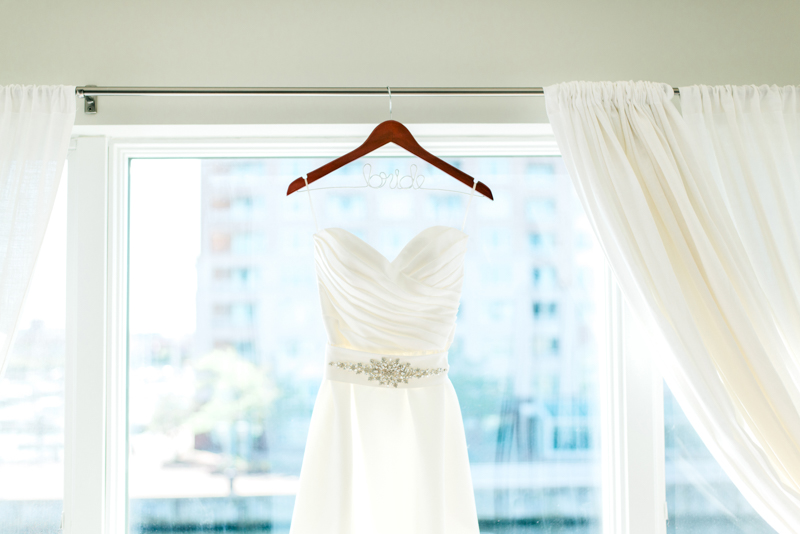 Prepare Your Getting Ready Location
To some people, the getting ready location is a no-brainer. If your venue has groom and bridal suites, you may choose to just get ready there. Some people have a close relative who lives in the general area, and already know they will be there to slip into their gear. Others have a harder time picking a spot, like if they live together or are far away from their venue. In our wedding questionnaire we give to all of our clients, we ask our couples where they will be getting ready. This is more important than just knowing where we need to drive on the day of, however. Well before your wedding, Britney and I are actually scoping out your venue, plotting how we'll coordinate driving, and creating a timeline. Having your getting ready location in mind far in advance helps us plan.
More importantly, preparing your getting ready location is almost as important as preparing your details. If possible, find a room or space to put on your dress or suit that is open, bright, and clean. Make sure there is enough space for us (and the others with you) to move around to capture you at different angles. The more natural lighting and open windows available, the more fantastic your images will work. Finally, making sure that any objects or fixtures that can be moved are put away, so we can minimize the distractions in the background and have the images focus on the most important thing: you.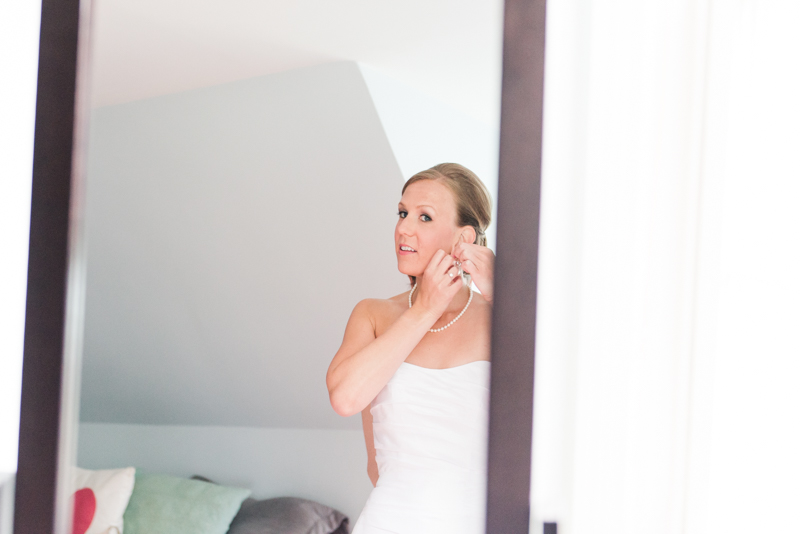 Consider a First Look
Yes, this has been a subject before on this blog, and it will continue to be as long as it remains being such an important option to consider. It is an amazing opportunity to get rid of pre-ceremony jitters, capture some gorgeous photos without having to miss your party, and they still allow for very emotional and exciting pictures of the big reveal. Rather than belaboring the point further, I encourage you read that post and have a discussion with your significant other about whether you both would appreciate the first look.
I think the most important thing, if you decide a first look isn't what you want, is to have a solid timeline and be sure that you give your photographer at least an hour, post-ceremony, of sunlight.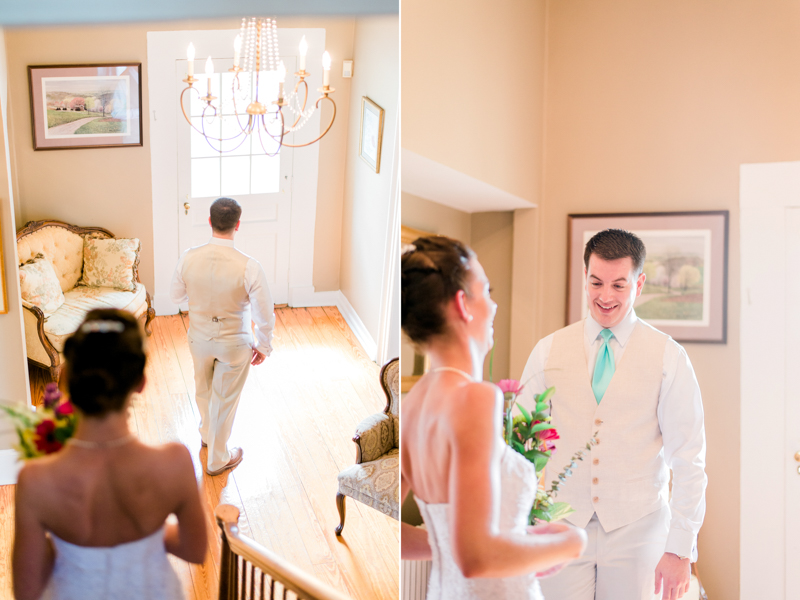 After the Ceremony
The ceremony is over and, barring some unfortunate situation, went smoothly with enough time before sunset to capture all your family and group photos. The most anxious-ridden part of the day is over, and the rest is basically a giant party, right? Just like before the ceremony, the time immediately following the ceremony is easy to ignore, and can actually become problematic. With a little tiny touch of preparation, though, you can make sure that the post-ceremony photos go without a hitch [pun intended].
Make Sure Everyone is Ready
Two photographers is more than twice as many photos. One of my duties as a photographer is coordinating the family and group pictures by consulting my list of names to ensure that every family member and group picture the couple wanted is remembered. There are dozens of individual groupings we need to capture, and moving people in and out of frame while waiting for everyone in the picture to smile at the camera takes time. It's important to us that we move as quickly and efficiently as possible so everyone can get to having fun at your cocktail hour and we can get you the most time for couple portraits. This all grinds to a halt if I'm also tasked with the responsibility of finding Aunt Sally or Cousin Alex, who disappeared into the reception. I usually have to pull one of your immediately family members with me to help identify the missing relatives, which further delays the pictures.
Also in the questionnaire, we ask our couples for a list of loved ones that they want to remember for these images. When you prepare this shot list, it's extremely beneficial to also let those particular family members know that they are expected for pictures. Let them know either via email, text, or face-to-face that they should stick around after the ceremony and have their smiling face ready. Make sure they are aware there isn't going to be a lot of time between the ceremony and pictures, so avoid wandering away from the group, getting too involved in conversations, or stuffing too much food in their mouths. We'll make sure to alert everyone the general order of pictures (such as grandparents first, then parents and siblings, and ending in bridal party) so they can stay attentive for their name.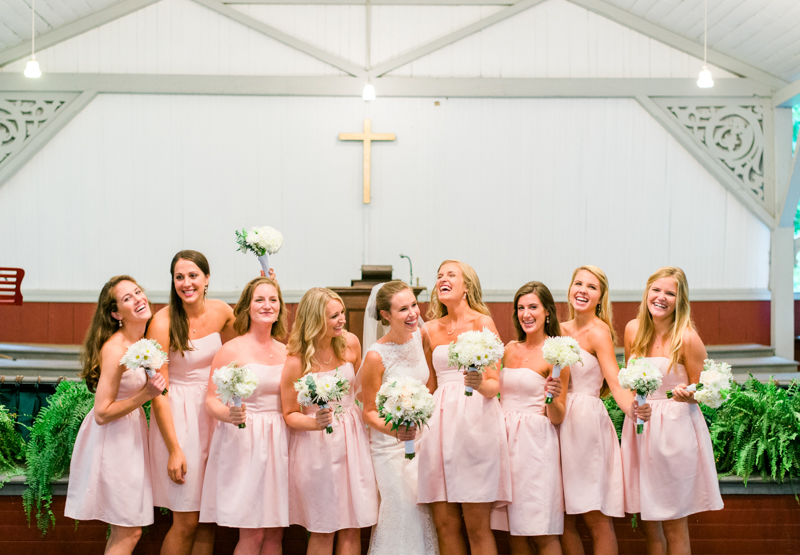 Clear the Floor of People
Unsurprisingly, you will be the center of attention the entire day of your wedding. Since you are normally hidden in the time right before the wedding, this time is usually the first many of your guests will be able to see and talk to you for congratulations. It's thrilling to have so many loved ones, and it's easy to get lost in the bliss. However, we have to remind everyone that there are still many hours left in the wedding, but barely any time to get photos before your introductions. It's hard being the "bad guy," but it's very important for us to keep the crowd of admirers away until at least after your photos, so we don't get delayed. Things might be further complicated by groups in the area while we're taking pictures. It's not uncommon for us to bump into family members while trying to get large group shots, for family members to not hear their name over the noise of several conversations, or for people in a picture to be distracted and staring at something off camera.
If possible, try to plan an escape route following your ceremony where you can hide out for a few moments while the crowd makes its way to your reception area. Sneak away from everyone before your climatic appearance and introduction. If you do manage to get caught by a guest in a conversation, politely let them know that you need to be available for pictures, but you'll be sure to stop by after dinner.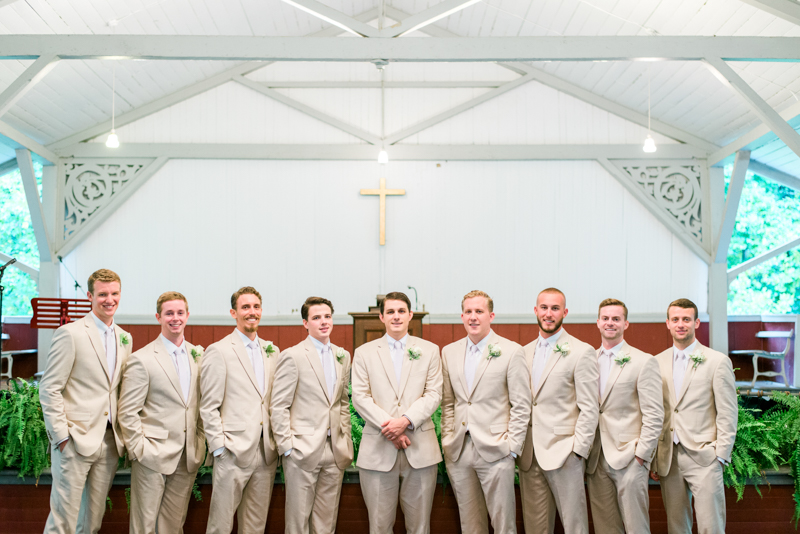 Keep it Moving
Finally, I want to reiterate the importance of keeping everything flowing during this period. Not many people particularly enjoy having to pose for pictures when they could be eating, drinking, and catching up with friends and family. But the more everyone cooperates, the faster they can get back to what they want to do and the more time we get to focusing on you without missing any sunlight or delaying your introductions (which might mean a delayed dinner!).
It's immensely helpful for us to have a family member, typically a parent or best man / maid of honor, assisting us with our list. This person becomes instrumental in spotting relatives we wouldn't recognize and providing names so we can make sure nobody is missed. Plus, it's helpful having another voice to keep things in order (and they can help clear the floor, too). Pick someone ahead of time and let them know they might be needed to help gather family members, and they will more than likely just be happy to help out on your wedding day!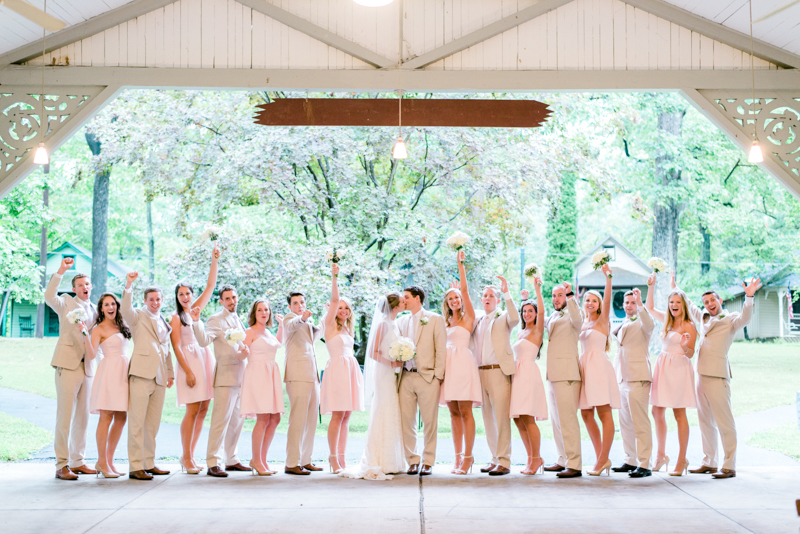 During the Reception
After everyone is stuffed full of food (and probably alcohol!), it's the time to dance off any stress and pressure you might have had preparing for the wedding. This is usually the time with the most latitude, since - except for some of your scheduled activities - you can either be dancing, drinking, or chatting. It's easy to miss out on some great opportunities, and not just for photos, but really investing yourself into your wedding and making sure your guests have a great time!
Think About Night Photos
As the party gets into the night, we usually recommend to our couples that we steal them away for a few minutes to go outside for a quick session. The night always adds a level of romanticism that can introduce a special variety to your wedding album. We'll always let you know ahead of time so you can decide when would be best, and we make sure your DJ knows our plan so he isn't wondering where the bride and groom disappeared to. It's usually a very welcome relief after dancing, too, since being able to escape to the outside with a breeze and just cuddling up alone means a break from jumping around on the dance floor.
It's very helpful to plan ahead for night photos with your DJ, and have a few "slow songs" lined up which allow your guests to slow down and relax, too. This gives your guests the opportunity to get hydrated and prepare for more dancing later. Additionally, you won't feel like you are missing any of the party.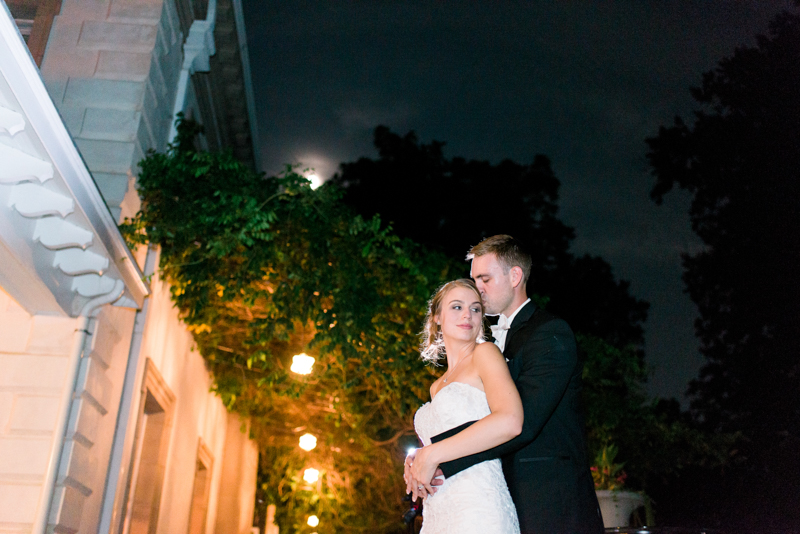 Dance with Everyone
Throughout the night, everyone is going to want to be with you. You are the the central focus of the party, after all! Embrace the attention, and try and dance with everyone. It will be very easy to want to dance with just each other, or maybe a small group of friends you hang out with regularly. But think about how special it is for the guests who normally don't get a dance to share even a few moments of just you. Apron dances usually provide an opportunity for those who want to spend some time to congratulate you (and is a nice bit of honeymoon money), but don't just wait for this event to dance with people. Try to go out of your way to twirl with a guest you haven't seen in a while. Consider inviting a grandparent or in-law to the dance floor. You might also be surprised at people who can really bust a move, even if they have a cane or walker. I've seen some of the biggest smiles on the dance floor come from grandmothers in wheelchairs during a one-on-one dance with their grandson.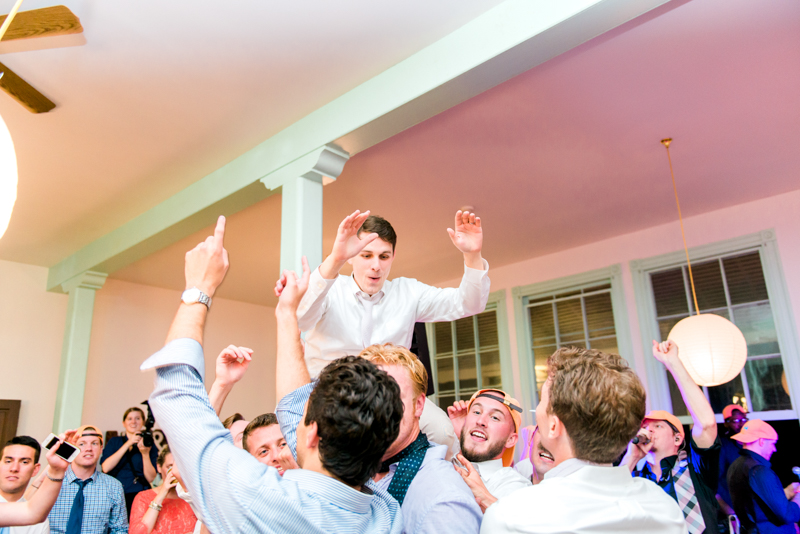 Have Fun!
The cardinal rule of your wedding is to have fun. The biggest advice from our brides is to focus on your big day, your newly united spouse, and the guests who are sharing those moments with you. You shouldn't have to worry about anything but having the most fun possible on your wedding day, so you can trust us to do our best to capture the magic of your wedding day. But there are a few simple things that you can do that will really make our task simpler. Whether it's preparing your details and getting ready space or assigning somebody to help coordinate after the ceremony, preparing these details before your Big Day means you can relax and invest everything into enjoying the results of your hard work!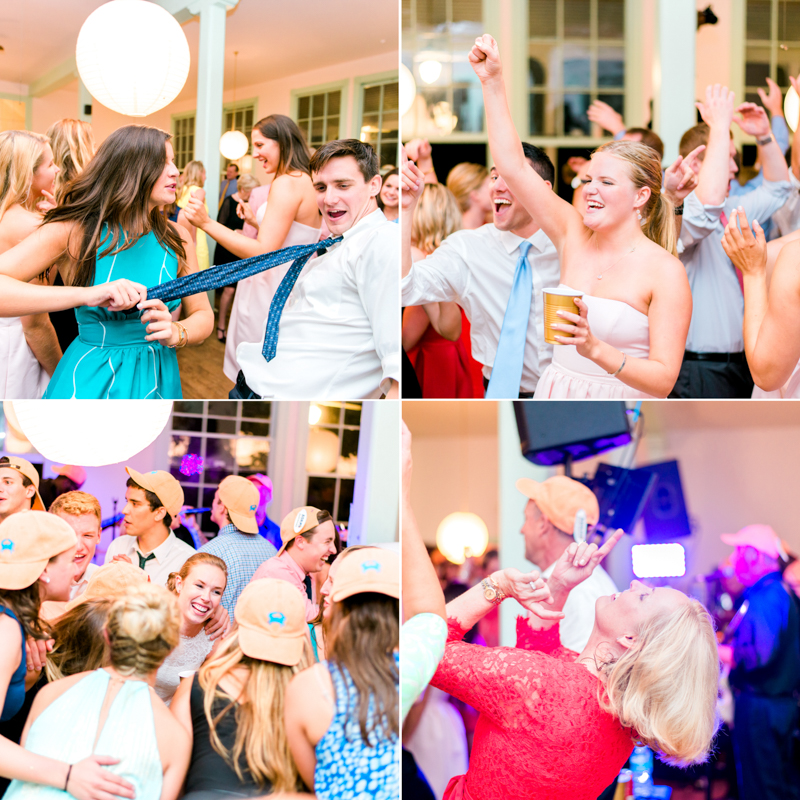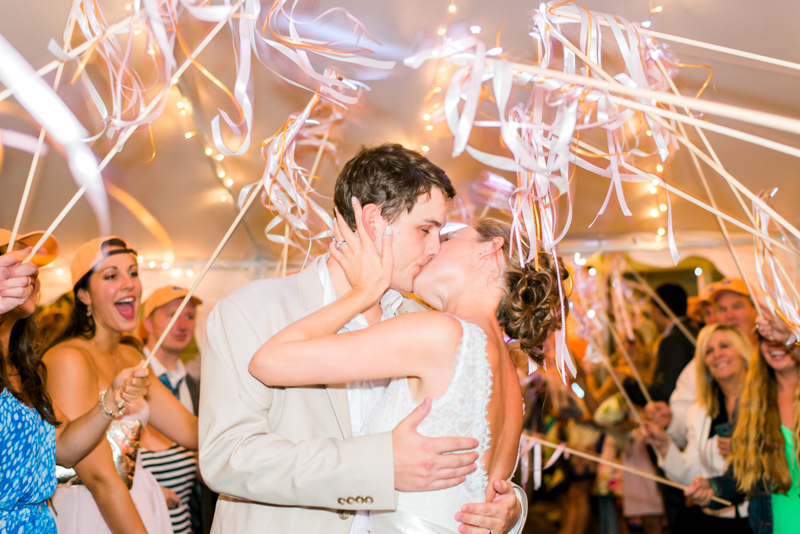 ---
---
---