6 Money Saving Secrets for Your Wedding
Tips & Tricks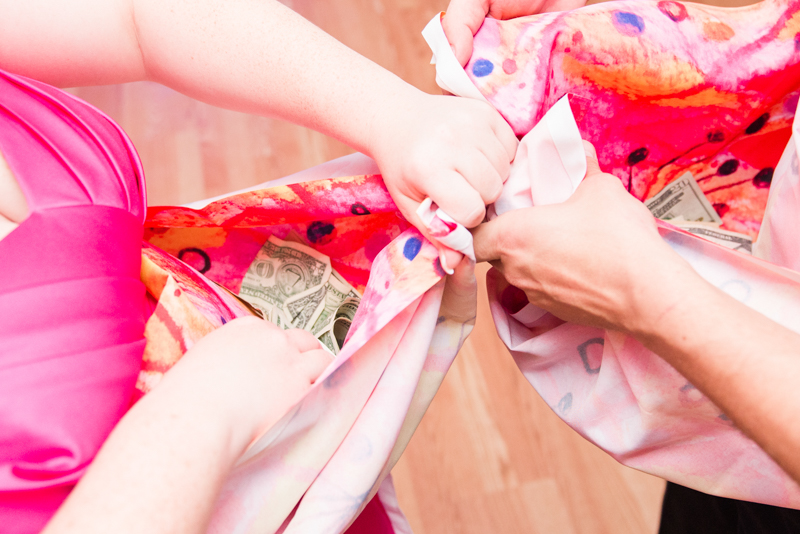 When Shawn and I were planning our wedding, we cut corners in a ton of ways. We made our own centerpieces and cake stands, and I learned calligraphy specifically for the invitations. Having the wedding we wanted for a price we could manage is important, and I know we aren't the only ones who were looking for money saving secrets. Now, don't think that DIYing is the only way to save money. Finding savings in any area of a wedding is a big boost for anyone's big day. After all, less money spent elsewhere means more money on the things you care about most!  
Since we are wedding photographers and see so many beautiful days, and so many crafty brides and grooms that truly put us to shame. We've been able to witness the best ways to save money, while still throwing one epic party. There's probably way more than 6 money saving secrets, but this quick list will help any couple cut costs and stress. It's your big day, and none of the preparation should be spent arguing over a budget.
Do It Yourself (DIY) Decorations
We aren't saying couples have to DIY every decoration, but every little bit does counts. If you can save money by creating your own centerpieces or arbor, then there's the flexibility to put that money elsewhere. You want a dream day, and there's nothing saying that you can't have that while also putting a sweat into creating something amazing.
One of the things I loved about the time spent DIYing our wedding is the wonderful bonding experience. I spent weekends just finding crafts to create with Shawn, my step-dad and mom, and Shawn's sister, Jayme. We created centerpieces, menu signs, seating charts, and navigation signs, with an incredible amount of love in each piece. The elements of our day had a lot of ourselves in them, and we saved about $500!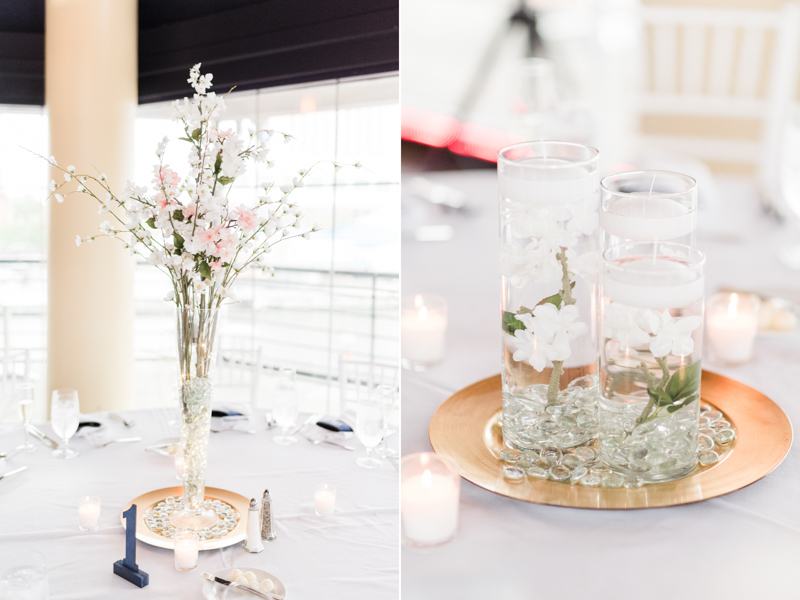 Chelsea made these centerpieces. Incredible, right?!
Package Deals can be a Big Bonus
Sometimes, all-in-one can be a little daunting. The saying "a jack of all trades, but a master of none" is the first thing that comes to mind. However, in the wedding world, the key is not looking for a vendor that does it all. A planner that doubles as a DJ and a photographer is not going to be a good time. However, a venue that comes with a specific caterer: huge bonus. The price can be cheaper than finding a venue and a caterer individually, depending on your needs. Plus, the caterer will know about the facilities at the venue and how to best work with the rest of the venue staff.
One of the things we've seen a lot is ceremony and reception spaces that come with an amazing coordinator. This is not only a money saving secret, but a time saving secret. Coordinators that are included with the venue know the location like the back of their hand. They set up decor, keep the timeline flowing, and make sure the couple is always happy. They are usually trusted individuals for the venue, who know there is more than just their own reputation at stake. Keep your eyes open for these packaged vendors for a discounted price.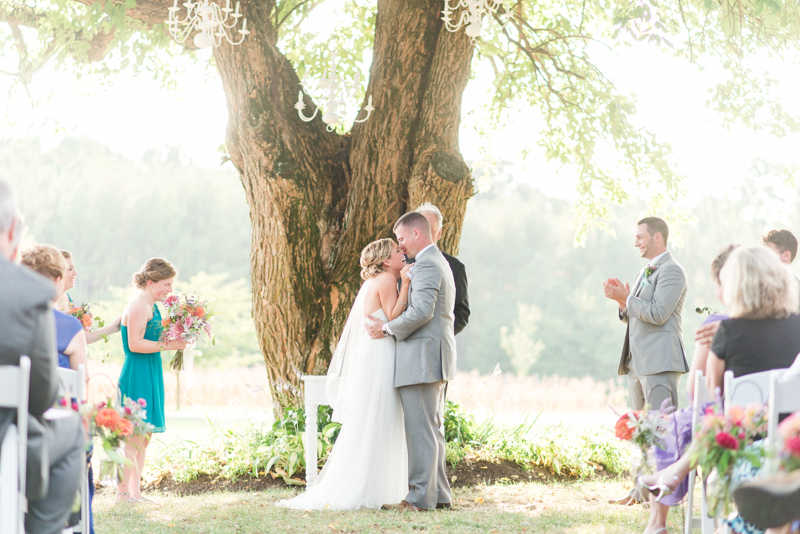 Sara and Charlie had one of the best coordinator + venue combos! Totally awesome!
Budget, Budget, Budget ... even if you break it
Set a budget before you start, or even in the middle planning. It's never too late to create something that keeps you on the right track. Having all of the items listed out for you and your partner can help you both cut the right corners when needed. After seeing that the luxury invitations you want that pushes your dream photographer out of budget, think of compromises that can be made. Consider the many wonderful paper suite companies that can give that high end look without emptying your pockets.
For our wedding, we (well, Shawn) created an amazing spreadsheet that kept us on the path of not breaking the bank. Of course, no one is perfect, and we definitely didn't stay completely on budget. But we would have done a lot more damage if we didn't create the spreadsheet in order to keep track of our purchases. We still use spreadsheets to keep track of all of our business expenses and everyday purchases at this point, and part of that was because of the habits we formed for our wedding. 
Avoid Designer Prices
It's okay to splurge on some designer items. I'm certainly not here to change your buying preferences. But when it comes to your wedding, finding low and cost effective items doesn't mean that the style has to be poor quality. I did some comparison shopping for round wooden trays recently, comparing Amazon to Pier 1 and the difference in price was not very surprising. Pier 1 had an average cost of $40-60, while Amazon was closer to $20-30. The only difference in the trays was the lack of decorations on the Amazon one. 
There's a lot of savings that can happen by just comparison and coupon shopping. We have couples that swear by Michael's, and the fabulous style that can be achieved in much more affordable ways is astounding. I can tell you, when I designed our candy buffet, my mom and I went to three different Michael's with six different 40% off coupons and worked our thrifty ways. Best shopping adventure ever, haha!
Get Things that Last
This may not seem like an incredibly cost saving tip, but stay with me. There's a lot of things in a wedding that only get used once. But consider if you were able to get more out of your centerpieces, suits, cake stands, or even unique signage? You would truly get your money's worth on any splurges if those items have more than one use. 
We've had a couple of grooms express how much easier it is to purchase a suit rather than rent. Every Dapper Dan needs their own fancy wear, and suit rentals can be astronomical. Buying a suit has to be the best way to spread your savings out over time, even if you have other groomsman involved (as long as they are on board for snazzy new threads). Getting a style you enjoy of a solid quality, and that investment will pay for itself with just a few wears. I know Shawn continues to kick himself for not going this route, haha.
There's so many ways to purchase while keeping reuse in mind. Pick up style neutral candle holders or transparent vases that you can dress up with colorful ribbon. String lights are huge for bringing romance to a wedding, while also having home decor potential. You don't even have to repurpose immediately following the big day. If you and your partner currently live in a small space, you can always store or have your parents hold onto the items for later.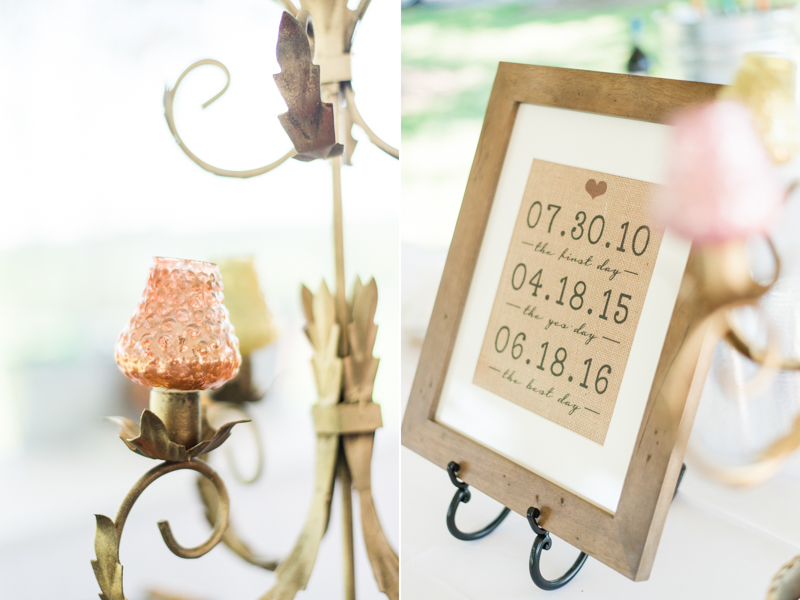 The romantic and personal details at Alyssa and Matt's wedding were next level.
Return and Rent What You Can
Renting is an option that is great for things you won't need for more than one night. There's no need for you to be buying expensive, one-time use lounge furniture when there's so many awesome rental companies. You can get exactly what you want for exactly how long you need it. The benefit of using a rental company is minimizing the stress of returning the items. Typically, a company will assist in the moving and setting up of their items to make it even simpler. 
Returning items has a little bit more effort behind it, but the reward is great. I'm not saying that you should expertly repackage things, but if there is the potential for rain and you buy a few umbrellas, maybe wait to take the price tags off. It may not end up raining and you'll be able to get all of your money back on that purchase. Also, if you acquire your own liquor, some stores will buy back unopened alcohol. You'll need to check with the location first, but it's an excellent return option.
Renting and returning can get most or all of your money back on some things. Again, there may be a little extra hoops to jump through, but if it saves even a fraction of your total, it may help keep your budget on track.
Wrapping up the money saving secrets
This isn't a list that you need to follow down to the very last word. Find the points you like, make them your own, and keep the money from flying from your bank account. Like I said earlier, there are definitely tons of ways to cut costs and save, but these 6 saving secrets will hopefully get the ball rolling for you. Happy planning!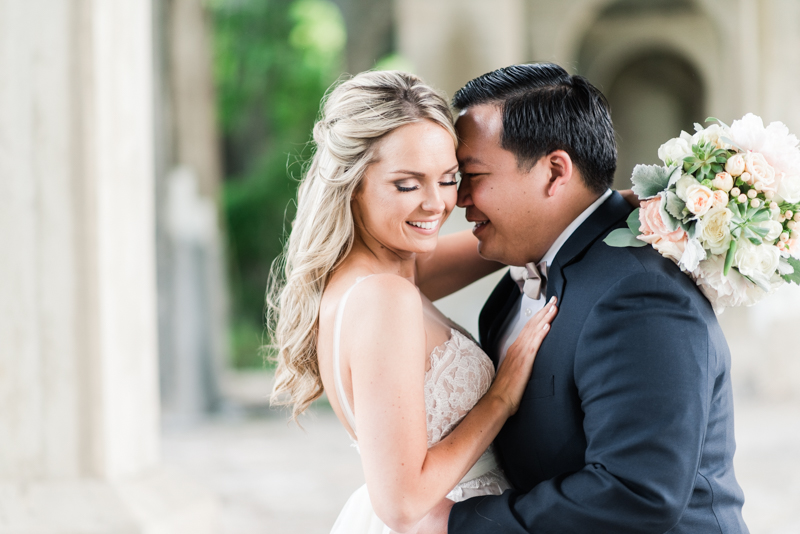 ---
---
---