Finding the Best Time to Post on Instagram
Tips & Tricks
About three weeks ago I decided to step up my Instagram game. I wanted to post more and earn new followers organically. I started posting whenever I thought about it, usually at lunch time or just after dinner. Eventually, I decided I needed to determine the best time of day to post so I could maximize the return on each post. [I want to preface that my following is relatively small, so the numbers that I receive are not astronomical at all, but still large enough for the data to be accurate.]
My first post on my Instagram plan was just before noon (specifically at 11:45 am). Within the first hour I had received about 15 likes on the photo. I was pretty proud of that number, so that night I decided to post at 8:00 in the evening. My thought process for that time was people would be home, finished cleaning up from dinner, and ready to scroll through Instagram. Sounds plausible, but my post at this time only got 5 likes.
Frustrated, I started looking at articles on Instagram post timing and found a Huffington Post article that really matched exactly what I was looking for. The best part about the article was that the research was done using Latergramme, which is an amazing scheduling service that I now use regularly. However, I wasn't sure if their analysis of times would be accurate for me and my readers. I wanted to find my best times to post, so I decided to do my own research by keeping note of when I posted and how many likes I received within the first hour within a Google Sheets.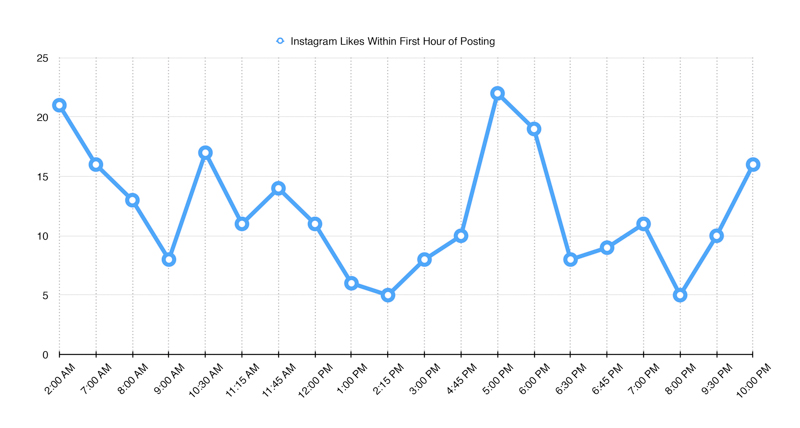 My first monitored post was on January 27th at 2:15 pm. On the above graph you can see I got 5 likes. My next post, was for 6:00 pm on the same day, and I received 19 likes on that one. I continued this process for the next 10 days, posting twice a day with one in the morning and another in the evening. Initially, I scoffed at the 2:00 am suggestion by the Huffington Post article, because I figured less people would be up at that time. But I made it my mission to try it and, surprisingly, my post got 21 likes in the first hour. The only other post that came close to that was the one I posted at 5:00 pm, which had 22 likes.
Another great benefit was the number of new followers I gained. When I started this research, my follower count was at about 150. In those 10 days of almost constant posting, I picked up over 30 new insta-friends! This was a very tedious process. But it really made me take notice of the things that made a difference in the business of social media. It was incredible to see a change in my Instagram (and I had fun doing it!).
---
I conducted my analysis by hand, mainly because I wanted to understand every piece of what I was putting into my online presence. It took time, but I really enjoyed doing it, and I feel like I have a better grasp of Instagram as a whole. If you want your numbers for your best times to post, there are a number of analytic applications out there. You don't have to take the hard road like I did, I'm just a lover of looking at numbers :P.
Some of the applications out there are: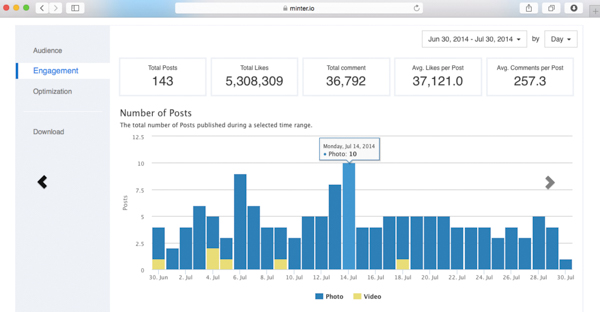 A very sleek interface and an awesome breakdown of your Instagram. It took just a few seconds to set up and I was notified via email when my report was ready. It tracks everything from your follower gains, to your interactions. I love the display that it uses for the "Best Time to Post" graph because it shows the number of interactions as well as the date and time posted. The handiness of the "Top Tags by Interaction" graph is another favorite of mine when thinking of the best hashtags to use. There is a 6 day free trail, and the monthly packages are priced by your follower count. 5K followers will be $20/month.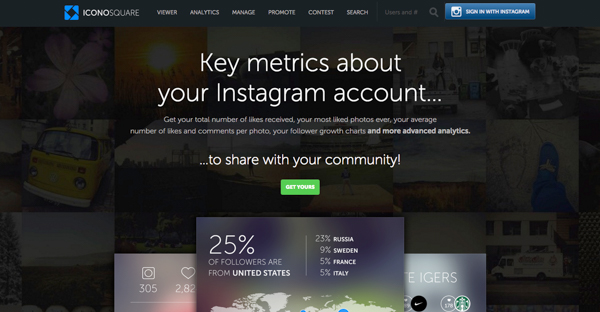 While their interface could be a social media platform on it's own, the navigation is super smooth and I was able to find everything I was looking for right off the bat. They have an interesting display for the best times to post, which could be a little confusing since they are using dots that vary in size based on popularity. But it does work in letting me know when my posts are most effective. They also tell you the popular tags on Instagram and compare that to your tags, which I thought was pretty cool. This site has a 7 day free trial, after that you can choose to upgrade for $4.90/month or $28.80/year. This is definitely one that I am going to use to keep up with my monitoring.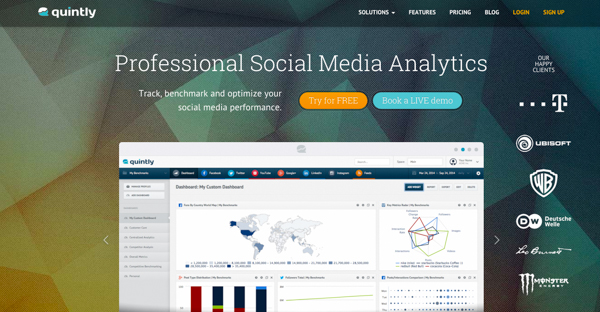 This is my honorable mention. They were quick to set up and easy to get going with, but I had some difficulty figuring out the charts. My interactions were showing up as blank, even though that area of my Instagram is not empty. It also appears on Quintley that you can link up multiple profiles, so it's not just for Instagram analytics, but also Facebook, Google+, Twitter, etc. - totally awesome! It is a very cool site that may just be a little too much for me and my needs. Plans range in cost, there is a free option that can only link up Facebook and there is also a "smaller" package that is $129/month.
---
Likes on these posts and their times posted after a full week:
Top left: 32 | 6:00 pm
Top right: 36 | 12:00 pm
Bottom left: 44 | 2:00 am
Bottom right: 31 | 5:00 pm
---
---
---